The 2020 iHeartRadio Music Festival was just one of many 2020 events in the midst of the COVID-19 pandemic that carried on by going virtual.
The line-up at the festival, which took place virtually on September 18 and 19, 2020, included stars like BTS, Coldplay, Keith Urban, Usher, and Miley Cyrus.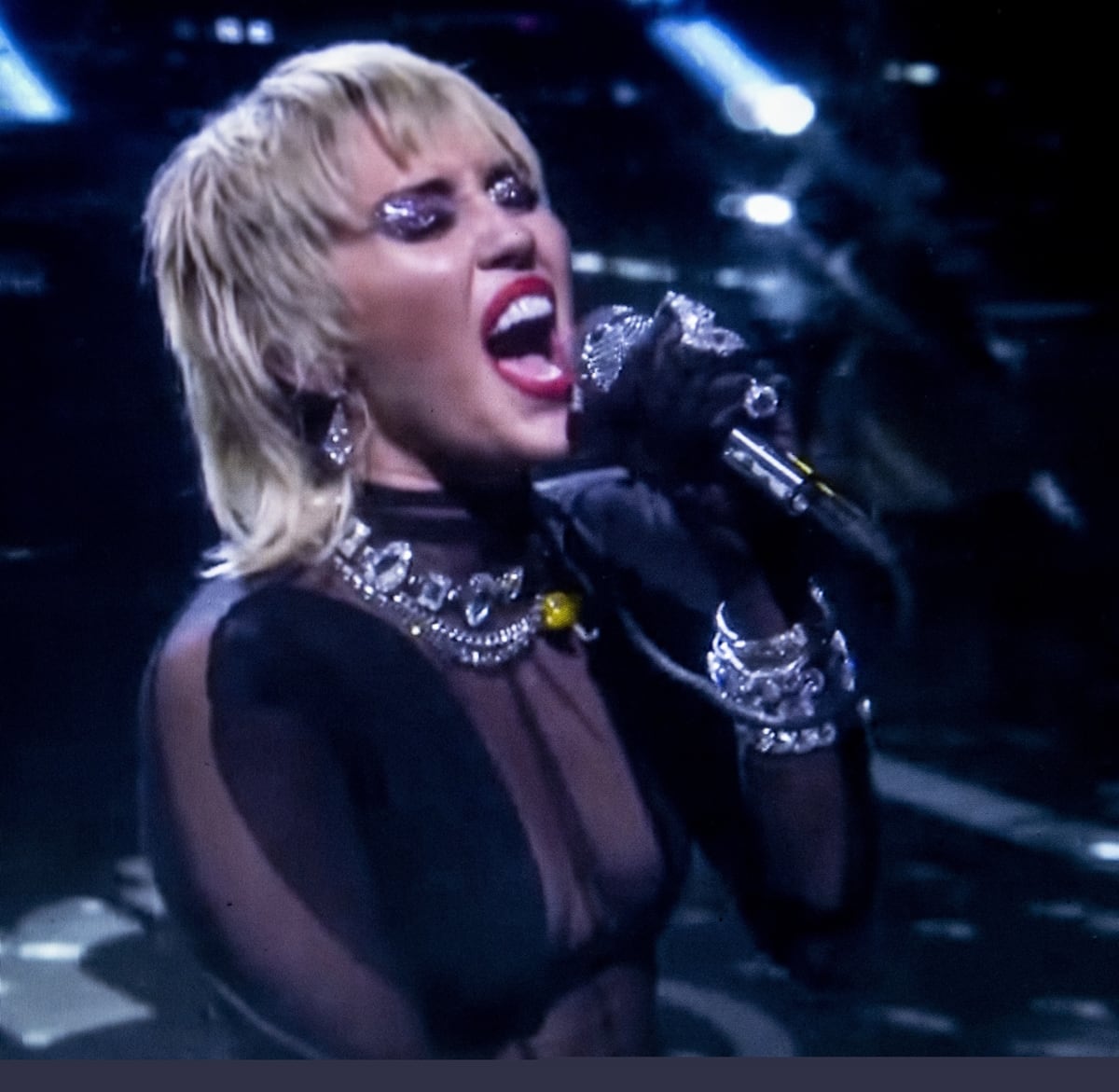 Miley Cyrus performs "Heart of Glass" live at the IHeartRadio Festival 2020 (Credit: Avalon / WENN)
The festival made the best of the challenging situation, but it was Miley Cyrus that made headlines following the event, as her cover of Blondie's 1979 smash hit, "Heart of Glass" stole the show.
The live performance from September 19, 2020, was subsequently released as a single ten days later following high demand from fans. Cyrus chose to add the track to her 2020 album, Plastic Hearts.
Miley has been in the music scene headlines more than once in recent years for her reimagining of well-known songs, and she's been recognized for her ability to put her own personality and flair into the songs she covers.
Some of her well-received covers have included Lilac Wine, as made famous by Nina Simone, The Cranberries' Zombie, and Paul Simon's 50 Ways to Leave Your Lover, which she performed at the SNL 40th anniversary event.
Vulture said about Cyrus's covers: "It's hard to consistently pinpoint what makes a Cyrus cover great. Sometimes, it's picking the perfect song for the moment; others, it's bringing a left-field song to a new audience or imbuing it with new meaning. Sometimes, it's singing the song that shows off the best contours of her voice; others, it's bending songs that just shouldn't work to her will."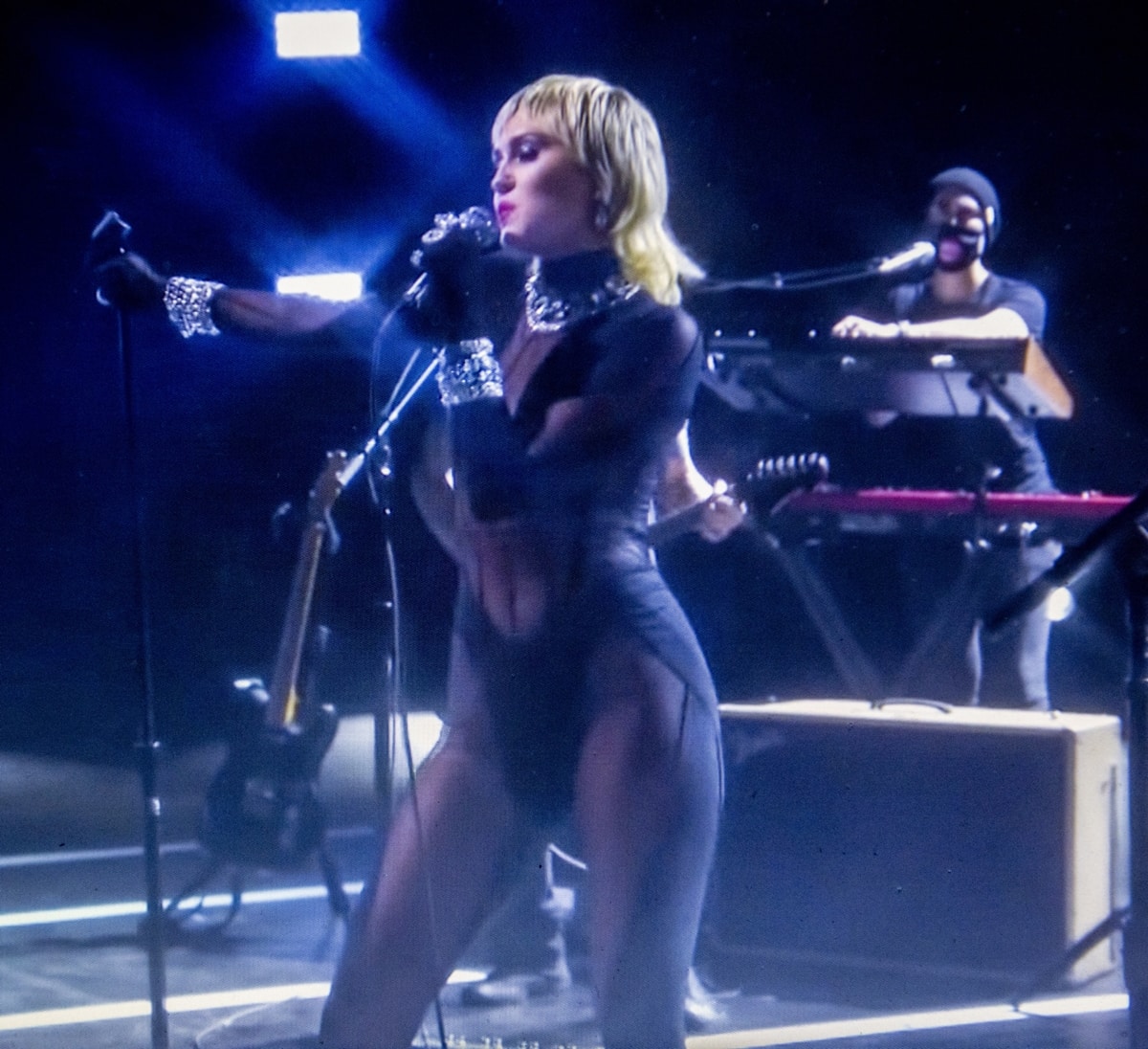 Debbie Harry has praised Miley Cyrus' cover of Blondie's Heart Of Glass (Credit: Avalon / WENN)
However, many considered her cover of "Heart of Glass" to be her best work yet.
Brittany Spanos for Rolling Stone said of the viral performance, "[the cover] transformed Blondie's disco hit into a raspy, rockin', Joan Jett-inspired rock & roll dream with Cyrus belting over a live band."
Cyrus's styling was a nod to Debbie Harry's original music video with more rock mixed in, flaunting disco-worthy glittery eyeshadow mixed with overdrawn crimson lips and an edgy blonde mullet.
Her black sheer catsuit was a more modern and risky version of Debbie Harry's own look for the original track video.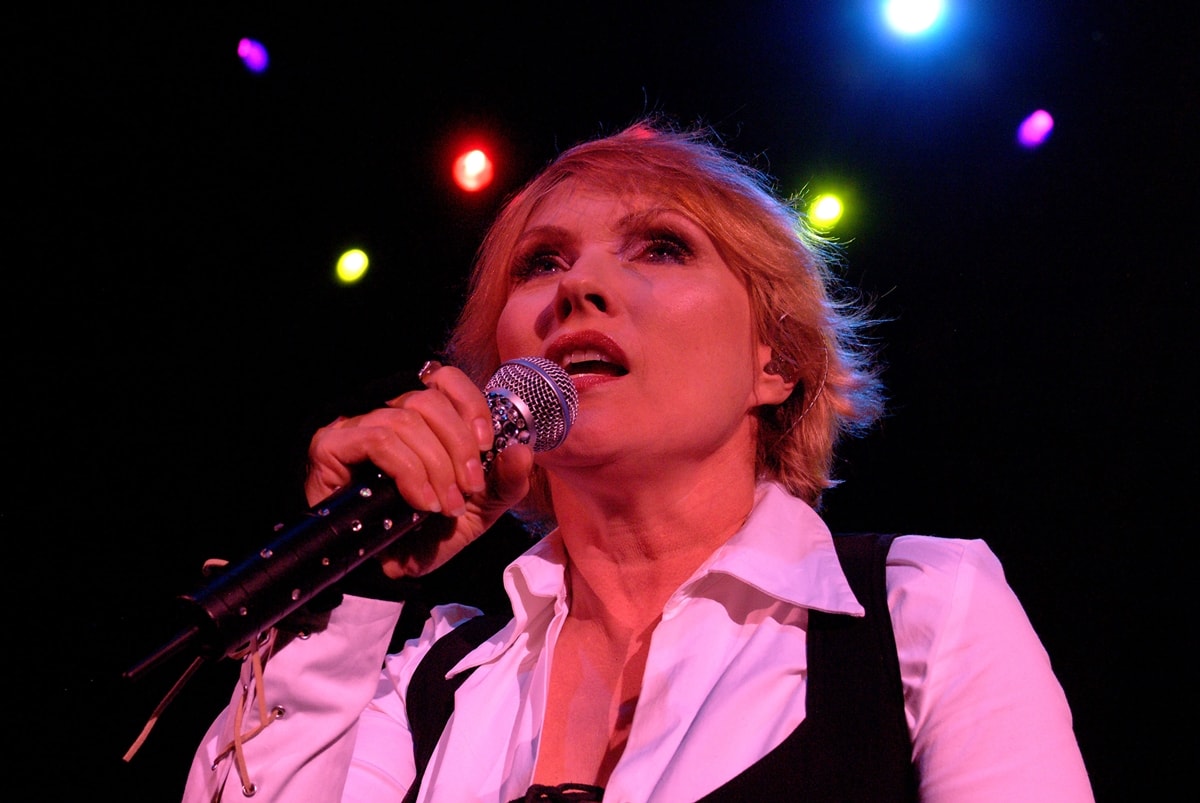 Debbie Harry, the lead vocalist of the American rock band Blondie, performs at O2 Shepherd's Bush Empire in London on September 16, 2004 (Credit: Hottwire /WENN)
From her styling to her vocals, Cyrus successfully married together the disco and rock eras. By playing over the famous Roland CR-78 drum machine beat, the band incorporated the most famous element of the original tune while cranking up the level of pure rock.
Cyrus's stage presence itself was a contrast with Debbie Harry's more demure and nonchalant demeanor. Leaning into the microphone and putting her body into the music, Cyrus completed the rock feel for the song.
If there was any question on whether Blondie appreciated the nod, it was put to rest very quickly after the live performance. Two days after the cover hit the internet, Blondie tweeted a simple endorsement: "We think @mileycyrus nailed it."
"No, we haven't actually spoken, but we've written back and forth and I congratulated her on doing something that was uniquely her with 'Heart of Glass'," Deby Ryan told New Musical Express about Miley Cyrus's cover.
"I thought she did a great job and I liked the way the performance looked and she's a force to be reckoned with. I'm really proud of the fact she did our song and made it uniquely hers."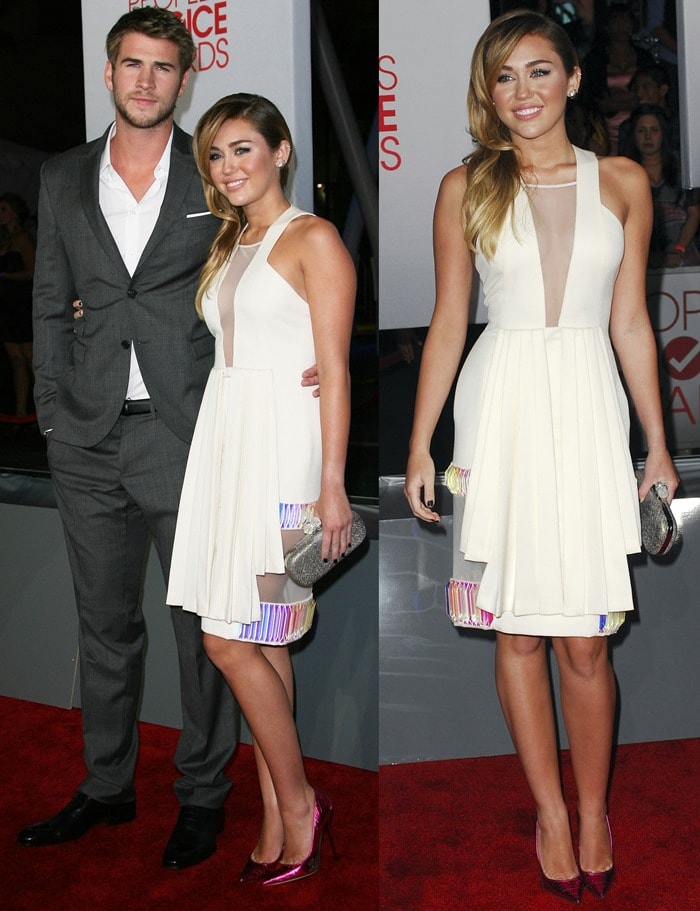 Miley Cyrus and boyfriend Liam Hemsworth at the 2012 People's Choice Awards held at Nokia Theatre L.A. Live in Los Angeles on January 11, 2012 (Credit: WENN / Adriana M. Barraza)
Of all the celebrities who graced the 2012 People's Choice Awards, there was one who truly stood out for me – Miley Cyrus.
Of course, your opinion may be different, but I personally think the former Disney star looked stunning in her white knee-length frock.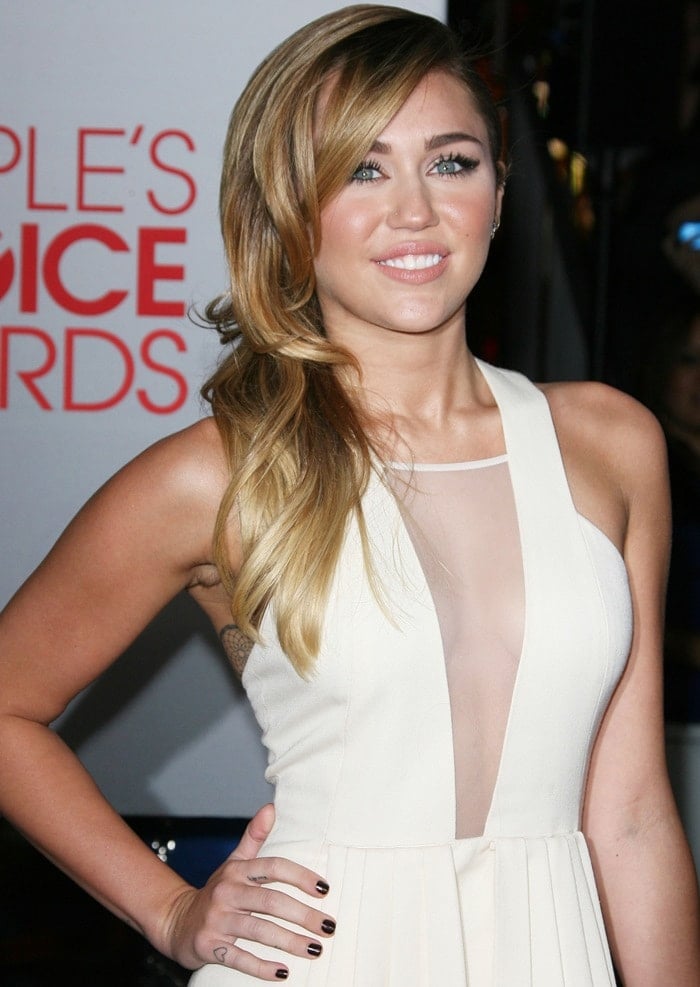 Miley Cyrus in a gorgeous David Koma sleeveless dress (Credit: WENN / Adriana M. Barraza)
Miley arrived on the red carpet with her beau, Liam Hemsworth, in a gorgeous David Koma sleeveless dress that featured a plunging neckline held together by a sheer inset, and a pleated overlay detail on the front portion of her skirt.
She capped it off with a silver hard case clutch and showed off toe cleavage in sexy pumps from Jimmy Choo.
Miley Cyrus shows off her finger tattoos and a large Native American dreamcatcher tattoo that is inked on her right side or ribcage (Credit: WENN / Adriana M. Barraza)
But here's the thing, there was more to the dress than a deep neckline and structured pleats.
Some noteworthy details on the back (or more specifically, the sides) took all of us by surprise – sheer insets at the hem embellished with colorful glass crystals gave her dress a fresh and surprising twist, while the angular vertical panel on the center back gave it an edgy flavor.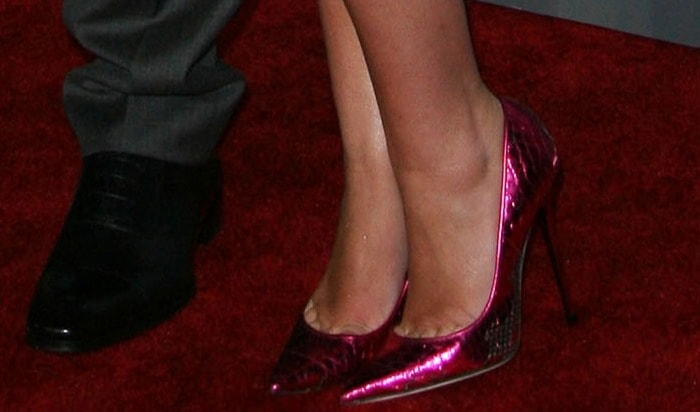 Miley Cyrus showing toe cleavage in Tippi pump from Jimmy Choo (Credit: WENN / Adriana M. Barraza)

It was truly a one-of-a-kind piece that was perfect for the occasion, and for her age.
The "Tippi" pump from Jimmy Choo features a pointy toe, all-over purple snake-effect, and a high stiletto heel.
Jimmy Choo Pink Tippi Snake-Effect Leather Pumps, $1,295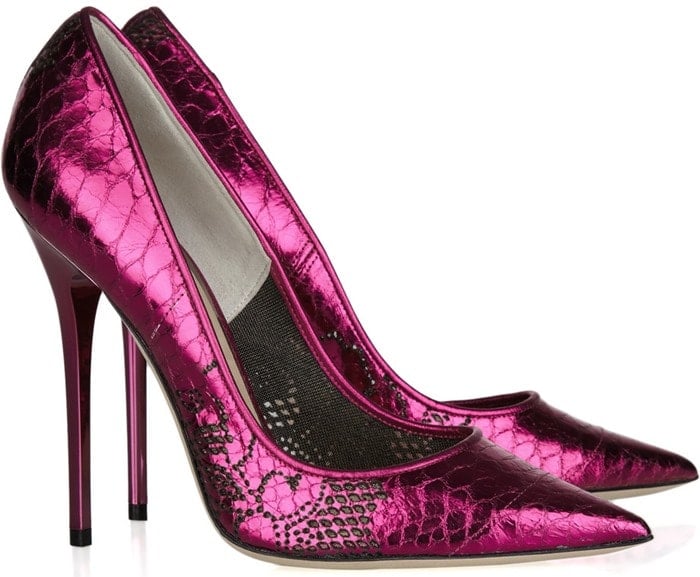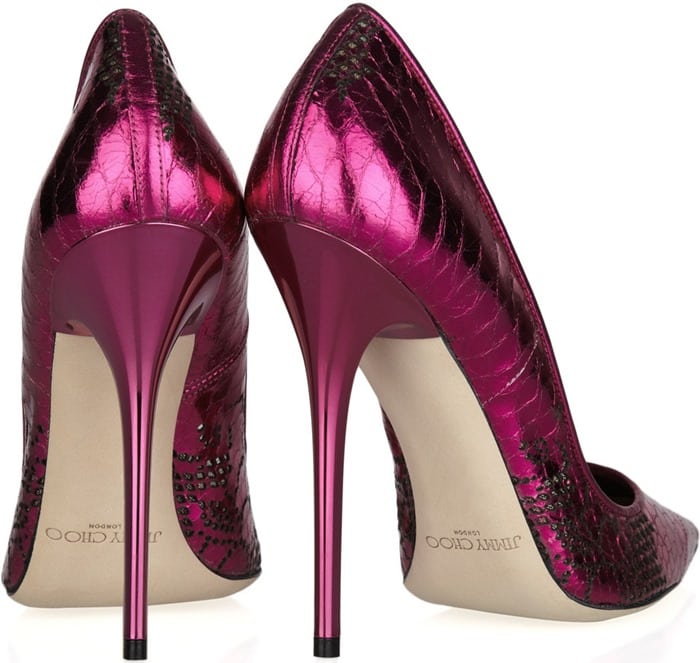 What do you think of Miley in these Jimmy Choo heels? Do you love the 'Tippi' pump as much as we do?
Another stunner in Jimmy Choo at the People's Choice Awards was Lea Michele.
Lea Michele in a white Marchesa Spring 2012 fringe dress at the 2012 People's Choice Awards at the Nokia Theatre in Los Angeles, on January 11, 2012 (Credit: WENN / Adriana M. Barraza)
She styled her shoes from the popular footwear designer with a white Marchesa Spring 2012 fringe dress and jewelry from American jewelry designer Lorraine Schwartz.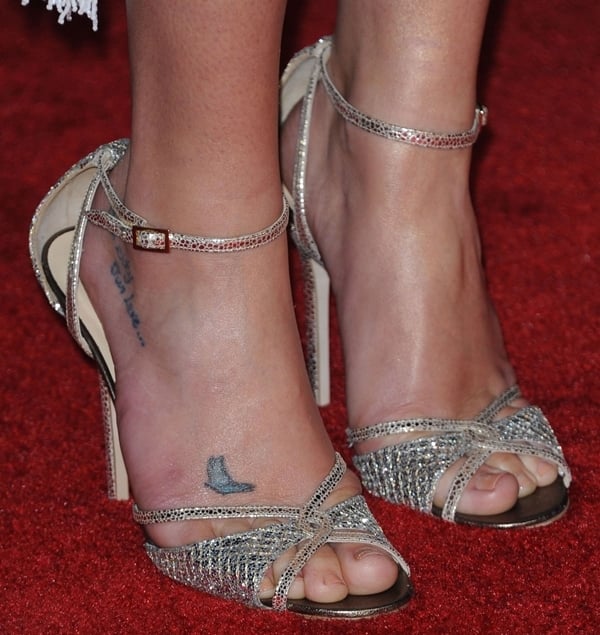 Lea Michele's sexy feet in Jimmy Choo sandals (Credit: WENN / Apega)