She has been courting controversy ever since she was a teenager—from her relationship dramas and scandals to her risqué music videos and performances.
More recently, Miley Cyrus made headlines, not because of another drama but because of her amazing performance of Blondie's Heart of Glass at the iHeartRadio Music Festival 2020.
View this post on Instagram
Fans loved her rendition of the new wave band's 1975 hit that they asked her to release a cover.
On Tuesday, due to popular demand, Miley uploaded her Heart of Glass cover on streaming services.
Miley Cyrus releases her Heart of Glass cover
While her performance was flawless, it was actually her racy outfit that left everyone in awe.
Ahead of her September 19 performance, Miley shared with her Instagram followers a series of sultry photos and a video showing her see-through outfit from French fashion designer Thierry Mugler's Fall 2020 collection.
View this post on Instagram
Photographed by Indian American fashion photographer Vijat Mohindra, Miley put her curves on display in the sheer black catsuit, which features strategically placed black panels that covered her modesty.

She wore the same look to iHeartRadio's 10th Anniversary celebration, where she channeled her inner Debbie Harry with a retro mullet blonde hairstyle.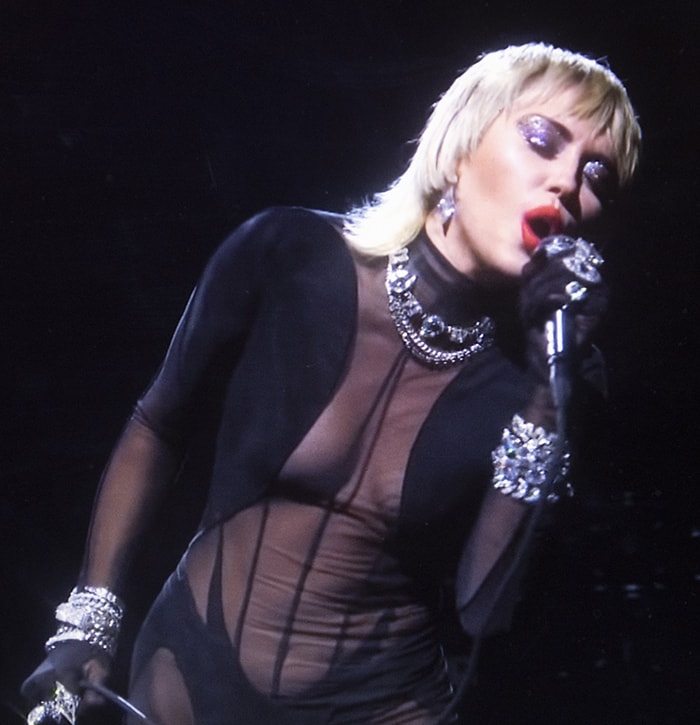 Miley Cyrus in a racy Thierry Mugler see-through mesh catsuit for iHeartRadio Music Festival 2020 on September 19, 2020
For her makeup, Miley added her signature bold red lipstick. She also wore heavy eyeshadow in a glittery pink shade with mascara and eyeliner.
Miley Cyrus channels Blondie's Debbie Harry with a blonde mullet hairstyle
Liam Hemsworth's ex-wife accessorized with some bling, including a Michael Schmidt Studios custom Swarovski crystal choker, stacks of chain bracelets, and several diamond rings.
Miley Cyrus styles her look with chunky chain bracelets, rings, and Michael Schmidt choker
To complete her nearly naked look, Miley slipped into a pair of Christian Louboutin "Chiara" embellished suede pumps.
Made from luxurious suede, these pumps feature light-catching crystal embellishments that matched Miley's jewelry. They also have mesh panels, pointed toes, and about 4-inch heels.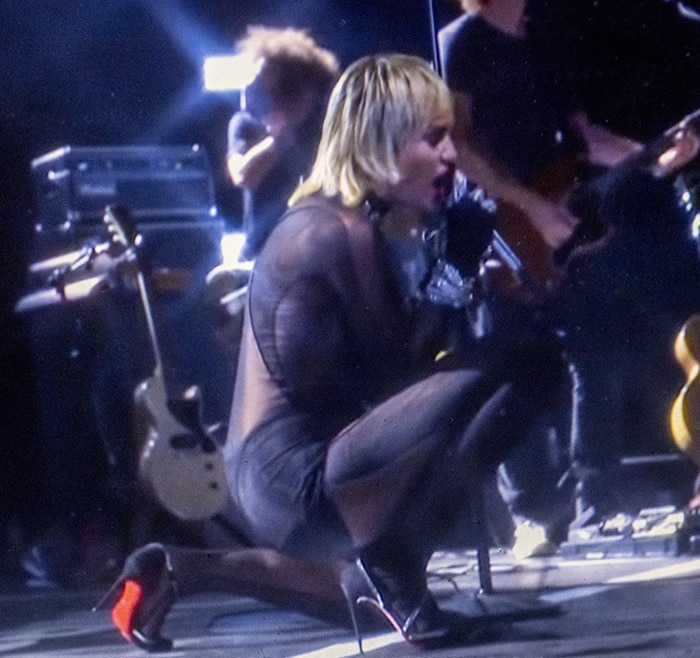 Miley Cyrus completes her look with Christian Louboutin Chiara pumps
Christian Louboutin Chiara Embellished Suede Pumps, $1,495 at Mytheresa
Done in Christian Louboutin's typically high-octane fashion, the Chiara pumps come adorned with light-catching embellishments that guarantee glitzy glamour
Blondie's lead singer Debbie Harry gave Miley's iHeartRadio performance a stamp of approval. On the band's official Twitter account, she tweeted: "We think @MileyCyrus nailed it."
Blondie's Debbie Harry approves of Miley Cyrus' Heart of Glass performance
She also tweeted about Miley's recently released Heart of Glass cover, praising the singer for her "divine" rendition.
Debbie Harry calls Miley Cyrus' Heart of Glass cover "divine"
Credit: Avalon / WENN