The fashion world lost one of its most visionary designers earlier this year, but Thierry Mugler's legacy lives on through his boundary-pushing designs. Mugler's distinctive aesthetic can only be described as space-age fetishism.
His sensual pieces were often inspired by sci-fi elements, featuring exaggerated silhouettes and sculptural details made out of dominatrix-approved materials such as leather and PVC.
Thierry Mugler join Eva Mendes reveal launch a campaign for Angel by Thierry Mugler at IAC Building on June 23, 2011, in New York City (Credit: Media Punch / INSTARimages)
Mugler transformed women into otherworldly goddesses, encouraging them to flaunt their femininity. He was a certified fashion legend, and his impact on the industry will hold strong for decades to come.
The Defining Designer Of 80s Power Dressing
Born in Strasbourg, France in 1948 as Manfred Thierry Mugler (pronounced Tee-eh-ree Muh-gler), the future designer always had a flair for creativity.
He started taking ballet classes at the age of 9 and joined the Rhine Opera Ballet at 14. His dance background would help him create some of fashion's most theatrical runway shows in the decades to come.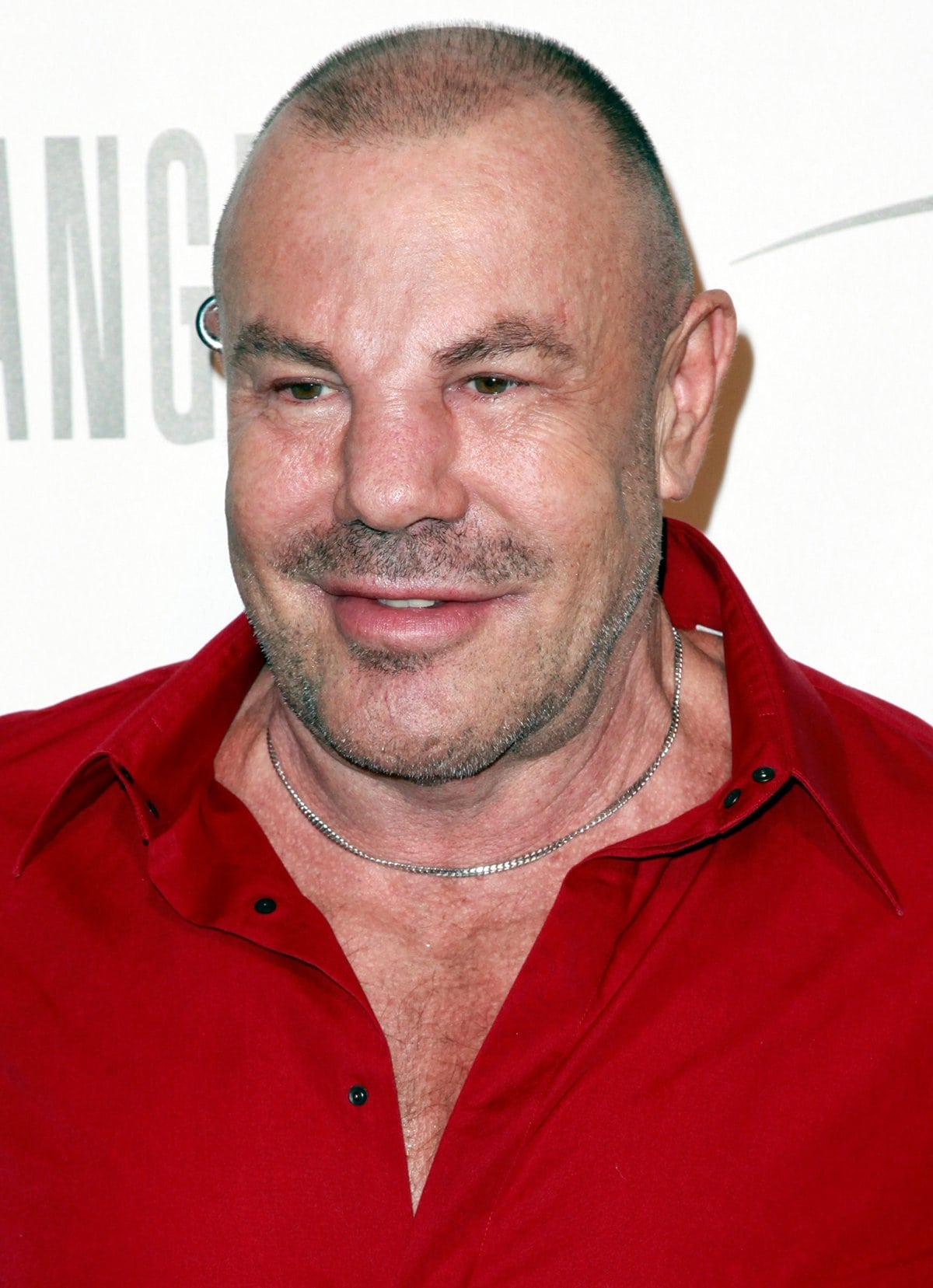 French fashion designer Thierry Mugler died aged 73 of "natural causes" at his residence in Vincennes, Paris on January 23, 2022 (Credit: Media Punch / INSTARimages)
Mugler moved to Paris at the age of 20 to pursue a career in fashion. He worked as a photographer and a freelance designer before branching out on his own in 1973.
His first collection was released under the name 'Café de Paris'; Mugler's eponymous label was officially released in 1974. With his strong silhouettes that emphasized bold shoulders, a tapered waist, and padded hips, Mugler became a pioneer of the "power dressing" movement of the 80s.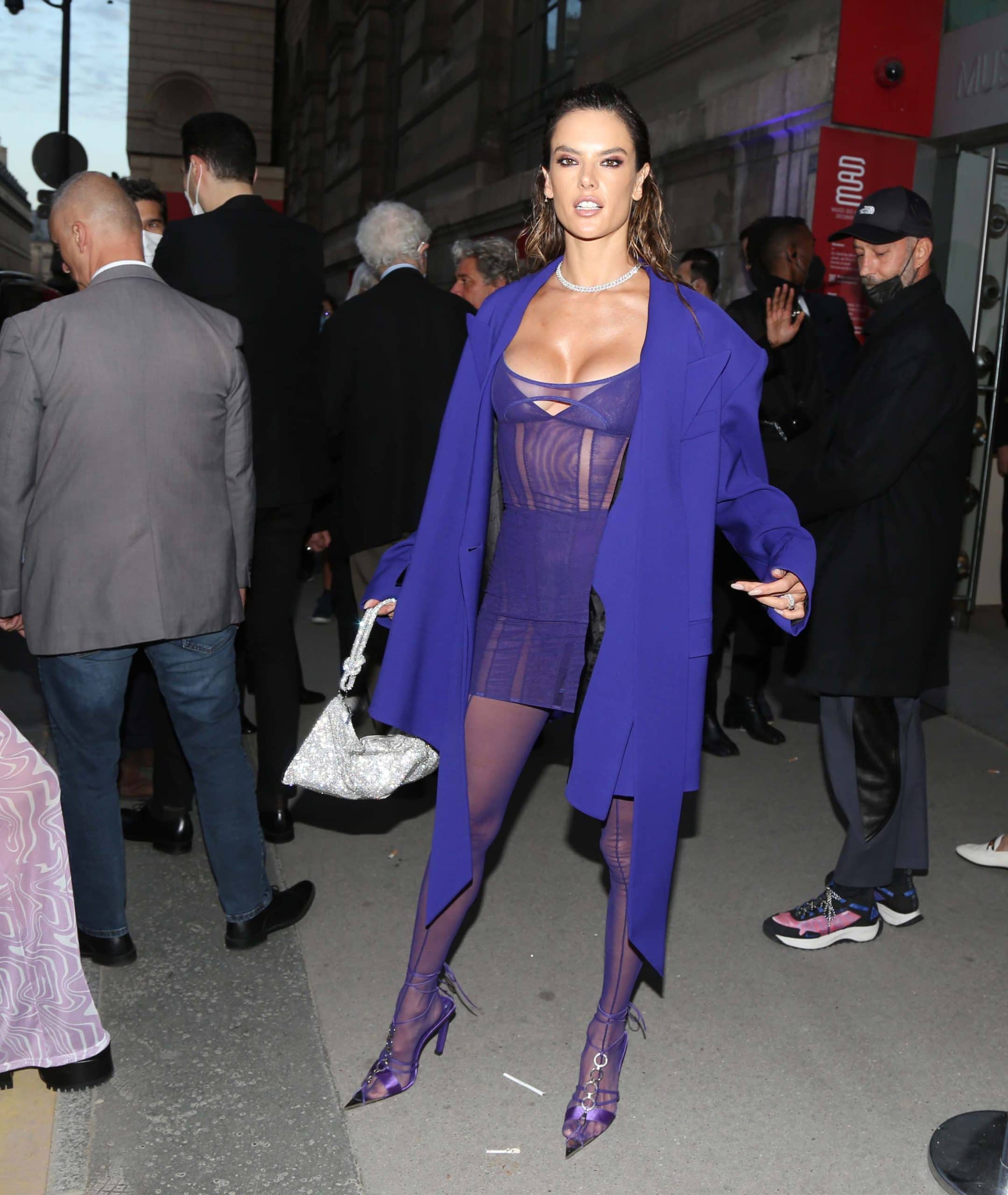 Alessandra Ambrosio flaunts her legs in a purple outwith with high-waisted stockings for the Thierry Mugler: Coutourissime event on September 28, 2021, in Paris, France (Credit: Milla Cochran / Startraksphoto)
The young designer took the fashion world by storm with his futuristic designs and self-proclaimed "erotic clothing fantasies."
His fetish-inspired fashion made women resemble dominatrixes, strutting down the catwalk in structured corsets, riding crops, and thigh-high boots with towering heels to match.
Singer Rihanna flaunts her legs in a brown Thierry Mugler Spring 1988 dress and Manolo Blahnik Borli mules at the 2016 Billboard Music Awards at T-Mobile Arena on May 22, 2016, in Las Vegas, Nevada (Credit: Sara De Boer / Startraksphoto)
Mugler's garments were often made of black and red PVC or shimmering metallics that give his designs a futuristic feeling to this day. Mugler truly was a designer who was ahead of his time.
The Cult Of Mugler
Mugler worked hard throughout the 80s and 90s to build an empire of provocative fashion.
The designer built himself a tribe of fashion legends and celebrities, from supermodels like Naomi Campbell and Cindy Crawford to trailblazing musicians such as Madonna, George Michael, and David Bowie.
As the years progressed, his A-list fan base went on to include Lady Gaga, Beyonce, and Megan Fox.
Actress/singer Selena Gomez wears a Mugler mini dress with Jimmy Choo 'Deckle' shoes at the 2015 Victoria's Secret Fashion Show after-party at TAO Downtown on November 10, 2015, in New York City (Credit: Fernando Lucena / Startraksphoto)
His breathtaking runway shows always aligned with his striking designs. Mugler was one of the first designers to promote diversity and alternative subcultures with his models.
As an openly gay man, he supported the LGBTQ+ community by including transgender models, drag queens, and porn stars in his runway shows. A Mugler fashion show was more than a visual display of his garments. It was a cultural statement.
Mugler's groundbreaking approach to fashion would bring him a lot of success in the 80s and 90s.
Natasha Poly in an illusion panel Mugler Resort 2021 dress at the 2021 CFDA Fashion Awards at The Grill Room on November 10, 2021, in New York City (Credit: Jennifer Graylock / Instarimages)
He expanded his ready-to-wear collection into a range of fragrances, menswear, and released couture collections upon the request of Paris's prestigious Chambre Syndicale de Haute Couture.
Mugler also released two books: Thierry Mugler, Photography and Fashion Fetish Fantasy.
The Fate Of Mugler
Mugler retired from his label after two and a half decades in 2003 to focus on himself. The designer stated that he was tired of making others look amazing.
In a 2010 interview with The New York Times, he claimed that he "used fashion to express himself as much as he could. But at some point, it was not enough."
However, the designer didn't completely leave the fashion industry after his retirement. He still created costumes for performances, including Beyonce's 2009 I Am… world tour and Cirque Du Soleil's Zumanity show.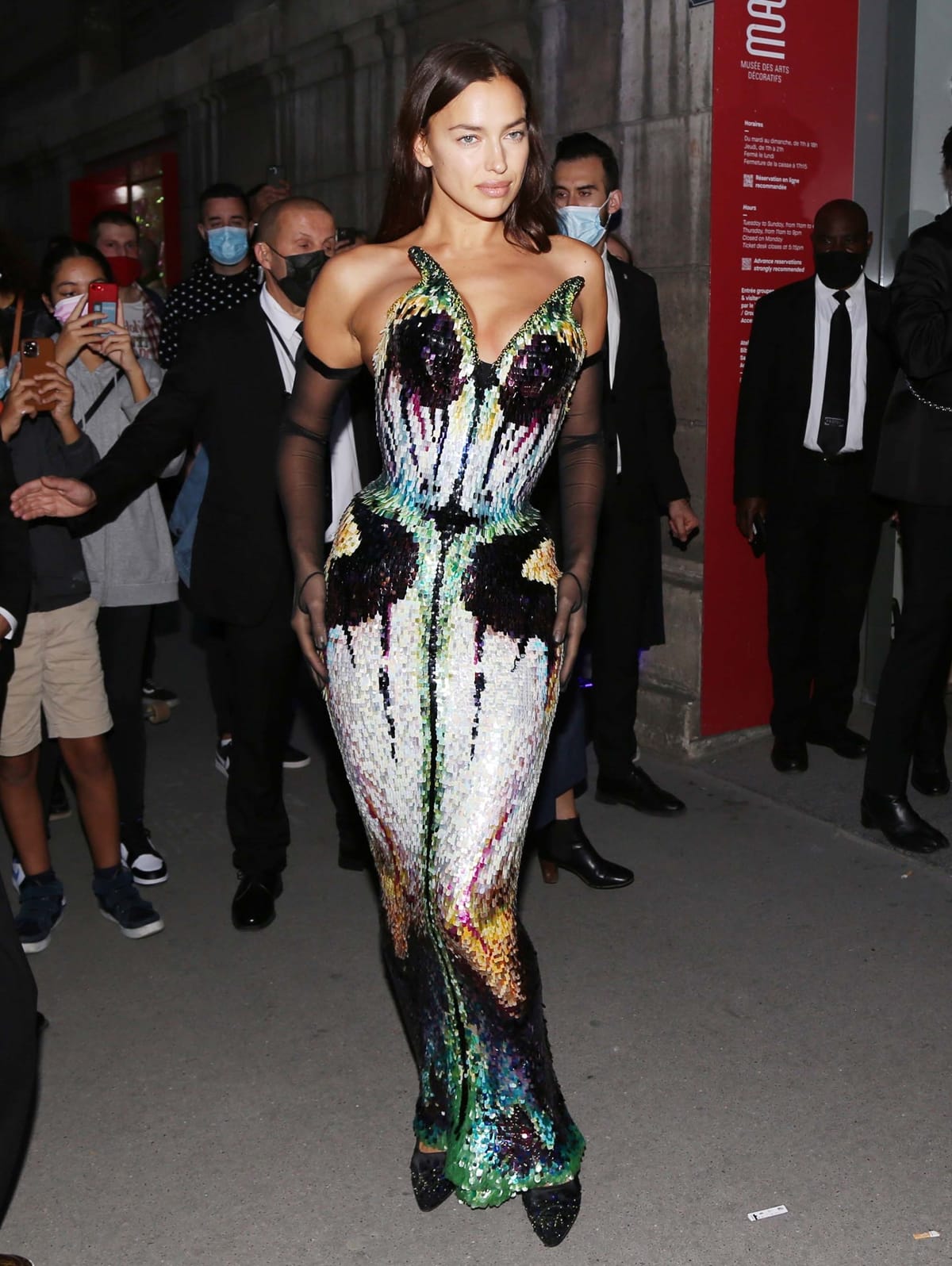 Model Irina Shayk in an iconic Mugler butterfly dress from the Les Insectes Spring 1997 Haute Couture collection at the "Thierry Mugler: Couturissime" Photocall as part of Paris Fashion Week at Musee Des Arts Decoratifs on September 28, 2021, in Paris, France (Credit: Milla Cochran / Startraksphoto)
Mugler's life mostly remained out of the spotlight following his departure from fashion, though his changed appearance brought about questions from fans.
The former designer admitted that he underwent reconstructive surgery on his face after a series of car and motorcycle accidents left his nose destroyed.
The fashion world was shaken when Mugler's death was announced on January 23rd, 2022. Aged 73, Mugler was said to have died of natural causes. A sea of tributes emerged from fans and fellow designers, proving that Mugler will forever go down in history as one of the fashion greats.
Mugler's 7 Most Iconic Pieces
1. Red Cowgirl – Spring/Summer 1992
This tantalizing collection cemented Mugler's status as the king of fetish fashion. The western-inspired collection sent a sea of sexy cowgirls down the runway, clad in bedazzled red chaps, bodysuits, and matching cowboy hats.
2. The 'Venus' Dress – Spring/Summer 1995
A modern interpretation of Botticelli's 'The Birth Of Venus' painting, this spectacular gown created a blossoming effect with its pink satin shell that encircled the hips.
Attached to a sleek black skirt and a nude mesh bodice embellished with pearls and topped off with matching pink satin gloves, this gown garnered a lot of attention from fashion editors across the globe. The dress was famously recreated for Cardi B at the 2019 Grammy Awards.
3. The Robot Woman – Spring/Summer 1995
This space-age bodysuit was quintessentially Mugler. Crafted out of silver metallic plating, the alluring bodycon design featured breast and midriff cutouts.
It was remodeled by Cara Delevingne in the August 2017 issue of British GQ.
4. The Bejeweled Naked Dress – Autumn/Winter 1997
This sexy gown kickstarted the 'naked dress' trend with its sheer mesh fabric adorned with crystals.
Topped with a dramatic oversize white fur stole and modeled by Claudia Schiffer, this gown was one of the most traditionally feminine designs that Mugler created.
5. The Beast Woman – Autumn/Winter 1997
Trust Mugler to make beasts look beautiful. This eye-catching design featured a Mr Pearl corset with iridescent scales and plating, topped with a feathered headdress and yellow serpent contact lenses.
This fantastical hybrid of a fish, bird, and beast was one of Mugler's most memorable runway moments.
6. The Wet Dress – 2019 Met Gala
Mugler famously came out of retirement to create Kim Kardashian's wet look dress for the 2019 Met Gala. Created with a nude mesh underlay and embellished by 'dripping' crystals, the dress took over 8 months to create.
7. Alien & Angel Fragrances
The Mugler brand's most iconic fragrances are undoubtedly Angel and Alien.
Introduced in 1992, Angel was the first fragrance launched by Thierry Mugler (Credit: Grzegorz Czapski / Shutterstock)
The former was the brand's debut perfume, first released in 1992 and crafted into the brand's slanted star logo, while the latter has enjoyed tremendous popularity since its 2005 debut.
A Post-Mugler Mugler
As a brand, Mugler has been going strong since the departure of its founder. The label put its focus on fragrances during the 2000s and was relaunched as a clothing label in 2010 under the creative direction of Nicola Formichetti.
He was replaced by David Koma in 2013, and the position has been held by Casey Cadwallader since 2017.
Lady Gaga in a custom Mugler dress and shoes at the 2011 CFDA Fashion Awards at Alice Tully Hall, Lincoln Center on June 6, 2011, in New York City (Credit: Humberto Carreno / Startraksphoto)
Cadwallader has been successful in reviving Mugler to its former glory, recreating the brand's signature silhouettes, dramatic details, and scandalous fabrics with a contemporary twist.
He's garnered a new following of celebrity fans including Megan Thee Stallion, Miley Cyrus, and Daisy Ridley.
Whether or not the original designer is at the helm, Mugler's bold spirit will remain.
Thierry Mugler Facts
Who is Thierry Mugler?
Known for his exceptional catwalk shows, Thierry Mugler is a French fashion designer born on December 21, 1948, in Strasbourg, France.

He passed away on January 23, 2022, at the age of 73.
How to pronounce Thierry Mugler
His name is pronounced Tee-eh-ree Muh-gler.
What happened to Thierry Mugler's face?
He underwent facial reconstruction following a serious accident at the gym that completely smashed his face.
Where to buy Thierry Mugler
You can purchase Thierry Mugler perfume at Amazon. You can buy dresses and clothing at Farfetch and Nordstrom.
Thierry Mugler Quotes
I am not trendy. I am not 'in fashion.' I am simply a positive human being who has a positive outlook on life.

I realised I was living in my own universe with lots of assistants. I didn't have a cell phone; I didn't know how to use a computer. Everybody was doing everything for me. So I left and moved to New York. It was the end of an era, and I must say I found myself a bit lost. I wasn't in the protected Mugler universe any more.

I survived on sandwiches, and I was on stage every night for six years of my life. I was working 16 hours a day between class, rehearsal, being on stage.

The reason I quit fashion was that I had had enough of spending my time always being on my knees, making other people look amazing and fabulous.

I want my models to be bigger, stronger and taller than common mortals. I need superwomen and supermen.

Hindu sages say that you should concentrate while eating. But, we don't have time anymore. Fast food is not quick enough for me. I would like super-fast food in the form of pills.

You're working with models who are looking at their watch, and it didn't work for me. I wanted to have relationships with amazing people.

I have always tried to sublimate the body and to make people dream.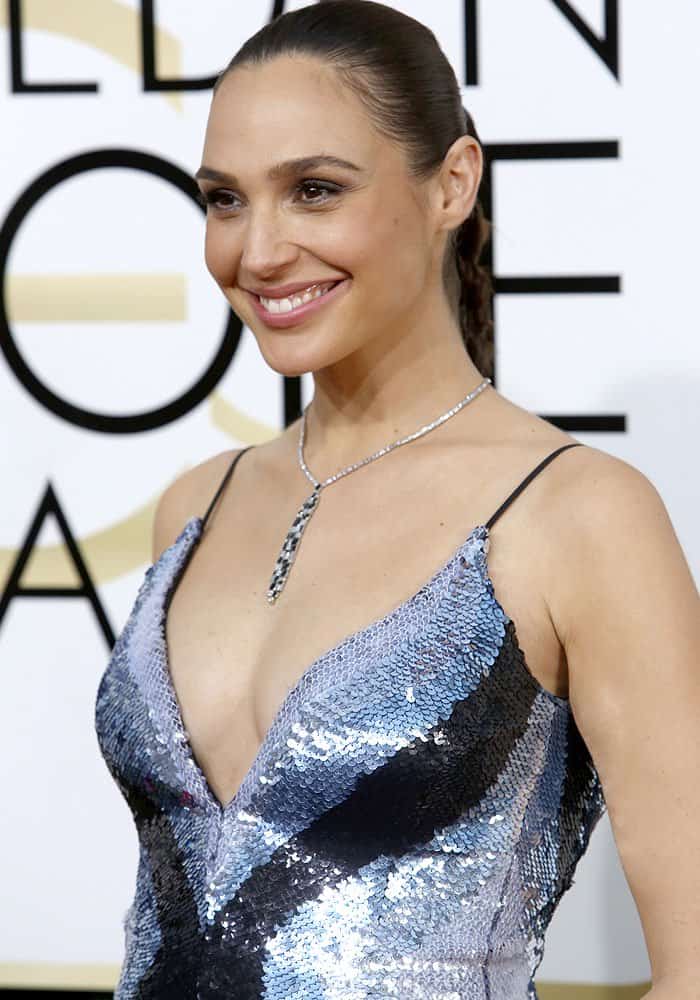 Gal Gadot wears a Tiffany diamond and black onyx necklace at the 74th Golden Globe Awards held in Los Angeles on January 8, 2017 (Credit: WENN)
In January 2017, Gal Gadot made her first public appearance since announcing her pregnancy two months earlier, and she did it in style.
The "Wonder Woman" actress finally showed off her growing baby bump after two months of laying low in the public eye.
Gal made her maternity debut at the 2017 Golden Globe Awards held in Los Angeles.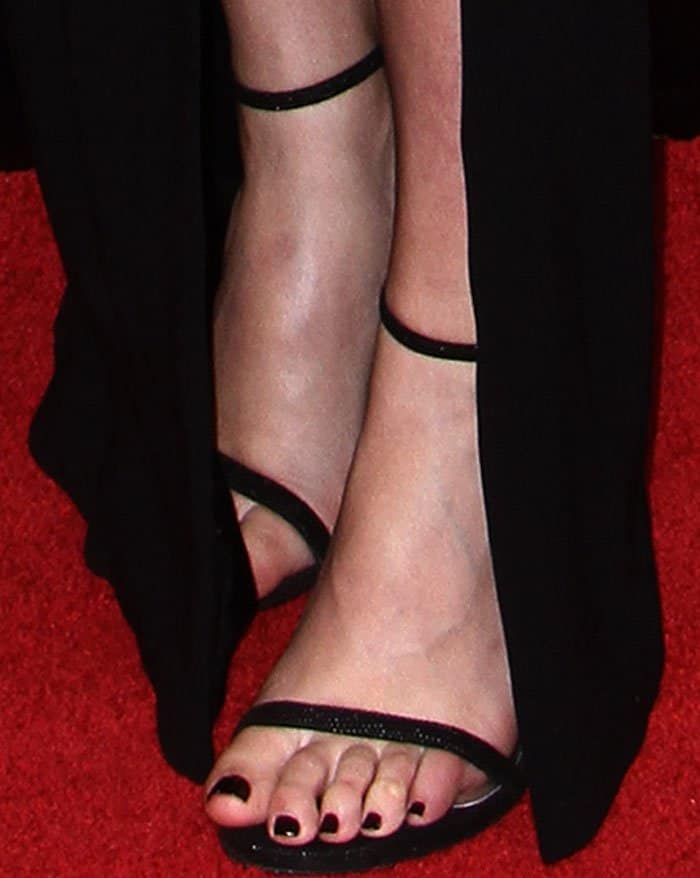 Gal Gadot shows off her feet in Stuart Weitzman "Nudist" sandals (Credit: WENN)
The then-31-year-old squeezed her baby bump into a sequined number by Mugler. Judging from the snug fit of the dress around her bump, Gal's styling team made sure to tailor the dress.
The Israeli actress finished her look with jewelry from Tiffany & Co. and a classic pair of Stuart Weitzman "Nudist" sandals. How she walks around in towering heels with her bump is a mystery to us.
Gal Gadot looks gorgeous in a Mugler dress tailored around her adorable baby bump (Credit: WENN)
Gal was absolutely aglow as she walked the red carpet clutching her little belly. The actress was married to Israeli real estate developer Yaron Versano in 2008. The couple welcomed their first child, daughter Alma Versano, in 2011.
The actress presented the "Best Foreign Language in a Motion Picture" alongside Australian hunk Chris Hemsworth. Gal also uploaded a cute photo of her getting all dolled up before the event.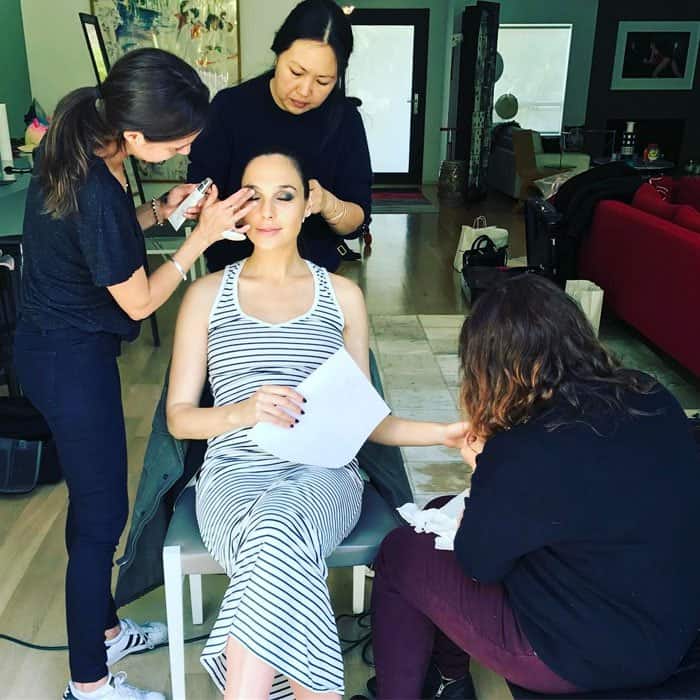 Gal Gadot getting dolled up by her glam team for the 2017 Golden Globe Awards (Credit: Gal Gadot's Instagram)
You can shop the classic Stuart Weitzman "Nudist" sandals at Amazon, Nordstrom, and Zappos.
Stuart Weitzman Nudist Sandals, $172.43 – $435