Joining her boyfriend Machine Gun Kelly and Charli XCX at the 2021 MTV Video Music Awards on Sunday night, Megan Fox turned heads in a custom Mugler Spring 2021 midi dress featuring subtle shimmery embroidery.
Making Kim Kardashian look classy, she styled her naked see-through dress with an embellished thong, Lorraine Schwartz jewelry, and Jimmy Choo heels.
Megan Fox with her boyfriend Machine Gun Kelly at the 2021 MTV Video Music Awards on September 12, 2021, at the Barclays Center in New York City (Credit: MEGA / WENN)
Nominated for Best Alternative for his song "My Ex's" featuring Blackbear, MGK performed his song "Papercuts" with collaborator Travis Barker. Machine Gun Kelly wore a bright red high-shine metallic Dolce & Gabanna Alta Sartoria suit, pearl accents on his face, and Chris Habana jewelry.
"It's 50/50, this one she took the lead and I get the pleasure of having her on my arm all night," Kelly said about the idea behind their outfits during the MTV pre-show. "She's beautiful," he added.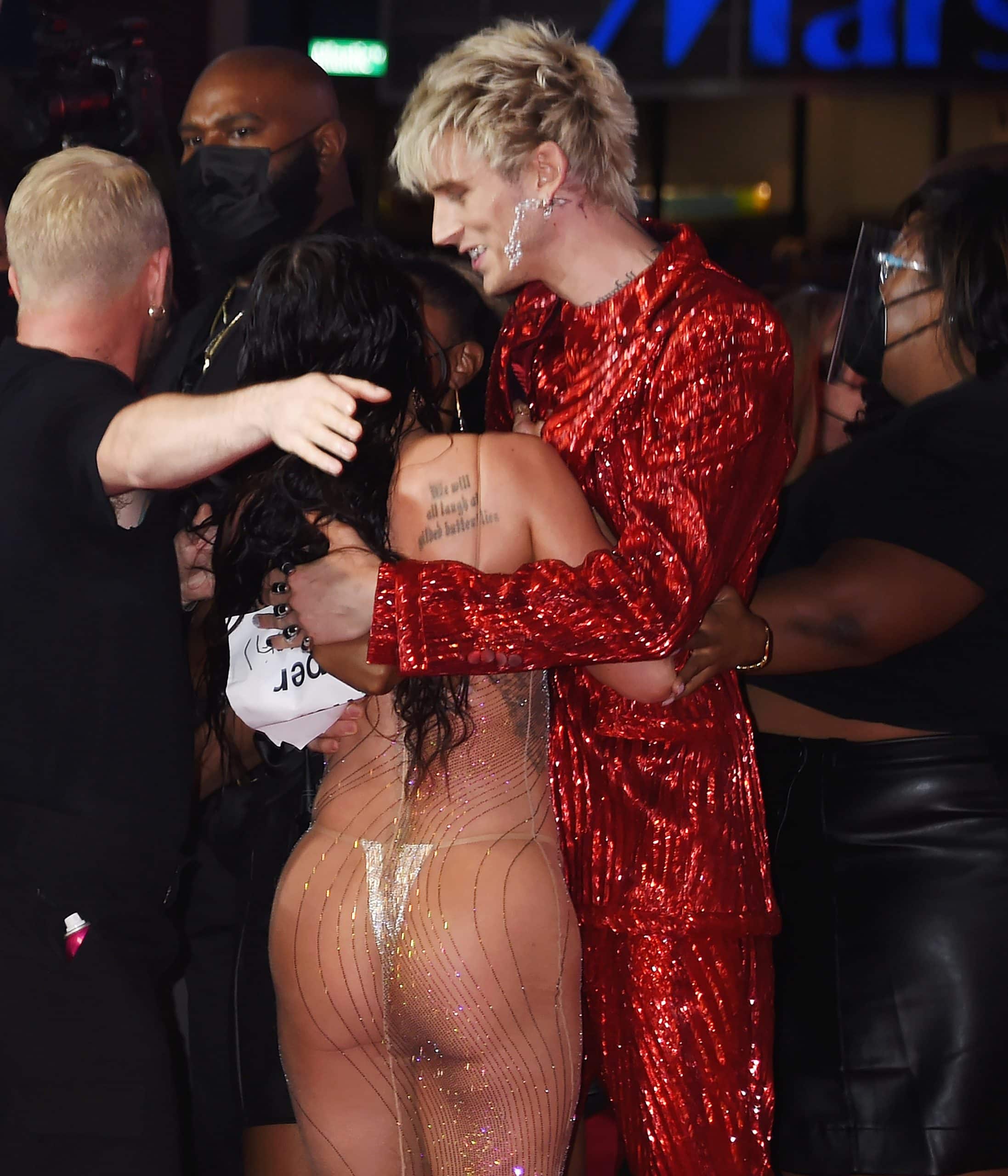 Megan Fox in a custom Mugler dress and her boyfriend MGK in a Dolce & Gabanna Alta Sartoria outfit (Credit: MEGA / WENN)
"I think part [of our connection] comes naturally because our relationship is so karmic that our spirit, our souls, are so intertwined on that higher plane, a lot of it is handled for us by our ancestors and the spirits and energies that are watching over us," she told CR Fashion Book in an interview published earlier this month.
Megan and MGK first met on the set of the awful 2021 American crime thriller film Midnight in the Switchgrass, which was panned by critics when it was released on July 23, 2021.
"I had always known that I was smart, so it was weird to have that one thing taken away from me now that I'm famous. When I was growing up, being smart was the only thing that I felt was a strong suit for me. I never resonated with being pretty or being popular, I was none of those things…All of these other reasons that people recognize me, all of which I don't resonate with or believe, and then to have the one thing that I do believe about myself be taken away, has been very challenging," she added about the public's misconception of her.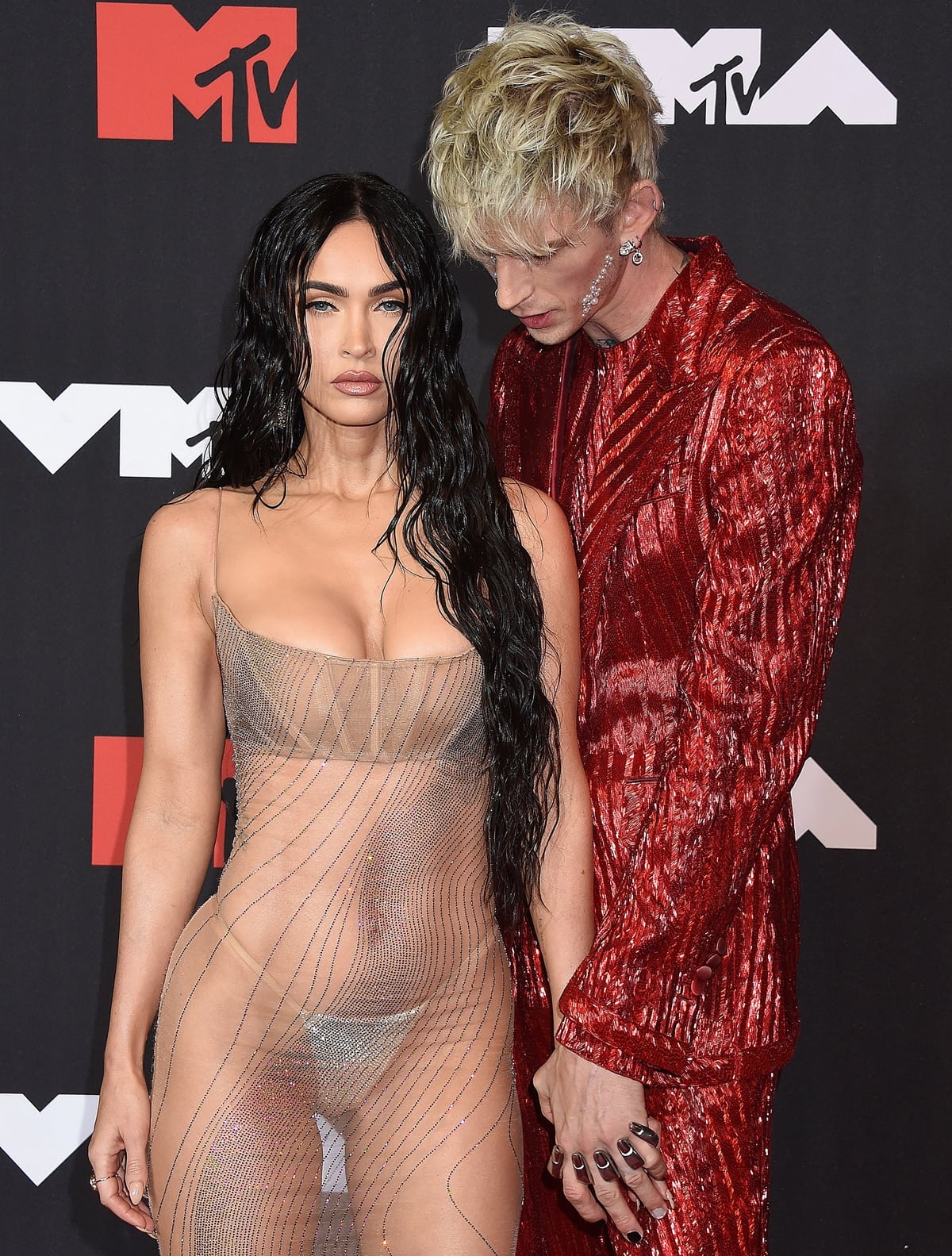 Machine Gun Kelly checking out her girlfriend Megan Fox's naked dress and embellished thong at the 2021 MTV Video Music Awards (Credit: MEGA / WENN)
"I don't sit here being of the belief that everyone's ascended now to this new level of consciousness or that everyone's transcended to this better place where we're all more open and understanding and knowledgeable and loving… that sort of archaic slut-shaming, mom-shaming, all of that still is pretty prevalent, at least for me in my experience," Megan said about today's media culture.
Megan Fox in Andrea Wazen Dassy pumps totes a Coperni bag at the Revolve Gallery opening reception during New York Fashion Week in New York City on September 9, 2021 (Credit: MEGA / WENN)
In August 2014, Megan Fox was out in full force to promote the 2014 American superhero film Teenage Mutant Ninja Turtles, which was a box office success despite negative reviews.
Megan Fox answering questions about her new movie, Teenage Mutant Ninja Turtles, at the Meet the Actor: Megan Fox event held at Apple Store SoHo in New York City on August 5, 2014 (Credit: Ivan Nikolov / WENN)
After hitting Mexico and LA for the movie's red carpet premieres, she headed to New York for a new round of publicity duties.
She made an appearance at a 'Meet the Actor' event at the Apple Store in the SoHo neighborhood of NYC. It was a strange inclusion in a movie promo tour, but it starts to make sense when you consider Megan Fox's appeal to geeky fanboys.
Megan was simply dressed for the event in a matching black A.L.C. sleeveless top and pencil skirt with green splatter prints. She wore her hair in the usual long, loose waves and gave the audience smoldering looks with long lashes and glossy lips.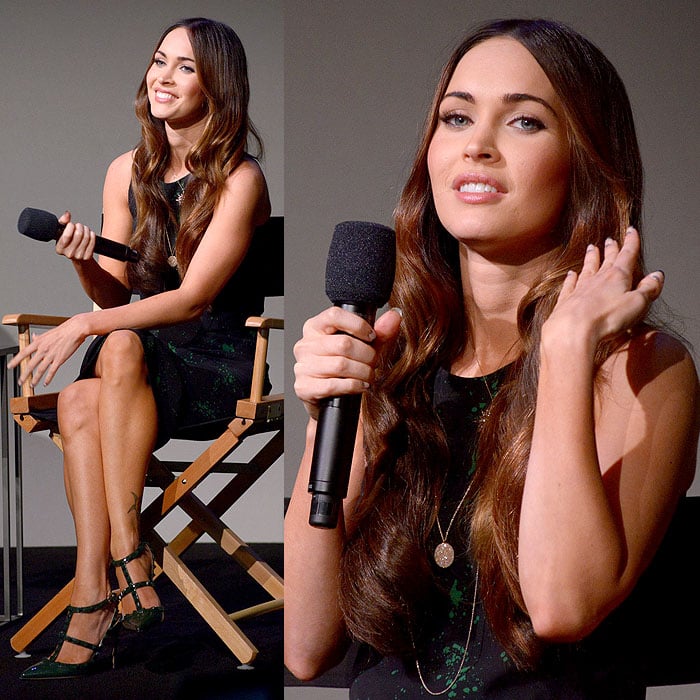 Megan Fox flashing the audience a smile and giving her hair a flirty flip (Credit: Ivan Nikolov / WENN)
Rounding out Megan's look was a pair of Valentino studded T-strap pumps. As we had already seen this celebrity- and fashion-blogger-favorite shoe style on practically everyone, it's easy to say that Megan was just going with the trend with her footwear choice.
But Megan Fox was promoting Teenage Mutant Ninja Turtles, and wearing shoes covered in pyramid studs and in that shade of green was the perfect way to pay homage to the film — subtle, well-suited, and most definitely chic.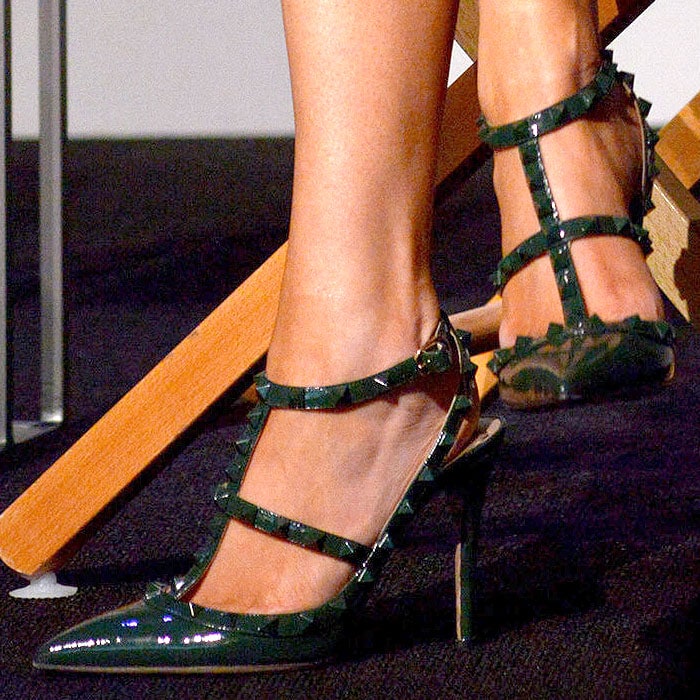 Megan Fox's feet in Valentino "Punkouture" pumps (Credit: Ivan Nikolov / WENN)
You'll find Megan Fox's exact shoes at Nordstrom. This style also comes in an all-white variant.
Valentino "Punkouture" T-Strap Pumps, $1,075