Megan Fox and Machine Gun Kelly attended the premiere of their new movie, Good Mourning, in Los Angeles last week, and both stars looked fabulous!
The couple has been known to dress up in some pretty show-stopping outfits for red carpets, but this time they took it to the next level.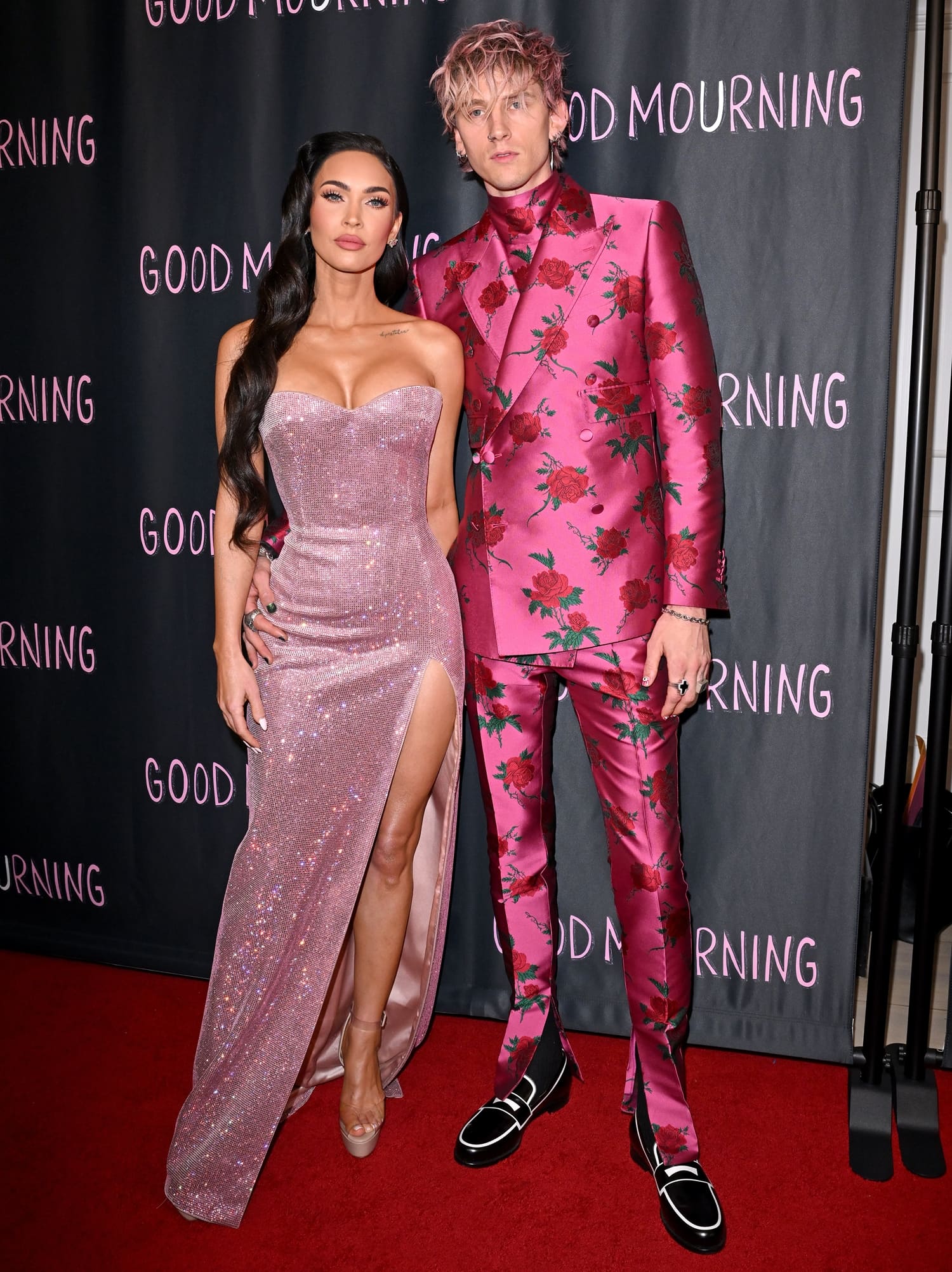 Megan Fox in a strapless pink Philosophy di Lorenzo Serafini dress and Machine Gun Kelly in a pink Dolce & Gabbana suit at the premiere of their new film Good Mourning on May 12, 2022, at The London Hotel in West Hollywood, California
She stole the show in a glittering pink dress made by Philosophy di Lorenzo Serafini. Although previously worn by Josephine Skiver in 2019 and Nieves Alvarez in 2021, Megan made the dress her own with her simple styling.
Her gown had a strapless design, a sweetheart neckline, and a thigh-high leg slit that showed off her toned legs. Megan's hair was styled in loose waves and she wore a pair of studded earrings to complete the look.
Megan Fox showed off her feet in Andrea Wazen Antigone PVC slim platform sandals (Credit: BauerGriffin / INSTARimages)
Her nails were a plain shade of white. Fox also wore a pair of nude platform pumps with clear straps from Andrea Wazen, but unfortunately, they did not fit the rest of her outfit.
Perhaps Megan should have gone for a pair of strappy sandals or some glitz to match her dress instead.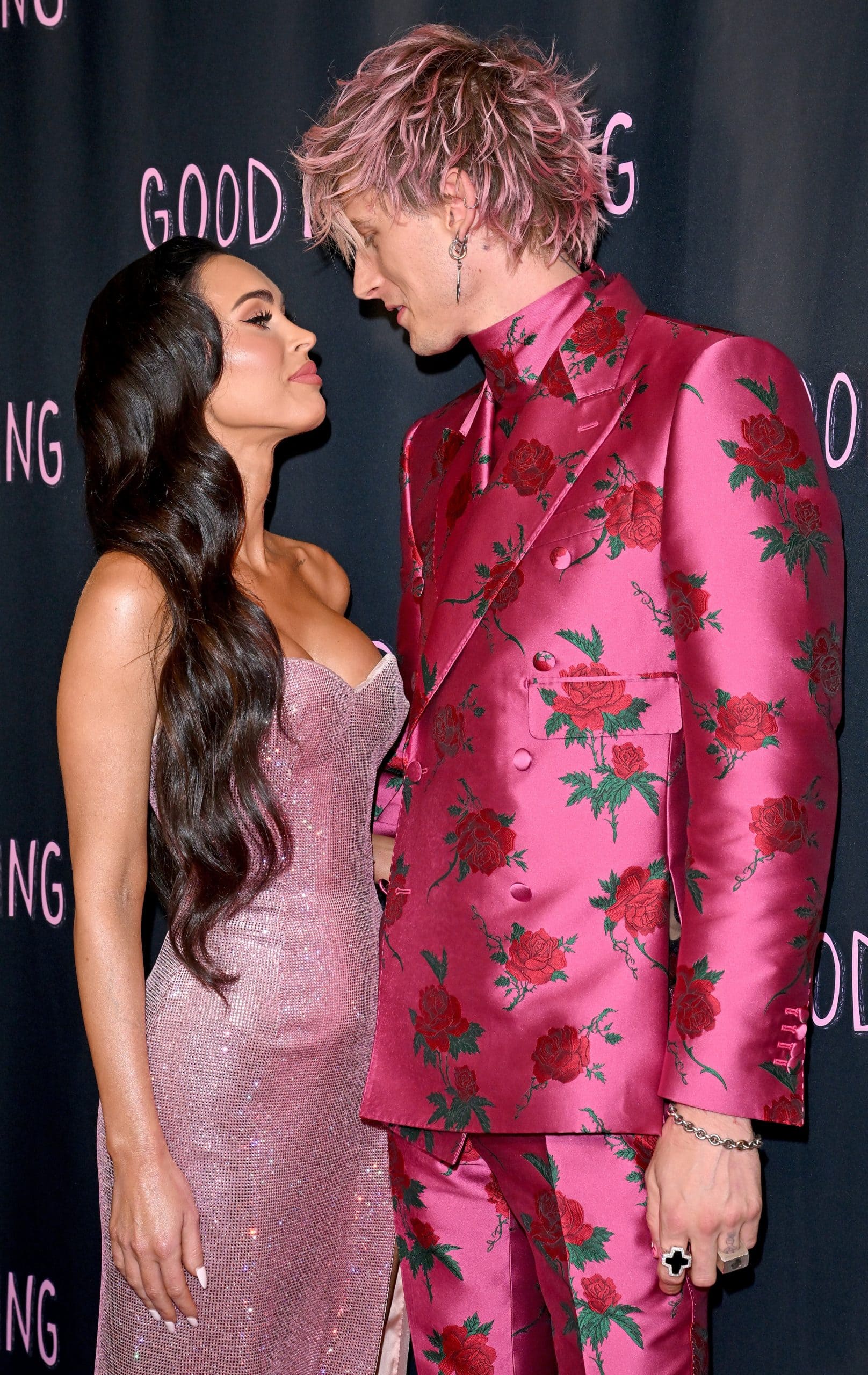 Megan Fox says dating Machine Gun Kelly has changed her style and she now can express herself more freely (Credit: BauerGriffin / INSTARimages)
Earlier this year, Fox told Vogue how dating Kelly has changed her style. "Before it wasn't something I was focused on or thought about," she said.
"Because as an actress I had been classified or put in the category of being a sex symbol. And publicists come in and they bring in a stylist and it's all about dressing more seriously, so that the world will take you more seriously as an actor. But they weren't dressing me the way in which I liked to express myself. So I kind of gave up on fashion. I was like, I don't fucking care, whatever you put me in because I'm not going to like it anyway."
Megan Fox has a Spanish 'el pistolero' collarbone tattoo dedicated to boyfriend Machine Gun Kelly (Credit: BauerGriffin / INSTARimages)
"Until I met him," she added. "Musicians have so much freedom to express themselves in the way that they dress. They can be so much more flamboyant than actors usually can. Prior to being famous everyone who knew me always knew that I would always wear one really insane piece, and everybody would be like, 'you dress weird.' And it wasn't until I was molded and had to dress one way that I gave up on that. And being with him, obviously, he's slightly eccentric in the way that he dresses—and that has freed me up to express myself more. And he helped hook me up with Maeve Reilly, my stylist."
On the red carpet, Fox showed off a thick black tattoo located on the inside of her wrist of waves that form a yin-yang symbol. It's a Chinese philosophical concept that describes the balance of both good and bad.
She also has a new tattoo on her collarbone that says 'el pistolero' in cursive text, which is Spanish for 'gunman' aka Machine Gun Kelly.
Megan Fox shows off her 'el pistolero' collarbone tattoo and her yin-yang symbol wrist tattoo (Credit: BauerGriffin / INSTARimages)
Machine Gun Kelly, on the other hand, donned a completely pink suit with a red rose pattern all over it. The rapper accessorized the outfit with several rings and a chained bracelet.
He finished the look with silver earrings and black-and-white loafers. MGK looked dapper as always, but we wish he would have chosen a different color to compliment Megan's look.
What did you think of Megan Fox and Machine Gun Kelly's Good Mourning premiere outfits?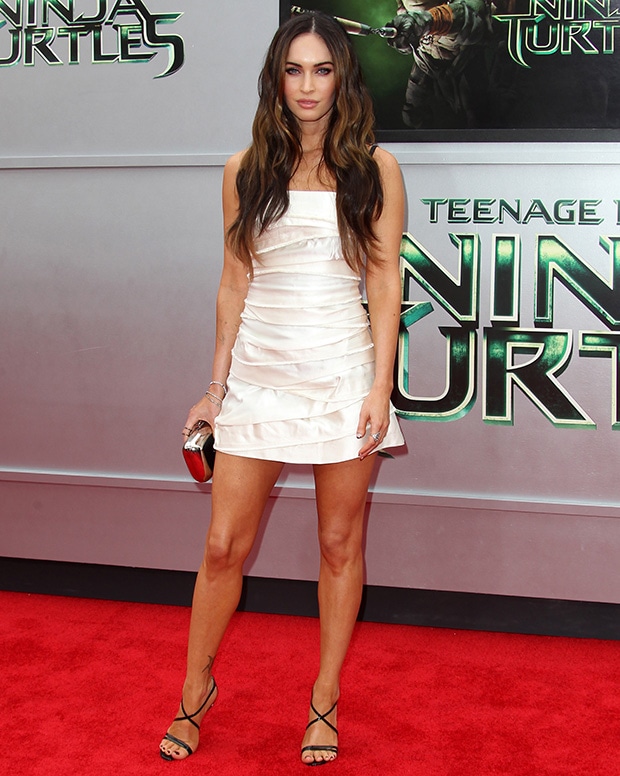 Megan Fox displays her pins in a white silk and satin mini Marc Jacobs dress (Credit: WENN)
Just a few months after giving birth to her second son, Bodhi Ransom Green, in February 2014, Megan Fox made a huge comeback!
She returned to the big screen in the 2014 American superhero film Teenage Mutant Ninja Turtles. The film also gave the actress a chance to be reunited with director Michael Bay after their feud in 2009.
Megan Fox flaunts her endless legs at the premiere of Teenage Mutant Ninja Turtles at Regency Village Theatre in Los Angeles on August 3, 2014 (Credit: Apega / FayesVision / WENN)
At the Los Angeles premiere of the sci-fi/action movie, Megan Fox wowed the onlookers as she displayed her endless pins in a fitted Marc Jacobs Resort 2015 mini dress featuring tiered layers and black straps.
The dress seemed dated and not very impressive, but we could not deny the actress's hotness amplified by her smoky eye makeup and hair that fell in loose waves over her shoulders.
Being open about her interest in astrology, she proudly displayed her crescent moon and star tattoo on the inside of her right ankle. The tattoo features a yellow and orange crescent moon with a face on top of a blue star.
"There's something to it, although we don't have all the information, which makes it easy for people to take advantage of each other," she said during an appearance on "Jimmy Kimmel Live!"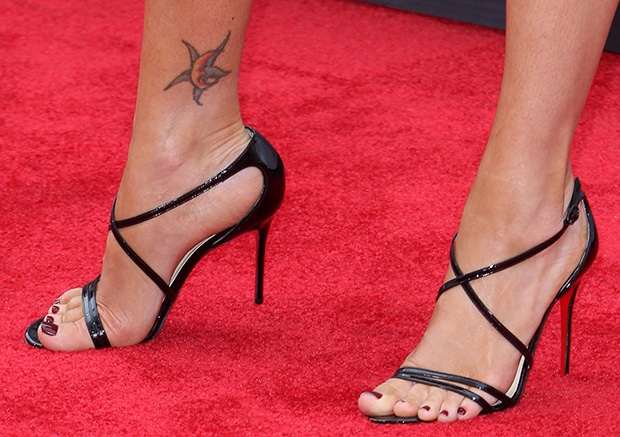 Megan Fox displays a colorful ankle tattoo of a star with a crescent moon in the middle (Credit: WENN)
"I asked him to come into my trailer for lunch, and I put him through all of this astrology stuff. I went deep right away. I knew before I even did his chart, I said to him, he has a Pisces moon. I could tell by his energy," Megan said about meeting her boyfriend Machine Gun Kelly (Colson Baker) on "Give Them Lala … With Randall."
No matter how simple her outfit was, the mother-of-two was still very attractive and was a head-turner on the red carpet.
The Jennifer's Body star completed her look with a Roger Vivier clutch, Kwiat jewelry, and Christian Louboutin Spring 2014 heels.
The "Gwynitta" sandals are simple yet versatile with thin patent leather crisscross straps, double toe bands, and about 4-inch heels.
Megan Fox shows off her feet in Christian Louboutin sandals (Credit: WENN)
All versions of these popular Christian Louboutin sandals have already sold out at Nordstrom, Ssense, Saks Fifth Avenue, and Mytheresa.
Christian Louboutin "Gwynitta" Sandals in Black, $745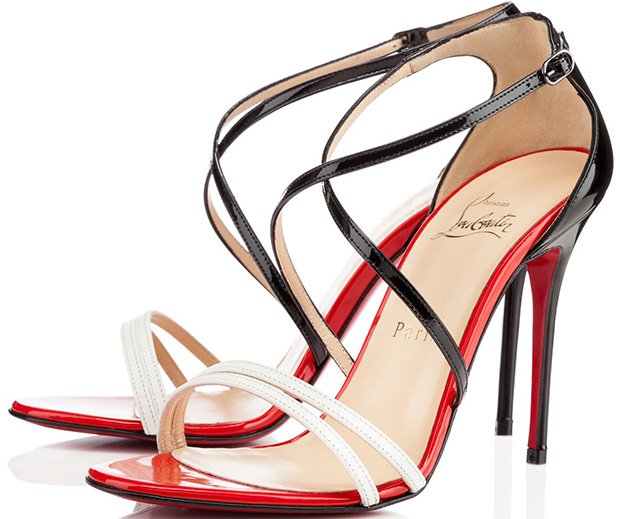 Christian Louboutin "Gwynitta" Sandals in Tricolor, $745