Summer is right around the corner. It's time to put your ankle boots away for another season and splurge on a pair of summer sandals.
With the rise of athleisure and activewear, sandals have replaced stilettoes and open-toe heels as our summer go-to.
Current fashion trends are all about putting comfort first. Is there anything more comfortable than a pair of sandals?
We're rounding up all the top sandal trends for summer. After a year of wearing slippers and sneakers, it's time to book in for a pedicure and treat ourselves to a new pair of sandals.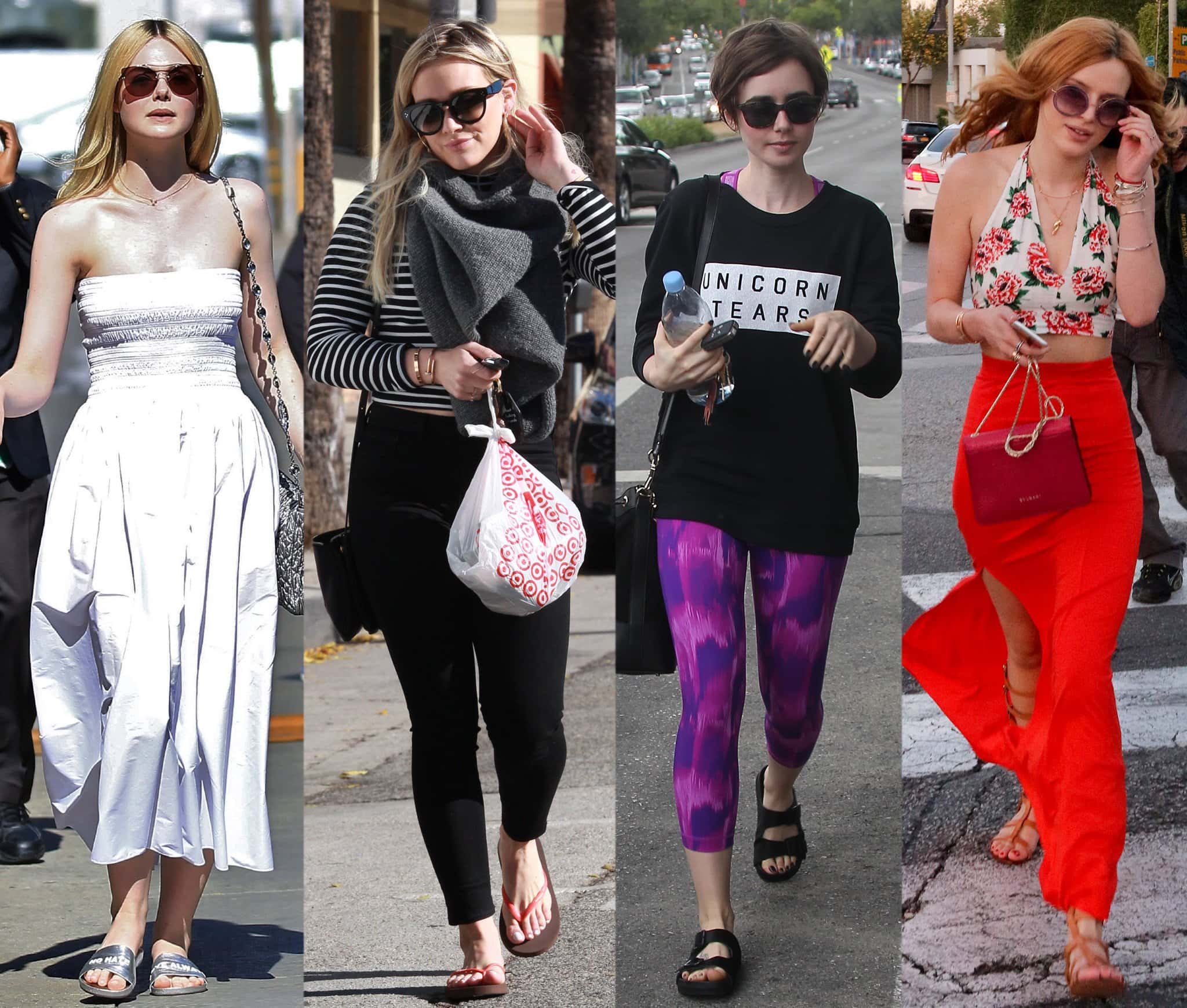 Elle Fanning, Hilary Duff, Lily Collins, and Bella Thorne wearing comfy summer sandals (Credit: WENN)
With temperatures rising and the beach calling, sandals are the only shoes you want to be wearing this summer.
Our ultimate style guide includes our top picks for sandals, so you can click 'add to bag' before these styles sell out.
Read on to find out everything you need to know about the summer sandal trends, which ones to buy, and where to purchase them!
It's no surprise that most of the sandal trends are having a throwback moment. If you've taken a scroll through TikTok or Instagram, you'll know that everything from the '80s to the early 2000s is the current source of fashion inspiration.
You can expect to see lots of sandals that you (or your aunties!) might have worn growing up. Grab a pen and take some notes!
1. Elevated Flip Flops
Flip flops are no longer just to wear to get your nails done. These shoes are often overlooked and thought of as the shoes you wear at a spa to keep your pedicure polished.
Michael Michael Kors Angela Kitten Heel Flip Flop, $99 at Nordstrom, Vince Camuto Sabrinda Flip Flop, $98.95 at Nordstrom, and Marc Fisher Faren Kitten Heel Flip Flop, $109.95 at Nordstrom
These sandals are unique, though, as they take the '90s flip-flop and add a kitten heel. We think these shoes are the perfect way to get back into wearing heels without jumping in at the stiletto deep end.
DKNY Platform Leather Flip Flops, $169 at Farfetch, Stella McCartney Tubular-Sole Flip Flops, $325 at Farfetch, and Osoi Boat Leather Platform Flip Flops, $303 at Matches Fashion
If you're not ready to get back into heels (or if you've sworn off them!), you can swap the heel out for a platform sole. You can act like you're an extra from Legally Blonde in these quirky flip flop sandals.
2. Fisherman Sandals
If there's one thing we learned during the pandemic, it's that nothing beats comfortable shoes. Fisherman sandals are a 'dad shoe' that we're seeing everywhere this season.
They are both stylish and functional, feeling like a throwback to the shoes we would have worn as a kid.
Church's Leather Fisherman Sandal, $590 at Saks Fifth Avenue, To Boot New York Santorini Fisherman Sandal, $275 at Saks Fifth Avenue, and The Row Fisherman Leather Sandal, $990 at Mytheresa
You can find fisherman sandals that work for every budget – whether you prefer rubber or leather. These shoes have a low or flat heel making them a must-have for your summer vacations and beach trips.
What we love about this trend is that you can wear these shoes with anything. Whether it's a midi-dress, maxi skirt, or denim shorts, these sandals work with any outfit.
3. Birkenstock Sandals
Ah, the faithful Birkenstock sandals. They may have started as the OG 'dad shoe', but they've become beloved by fashion bloggers across the spectrum.
Even Chanel has come out with their version of this trending sandal. You can find budget-friendly options from H&M or Zara or splurge for the originals by Birkenstock.
Birkenstock Arizona Two-Strap Sandal, $86 at Farfetch, Birkenstock Gizeh T-Strap Sandal, $100 at Saks Fifth Avenue, and Birkenstock Mayari Sandal, $99.95 at Zappos
These sandals give casual chic a whole new look and add a touch of bohemian vibes to any outfit. Birkenstocks are another versatile sandal trend, and you can find them in different materials – from velcro to leather and rubber.
Birkenstocks are the shoes that bring together comfort and practical style. Whatever your mood is, these shoes will always be your summer go-to. If you can only pack one type of sandal for your summer vacation, you will want to take your Birkenstocks.
4. The Puffy Square-Toe Heel Sandals
Bottega Veneta has become one of the 'it' luxury brands of the moment, making a legendary comeback in the fashion world. Bottega has influenced almost every trend we're seeing right now.
The padded and puffy heel sandals give you the best of both worlds – you get the look of a kitten heel and the functionality of a flip flop.
Proenza Schouler Square Toe Red Mule Sandals, $730 at Shopbop, Bottega Veneta BV Lido Beige Lamb Leather Sandals, $1,270 at Mytheresa, and Steve Madden Thai Heeled Turquoise Sandals, $89.95 at Zappos
While Bottega is the brand behind the trend, everyone from Steve Madden to Zara and Proenza Scouler has released sandals in this style.
What we love about this trend is all the color that it's bringing to our closets.
You'll find these sandals in every color of the rainbow, making them easy to incorporate into your wardrobe.
5. Logo Slides
The slide trend shows no sign of dying. If you're heading to the beach or spending the summer by the pool, slides are the ultimate sandals for you. Whatever way you fall on the 'socks and slides' debate, these shoes have gone from being a fad to a summer trend every year.
The most popular slides are the ones that incorporate brand logos and monograms. You can find these logo slides from everywhere, like Adidas to Gucci or Nike.
Nike Victori Slide Sandal, $30 at Nordstrom, Gucci Agrado Interlocking G Slide Sandal, $350 at Saks Fifth Avenue, and Adidas Adilette Aqua Slides, $24.95 at Zappos
Whatever your budget is, you can add slides to your closet. There is a pair out there for everyone to match your aesthetic and style. Slides are easy slip-on shoes that you can leave next to your lounger at the pool or throw into your overnight bag.
6. Colorful Sandals
If there's one thing that unites all the sandal trends, it's color. The brighter the color palette, the better. We're seeing signature summer colors make a bold comeback with sandals this year. Some of our favorites include bubblegum pink, mellow yellow, and sea blue.
When it comes to choosing the right colorful sandals, you want to think of a shade that works with your closet.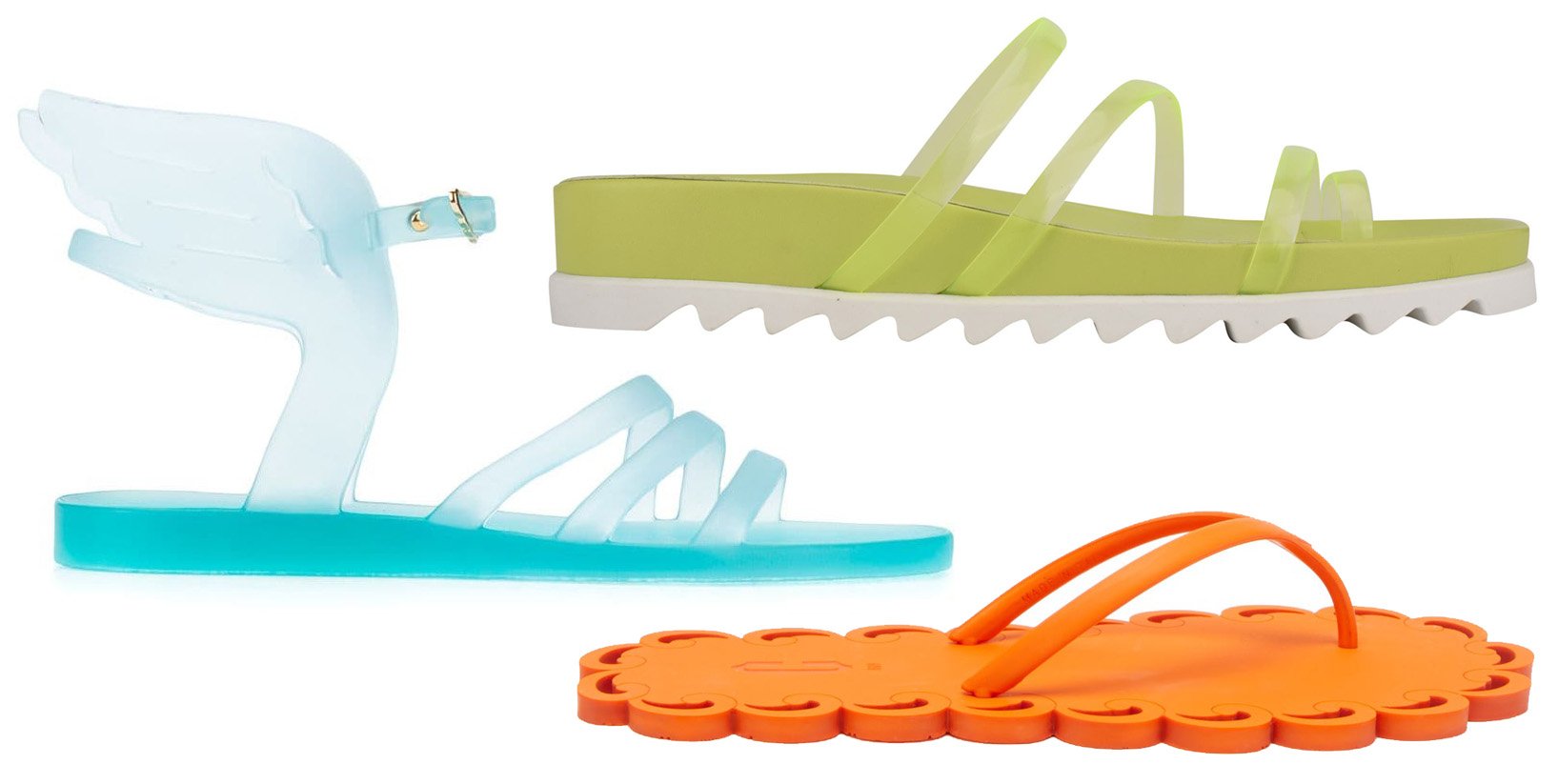 Nine West Cati Lime Green Sandal, $69 at Nordstrom, Ancient Greek Sandals Ikaria Jelly Sandal, $99 at Farfetch, and Carlotha Ray Laser-Cut Scented Orange Flip Flops, $210 at Matches Fashion
Sandals are the shoes that you'll find yourself wearing all summer long, so it's worth investing in a pair to see you through the season. You can match your sandals to your signature color palette or choose a shade that will 'pop' against your go-to summer looks.
If there's any time of the year to experiment with color, it's the summer. Along with colors, it's worth checking out prints, including stripes and polka-dots. The more of a statement that the sandals make, the better!
7. Gladiator Sandals
Amina Muaddi is one shoe designer that we always go to for shoe inspiration. If there's one silhouette that she's known for, it's gladiator sandals. What makes this trend so popular is that there are two ways of rocking it.
You can stick to the classic gladiator style or make it sultrier by taking the straps up your legs and adding a kitten heel.
Amina Muaddi x AWGE LSD Embellished Leather Sandals, $1,510 at Mytheresa, Free People Anya Gladiator Sandals, $98 at Zappos, and Sam Edelman Jamila Sandals, $130 at Zappos
If you're celebrating or want to make a statement, take a leaf from Amina Muaddi's book and choose a crystal pair. These sandals will add a touch of drama to any look. If sparkles aren't your preference, you can keep it classic with tan leather gladiator sandals.
Gladiator sandals are the perfect way to get back into wearing heels after the pandemic and a year of wearing sneakers. With gladiator sandals, you don't have to worry about slipping out of your heels or running around in sky-high stilettoes.
These sandals add a touch of romanticism to any look and are a minimalistic alternative to court heels for a casual wedding or family event.
8. Kitten-Heeled Mules
Mules are the ultimate dressed-up sandal. They're the shoe you want to reach for before a night on the town or when you're celebrating a birthday or big event.
These shoes are perfect for wearing for brunch, allowing you to dress them up or down depending on your lifestyle.
By Far Lana Open-Toe Dark Brown Mule, $468 at Nordstrom, Rejina Pyo Black Leather Kitten Heel Mule, $440 at Farfetch, and Wandler Ava Kitten Heel Mule, $502 at Farfetch
Open-toe mules are the go-to choice for an elevated shoe for summer. If you've got a summer wedding coming up, these are the shoes you want to splurge on.
9. Barely There Sandals
When you're wearing sandals, it can feel like you're wearing nothing at all. If you're a fan of fake tan or have a sun-kissed glow, these sandals will accentuate your summer color and add a seductive twist to your look.
The barely-there straps will elongate your legs, whether you choose a kitten heel or a higher heel.
You have two options with this trend. You can choose a skin tone shade for a minimalistic look and add a ballerina pink polish or go all out with vibrant colors.
Sergio Rossi Ankle-Strap Sandal, $695 at Farfetch, Stuart Weitzman Ellsie Strappy Sandal, $470 at Farfetch, and Schutz Desta Sandal, $118 at Nordstrom
This trend first jumped onto the scene in 2019 and was the 'it' show of the season, making a major comeback. You can make these shoes easier to wear by choosing a style with fewer straps.
The simplicity of these shoes is what has made them a timeless summer sandal trend. Whatever your aesthetic is, you can incorporate these shoes into your summer closet.