In January 2020, Ariana Grande started dating real estate tycoon Dalton Gomez. She has previously been linked to big names such as from Big Sean, the late Mac Miller, and her ex-fiancé Pete Davidson.
From September 2013 to sometime in January 2014, the American singer/actress was in a relationship with English singer Nathan James Sykes.
How much is Nathan Sykes worth?
Best known for being the youngest member of the British boy band The Wanted, he has a net worth of $8 million dollars. Nathan was born on April 18, 1993, in Abbeymead, United Kingdom.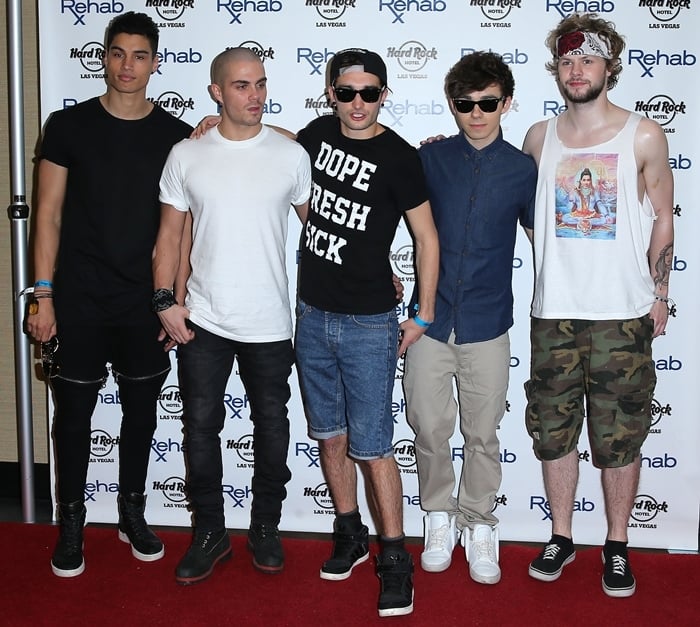 (L-R) Singers Siva Kaneswaran, Max George, Tom Parker, Nathan Sykes, and Jay McGuiness of The Wanted arrive at the Hard Rock Hotel & Casino during the resort's Rehab pool party on April 27, 2014, in Las Vegas, Nevada
Ariana told Entertainment Wise how she met Nathan Sykes for the first time, "I saw him in March [2013] on a red carpet, and we locked eyes with each other all night. I thought, he was cute as hell. Nothing happened obviously."
They got to know each other when working on the ballad "Almost Is Never Enough," which is included on the official soundtrack for the 2013 fantasy film The Mortal Instruments: City of Bones.
"We hadn't met really still, until we shot the video," she said about filming on August 4, 2013, for the pop and soul-influenced track.
It was a really fun day – he was very sweet and cute. We started talking and then it just went from there. No, actually we didn't really start talking until we met again at Justin Bieber's tour in August."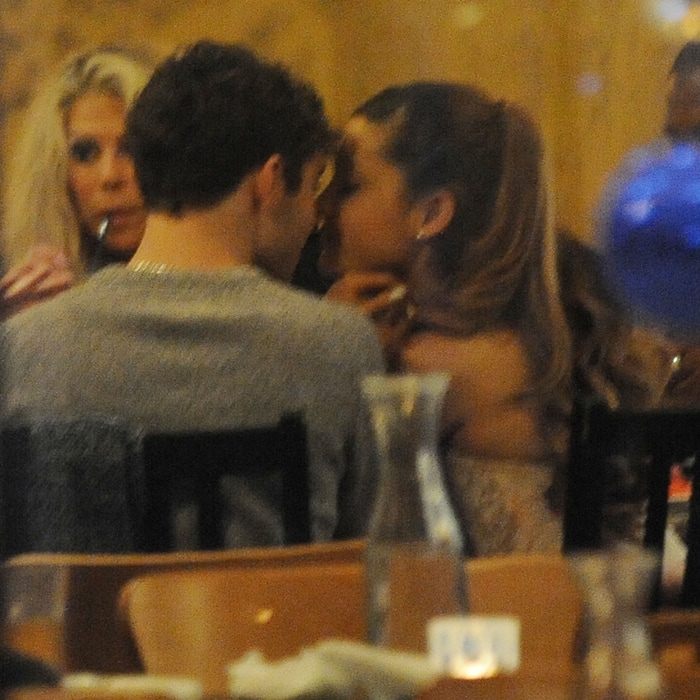 Ariana Grande and Nathan Sykes were kissing and cuddling while on a dinner date at the vegetarian restaurant Manna in Primrose Hill after Ariana's secret gig at the Rise nightclub in London on November 7, 2013
They went public with their relationship on September 24, 2013, and Ariana's ex-boyfriend Jai Brooks quickly accused her of cheating.
"We were going back to his hotel to watch a movie, and he had Ladurée macaroons and sunflowers waiting-I love Parisian baked goods, and sunflowers are my favorite flower," she told Cosmopolitan about their first date for the magazine's February issue.
"He had taken the DVD player out of the bedroom and into the living room because he said he didn't want to take me into the bedroom on the first date."
According to Us Weekly, Ariana Grande and Nathan Sykes broke up as they "hardly ever saw each other" due to their busy schedules.
Nathan Sykes collaborated with Ariana Grande on the song "Almost Is Never Enough" and had a romantic relationship with her for five months in late 2013
A little London rain can't stop Ariana Grande from stepping out in a pair of sleek white-hot heels.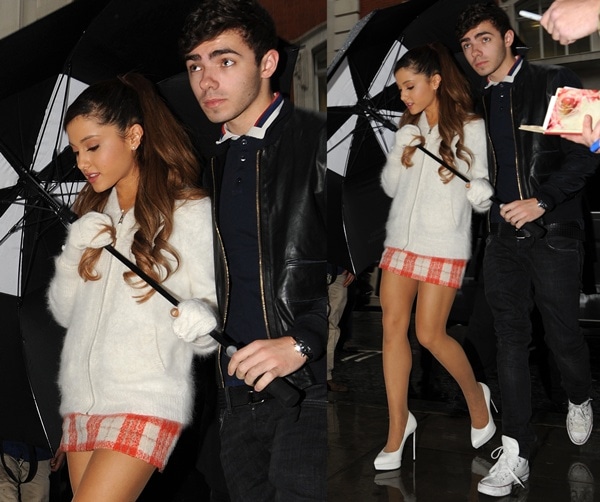 Ariana Grande in a cozy white sweater and a plaid Topshop skirt
In October 2013, the then 20-year-old was singer spotted sharing an umbrella with her boyfriend, Nathan Sykes, while the two arrived at BBC Radio 2.
Ariana Grande and her boyfriend Nathan Sykes arriving at BBC Radio 2 in London, United Kingdom, on October 11, 2013
Despite the gloomy weather, Ariana looked adorable in a cozy white sweater, a plaid Topshop skirt, and white Saint Laurent "Janis" pumps (she seems to have a thing for white heels).
The pumps worked wonders on her perfectly toned legs, leaving us quite envious!
Ariana Grande wearing white Saint Laurent "Janis" pumps
As Ariana has proven, Saint Laurent's 'Janis' pumps are truly classic. We've seen them on some pretty big names, including Demi Lovato and Miley Cyrus.
Sadly, they're no longer available in white, but you can get them in black, red, or with studded toe caps at Farfetch and Nordstrom.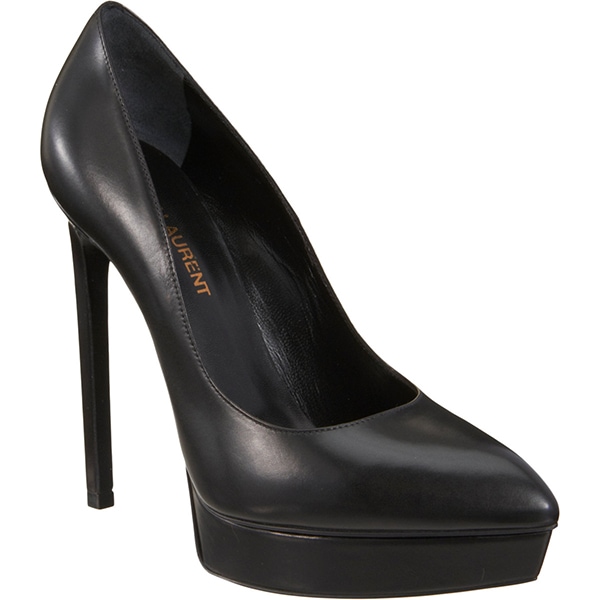 Saint Laurent "Janis" Pumps in Black, $745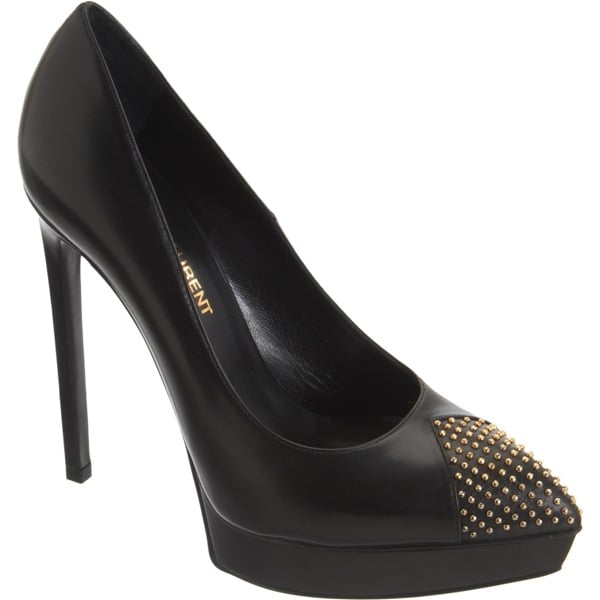 Saint Laurent "Janis" Pumps in Black, $745
Saint Laurent "Janis" Pumps in Red, $745
Credit: WENN / Judy Eddy