She's aging like a fine wine! Kate Beckinsale turned 48 this year, but she looks nothing like her age! And no, Botox has nothing to do with her seemingly ageless appearance.
Surprisingly, the actress has a minimalist skincare and beauty routine, and she only started having one when she was in her late thirties.
"I didn't really have a skincare routine until I was much older, probably in my late thirties, early forties," Kate told People at the Los Angeles launch of MRVL's Skin Solutions recently.
View this post on Instagram
Last week, The Underworld star showcased her age-defying beauty and physique at the launch of Stella McCartney's Beatles-inspired Get Back collection.
Joining Kate Hudson and Ryder Robinson on the red carpet, Kate Beckinsale served up a chic '70s look in a psychedelic outfit from the English fashion designer's latest collection.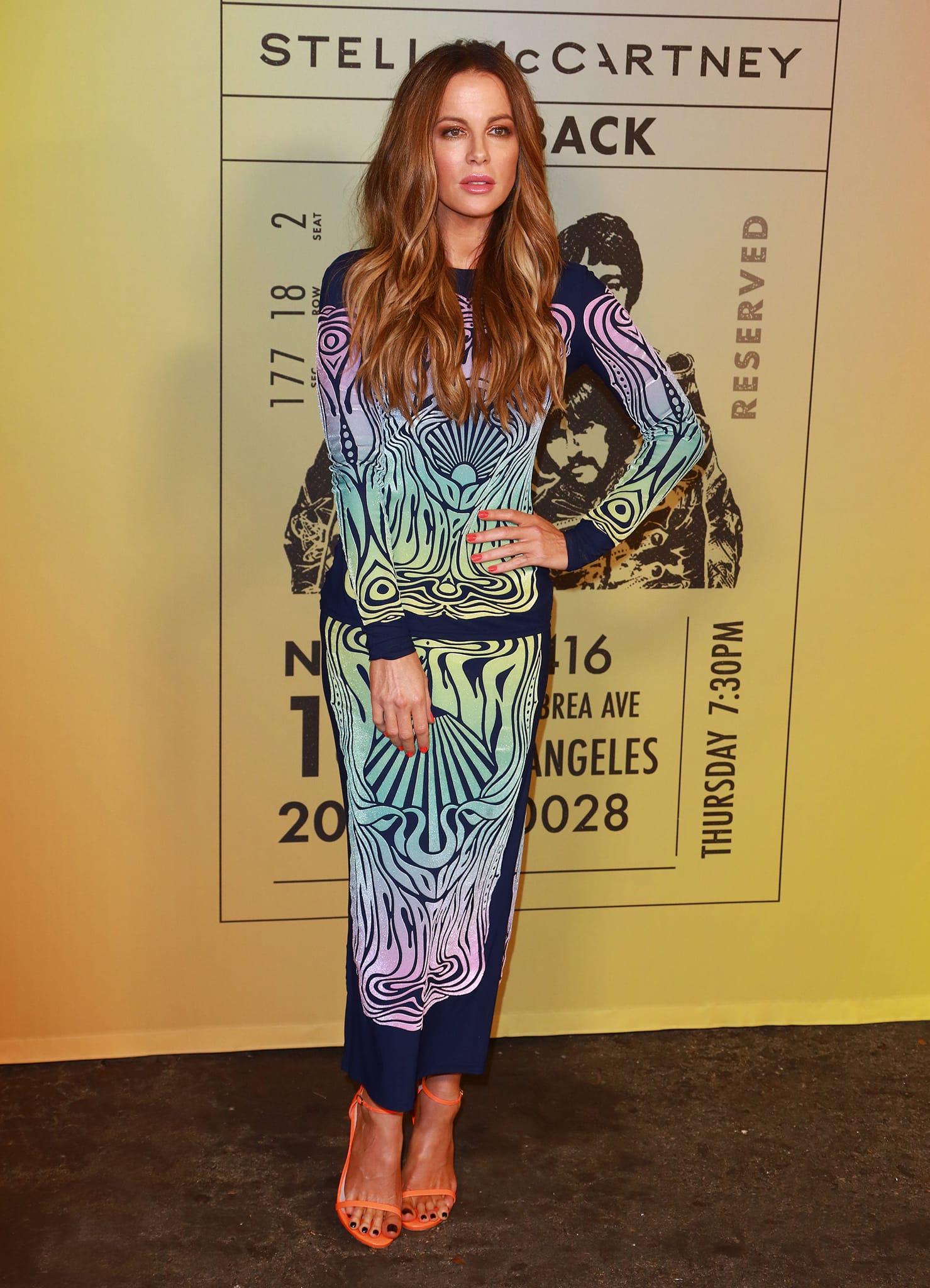 Kate Beckinsale attends the Stella McCartney x Beatles Get Back collection launch at Henson Studios in Hollywood on November 18, 2021 (Credit: Mega / WENN)
Styled by Taylor Jacobson Wolf, she wore the $1,095 Fluid velvet long-sleeved top and a matching $1,195 long skirt, both featuring contrasting multicolored fluid print and velvet detailing.
The iridescent swirl prints spell out Stella McCartney as well as the word "love" in shades of pink, green, and blue.
Kate Beckinsale stuns in a Fluid Velvet psychedelic top and long skirt from Stella McCartney's Get Back collection (Credit: Mega / WENN)
Director Len Wiseman's ex-wife skipped the jewelry but added a splash of color to her already vibrant ensemble with a pair of neon orange heels from Stuart Weitzman.
She wore the fluorescent Nudist sandals, which are part of the brand's limited-edition Neon Capsule collection.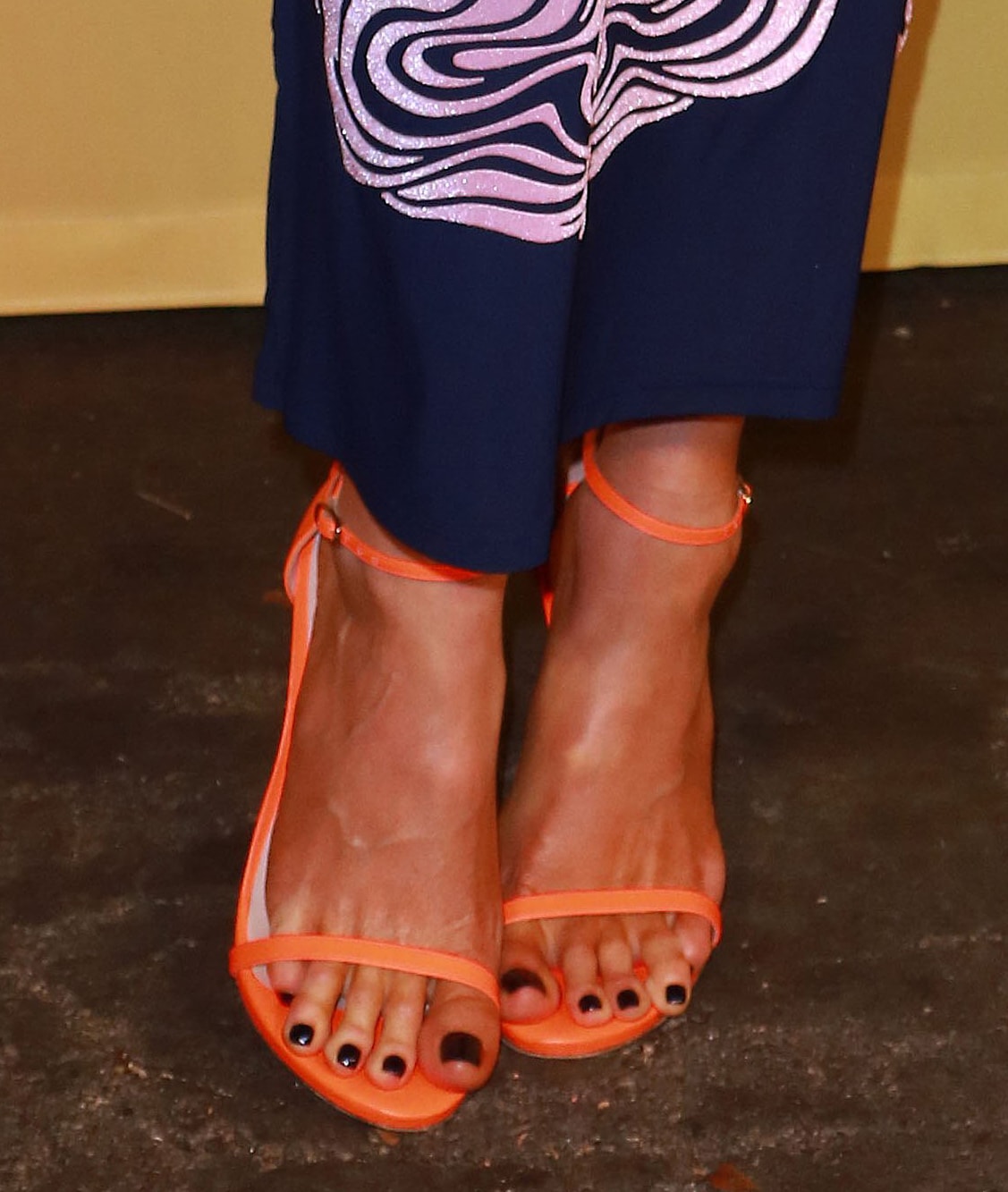 Kate Beckinsale pairs her colorful outfit with neon orange Stuart Weitzman Fluorescent Nudist sandals (Credit: Mega / WENN)
Hair artist Aaron Light styled Kate's brunette tresses down in voluminous waves, while makeup artist Chase Aston glammed her up with shimmering pink eyeshadow, a hint of blush, and a swipe of coral pink lip color.
She also had her nails painted in red-orange by Miwa Kobayashi.
"I haven't had any," she The Sunday Times about rumors she's had plastic surgery. "I'm not against people having it. [But] I do get pissed off. It's sort of a given that I've had it, which I just literally haven't."
"I'm frightened of paralyzing my face," the Underworld actress added. "My mum's voice is in my head, very loud, at all times. My mum wouldn't even get a facial, she is suspicious of anything like that, and looks f—ing radiant and amazing. I know if I did do Botox, I'd be the one that would get the droopy eye, and my mum would go, 'I f—ing told you! See? You should never do that.'"
"My family are generally on the younger-looking side," she said about her ageless appearance. "Even my dog is nine and looks like a puppy."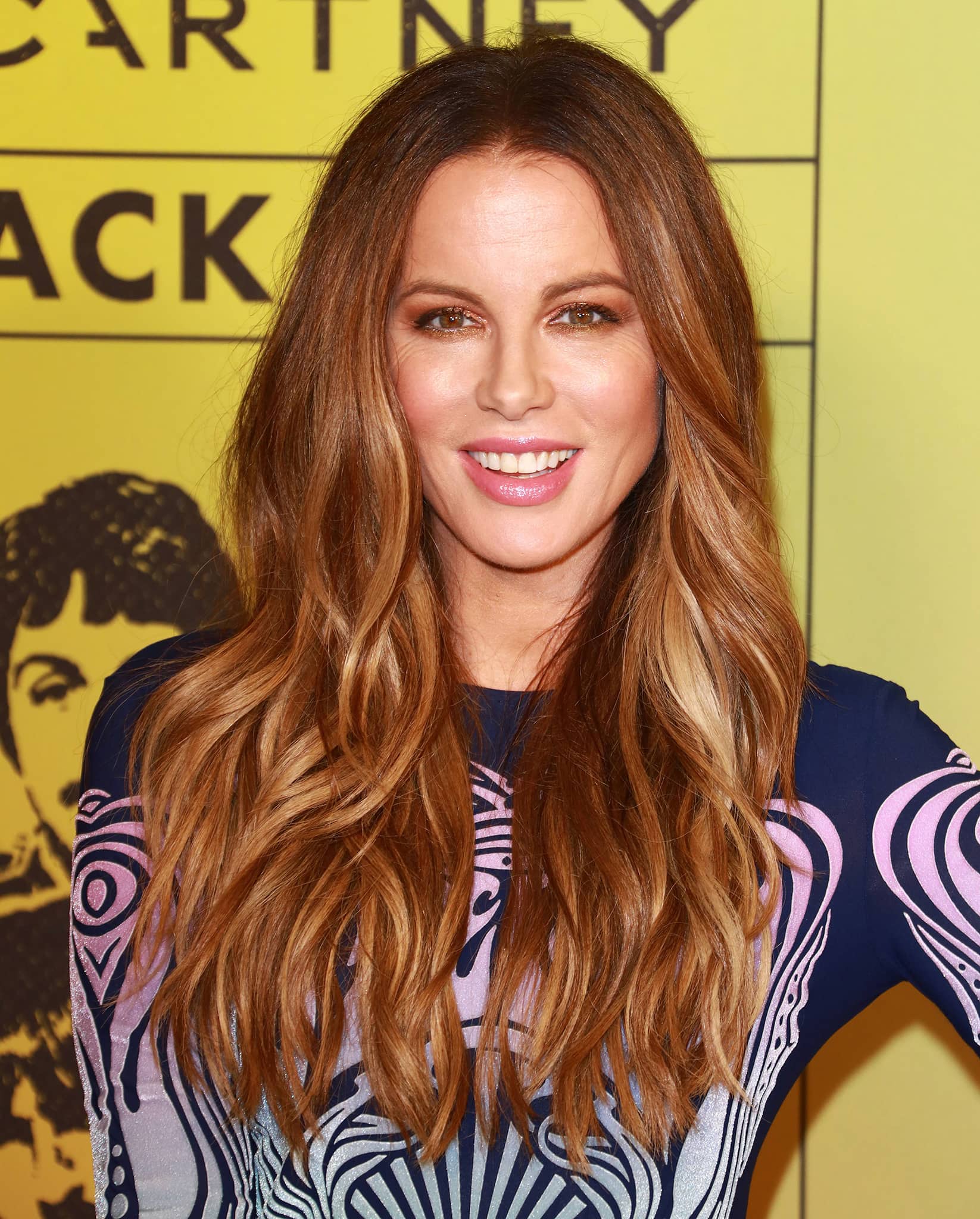 Kate Beckinsale wears her brunette tresses in voluminous waves with coral pink lipstick and shimmering eyeshadow (Credit: Mega / WENN)
Kate Beckinsale's Beauty Secrets
Good genes aside, we already know that one of Kate's go-to skincare products is the Cetaphil Gentle Cleansing Bar, which costs under $4 at Amazon.
But in her recent interview with People, Kate added that she also uses Pantene shampoo and conditioner, which her hair really likes, and strawberry Chapstick, which she calls her "absolute jam."
View this post on Instagram
She also revealed trying homemade face masks with egg whites and avocado, which she said: "didn't do anything."
"Skincare-wise, I've never done anything crazy like a peel. I really would like to, because I see people who've had them but I just think something will go wrong and I'd be scarred."
The new MRVL spokesperson said she wants products that "make your skin feel better" and recommends using retinol "for smoothing out pores and just keeping everything plumpy."