During her appearance on Late Night With Seth Meyers earlier this month, Emily Ratajkowski did her best to explain why women seem to love Pete Davidson.
She worked with him on a campaign shoot a few months ago.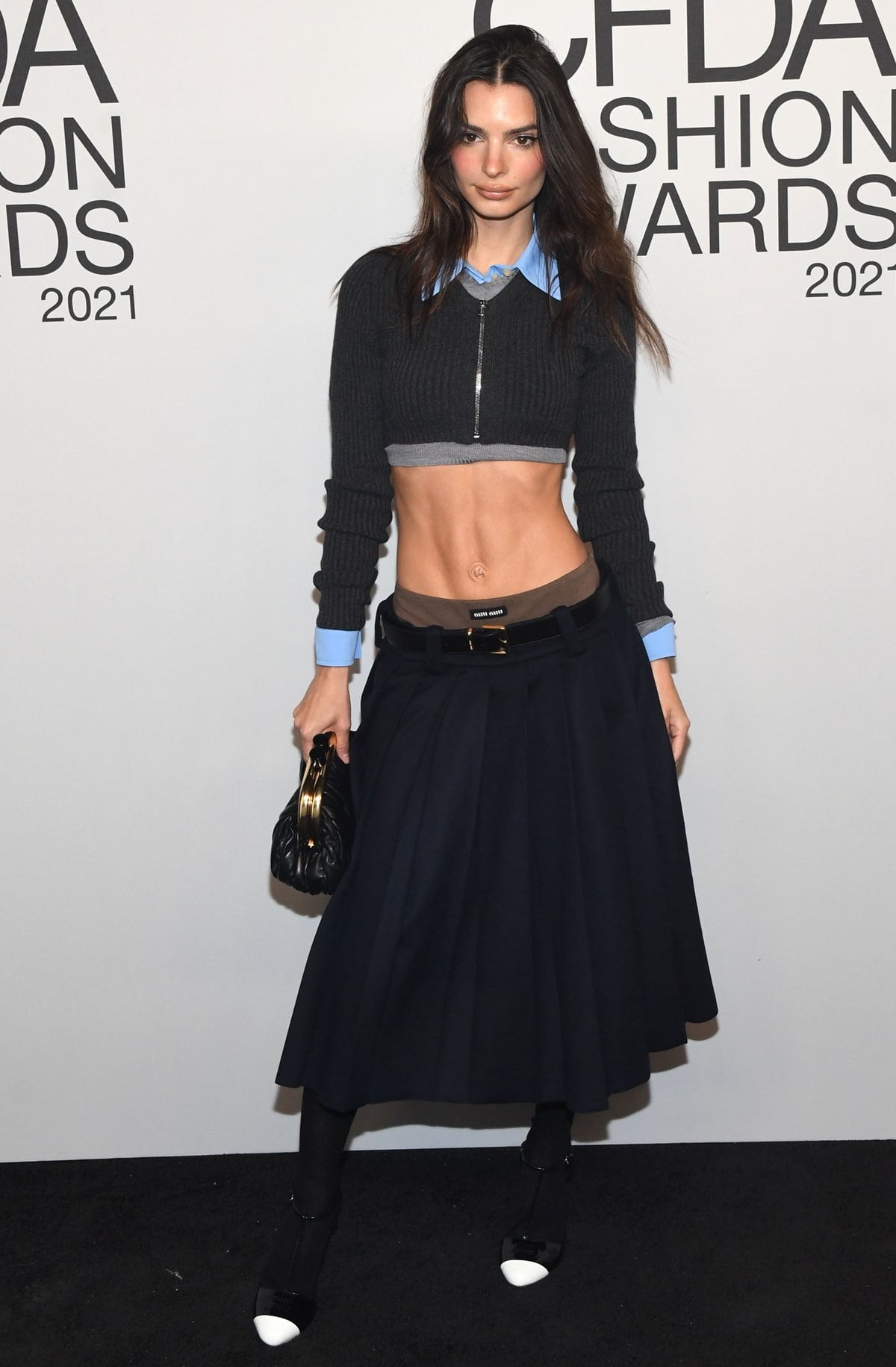 Emily Ratajkowski in a Miu Miu Spring 2022 look at the 2021 CFDA Fashion Awards held at The Grill Room on November 10, 2021, n New York City (Credit: MEGA / WENN)
"He's a professional," Emily said about the Saturday Night Live star who has romanced comedian Larry David's daughter Cazzie David, Carly Aquilino, Ariana Grande, Kaia Gerber, Kate Beckinsale, and Bridgerton star Phoebe Dynevor.
"First of all, you should know that about Pete."
Emily Ratajkowski toted a black Miu Miu clutch and flaunted her abs at the 2021 CFDA Fashion Awards (Credit: MEGA / WENN)
She added, "Pete—he's got the height. Obviously, women find him very attractive."
"Guys are like, 'Wow. What's that guy got?'" she added about the 6′ 3″ (190 cm) comedian who's now rumored to be dating Kim Kardashian.
"And I'm like, I mean, he seems super charming. He's vulnerable. He's lovely. His fingernail polish is awesome. He looks good!" She added he has a "super great relationship with his mom."
The 30-year-old model has been busy this month promoting her new book "My Body" that you can purchase on Amazon.
Wearing Dodo Bar Or's Celia skirt paired with JW Anderson's 'Infinity' sweater and black Kiki boots from Paris Texas, she stopped by The View to discuss the controversial bestseller.
Emily Ratajkowski shows how to wear a tiny red skirt with knee-high leather boots (Credit: MEGA / WENN)
"I think that the important thing about that story and that essay is that the set was filled with women," Emily said about her experience with Robin Thicke on the set of his music video for the 2013 hit song "Blurred Lines."
"It was an incredible female director, cinematographer. I actually had a really good time. I was having a lot of fun, compared to other jobs I was doing at 20. This was a group of women, I was dancing around, I was being goofy."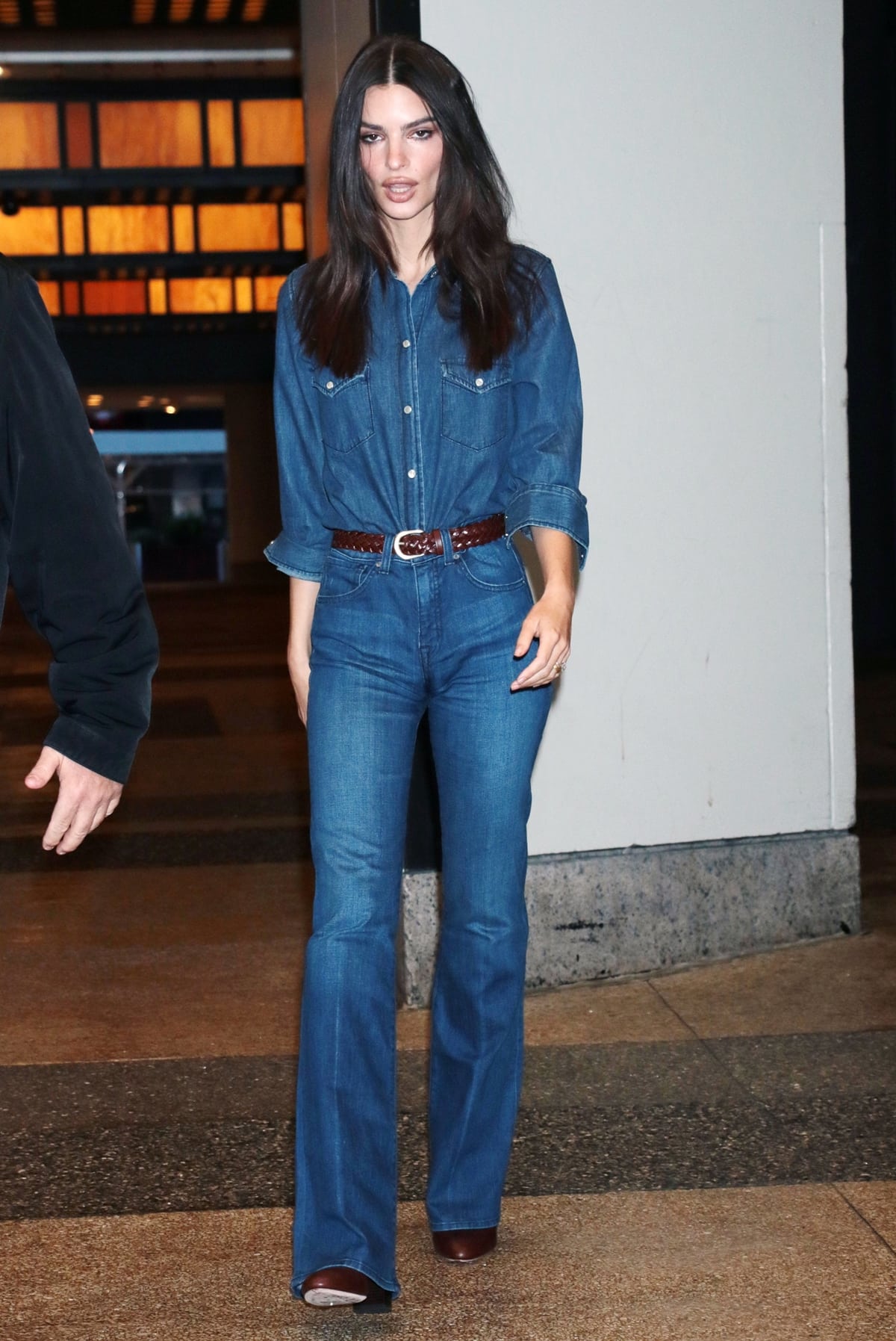 Emily Ratajkowski wears a Martine shirt from Nili Lotan with jeans and Loeffler Randall Goldy boots in New York City on November 8, 2021 (Credit: MEGA / WENN)
"That video got a lot of criticism. When it was criticized when I was 21, I was really defiant and said, 'Actually, I had a good time. It was empowering,'" she added. "That just wasn't the whole reality of the story."
"I think that that's a perfect example of why I decided to include it in the book. It just exemplifies what I'm trying to say: it can be both. It can be both an incredibly fun experience, it brought me fame, it brought me success."
"There was also a moment where nobody could say anything. We were a bunch of women who were working and easily replaceable. I knew that there was a younger, prettier girl who would happily do the music video instead of me. It's the reason I'm here, in some ways. It's the reason so many people are hopefully going to read this book. It's complicated, and I was scared of people just making it about a sexual assault allegation and not really listening to the whole story. I hope people read the whole essay."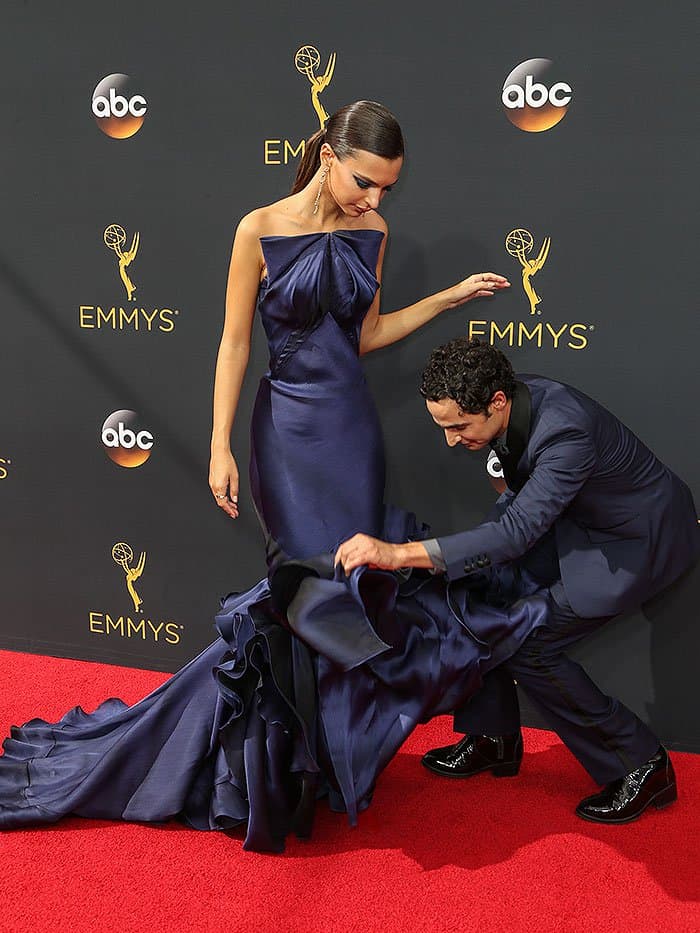 Zac Posen fixing his own Resort 2017 navy strapless gown design on Emily Ratajkowski (Credit: FayesVision / WENN)
What we wouldn't give to have a dress designer who doubles as our own personal red carpet assistant. Lucky for Emily Ratajkowski, she's living our dreams.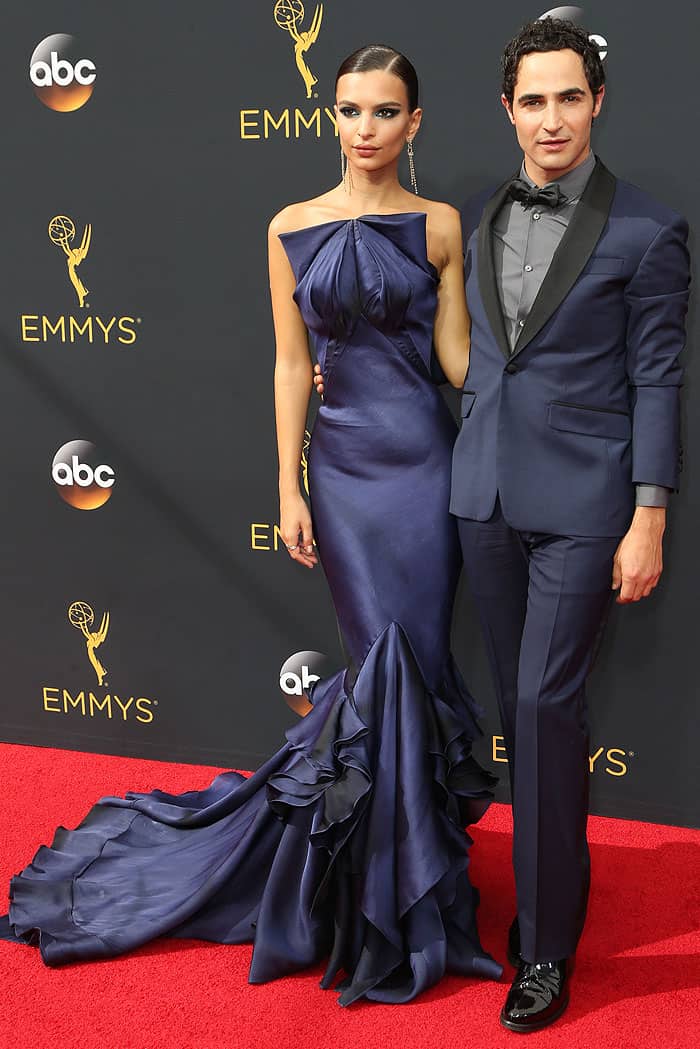 Zac Posen posing with Emily Ratajkowski, his model and date for the night (Credit: FayesVision / WENN)
In September 2016, the Blurred Lines star took breaths away in a Zac Posen ombre navy strapless gown at the 2016 Emmy Awards.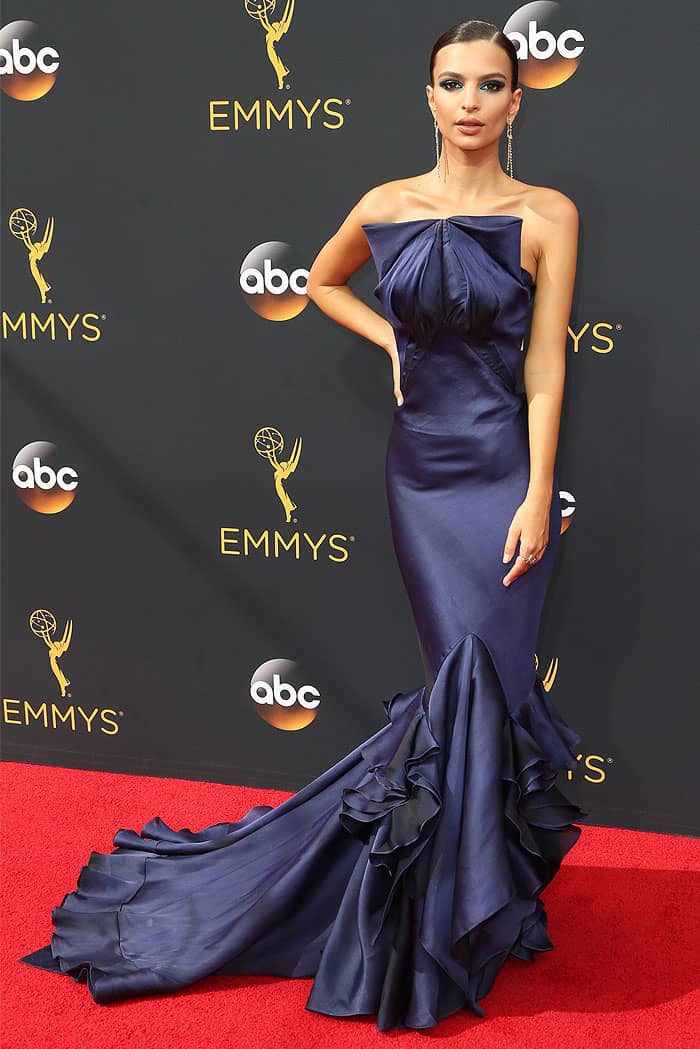 Emily Ratajkowski in a Zac Posen Resort 2017 strapless gown (Credit: FayesVision / WENN)
On her arm and as her date that night was none other than Zac Posen himself.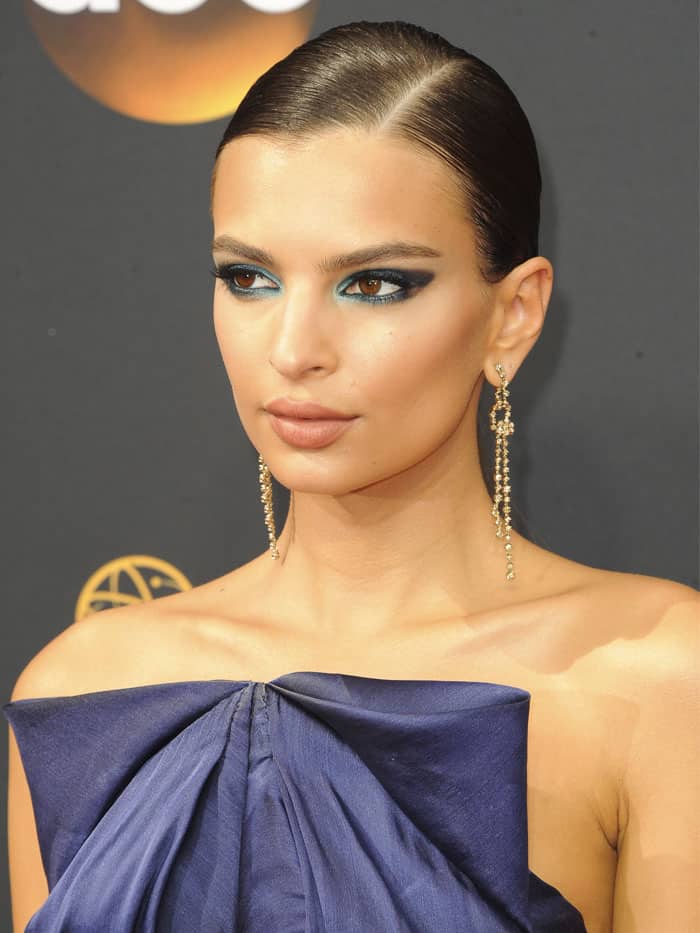 Emily Ratajkowski shows off her Zephyr drop chain earrings (Credit: Apega / WENN)
As the chic twosome stepped on the red carpet, Zac bent down to help Emily adjust the dress's ruffled mermaid hem.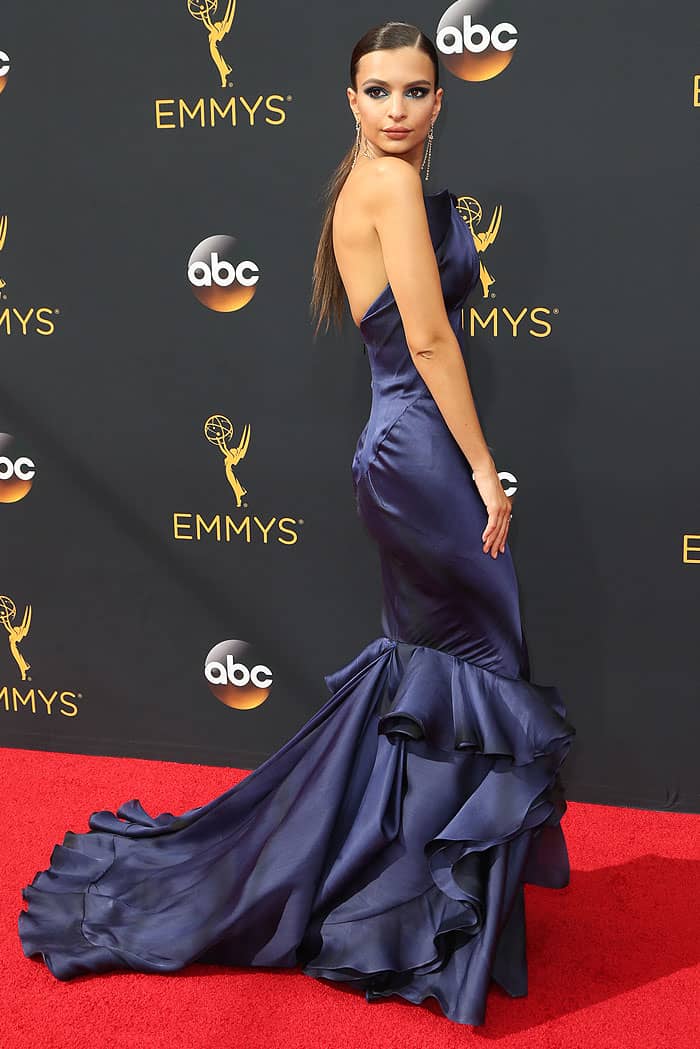 Emily Ratajkowski's Zac Posen dress features ruffles and a mermaid silhouette (Credit: FayesVision / WENN)
Clearly, it pays off to have a highly talented fashion designer double as your own personal stylist. Emily was easily one of the best dressed that evening!
Emily Ratajkowski with an open mouth and dramatic makeup (Credit: FayesVision / WENN)
Emily added bling to her look with Zephyr drop chain earrings, a couple of H. Stern Star Rings on one hand, and an H. Stern Rock Season Ring on the other.
She kept her long brown hair in a sleek ponytail and lined her eyes with sparkly dark blue eyeshadow.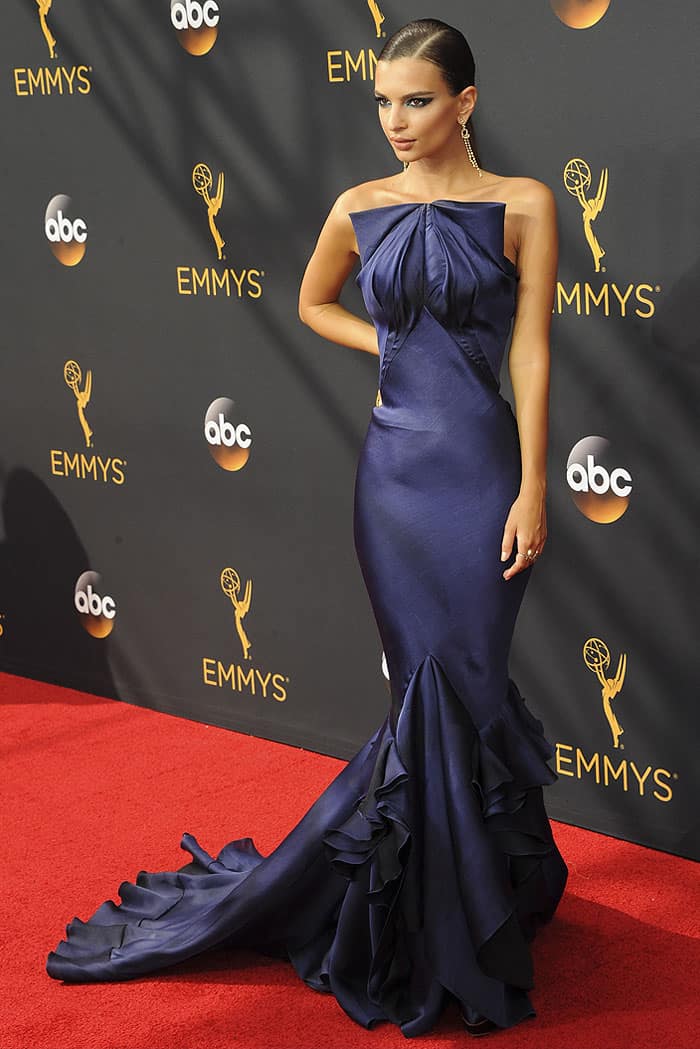 Emily Ratajkowski at the 2016 Emmy Awards held at the Microsoft Theater in Los Angeles, California, on September 18, 2016 (Credit: Apega / WENN)
The then-25-year-old actress completed her blue-hued ensemble with matching navy Charlotte Olympia "Paloma" pumps.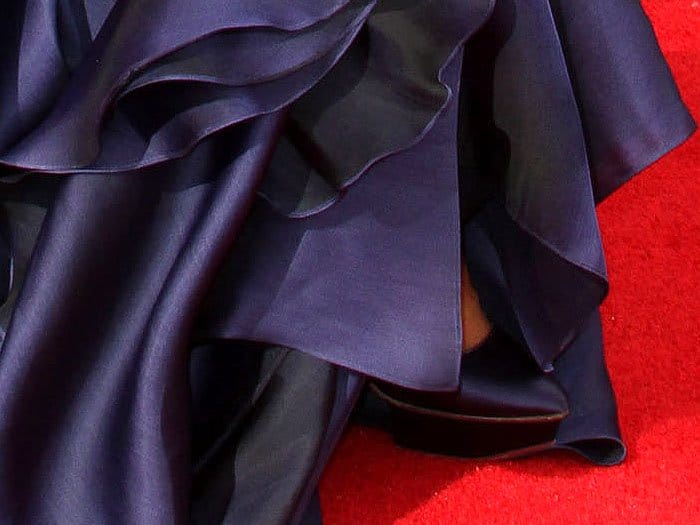 Charlotte Olympia navy satin platform pumps peeking out from underneath Emily Ratajkowski's gown (Credit: WENN)
The Charlotte Olympia "Paloma" pumps feature a distinctive fan heel detail.
Charlotte Olympia "Paloma" Fan-Detail Platform Pumps in Navy Satin, $895