Kim Kardashian and Pete Davidson made headlines after announcing their relationship back in 2021. The pair has found themselves in the spotlight yet again after news of their breakup surfaced online earlier this August.
Many fans saw Kim and Pete as soulmates, while others viewed them as an odd pair. Pete was seen as a foil to Kim's ex-husband Kanye West, and someone who was meant to help the reality star get over her very public divorce.
The couple looked smitten with each other and were very vocal about their adoration for one another. For a while, it seemed that their relationship was getting serious.
So, what really happened between Kim Kardashian and Pete Davidson?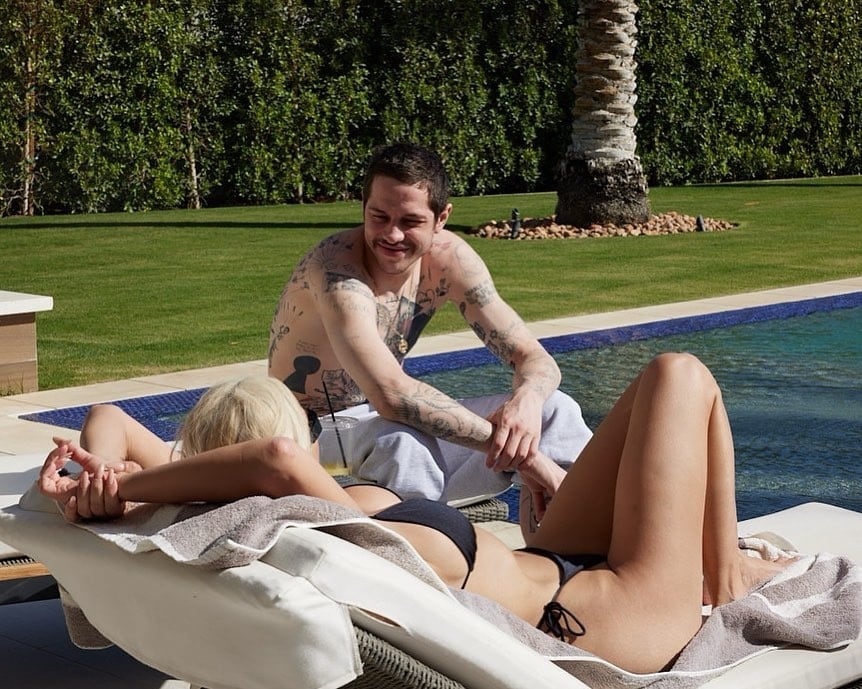 Pete Davidson looking fondly at Kim Kardashian a month before their breakup (Credit: Kim Kardashian's Instagram)
The Love Story of Kim Kardashian and Pete Davidson
In October 2021, Pete and Kim were first seen together in a comedy sketch as Aladdin and Jasmine.
They appeared on Saturday Night Live, a popular late-night comedy series of which Pete was a regular cast member from 2014 to 2022.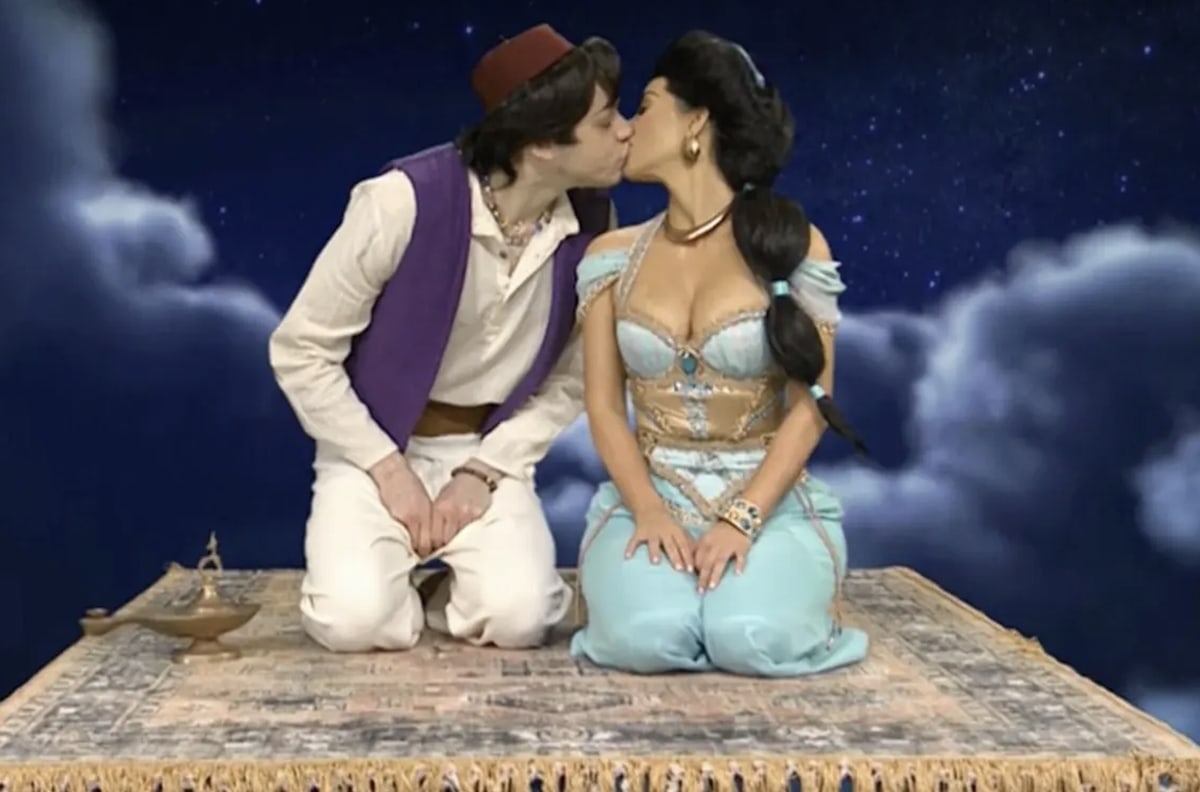 Pete Davidson as Aladdin and Kim Kardashian as Jasmine in their Saturday Night Live sketch (Credit: SNL)
Kim cited later in interviews that the onstage kiss that they shared during the skit was electric. Later that month, the pair was seen holding hands at Knott's Scary Farm located in Buena Park, California.
Pete officially called Kim his girlfriend in February 2022. A few months later, Pete appeared as Kim's date to the infamous Met Gala, where the reality star made headlines for wearing a historic Marilyn Monroe dress.
Kim Kardashian wearing the controversial Marilyn Monroe dress at the 2022 Met Gala with then-boyfriend Pete Davidson (Credit: ABACA / INSTARimages)
Since then, everyone got to witness their love story unfold through social media and soundbites from Hulu's The Kardashians.
Controversy Between Pete Davidson and Kanye West
Kim Kardashian and Kanye West divorced in February 2021 after a whirlwind of a marriage. The SKKN founder eventually apologized to her family for the negative impact that their tumultuous relationship caused.
Ye has been notably adamant on social media about his distaste for Pete, which escalated and resulted in an Instagram suspension.
Since filing for divorce in 2021, Kim Kardashian has been apologizing for Kanye West's behavior towards her family and then-boyfriend Pete Davidson (Credit: Sky Cinema / Shutterstock)
Much of his behavior has been attributed to an apparent bipolar disorder diagnosis, which was then left untreated. It was rumored to be one of the reasons why Kim filed for divorce.
Nevertheless, Ye repeatedly came after Pete Davidson on social media by making immature comments and graphics about their feud.
However, Ye seemed to have a change of heart and reportedly decided to seek psychiatric help for the sake of their children.
But Kanye West just can't help being Kanye West.
As soon as news broke out that Kim and Pete have broken up, the Grammy winner took to Instagram once again to express himself. He posted an altered New York Times front page with the headline: "SKETE DAVIDSON DEAD AT AGE 28."
Kanye West reacts to Kim Kardashian and Pete Davidson's breakup with a fake New York Times headline in a now-deleted Instagram post (Credit: Kanye West's Instagram)
Pete Davidson in Trauma Therapy
The constant bullying and barrage of threats finally took a toll on Pete, who has decided to seek help.
According to People, a source claimed that the comedian "has been in trauma therapy" since "April of this year" due, "in large part," to Ye's online harassment.
The source also said that the "attention and negativity coming from Kanye and his antics is a trigger" and that's why "he's had to seek out help."
Pete Davidson and Kim Kardashian caused an online frenzy after news broke out that the pair have broken up after only nine months of dating (Credit: Rod Lamkey / CNP / Startraksphoto)
However, the insider added that Pete "has no regrets for dating Kim and wants it to be made very clear that she's been nothing but supportive of him throughout their relationship."
Kim Kardashian and Pete Davidson Call It Quits
After almost a year, Kim and Pete decided to split at the beginning of August 2022.
It was a relationship that no one saw coming – not even Kourtney Kardashian's new BFF, Megan Fox, who refused Pete's request for Kim's phone number.
But their breakup also came as a surprise, since Kim was reportedly seen visiting Pete on set of his new comedy Wizards! a few days prior.
In fact, some eagle-eyed fans pointed out that Pete has a new tattoo on his collarbone that hinted at the status of their relationship.
A month before the split, Kim posted a series of photos on her Instagram that showed her getting cozy with the SNL alum. In one photo, Pete seemed to have a tattoo on his collarbone of the names "Jasmine" and "Aladdin" with an infinity sign in the middle.
View this post on Instagram
As if that's not enough, Pete has also reportedly gotten Kim's children's initials tattooed on his body. It sparked rumors of where their relationship was headed, especially since Kim hinted at wanting "just one more wedding for me."
Why Kim Kardashian and Pete Davidson Split After Only Nine Months of Dating
E! News first reported the now infamous breakup, citing distance and their busy schedules as reasons for their split.
However, Page Six told a different story. The celebrity gossip site reported that it was the couple's age difference that ultimately caused their breakup.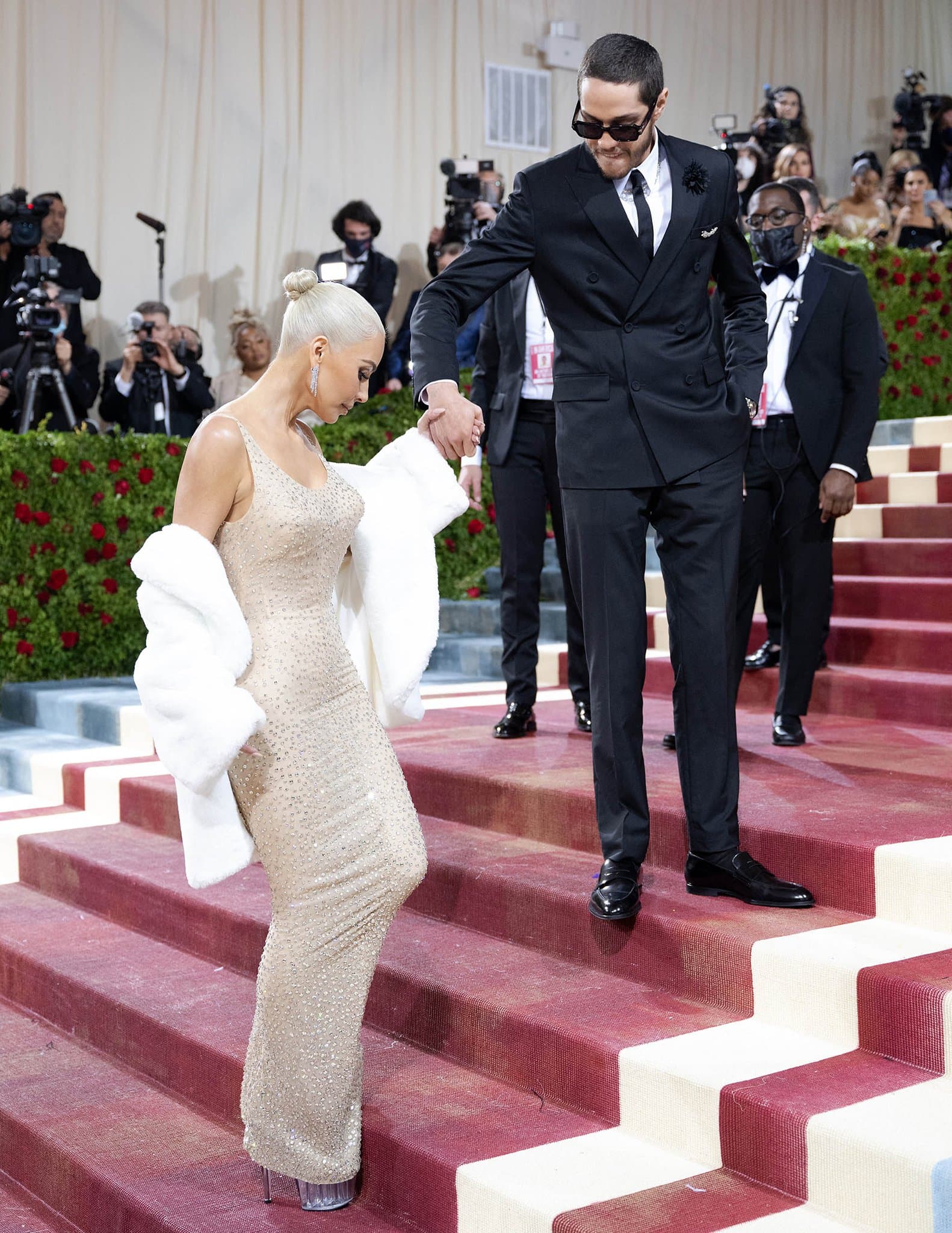 Kim Kardashian and Pete Davidson had a 13-year age gap, which was allegedly the primary cause of their breakup (Credit: ABACA / INSTARimages)
A source claimed that "they are just in very different places at the moment." The insider added that "Pete is totally spontaneous and impulsive and wants [Kim] to fly to New York, or wherever he is on a moment's notice."
While it's definitely romantic, it's also unrealistic and impractical. "Kim has four kids and it isn't that easy. She needs to focus on the kids."
View this post on Instagram
The source also mentioned that the business mogul was "totally exhausted by this relationship and other things going on in her life."
It isn't easy being Kim Kardashian, who has to juggle so many things at the same time from multiple businesses to fashion week appearances and ambassador duties. There's also the matter of her divorce and a new season of her Hulu reality series, which premieres in September 22.
Pete's appearance on the show was teased in the trailer, where Kim confessed that she has "a new boyfriend" and that she's "just having a really good time."
The relationship might have been short-lived, but E! News reported that the pair still has "a lot of love and respect for each other."
A source also told People that Pete was "exactly what Kim needed after her divorce." The insider stated that the "end of her marriage was a very dark time for her and Pete has been the best antidote."
What's Next for Pete Davidson?
The 28-year-old actor is notorious for dating celebrities of all ages. Among the A-list stars he's dated are Kate Beckinsale, Margaret Qualley, and Kaia Gerber. He's also been engaged to pop star Ariana Grande.
Emily Ratajkowski chimed in on why women find Pete Davidson attractive, citing that he's "a professional" and that "he's got the height." She added that he's "super charming," "vulnerable," and "lovely."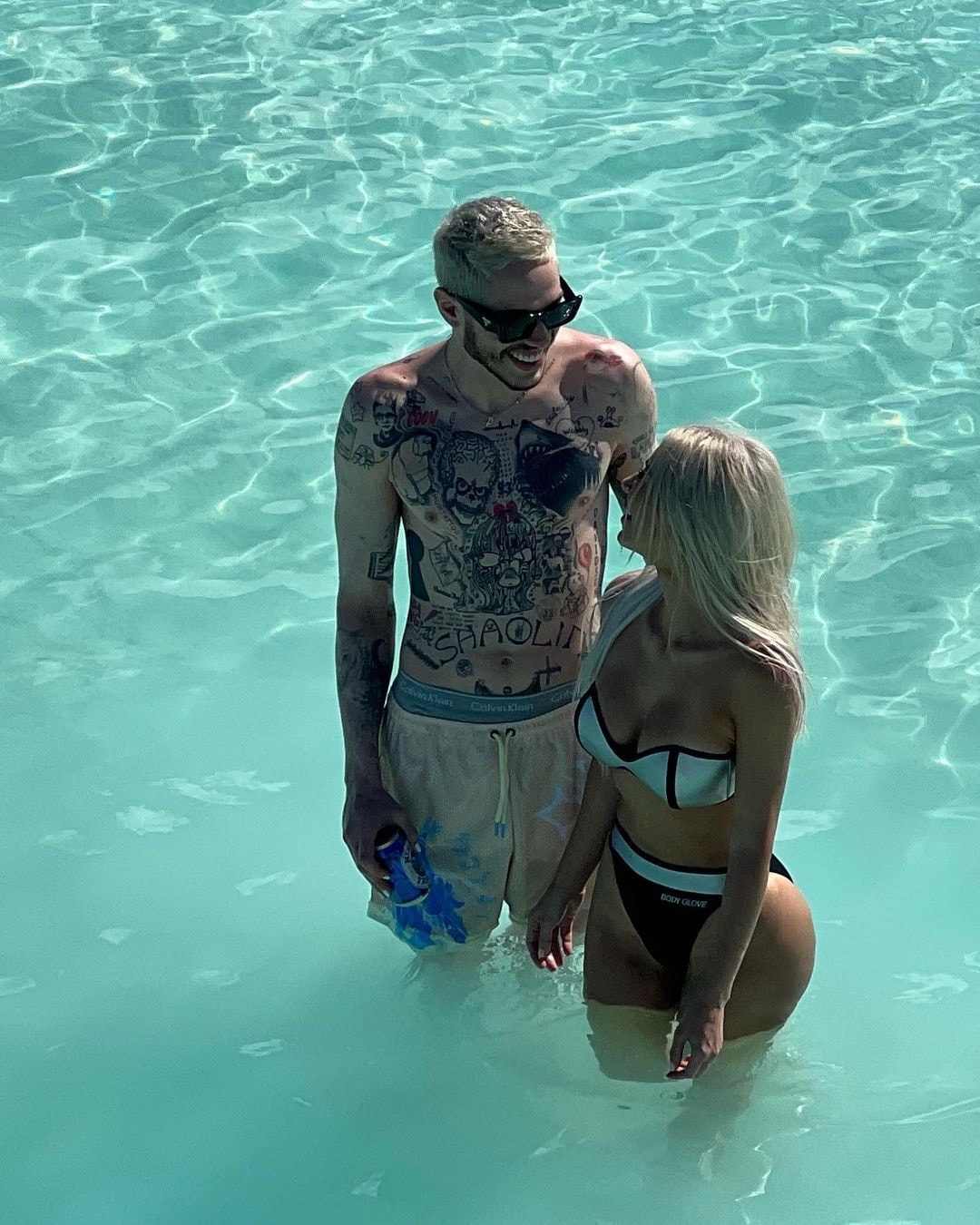 Pete Davidson and Kim Kardashian looking loved up on a beach getaway two months before their breakup (Credit: Kim Kardashian's Instagram)
Much has been said about Pete since his breakup with Kim was reported. It seems that everyone's having a blast online making theories about his next conquest. Some of the names mentioned include Miley Cyrus, Kanye West's ex-flame Julia Fox, and even Martha Stewart.
But what does Pete Davidson really want?
In an episode of Peacock's Hart to Heart, Pete revealed his desire to become a father. He told Kevin Hart that since his dad passed away, he's always wanted "to have a kid" because "I don't want a kid to ever feel like how I feel right now."
Pete added that he wanted "just to be there so that someone doesn't have to feel like that" and to "watch them have what I didn't."
He also declared that he "100 percent" wants to get married and admitted that it's "the way I hope it goes, you know?"
Kim Kardashian Choosing Herself
As for Kim Kardashian, her life post-Kanye and post-Pete is all about the kids.
Kim has always been vocal about wanting to be the best mom and was adamant about keeping her children out of the Kanye drama.
"When Kim is with someone else, Kanye can cause problems with the kids," Page Six's insider said. "He tries to divide and conquer. He can't help it. Kim is a really dedicated mother, and her kids will always come first. She wants and needs harmony at home and in her life."
A source told E! News that the divorce is still moving forward, but Kim and Kanye "are fully aligned in making their kids their priority."
In a show of support for her ex-husband and his fashion label Yeezy, Kim posted a series of photos of her and their kids wearing futuristic sunglasses from the brand.
View this post on Instagram

"You could be so hurt or angry at your ex, but I think in front of the kids, it always has to be 'Your dad's the best,'" Kim said in Vogue magazine's March 2022 cover story.
Kim shared that she's always done "what made other people happy." She added that "in the last two years I decided, I'm going to make myself happy. And that feels really good. And even if that created changes and caused my divorce, I think it's important to be honest with yourself about what really makes you happy."
Kim ended the interview by saying, "I've chosen myself. I think it's okay to choose you."
View this post on Instagram