The Kardashians are no stranger to controversy. Social media squabbles, fashion choices, dating scandals – you name it, a Kardashian is probably at the center of it.
This year, Kim Kardashian rarely left the spotlight. She broke the internet with new beau Pete Davidson as they posed for their Instagram debut.
Kim also received backlash for her drastic weight loss to squeeze into the infamous Marilyn Monroe dress for the Met Gala.
On an episode of Hulu's "The Kardashians" that aired on May 26th, Kim expressed her regret over the way Kanye West treated her family.
She also reacted to a possible new song from the rapper, calling it "very classy." For Kim, this could mean that "he's talking mad sh*t about me and probably saying whatever."
Khloe Kardashian addressed the obvious, stating that "Most men are not trashing the mother of their kids like that publicly."
Meanwhile, Kris Jenner offered reassurance to her daughter that she has "done nothing but be great to him."
Kim Kardashian wears a low-cut, sheer black dress and diamond choker as she and Kanye West leave their hotel on the way to Kanye's concert in Miami Beach on September 17, 2016 (Credit: ACE / INFphoto)
In her confessional, Kim acknowledged the significant impact that her marital problems had on her family. She added that "I've never had the opportunity to just say, 'I'm sorry, guys.'"
Showing solidarity
"When people are saying disparaging things about any of us, it hurts all of us," Kris shared to the camera.
They have a right to be concerned because Kanye has caused nothing but trouble for Kim since she filed for divorce. In addition to parading around with his new flame, Julia Fox, he also got himself banned from Instagram for his online outbursts.
Kim stated that "I can't control how he treats me, you know, or how he's always treated you guys." But she assured her family that "I will never let that happen to you guys again."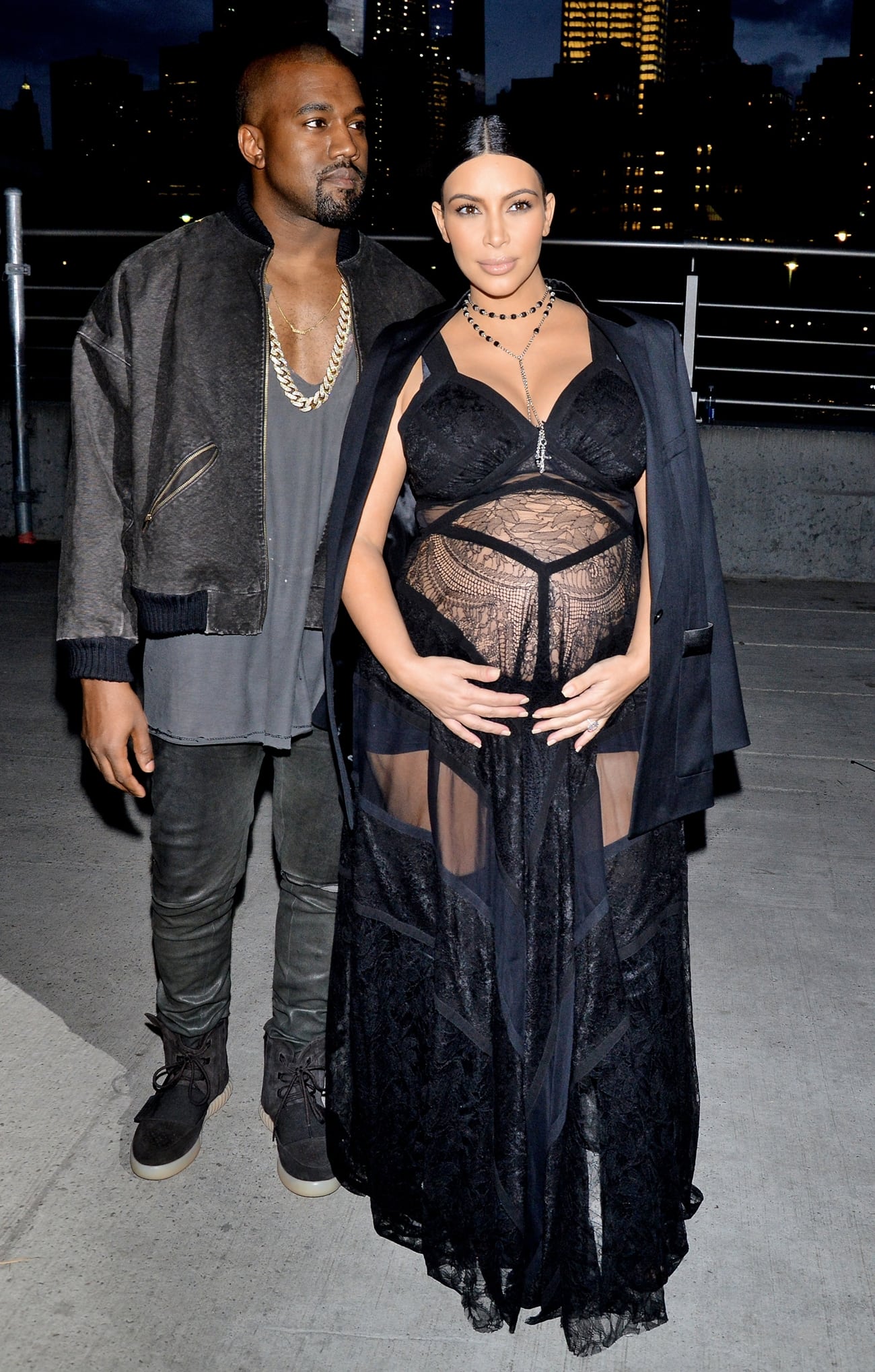 Kim Kardashian shows up her pregnant belly in a sheer dress with Kanye West at the Givenchy fashion show held during New York Fashion Week Spring 2016 on September 11, 2016, at Pier 26 in New York City (Credit: Jennifer Graylock / INFphoto)
Ever the supportive sister, Khloe promised that "Karma is always going to be on your side."
Recently, the family showcased their solidarity at the lavish wedding of Kourtney Kardashian and Travis Barker. They celebrated the union while clad in archival Dolce & Gabbana looks.
Another wedding on the horizon?
We might anticipate wedding number four for Kim as her relationship with Pete gets stronger.
In a previous episode of "The Kardashians," Kim revealed her hope for "just one more wedding for me." Pete reportedly got her kids' initials tattooed, which could mean a lifelong commitment between the two.
A new era for Kim Kardashian
The 41-year-old socialite has kept her cool amidst the controversies. She has been handling the negativity with grace and seems to be in good spirits these days.
In a recent episode of "The Kardashians," Kim proudly declared that "for once in my life, I feel strong."
It looks like the tides are turning for Kim, as she was officially tapped for the latest Balenciaga advertising campaign.
Kim Kardashian appears on a Balenciaga advertising campaign billboard near Times Square in New York City on February 16, 2022 (Credit: ABACA USA / INSTARimages)
Lately, the Skims founder has almost exclusively been spotted in all things Balenciaga. Remember that sky-blue number at the Vanity Fair Oscar party?
It makes sense that the brand would utilize Kim's star power to propel creative director Demna's vision to new heights.
Front and center in Balenciaga
The campaign was shot by Stef Mitchell, who shared a few glimpses on Instagram. One of the photos shows Kim in her Calabasas home, dressed in all black and taking selfies on her couch.
View this post on Instagram
She's wearing the sock booties, which were crafted from black recycled knit and smooth calfskin.
Black Balenciaga Sock Booties, $1,450 at Balenciaga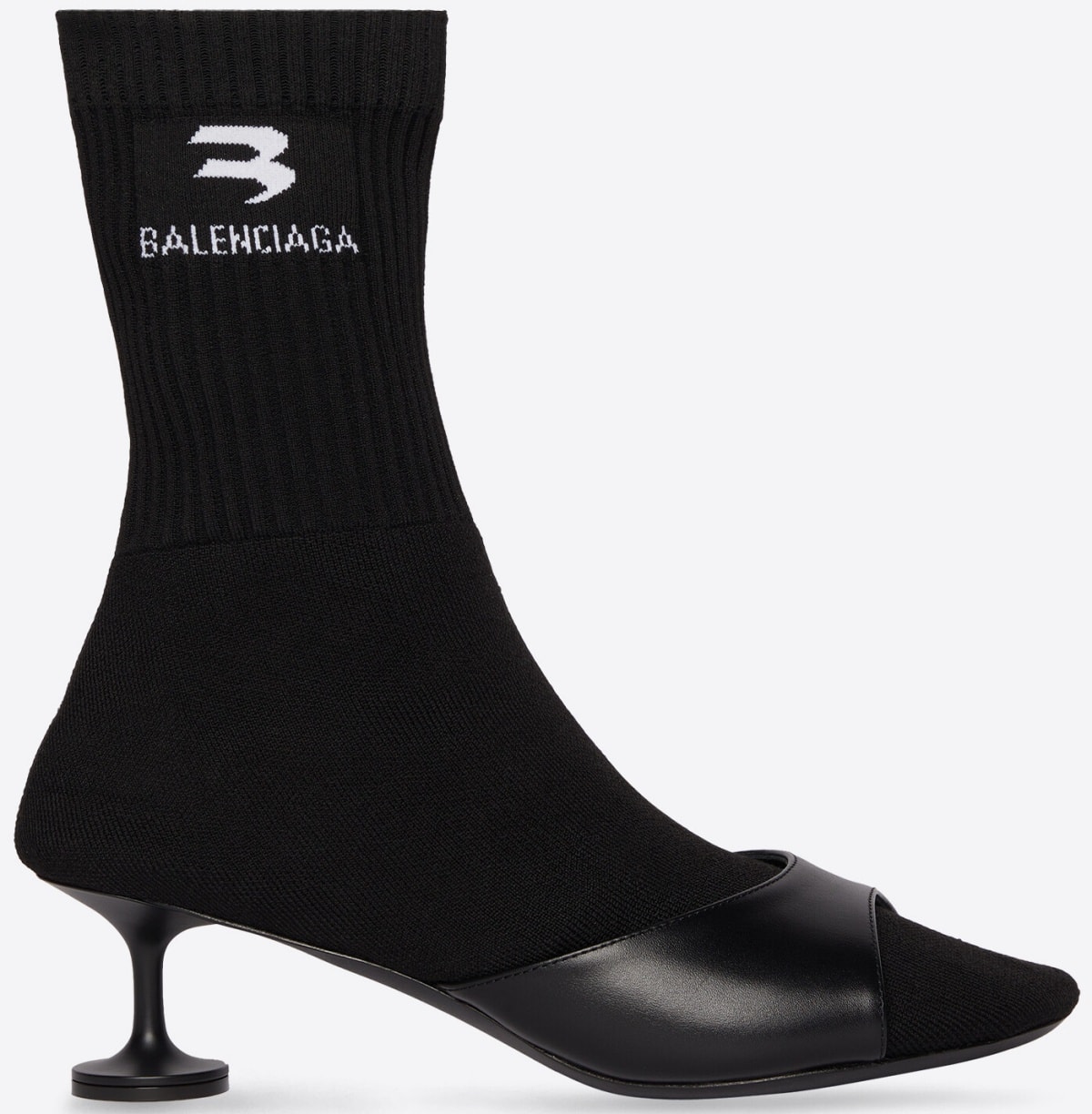 These Balenciaga sock booties feature ribbed trim and champagne heels
In another shot, Kim wears a sleek all-black power suit with a cool futuristic vibe.
View this post on Instagram
The campaign successfully combines Kim's personal style and Demna's creative vision for the brand.
In one image, Kim carries the highly sought-after Le Cagole bag while clad in a leopard print coat and pointy-toe boots.
View this post on Instagram
Kim showcased the Cagole boots, which were beautifully crafted from black lambskin.
Black Balenciaga Cagole Boots, $2,150 at Balenciaga
These Balenciaga Cagole boots feature pointed toes, decorative zipper trim, and aged silver hardware
Balenciaga also adds its luxe touch to sportswear, as seen on Kim in another Stef Mitchell shot. She poses in a red zip-up hoodie with pink spandex Pantaleggings and a pink Le Cagole bag.
View this post on Instagram
Kim makes a bold statement in these pink pantaleggings, which come with attached pointy-toe shoes.
Pink Balenciaga Pantaleggings, $3,050 at Balenciaga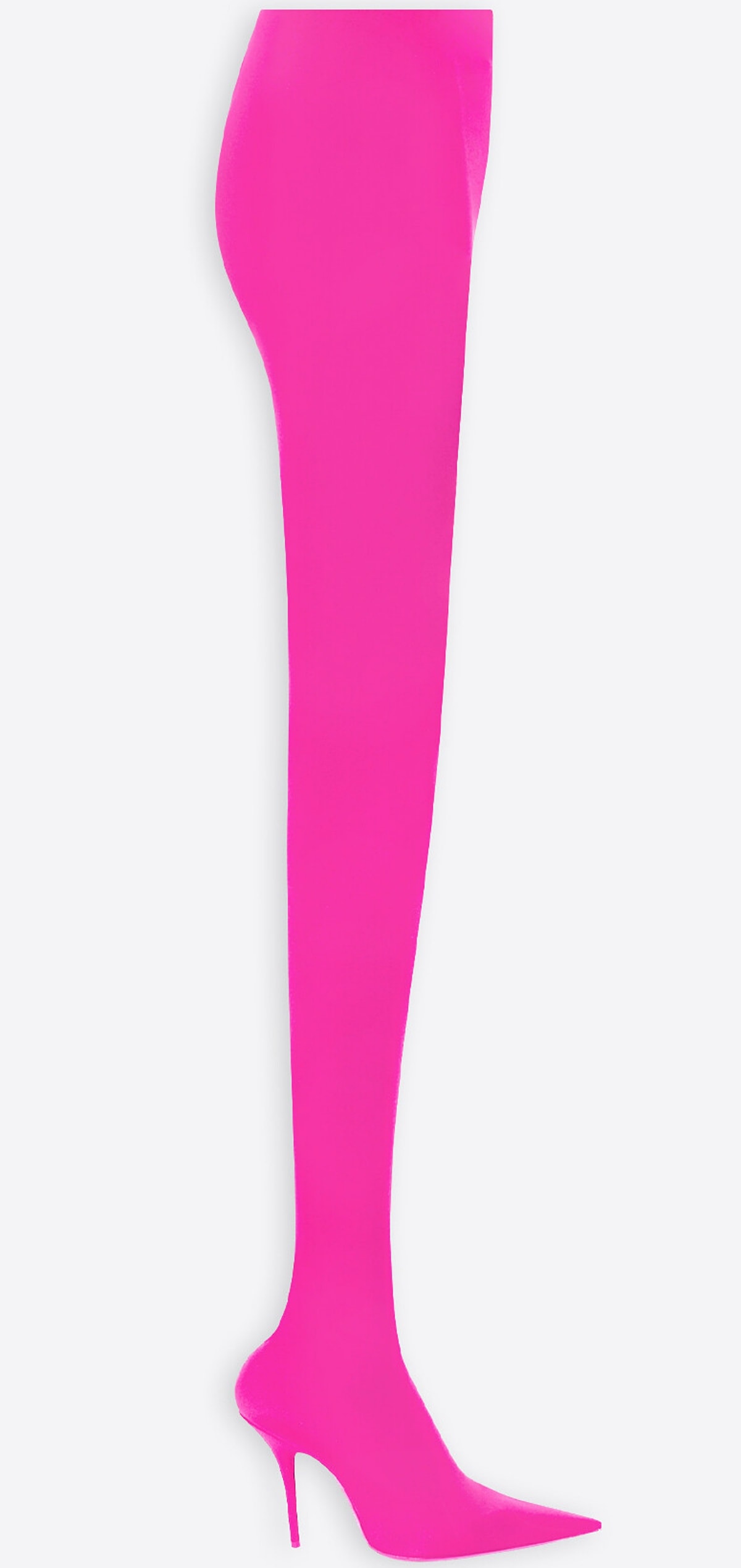 These Balenciaga pink pantaleggings feature a body con fit, an elastic waistband, and attached shoes
It seems that things are looking up for Kim Kardashian. This may be the calm before the storm as the promise of a new Kanye West song looms overhead.
But she's armed with a new relationship, a stronger family bond, and a high-profile ad campaign. So, don't worry about Kim. She's doing just fine.