Losing 16 pounds in 3 weeks just to fit into the perfect dress is completely over the top, but we're not Kim Kardashian.
When you are consistently in the news and reality shows are synonymous with your name, beating your last appearance can be challenging.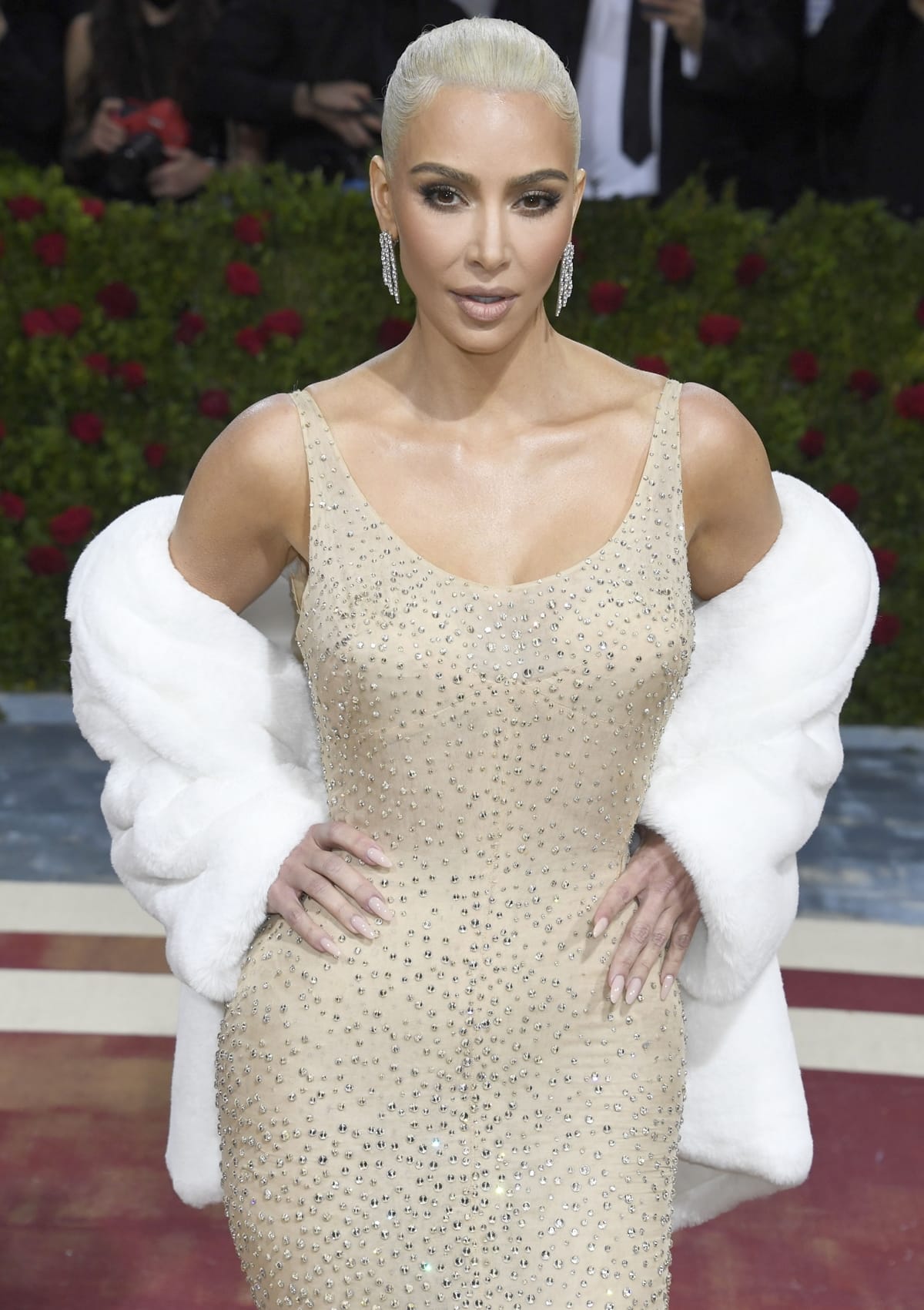 Kim Kardashian lost 16 pounds in 3 weeks to fit into Marilyn Monroe's iconic "Happy Birthday Mr. President" dress (Credit: MEGA / WENN)
Keeping your name in the news is a full-time job, so how do you top your recent red carpet debut with your new beau at the White House Correspondents dinner?
You attend the Met Gala in the same dress Marilyn Monroe wore for her iconic 'Happy Birthday Mr. President' performance. And no, you can't wear a replica. It just wouldn't have the same impact, it has to be the original.
Kim Kardashian may have found that perfect statement dress to capture both the media and fans around the world's attention but there was a minor challenge, well minor for Kim.
According to an interview with Vogue, Kim admitted that the dress wasn't the perfect fit and because of its historic value her only option was to lose an incredible 16 pounds in 3 weeks.
Lili Reinhart has criticized Kim Kardashian for losing weight to fit into her Met Gala dress (Credit: DNphotography / ABACA / INSTARimages / MEGA / WENN)
But are these the actions of a role model? Lili Reinhart thinks otherwise, and the 25-year-old actress isn't holding back.
Her Instagram story was packed with her views, "To walk on a red carpet and do an interview where you say how starving you are… because you haven't eaten carbs in the last month…all to fit in a f***ing dress? So wrong. So f***** on 100s of levels."
"To openly admit to starving yourself for the sake of the Met Gala. When you know very well that millions of young men and women are looking up to you and listening to your every word. The ignorance is other-worldly disgusting."
Lili Reinhart shows off her feet in Andrea Wazen Mandaloun leather wraparound sandals (Credit: MEGA / WENN)
Lili wasn't done and asked fans to "stop supporting these stupid, harmful celebrities whose entire image revolves around their bodies."
"I am not generally an angry person but I swear to God, the toxicity of this industry sometimes really gets to me and I have to do my little Instagram-story rants to release my rage," she added.
Lili Reinhart flaunts her legs in a Saloni Camille dress with jeweled bows in rainbow toned crystal embroidery at the 39th Annual PaleyFest LA – "Riverdale" at Dolby Theatre on April 9, 2022, in Hollywood, California (Credit: WENN / MEGA)
The following day, Lili defended her criticism on Twitter, "*sigh* I do not say the things that I say because I want to be relevant or get attention. I speak up because I don't see enough people with large platforms calling out toxic behavior in our industry. Some people will never understand where I'm coming from and that's okay ☯️."
Lili Reinhart in a pink Christian Siriano gown at the 2021 Met Gala held at the Metropolitan Museum of Art in New York City on September 13, 2021 (Credit: Guerin Charles / ABACA USA / INSTARimages)
And she just may have a point. It's bad enough that 1000s of young women are trying to live up to unattainable photoshopped images, and now their role models are advocating for fad diets to fit into dresses.
Well, I suppose if we're to be Kim K wannabees, we better abandon our forks!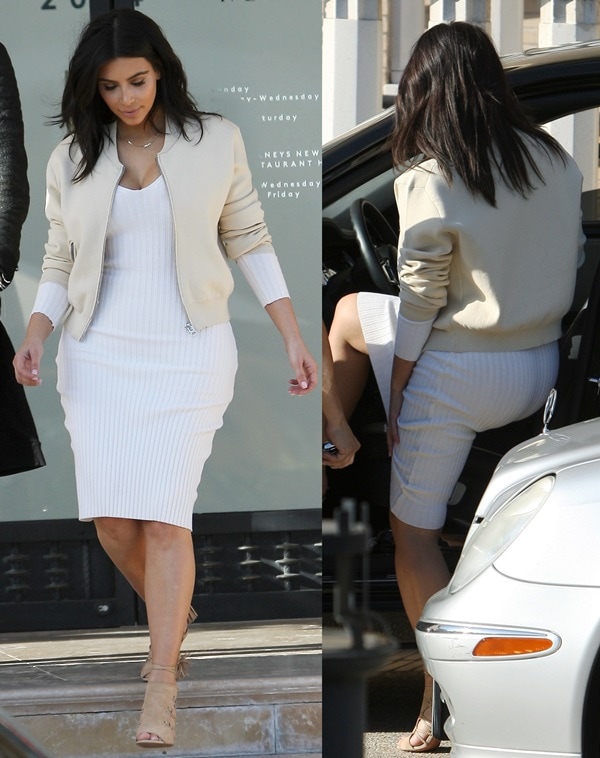 Kim Kardashian's sexy white dress and nude "Olympia" jacket from Acne (Credit: WENN)
On March 14, 2014, Kim Kardashian had lunch at Nobu Malibu in a sexy red dress.
The following day, her lunch venue was Joan's on Third, an upscale counter deli/sandwich place in Los Angeles. Kim was joined for lunch by her half-sister Kendall Jenner.
Kendall Jenner toted a Chanel tassel crossbody shoulder bag (Credit: WENN)
The then 33-year-old reality star donned a sexy white dress with a nude "Olympia" jacket from Acne featuring front zip fastening, a round neck, long sleeves, a ribbed hem and cuffs, and side zipped pockets.
She completed the outfit with a pair of suede braided rope high heels by Aquazzura.
"Our @kardashiankids collection is in @BabiesRUs stores today!! Hope you and your daughters love the adorable pieces! 🙂 Xo," Kim tweeted earlier the same day about her new clothing line for girls up to 24 months.
Kendall Jenner rocks Jean-Michael Cazabot Ophelia open-toe booties (Credit: INFphoto)
Kendall Jenner showed off her feet in a pair of open-toe "Ophelia" booties by Jean-Michel Cazabat and carried a tassel crossbody shoulder bag in black patent leather by Chanel.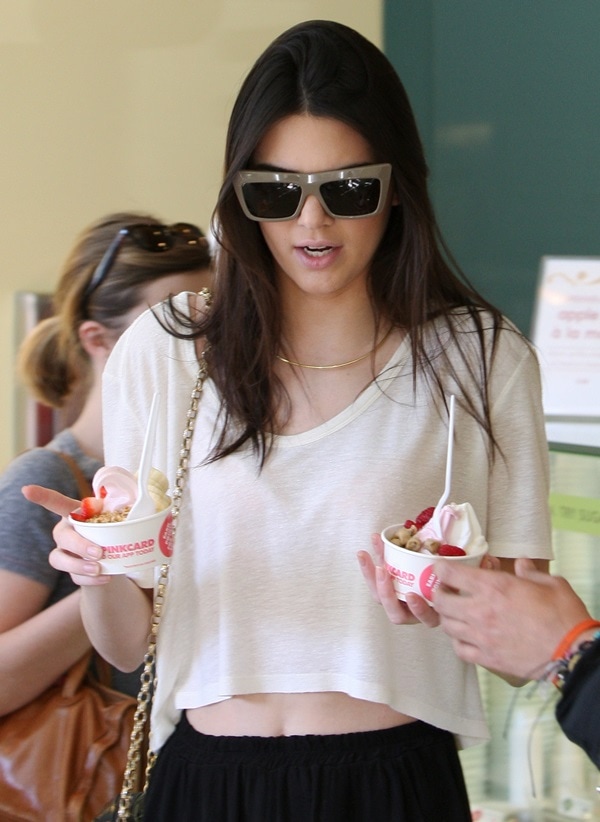 Kendall Jenner carrying ice cream in Beverly Hills on March 15, 2014 (Credit: WENN)
Kim's Italian-made sandals feature corded leather laced sides and a self-tie back with tassels.
Unfortunately, this style has sold out, but you can browse recent arrivals from Aquazzura at Nordstrom and Shopbop.
Aquazzura Sahara Suede Braided Rope High-Heel Sandals, $625