Getting married the first time can be daunting for a lot of us, so round 2 and 3 can perhaps leave you a little skeptical when it comes to finding your true love but not our Kim Kardashian.
In a preview of the next episode of The Kardashians, we see Kim and Kris discussing Kourtney and Travis Barker's engagement.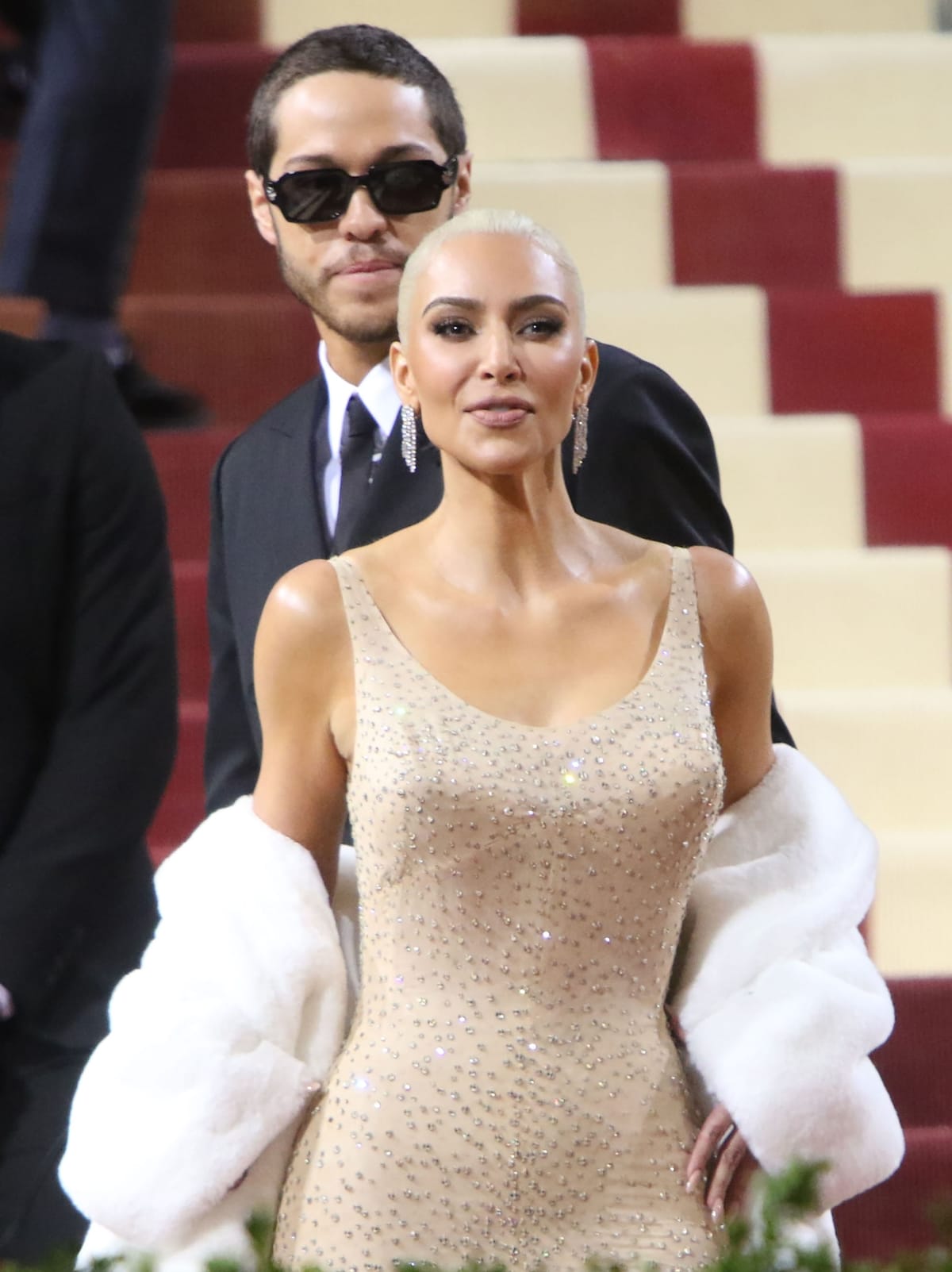 Kim Kardashian, who is currently dating Pete Davidson, says she'd like to get married one more time (Credit: Roger Wong / INSTARimages)
Kris Jenner is convinced that the recently engaged couple are going to 'fast-track' their engagement and get married sooner rather than later.
Earlier this month, the 66-year-old Kardashian-Jenner matriarch channeled Jackie Kennedy in a one-shoulder Oscar de la Renta gown at the 2022 Met Gala.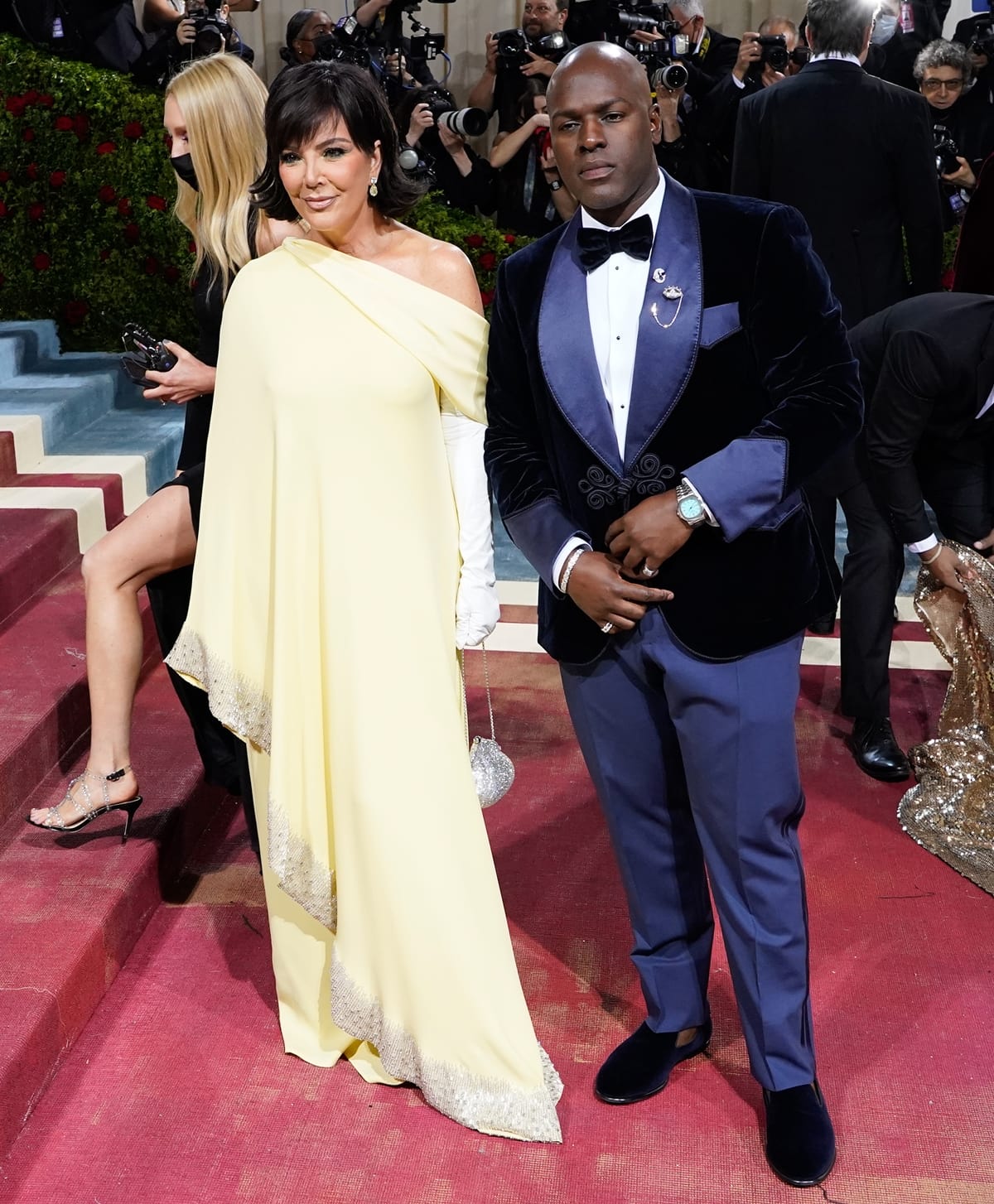 Corey Gamble and his girlfriend Kris Jenner attend The 2022 Met Gala Celebrating "In America: An Anthology of Fashion" at The Metropolitan Museum of Art on May 2, 2022, in New York City (Credit: Jennifer Graylock / INSTARimages)
"He has made a very beautiful yellow dress for me to wear tonight—one shoulder, glamorous. Very regal," she said on the red carpet about Fernando Garcia, the creative director of Oscar de la Renta.
"This is Oscar de la Renta," she informed E! about her yellow gown that she paired with Lorraine Schwartz jewelry and a Judith Leiber bag. "So, [I'm] just kind of channeling a little Jackie Kennedy tonight."
"I just kind of liked it with the dress. Very '60s. Appropriate for tonight. It's such a glamorous night and I wanted to do something a little different," she told People.
Kris Jenner channeled American socialite Jacqueline Lee Kennedy Onassis who served as the first lady of the United States from 1961 to 1963 (Credit: Jennifer Graylock / INSTARimages)
Kim added, "[Travis] already knew that they were trying for a baby," and goes on to say, "To me, a baby? You're stuck for life. Marriages come and go. No offense, guys. Take it from me!" We're not exactly sure how to interpret that. Perhaps being stuck for life with Kanye because of their kids isn't her dream life.
And if you're thinking post that comment that we're unlikely to see wedding number 4, Kim confided, "I believe in love. That's why hopefully there will be just one more wedding for me."
Kim's previous three marriages didn't make the distance, with her first marriage to music producer Damon Thomas in 2000 lasting four years.
Her second marriage to Kris Humphries was a complete disaster, a mere blip on the radar screen lasting a whole 72 days in 2011. And then came the famous and sometimes infamous marriage to Kanye West from 2014 to 2021.
This leaves us wondering if Pete Davidson is going to be lucky number 4. Considering his recent tattoo 'KNSCP', reportedly an acronym for Kim and her kids, he definitely seems to be committed.
Pregnant Kim Kardashian in black jeans, a black top, and a black overcoat (Credit: STS / WENN)
In May 2013, Kim Kardashian was nearing the last trimester of her pregnancy and finally made a practical decision. She gave in to her swollen feet and ditched her high heels for Nike sneakers.
The ShoeDazzle founder was photographed in this smart shoe choice when she arrived at the Los Angeles Airport. She gave birth to North West on June 15, 2013.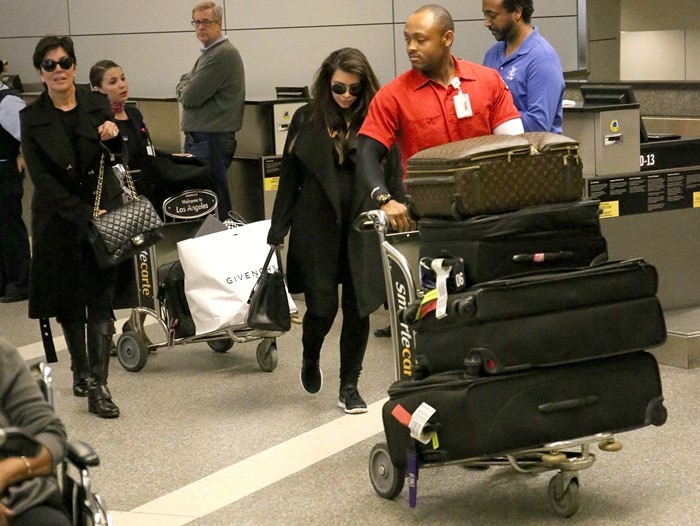 Kim Kardashian, with Kris Jenner, in Nike sneakers instead of her usual high heels at LAX on May 24, 2013 (Credit: STS / WENN)
Kim went for an all-black ensemble with black jeans, a black top, and a black overcoat. Her Nike trainers were also in the same color to match the whole outfit.
A closer look at Kim Kardashian's Nike trainers, a more practical choice for the pregnant reality star (Credit: STS / WENN)
The reality star loves her heels (and so do we), but we're happy to see her sacrifice them for now. We certainly hope to see her in more flats in the coming months. Don't you?
Follow in Kim's footsteps with sneakers from Nike that you can buy at Zappos:
Nike Air Miler Walk+ 2 Walking Shoes, $90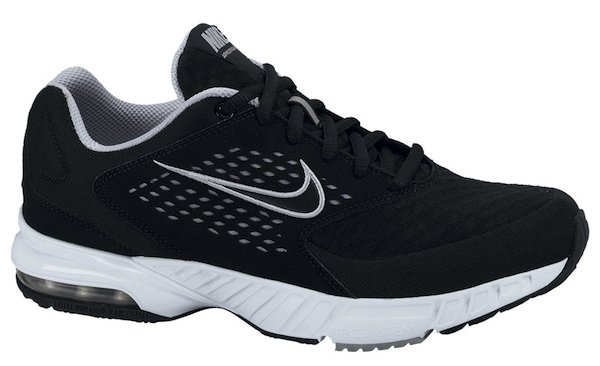 Nike Free 5.0+ Running Shoes, $100