Kourtney Kardashian and Travis Barker have brought romance back into fashion and are quickly becoming everyone's favorite couple.
Every girl dreams of the moment when the man she loves proposes to her, and Travis took that moment to a whole new level. If the new Hulu trailer is anything to go by, this is one relationship that is on the up and up.
The Denial
Living in the same gated area, the friendship between their children and sharing the same church seems to be what initially brought them together as friends.
View this post on Instagram
Back in 2019, speculation was rife that they were more than just friends when the pair were spotted having dinner together with their kids.
However, Travis downplayed the dinner, saying "Kourtney's like a dear friend. That's it… I mean, I love her to death. I love her family to death. But yeah, just friends."
It's Official Coupledom
Well, all that changed in 2021, after the couple were seen having dinner together for the first time post all the rumors which had once again emerged.
An onlooker said, "They seem very connected, very close. Travis took her hand and they giggled as they started having a little thumb war with one another. It was playful and sweet. They were talking constantly and very engaged in one another."
And they haven't looked back ever since. They are renowned for having some of the steamiest Instagram posts around and are constantly supporting and acknowledging their feelings for each other.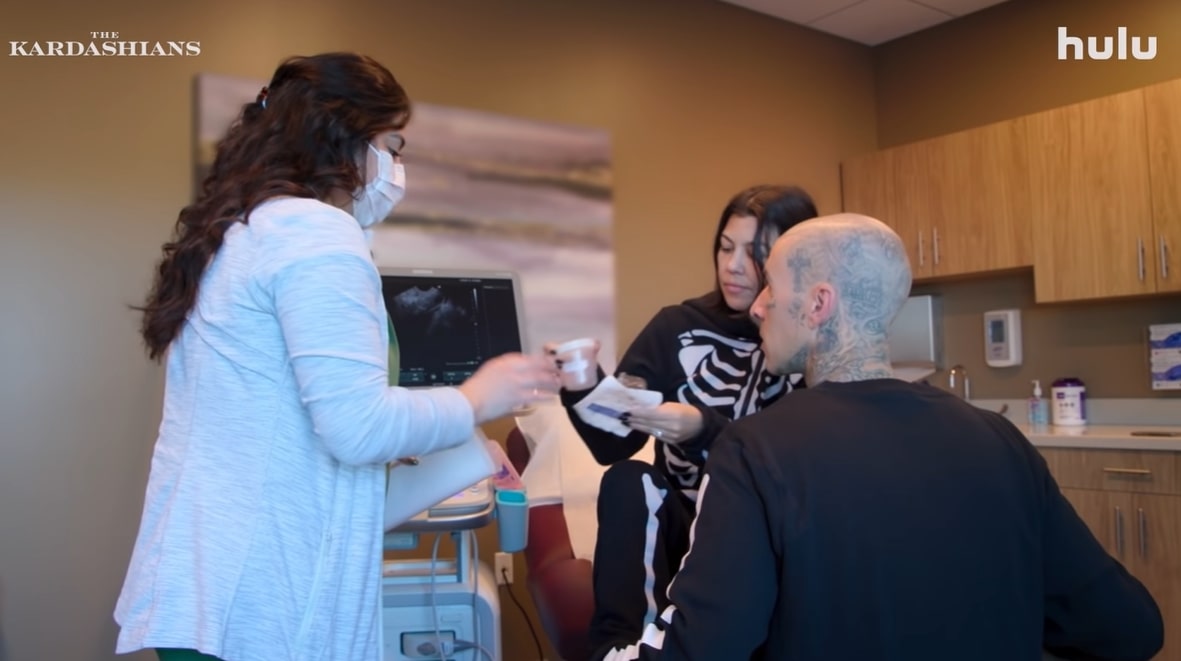 Kourtney Kardashian has opened up about IVF and struggling to fall pregnant with Travis Barker's baby (Credit: Hulu)
Travis even posted pictures of handwritten notes Kourtney sent him with one saying, "I love you." Another favorite post was a black and white photo of them wearing beaded necklaces spelling out each other's names. Romance lives!
The Best Proposal, Ever
On the 18th of October 2021, Kourtney shared their engagement news on Instagram. One of the most romantic engagement pictures we have seen in a long time, but did we really expect anything less?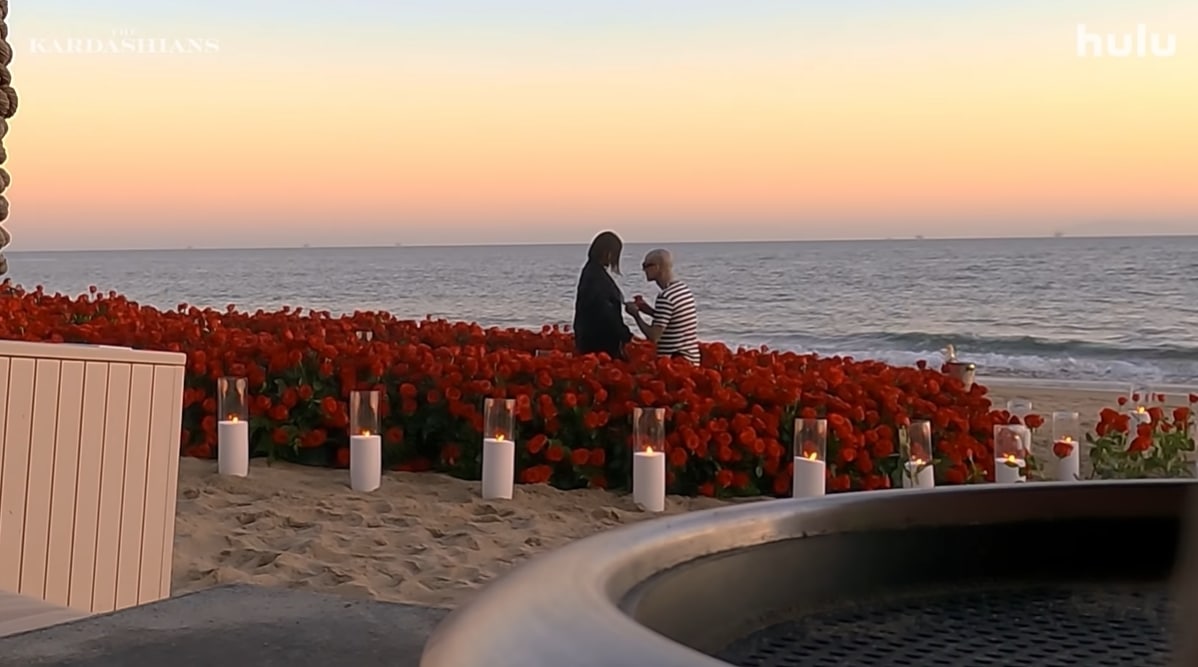 Travis Barker proposed to Kourtney Kardashian at the Rosewood Miramar resort in Montecito, California (Credit: Hulu)
The photo epitomizes love and romance as they are seen kissing on the beach, surrounded by thousands of red roses and white candles, with the post captioned – "Forever @travisbarker."
Weddings and Babies, What More Could We Want?
Kourtney and Travis are in full wedding planning mode and intend on getting married sooner rather than later.
An insider has said that they want their wedding to be exclusive and although they both have a lot of friends, it is key that the day remains intimate and special.
If the engagement was anything to go by, we are sure the marriage of these soulmates will be one we will be talking about for ages.
Kourtney Kardashian and Travis Barker want a baby of their own (Credit: Hulu)
The release of the latest trailer for the upcoming new Hulu series, The Kardashians, has given us a sneak preview of Kourtney and Travis's baby plans.
Kourtney says alongside scenes from Travis's romantic beachside proposal, that she and Travis want to have a baby. The trailer then cuts to the Doctors office, where the couple is asked for a sample and as the door closes, Kourtney laughingly says, "We'll take our mics off. You don't get the audio."
In another scene, Travis is seen lovingly holding and kissing Kourtney's hand as she is lying down in the doctor's room.
No doubt we will follow her IVF journey once the new show airs in April and who knows if the current rumors are true, Kourtney may already be pregnant. We wait in anticipation.
In June 2016, Kourtney Kardashian took some time off from mommy duties to enjoy a night out in London with her "long lost twin" Lindsay Lohan.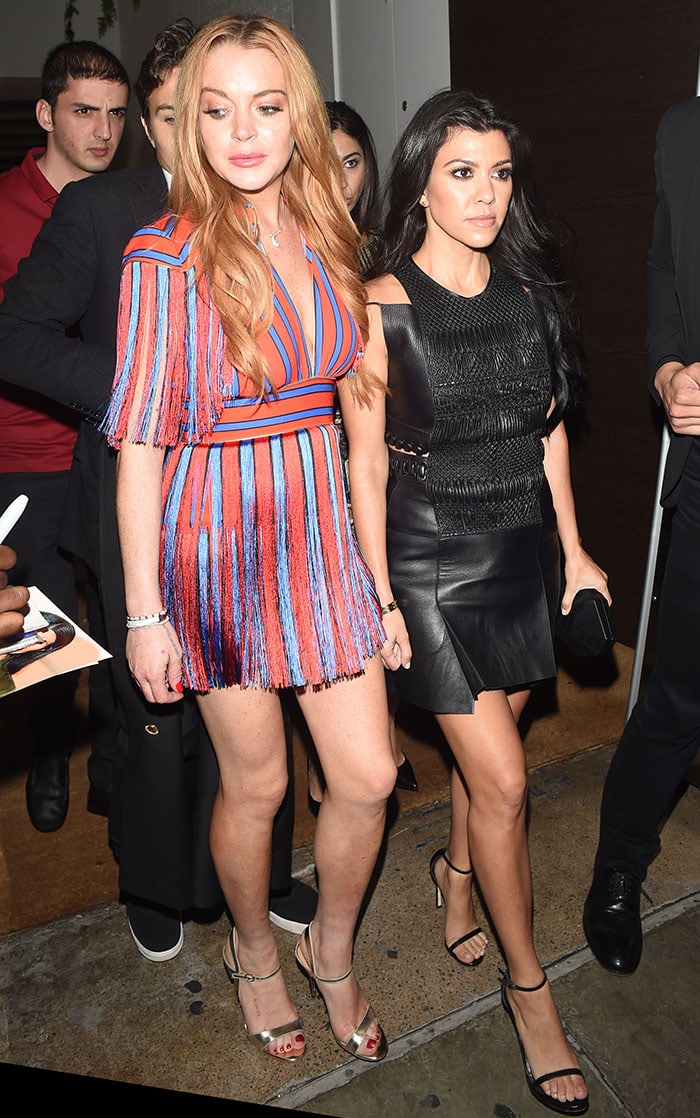 Lindsay Lohan and Kourtney Kardashian leaving the modern European Restaurant Ours in Mayfair, London on June 8, 2016 (Credit: Will Alexander / Ricardo Vigil / WENN)
The then 37-year-old reality TV star and the then 29-year-old actress were spotted leaving Restaurant Ours together before heading to the private club LouLou's in Mayfair.
Kourtney Kardashian flaunts her legs in a Fendi leather short dress (Credit: WENN)
Mom-of-three Kourtney looked hot in an edgy black leather mini dress.
The frock, which is from Fendi's Spring 2016 collection, had an intricately-woven front. It also featured a cutout waist and whipstitch detailing and covered down to Kourtney's thighs with an asymmetrical hemline.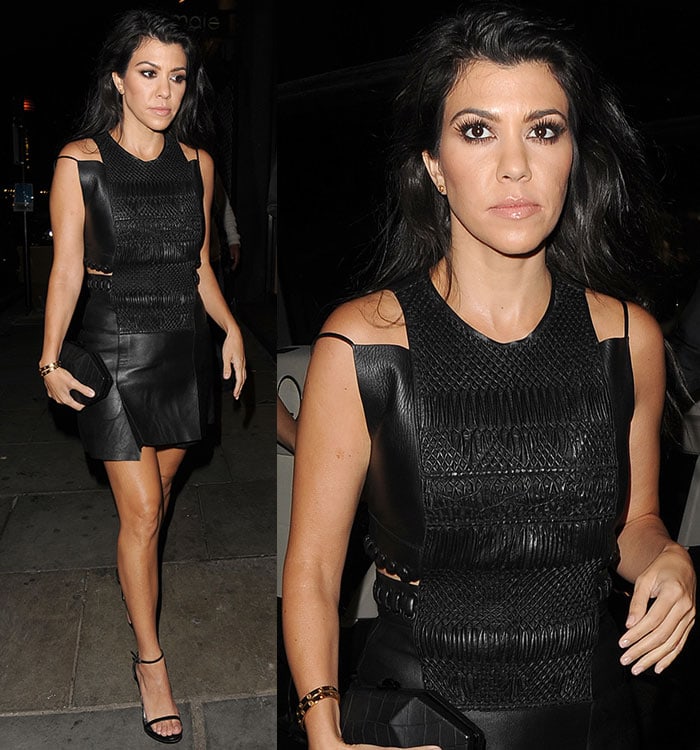 Kourtney Kardashian in Fendi leather dress paired with Stuart Weitzman Nudist sandals (Credit: WENN)
We're assuming Lindsay borrowed her red-and-blue dress from Kourtney, who had earlier posted an Instagram picture featuring the same piece.
Regardless of the owner, the festive mini dress is from Elisabetta Franchi's A/W 2016 collection. Lindsay styled it with a pair of silver heels and a selection of silver jewelry.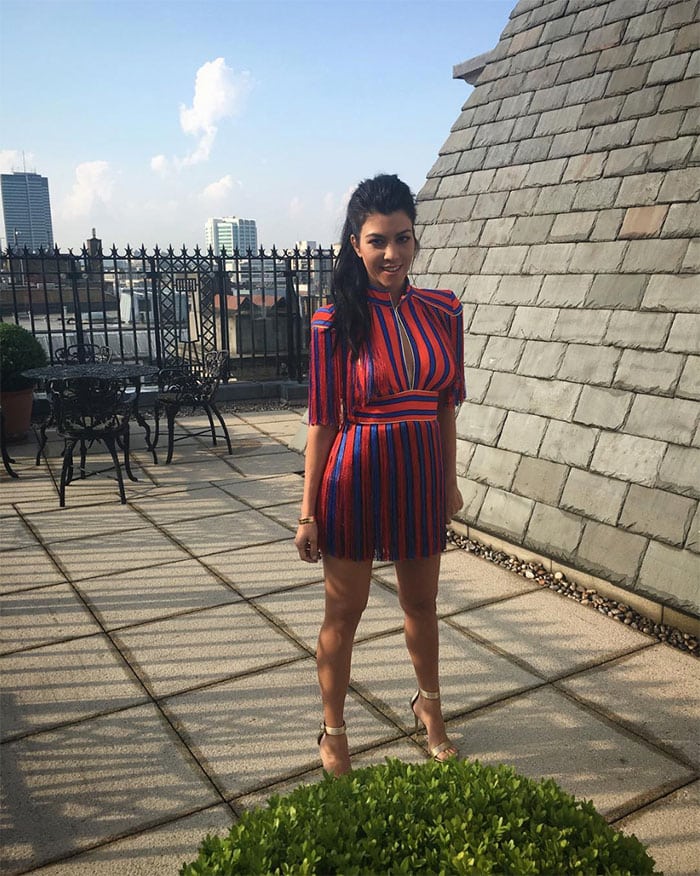 Kourtney Kardashian wearing the same Elisabetta Franchi dress as Lindsay Lohan – posted on Instagram on June 10, 2016 (Credit: Kourtney Kardashian's Instagram)
Kourtney coordinated with a pair of earrings and Cartier bangles for the night out. She rounded out the all-black ensemble with a black clutch and a classic pair of black sandals.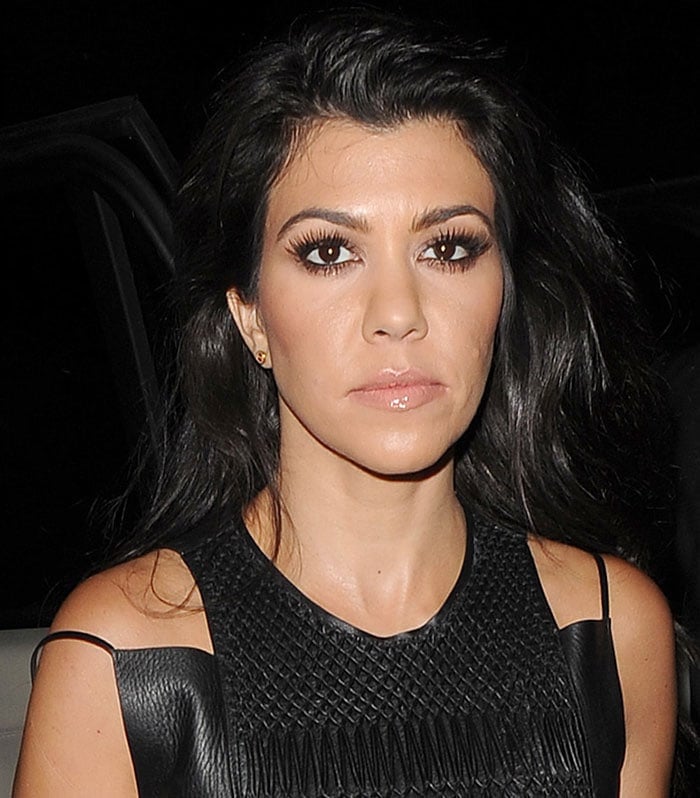 Manuka Doctor announced their partnership with Kourtney Kardashian to become their ambassador for the brand (Credit: WENN)
The shortest Kardashian wore her black tresses down in loose waves. She highlighted her facial features with smoky eye-makeup, dark mascara, and nude lipgloss.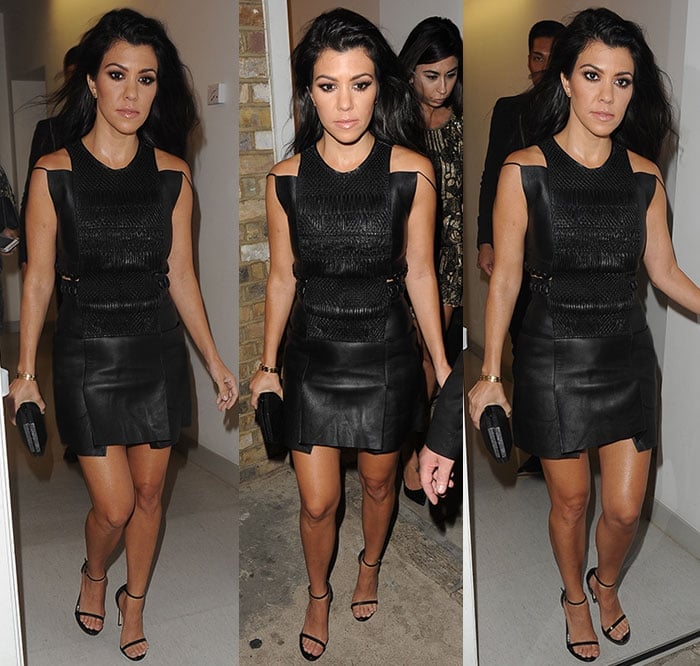 Kourtney Kardashian rocked a sleeveless Fendi dress with cutaway detailing around the waistline (Credit: WENN)
We think her makeup application nailed the sultry vibe of this look.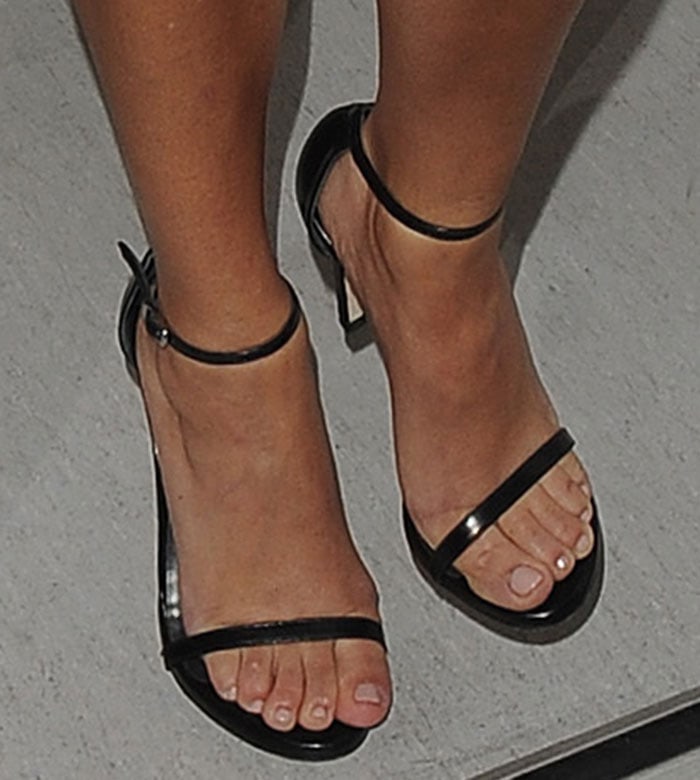 Kourtney Kardashian shows off her feet in Stuart Weitzman sandals (Credit: WENN)
Kourtney picked the all-time favorite Stuart Weitzman "Nudist" sandals for her feet.
You can check them out in different colors and finishes at Nordstrom and Zappos.
Stuart Weitzman Nudist Ankle-Strap Sandals, $363.42 – $415