Since the early 1990s, Jennifer Lopez has dominated the entertainment industry. Upon careful review of her accolades over the past 3 decades, it would seem the term "triple-threat" was coined specifically for Lopez.
She has become a master in the art of singing, dancing, and acting with endless grace and utter talent. Now at the prime age of 52, Lopez can add another achievement to her long list of skills…ageless beauty.
Jennifer Lopez applies her triple-active serum that promises to amp up your glow (Credit: JLO Beauty)
In a recent Instagram video, the 52-year-old singer revealed her routine to achieving radiant skin.
It is no secret that Lopez has been blessed with natural beauty and genes that seem to make her skin age backwards with time, but there are secret tips to keeping her face as glowing as it is.
Skincare Consistency
Routine is everything when it comes to proper skincare and JLo has mastered the perfect step-by-step process to achieve her radiant look.
Being a Hollywood actress and Grammy award-winning singer, Lopez often exposes her skin to long hours of wearing heavy makeup under harsh studio lighting.
View this post on Instagram
No matter how intense her day might be, Lopez will end each night with a clean face and allow her skin to rest and reset for the new day. You must wash your face and allow it to rest from makeup and harsh lighting as much as possible, to preserve its glow and radiance.
Hydration is KEY
When we age, fine lines begin to form due to a lack of natural hydration in the skin.
That is why JLo stresses the importance of hydrating your body, not just with 8 ounces of water each day, but also with hydrating serums for your skin.
Of course, J-Lo uses her own serum, That JLo Glow Serum, from her own brand JLo Beauty that you can buy at Sephora.
Sleep, Sleep, Sleep
The key to younger skin can also be free! You just need to try to get as much sleep as possible. JLo attempts to get 9-10 hours each night, but always ensures she gets at least 8.
View this post on Instagram
When we sleep, we give our skin a chance to heal, so we can wake up reinvigorated in the morning!
Sunscreen Always
Even if you're just sitting inside in front of your laptop, sunscreen is key! JLo has been using sunscreen every single day since she was 18 and attributes this habit to how youthful her skin still looks today.
Sunscreen helps to create a barrier between harsh light and the sensitive first layer of our skin. Even if your skin does not turn red from the sun, its damaging effects can linger if you are not protecting it.
View this post on Instagram
Eating Healthy
The key to a healthy outward appearance is to first take care of your internal wellbeing. JLo is adamant about the benefits of adding fruits and vegetables into your diet to achieve radiant skin. Fresh food is always better than fast food!
Daily Affirmations
Remember, you can see confidence! When you believe you look amazing, you will project that same energy outwards.
Jennifer Lopez in a champagne Georges Hobeika gown paired with Harry Winston Vintage 1972 chandelier drop earrings at the 25th Annual Critics' Choice Awards at Barker Hangar on January 12, 2020, in Santa Monica, California (Credit: Silvia Elizabeth Pangaro / Shutterstock)
JLo tells herself every day that she is youthful and timeless, and one look at JLo without makeup would confirm she has certainly achieved her affirmations.
JLo sure loves her ankle-strap heels, doesn't she?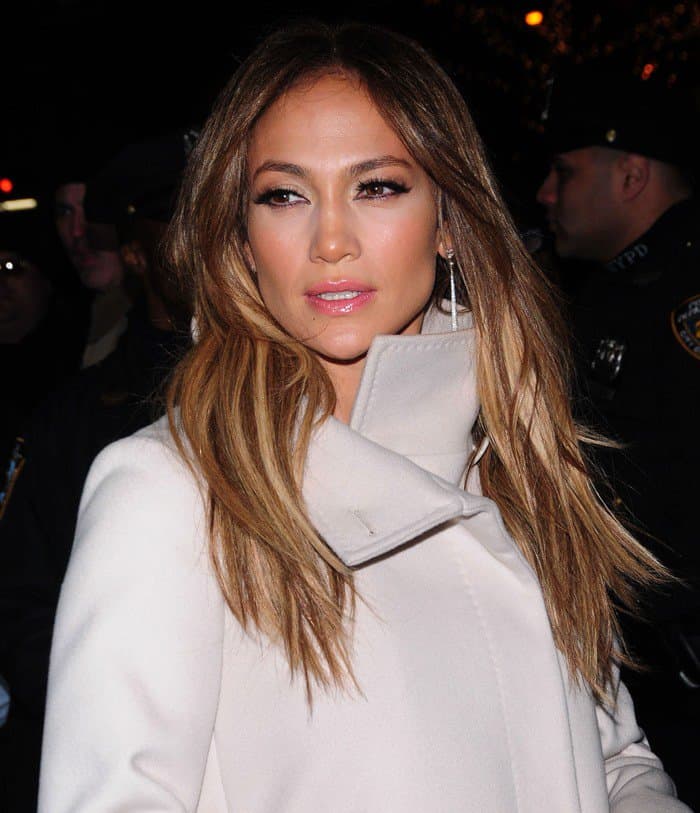 Jennifer Lopez accessorized with Demarco diamond earrings (Credit: WENN)
In January 2013, we saw her in some sexy purple satin Giuseppe Zanotti sandals.
Soon after her 'Good Morning America' appearance, the ultra-glam diva sported another pair while attending the premiere of her 2013 American action thriller film Parker in New York.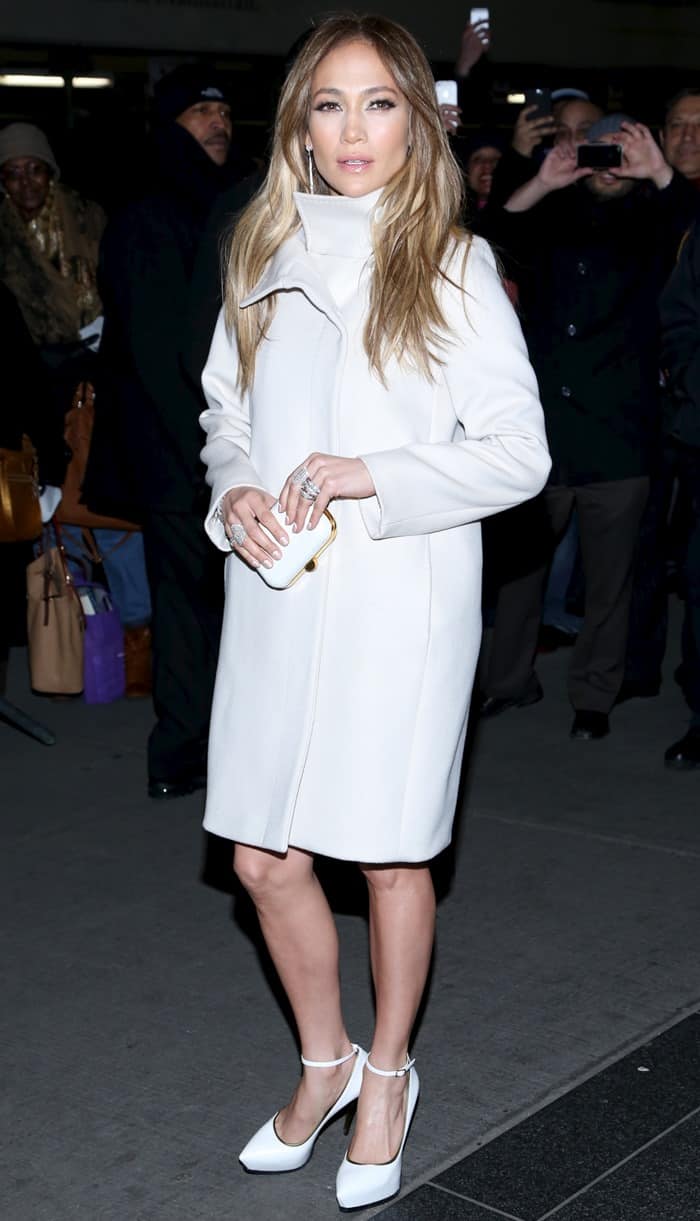 Jennifer Lopez wore a coat over a strapless white peplum dress from the Lanvin Bridal 2013 collection (Credit: WENN)
"When I did the movie, I had just decided to get divorced myself. I felt in that low place. It was the worst time in my life as well. This character was at the worst point in her life. I had that to use. Thank God I had that to use," Jennifer said about Parker in an interview with USA Today.
"It was therapeutic. I know exactly what that feels like. Getting out of bed every day and getting to work is such a job. I'm not the type to do Ambien or wine or pills. When you go to work, you can't be the person who puts that on everybody. You have to be professional."
This time, her shoes were pointy and in pristine white sprinkled with a hint of bronze leather trims.
Jennifer Lopez at the premiere of her new movie, 'Parker', in an all-white outfit at the Museum of Modern Art in New York City on January 23, 2013 (Credit: PNP/ Andres Otero/ WENN)
She used her heels to cap off an all-white outfit — a white peplum-detailed Lanvin frock, a white Tom Ford clutch, and a white coat.
And let's just say that when it comes to Jennifer Lopez in white, it's always a sure hit. She simply looked fabulous!
Jennifer Lopez wearing white Lanvin mirrored heel leather ankle-strap pumps (Credit: WENN)
Oh, wow! Those shoes are gorgeous! Leave it to JLo to always pick the best heels in town, yes? We've actually never seen her fail in the shoe department. Her choices are always spot-on!
Well, just so you know, Jen's dress and shoes are from Lanvin. If you're getting a shoegasm just by looking at her pumps, then, by all means, grab them at Farfetch.
Lanvin Mirror-Heel Ankle-Strap Leather Pumps, $950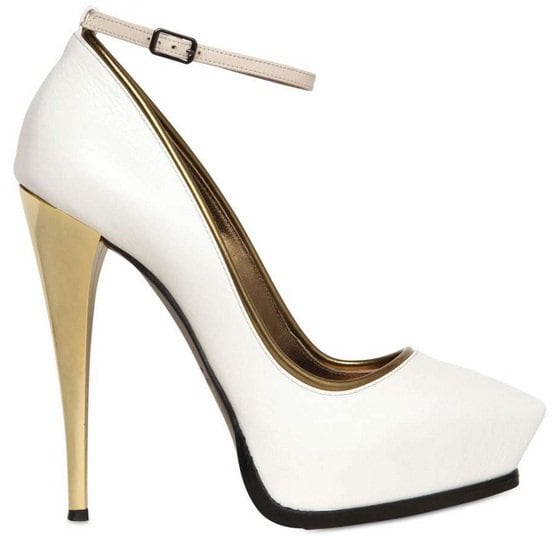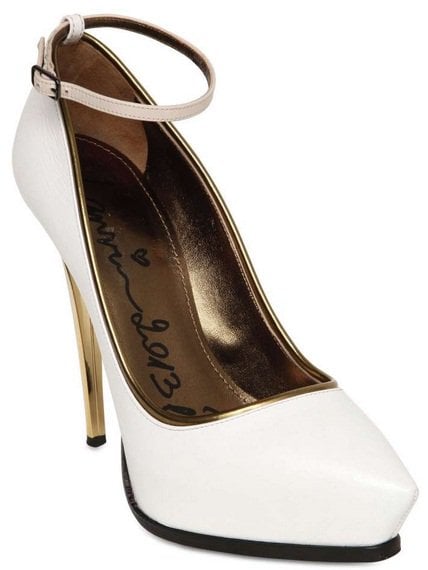 White Lanvin pumps with 5-inch gold mirror heels, detachable ankle straps, and really sleek pointy toes
Because it's a Lanvin, these pumps are also quite pricey, retailing at a heavy $950. If that sounds like peanuts to you, then good for you.
This style also comes in holographic python if you're interested. This metallic version can be purchased at Bergdorf Goodman: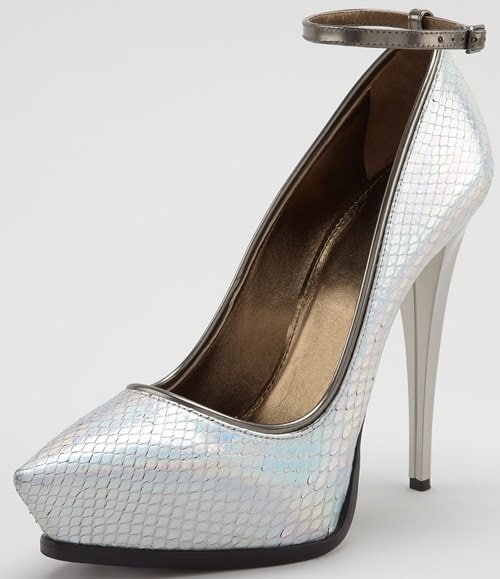 Lanvin Holographic Python Pumps, $950