She's starring in the family-comedy movie, Cheaper by the Dozen, which is a remake of the 1950 and 2003 films of the same name.
Gabrielle Union is playing the mother of a multi-racial, blended family of 12 opposite Zach Braff as the father. Produced by Walt Disney Pictures, the film is set to be released on March 18, exclusively on Disney+.
Gabrielle Union as Zoe Baker and Zach Braff as Paul Baker in the 2022 American family-comedy film Cheaper by the Dozen (Credit: Disney+)
In an interview with Slash Film published earlier this month, she discussed Gail Lerner's new remake of "Cheaper By The Dozen" and if family dynamics have changed since the first Cheaper by the Dozen was released in 1950.
"Well, I don't know if family dynamics have changed so much. The families that we choose to allow on television and in films and who gets to be celebrated and represented have changed. So I wanted to make sure that we brought the most blended family that you could imagine, blended in every way, shape, and form," she said.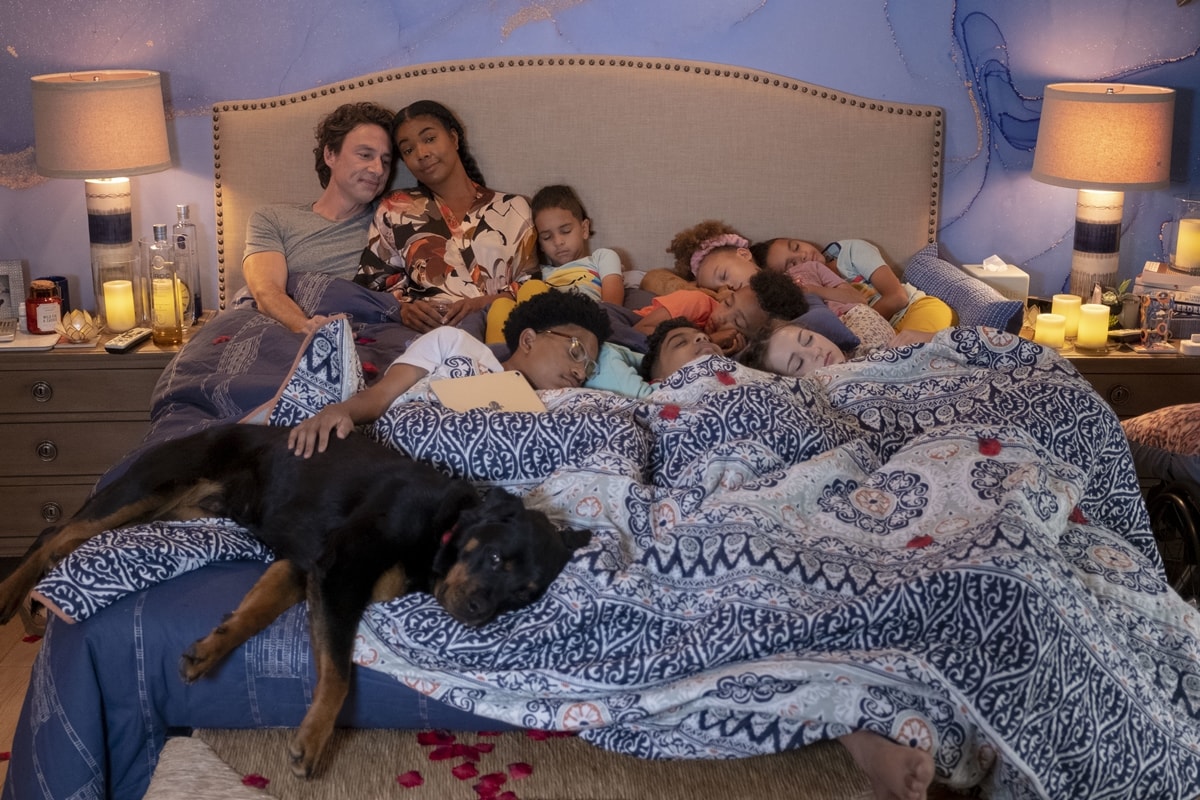 Gabrielle Union and Zach Braff play two parents living with their many children from their previous marriages while managing a family business in New Jersey (Credit: Disney+)
"Blended racially, culturally, different levels of ability, four sets of four parents, that co-parenting vibe. I want to talk about how you balance ambition and being a present parent. I want to talk about when you talk about 'finding the best for your family' or 'this town is better' or 'this community's the best,' is it really the best for children of color? Do those kids feel safe and welcomed and protected there? We get to explore all of that and keep it up to date," she added.
The 1950 American family comedy film Cheaper by the Dozen starred Clifton Webb as Frank Bunker Gilbreth Sr. and Myrna Loy as Mrs. Lillian Gilbrethg raising 12 children (Credit: 20th Century Fox)
"So every kind of family, no matter the configuration, shape, size, color will see themselves reflected in some way, shape, or form. And I think we did a pretty solid job."
On Wednesday, the 49-year-old actress made the Los Angeles premiere of her film a family affair as she walked the red carpet with her husband Dwayne Wade and their kids Kaavia, 3, and Zaya, 14.
View this post on Instagram
The Bring It On star showed off her figure in a two-piece black and white outfit straight off Altuzarra's Fall 2022 runway.
She flaunted her abs and cleavage in a plunging crop halter top and a matching high-waisted fitted maxi skirt designed with scalloped detailing.
Parting her short raven tresses on one side, Gabrielle styled her look with Bvlgari jewelry and Andrea Wazen's "Antigone" platform heels.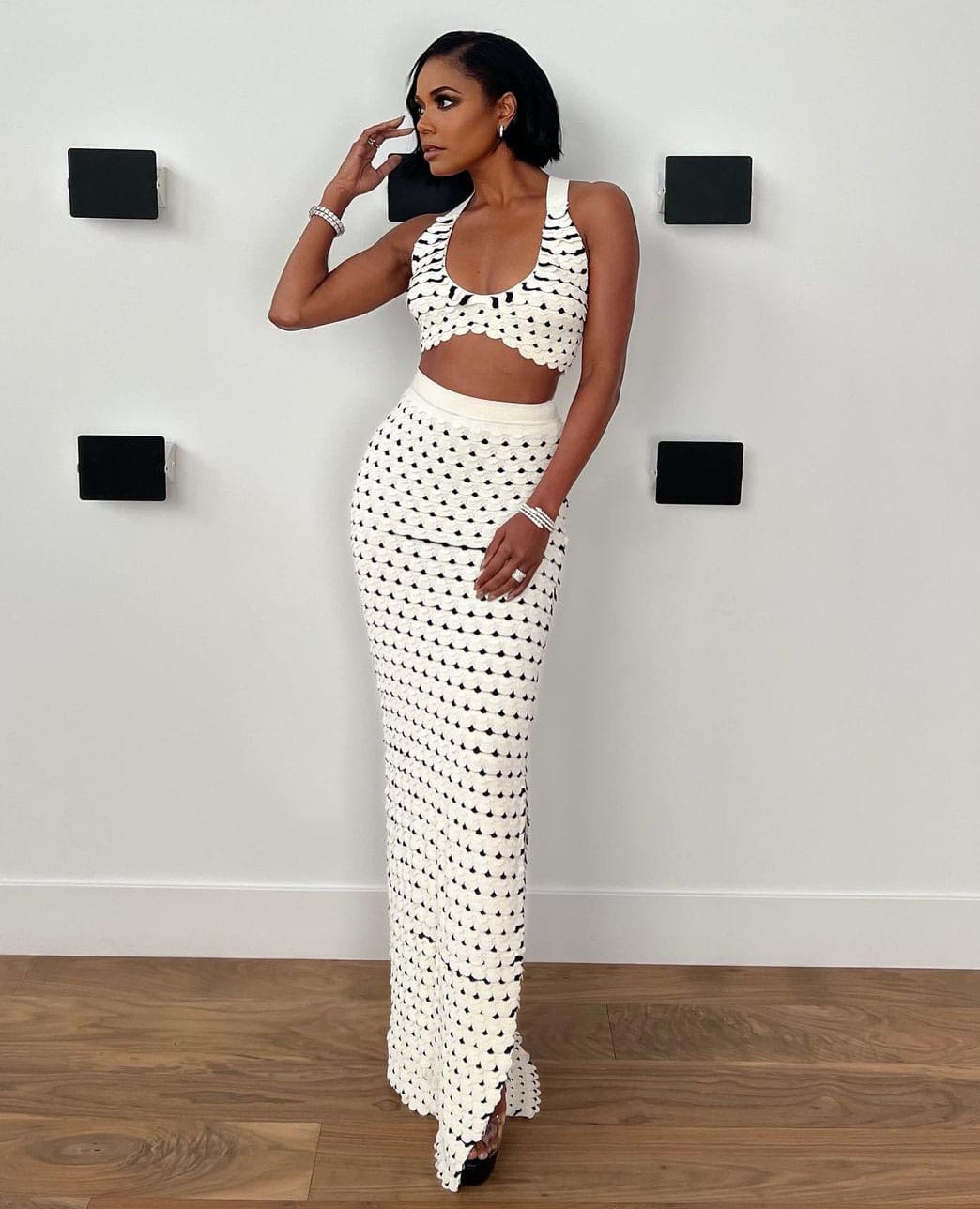 Gabrielle Union shows off her figure in Altuzarra's Fall 2022 scalloped crop top and maxi skirt at Cheaper by the Dozen Los Angeles premiere on March 16, 2022 (Credit: Instagram / @gabunion)
Proving they're one of the most stylish families around, Dwayne posed on the red carpet in a black knit V-neck cardigan from Dunhill, a pair of pinstripe trousers from Richfresh, and black Gucci shoes with white laces.
Kaavia coordinated her mom's look in a halter dress that comes in the same color and scalloped pattern. Gabrielle's stepdaughter Zaya opted for a three-piece Valentino Spring 2022 outfit, composed of a green and black silk floral bandeau top, a matching shirt, and a pair of high-waisted shorts.
She completed her stylish red-carpet look with a white Valentino bag, a Bvlgari chain necklace, and nude heels.
View this post on Instagram
Last week, the former America's Got Talent judge showcased her sartorial prowess as she made rounds on the talk show circuit to promote her latest project.
She was pictured leaving The View in a cream coat dress paired with light-washed jeans and a white jacket with feather trims.
Her short raven tresses were parted on one side, while her features were highlighted with smokey eyeshadow and matte nude lipstick.
Gabrielle Union arrives at The View studio in light-washed jeans, a coat dress, and a white jacket with feather trims (Credit: ROGER WONG / INSTARimages)
Following her appearance on the show, Gabrielle left the building in a ruffled white dress that features plisse trims on the front and along the collar and long sleeves.
She added edge to the quirky ensemble by teaming it with a pair of brown leather knee-high boots with pointed toes and high heels.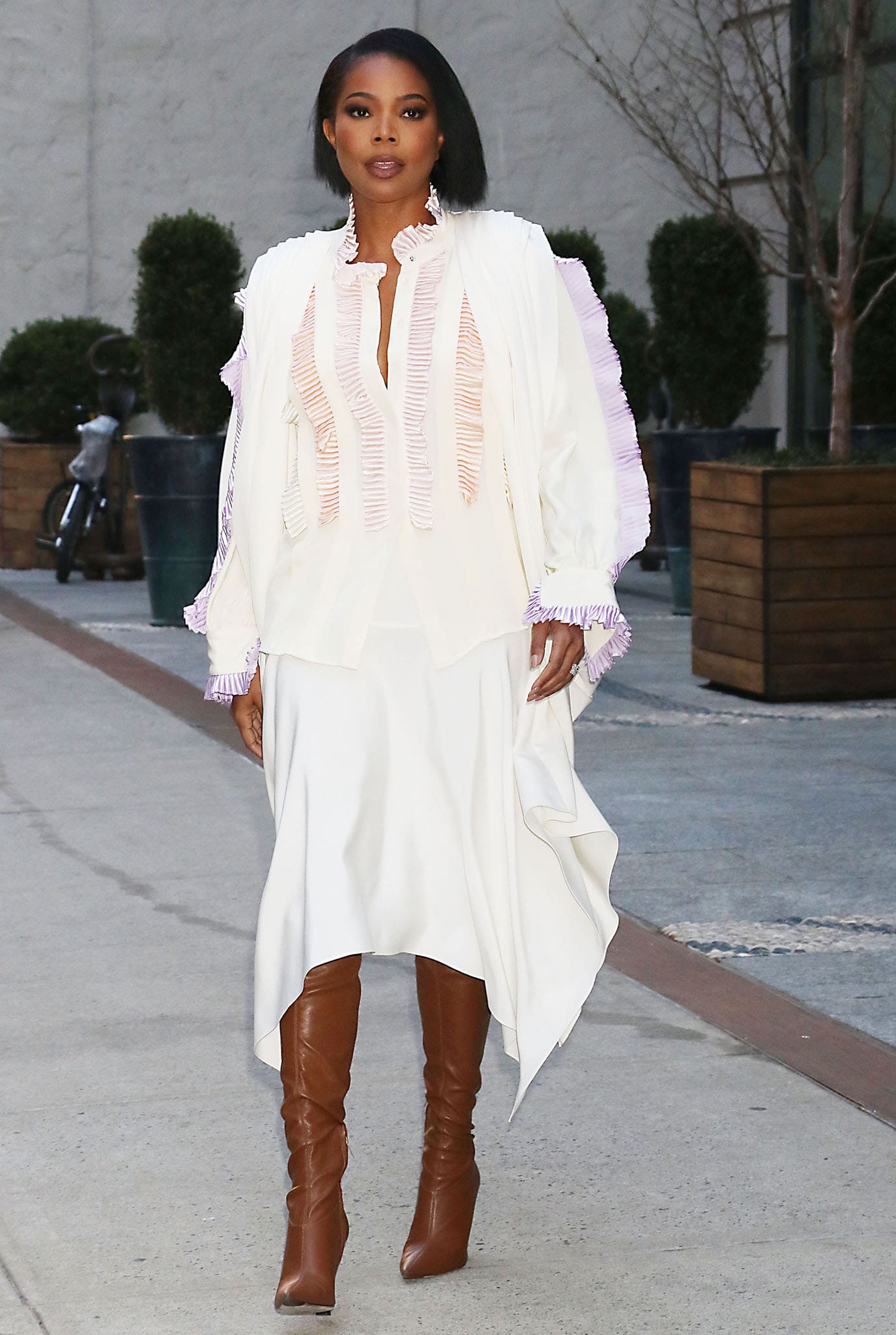 Gabrielle Union leaving The View in white dress with plisse trims and brown leather boots (Credit: ROGER WONG / INSTARimages)
Earlier in the day, the Think Like a Man star made a guest appearance on Good Morning America, where she dressed in a three-piece navy suit from Bella Freud.
Showing a glimpse of her cleavage and belly button, Gabrielle donned a low-cut v-neck waistcoat, which was partially unbuttoned at the bottom. She wore it underneath a $1,285 Cavalry Twill Saint James jacket and a pair of matching wide-leg slacks.
Two statement necklaces and a pair of pointy heels rounded out the actress' outfit.
Gabrielle Union shows a glimpse of her cleavage and belly button in a three-piece navy suit from Bella Freud (Credit: ROGER WONG / INSTARimages)