While we love the idea of a surprise Beyoncé performance, we're smart enough to know it's just not going to happen. Queen Bey has so many relentless fans that can stalk her each and every move — including some in the industry!
When Beyoncé tried to pull off her surprise performance at the 2016 BET Awards, Bring It On actress Gabrielle Union ruined the secret by pointing out Beyoncé's back-up dancers on the red carpet.
Gabrielle Union wears her long hair down in braids
16 years earlier, she starred as Isis in the American teen cheerleading comedy film Bring It On. Following the success of the movie, she was cast in the CBS television drama City of Angels as Dr. Courtney Ellis.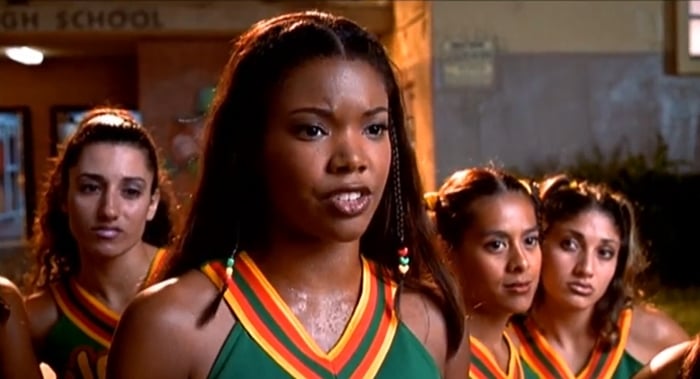 Gabrielle Union as the East Compton Clovers cheerleading captain Isis in Bring It On
"I really wanted to be in this other cheerleading movie called Sugar & Spice about bank-robbing cheerleaders, but they didn't wanna go Black on any of the lead roles. I was coming off of 10 Things I Hate About You, She's All That, and Love & Basketball back-to-back, so I was looking for my next gig when this came up," she told Vogue in August 2020 about her early acting career.
"It was called Cheer Fever, and they wanted me for the table read. The script was a little cringe-y, so when they offered me the job, I said, "Can we make some changes?" And they were open," Union added about her role as Isis.
Filmed in different locations and high schools in San Diego County and San Diego State University in California, the movie was released in theaters in North America on August 25, 2000, when Gabrielle Union was 27 years old.
Gabrielle Union was 27 years old when Bring It On was released on August 25, 2000
Born on October 29, 1972, in Omaha, Nebraska, she turned 28 on August 25, 2000.
"Gabrielle's character, Isis, is a determined leader who is going to get to nationals and prove to everybody that they're the rightful ones. They have been fighting in obscurity to be the best, and they are the best, and now they're going to prove it to the world. In no way is she a villain or even an antagonist. That's a very weird read on the movie," director Peyton Reed said in an interview with Variety in August 2020.
Gabrielle Union in an asymmetrical shoulder dress at the BET Awards 2016 held at the Microsoft Theater in Los Angeles on June 27, 2016
16 years after the release of her high school cheerleading movie, Gabrielle wore an asymmetrical shoulder dress by Marc Jacobs which she adorned with jewelry by Lorraine Schwartz.
The actress finished her ensemble with a pair of silver Jimmy Choo sandals.
Gabrielle Union shows off her feet in silver glitter Jimmy Choo sandals
The then 43-year-old wore her hair down in braids, noting that her chosen hairstyle was practically maintenance-free, making it perfect for summer.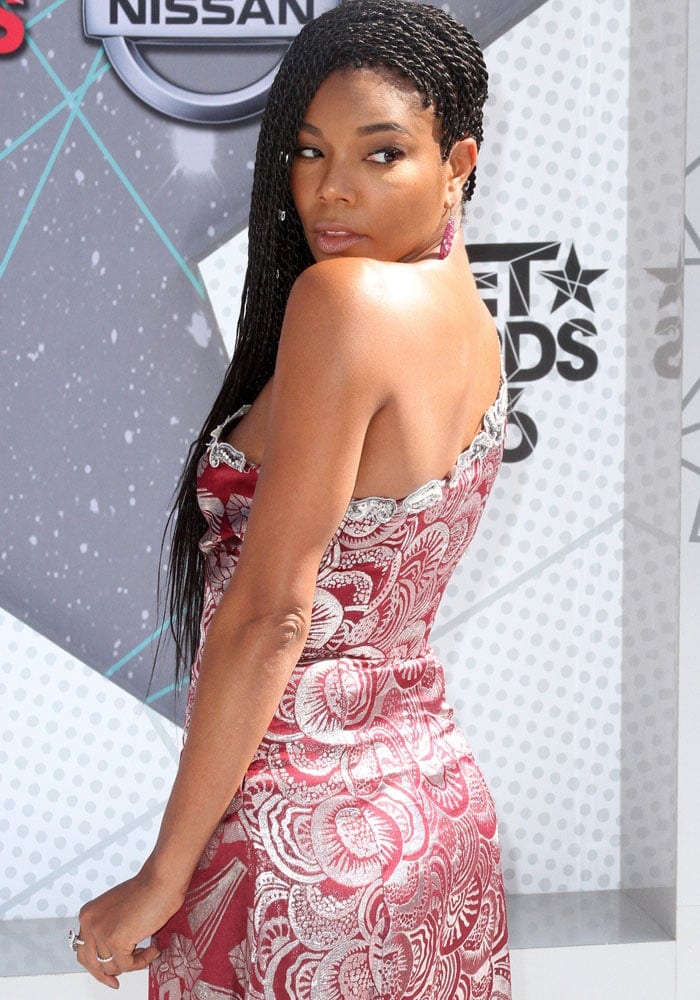 Gabrielle Union had her career breakthrough as Isis in the cheerleading movie Bring It On
The actress professed that she was excited to see Beyoncé after spotting the dancers on the red carpet. Although she said she wasn't 100 percent sure Queen Bey was really putting on a show tonight, she said she was hopeful.
Luckily for her, the night would turn out to be one of Beyoncé's most epic performances since releasing her controversial album.
Gabrielle's sandals are no longer available online, but you can check out the similar Jimmy Choo "Minny" sandals in different colors at Net-A-Porter, Farfetch, and Mytheresa.
Jimmy Choo Minny Ankle Strap Sandals, $559 – $864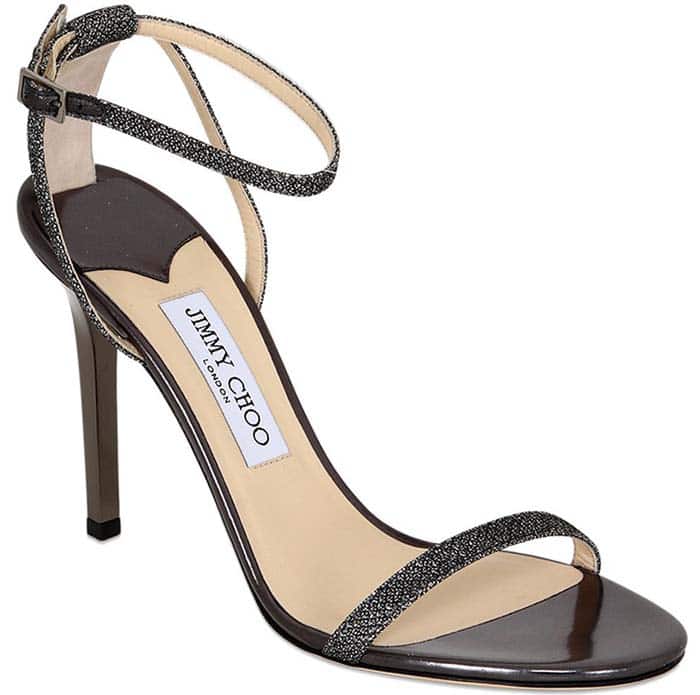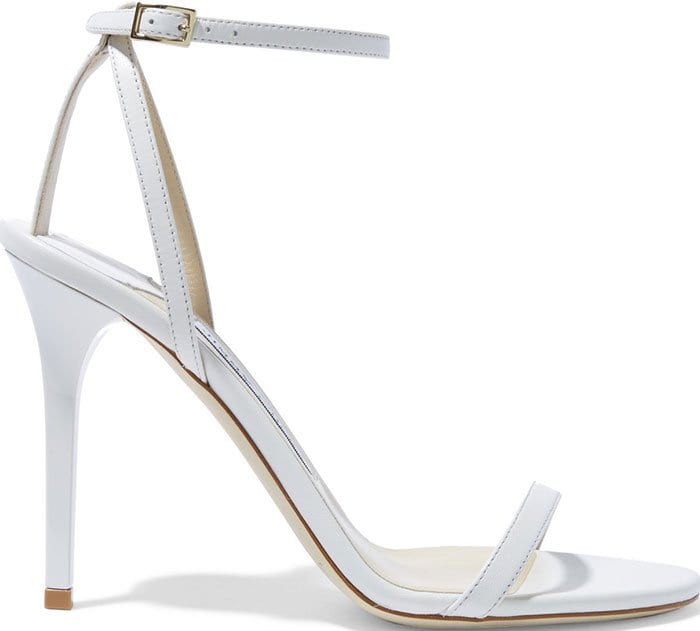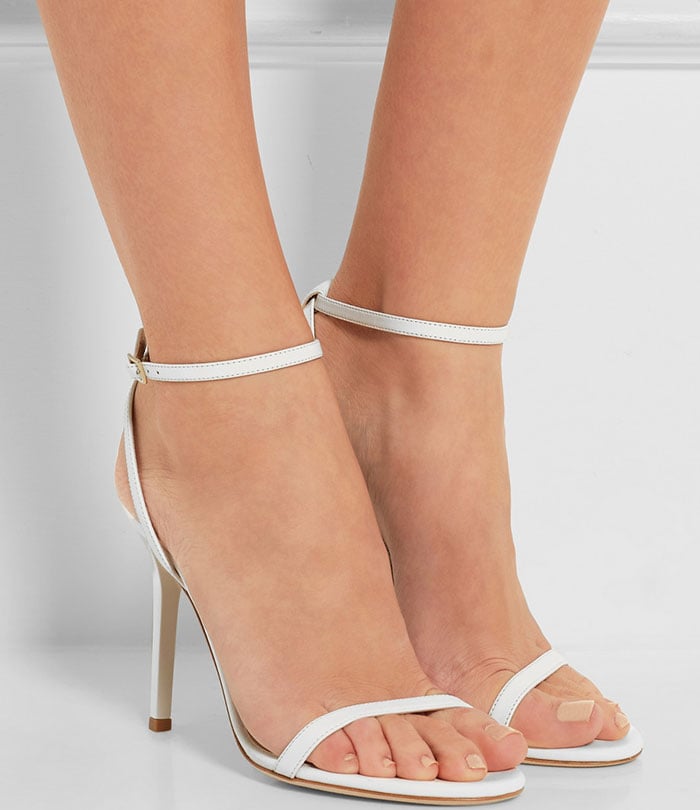 Credit: Adriana M. Barraza / WENN