Earlier this month, Dwyane Wade chatted with Ellen DeGeneres about his 12-year-old child's gender identity.
The 38-year-old basketball player revealed how he and his wife Gabrielle Union educated themselves on the LGBTQ+ community after their underage daughter Zaya came out as transgender.
"First of all, me and my wife Gabrielle, we are proud parents of a child in the LGBTQ+ community and we are proud allies as well. We take our roles and responsibilities as parents very seriously. So when our child comes home with a question, our child comes home with an issue, our child comes home with anything, it's our job as parents to listen to that, to give them the best information we can, to give the best feedback we can. And that doesn't change because sexuality is now involved in it," Dwyane said during the interview.
"Once Zaya, our 12-year-old, came home… first, Zion. I don't know if everyone knows, originally named Zion. Zion, born as a boy, came home and said, 'Hey, so I want to talk to you guys. I think going forward, I'm ready to live my truth. And I want to be referenced as she and her. I'd love for you guys to call me Zaya,'" Dwyane said.
Gabrielle Union and Dwyane Wade couldn't wait to let the world know that their 12-year-old child is transgender (Credit: WENN)
"So, that was our job to go out and get information, to reach out to every relationship we have. My wife reached out to everybody on the cast of Pose. We just tried to figure out as much information as we [could] to make sure we give our child the best opportunity to be her best self," the American former professional basketball player added.
Dwyane also said he's doing his best to support his daughter, "Once Zion came home and said 'call me Zaya' and was ready to take on this, I looked at her and said, 'You are a leader. It's our opportunity to allow you to be a voice.' Right now it's through us because she's 12 years old, but eventually, it will be through her."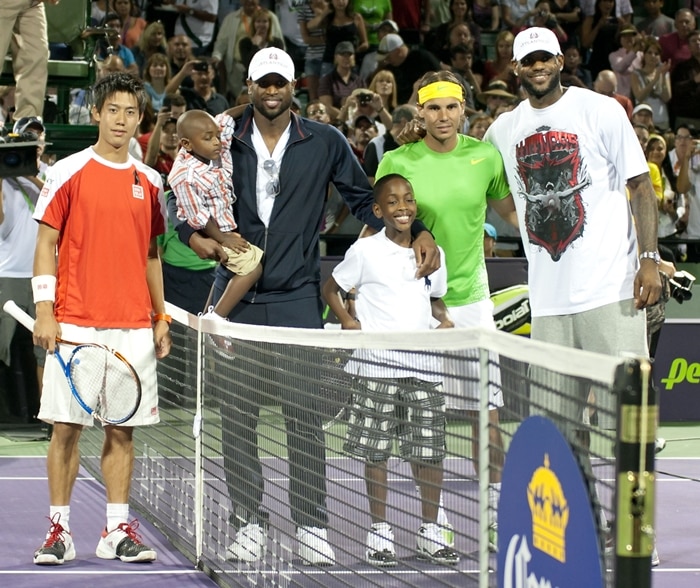 Kei Nishikori, Zion Malachi Airamis Wade, Dwyane Wade, Zaire Blessing Dwyane Wade, Rafael Nadal, and Lebron James on the court prior to Nadal's match against Kei Nishikori of Japan during the Sony Ericsson Open at Crandon Park Tennis Center on March 26, 2011, in Key Biscayne, Florida (Credit: WENN)
A few days later, Gabrielle Union thanked everyone for their support on Twitter. "Huge huge huge THANK YOU to everyone whose dms I slid into, friends, & family who provided information, resources, love & encouragement," Gabrielle wrote. "We are humble LGBTQ+ allies with ALOT to learn & grateful for all the support. We encourage yall to check us as needed 🤗 Again, thank you!"
"Meet Zaya," Gabrielle added with a video. "She's compassionate, loving, whip smart and we are so proud of her. It's Ok to listen to, love & respect your children exactly as they are. Love and light good people."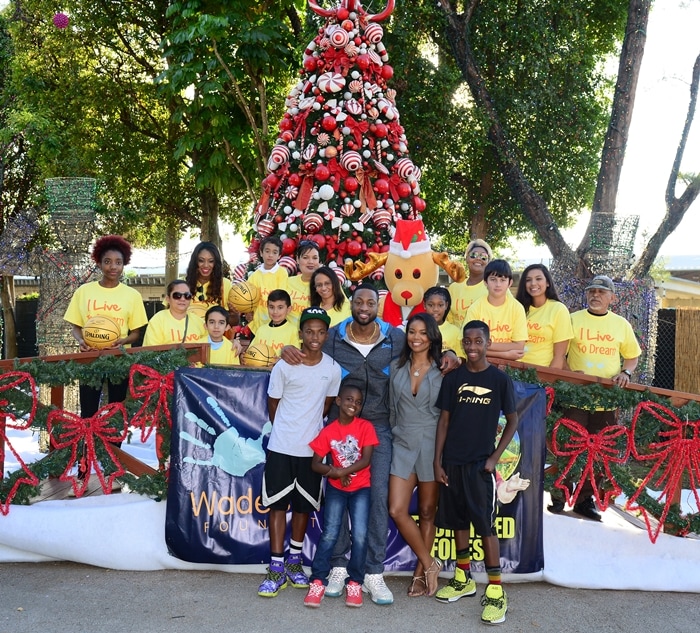 Dada Wade, Dwyane Wade, Zion Wade, Gabrielle Union, and Zaire Wade attend a fun-filled day at Santa's Enchanted Forest for Wade's World Foundation 'Under the Tree' Event on December 18, 2014, in Miami, Florida (Credit: Johnny Louis / WENN)
In March 2016, Gabrielle Union joined Kerry Washington at the premiere of HBO's "Confirmation" held at Paramount Theater in Hollywood.
Gabrielle Union and Kerry Washington at the premiere of HBO Films' "Confirmation" at Paramount Theatre in Hollywood on March 31, 2016 (Credit: Apega / WENN)
While Kerry looked demure and modest in a floral gown, Gabrielle went down the risqué route in a low-cut off-the-shoulder dress by Marc Jacobs.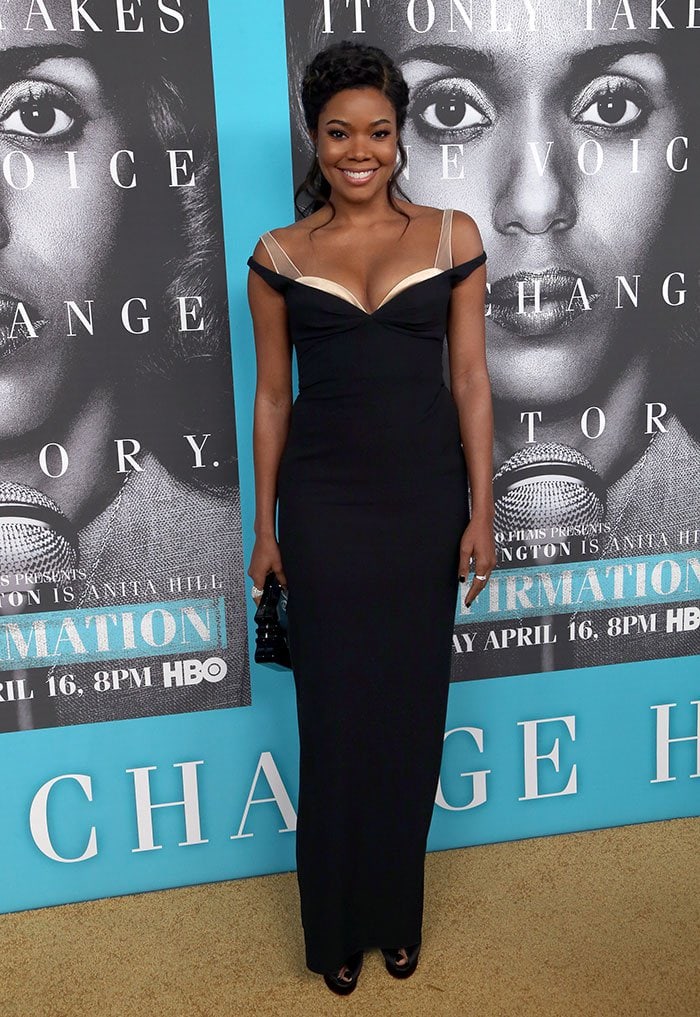 Gabrielle Union's low-cut off-the-shoulder dress by Marc Jacobs (Credit: FayesVision / WENN)
The then 43-year-old actress showed off her ample cleavage in the flattering black frock that featured mesh straps, unusually exposed satin cups, and a high back slit.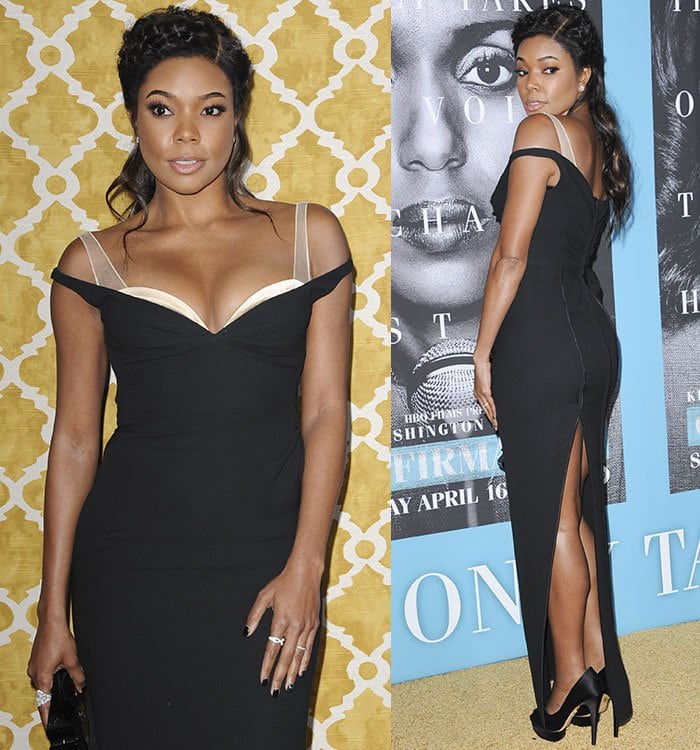 Gabrielle Union wears a black Marc Jacobs sleeveless gown with exposed satin cups and mesh straps (Credit: Apega / WENN)
She wore minimal accessories, choosing only a black clutch, a pair of earrings, and a couple of rings, allowing her curves to do the talking.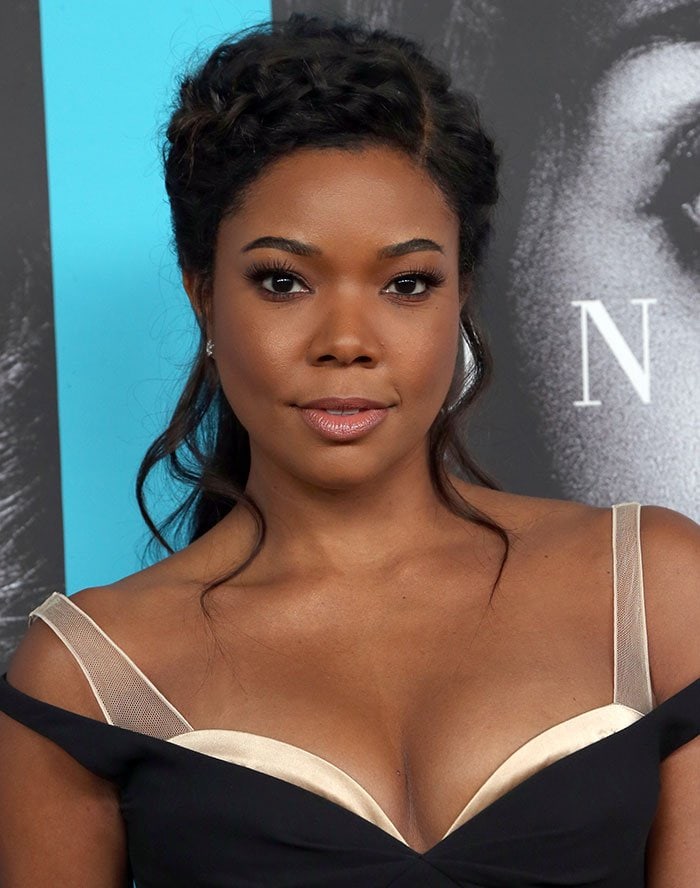 Gabrielle Union's elaborate braided hairstyle (Credit: FayesVision / WENN)
Her neutral makeup and elaborate braided hairstyle finished off her look.
Gabrielle Union exposes some cleavage in a black Marc Jacobs gown (Credit: Nicky Nelson / WENN)
Gabrielle completed her outfit with a pair of Charlotte Olympia "Daphne" pumps.
Gabrielle Union reveals her toes in Daphne shoes (Credit: WENN)
They are made of satin and feature peep toes, PVC insets, 1.5-inch island platforms, and about 5.5-inch heels.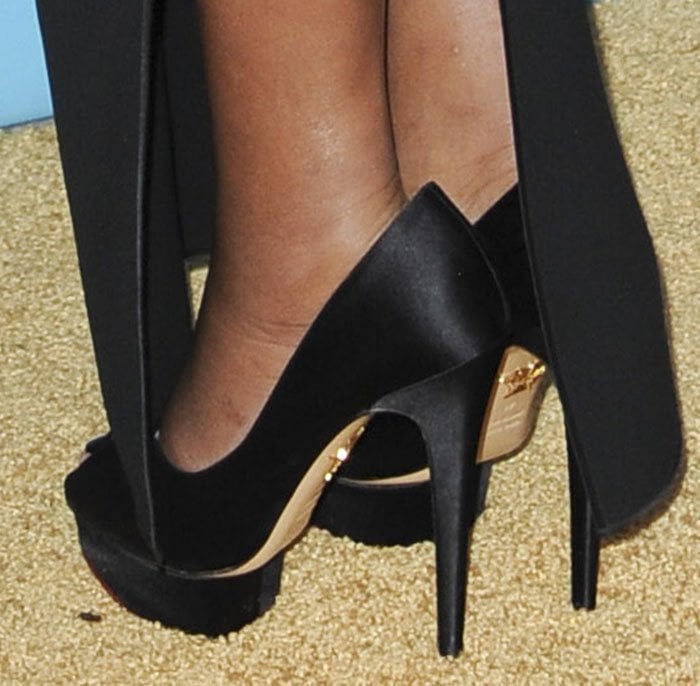 Gabrielle Union in Charlotte Olympia pumps (Credit: WENN)
These Charlotte Olympia pumps are available in a gray suede version at Zappos.
Suede Metallic Charlotte Olympia Daphne Pumps, $795