"There are people – strangers who I will never meet – who have been upset that I have not previously talked about that trauma. I have not had words, and even after untold amounts of therapy, I am not sure I have them now. But truth matters," Gabrielle Union reveals in her new memoir "You Got Anything Stronger?" that you can buy on Amazon.
While many deemed Dwyane Wade and Gabrielle Union as the perfect couple goals, the Bring It On star admitted that their relationship has not always been smooth sailing.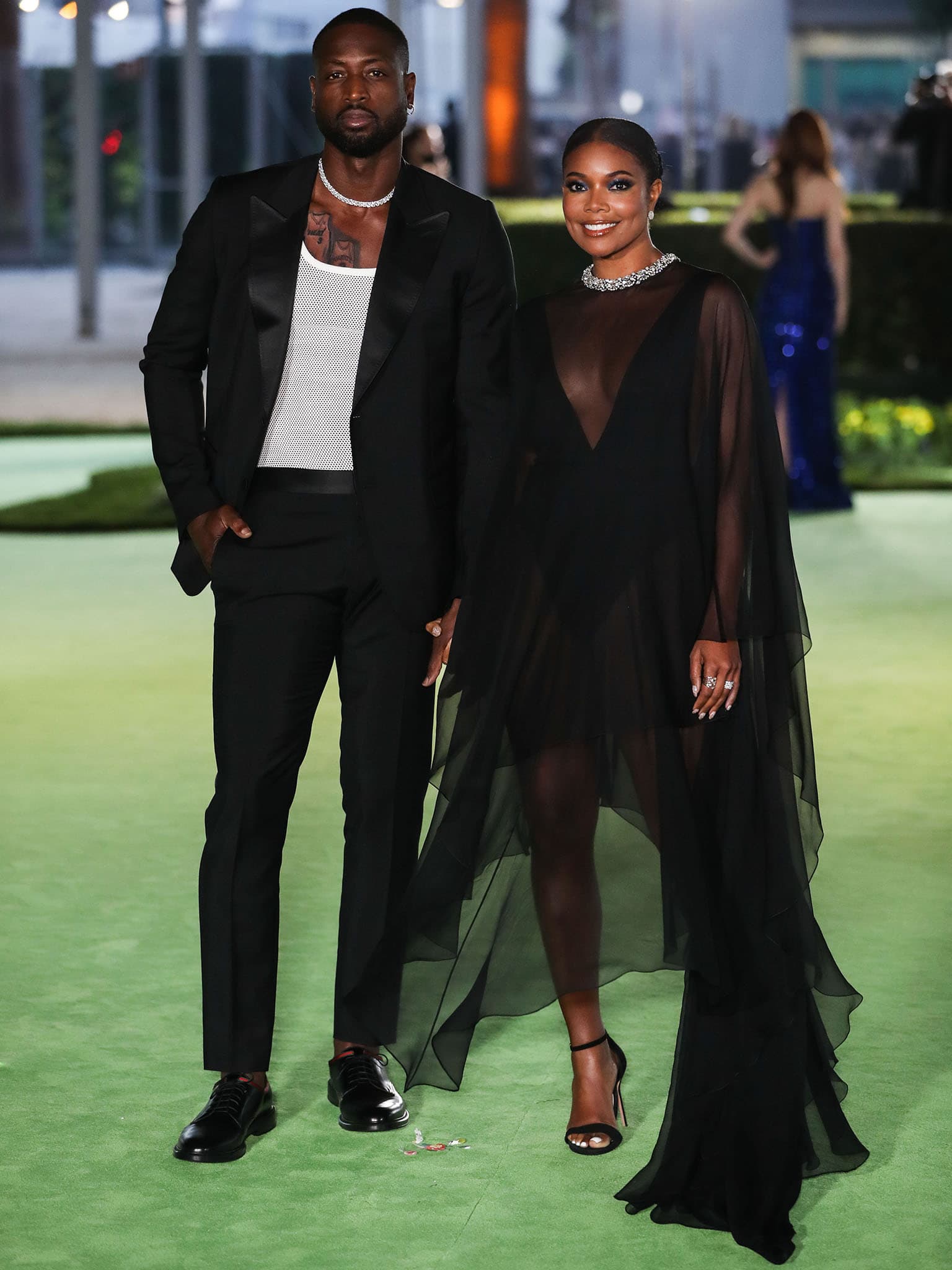 Dwyane Wade and Gabrielle Union in Alexandre Vauthier Fall 2021 Haute Couture see-through outfit at the Academy Museum of Motion Pictures Opening Gala on September 25, 2021 (Credit: Mega / WENN)
In her memoir, she talks about her motherhood journey, infertility struggles, surrogacy, and forgiving the former NBA superstar after he fathered a child with another woman during their brief split in 2013.
Last week, Gabrielle made a guest appearance on Jimmy Kimmel Live, where she promoted her new book and talked about being a 'connoisseur' of strip clubs.
Gabrielle Union arriving at Jimmy Kimmel Live studios on September 28, 2021 (Credit: Mega / WENN)
Parading her toned legs, the She's All That actress arrived on the set in a large gray houndstooth-patterned blazer with a large emblem on the chest pocket from Dundas Resort 2022 collection.
Underneath the stylish jacket, Gabrielle wore a Dundas Fall 2021 fringe mini dress. The flapper-style number features crystal fringes done in a zebra stripe pattern, a cleavage-baring low-cut neckline, and a hem that fell several inches above her knees.
Gabrielle Union showcases her legs in a Dundas flapper-style fringe mini dress and a large blazer (Credit: Mega / WENN)
Looking beautifully radiant, Saweetie's cousin wore bronzed makeup with subtle smokey eyeshadow, fake lashes, and nude lipstick, care of makeup artist Tasha Reiko Brown.
Hairstylist Larry Sims then pulled her tresses away from her face into a sleek high ponytail.
Gabrielle Union looks radiant with bronzed makeup and a high ponytail (Credit: Guillermo Proano / WENN)
Styled by Thomas Christos, Gabrielle wore a pair of diamond stud earrings and black suede heels from Sarah Flint.
Handcrafted in Italy, the "Perfect" sandals have round open toes with an expanded toe box, anatomical arch support, and steel rod stiletto heels.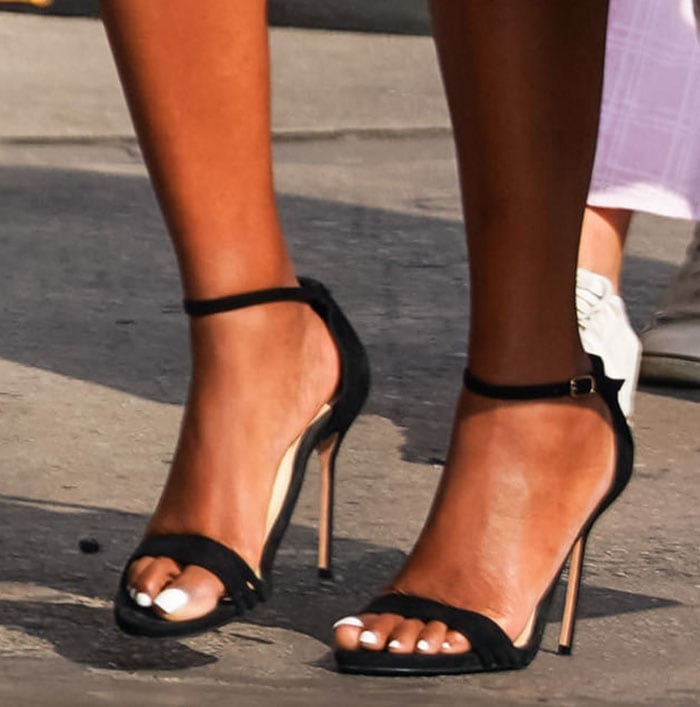 Gabrielle Union completes her chic and sexy outfit with Sarah Flint's Perfect heels (Credit: Mega / WENN)
Sarah Flint 'Perfect' Sandals, $435
The Perfect sandal from Sarah Flint offers style and comfort with its anatomical arch support and expanded toe box
Why Gabrielle's Family Was Skeptical of Dwyane
While she kept mum about Dwyane's cheating scandal during the interview, she talked to Jimmy Kimmel about her early romance with the Miami Heat legend.
Gabrielle is ten years older than Dwyane. And due to her past experience with her first husband, Chris Howard, Gabrielle's family feared that Dwyane was only interested in their daughter's money when they first started dating in 2008.
Dwyane Wade fathered a child with reality star Aja Metoyer in 2013 amid his split from his now-wife, Gabrielle Union (Credit: Guillermo Proano / WENN)
"Your family was nervous that Dwyane was going to take our money?" Jimmy Kimmel asked the actress. "Yes, because it had happened before. There was some precedent there, otherwise known as my first marriage" that left her "a little lighter" financially.
"We're talking about a guy that's making a lot of money—Dwyane," Jimmy added, to which Gabrielle responded, "That's what we were talking about the first one, too, and then there was a change of fortune. Bring It On hit."
"When he [Gabrielle's father] first met Dwyane, he was like, 'What are your intentions? What do you want from my daughter?'" "There was a lot of distrust at the beginning."
Gabrielle Union swaps her fringe dress for a yellow coat dress outside Jimmy Kimmel Live studio on September 28, 2021 (Credit: Mega / WENN)
Following her interview, the 10 Things I Hate About You actress traded her flirty frock for a sunshine yellow wraparound coat dress with wide belt detail.
Carrying a black clutch, Gabrielle wore the same hair and makeup and styled her look with the same stud earrings.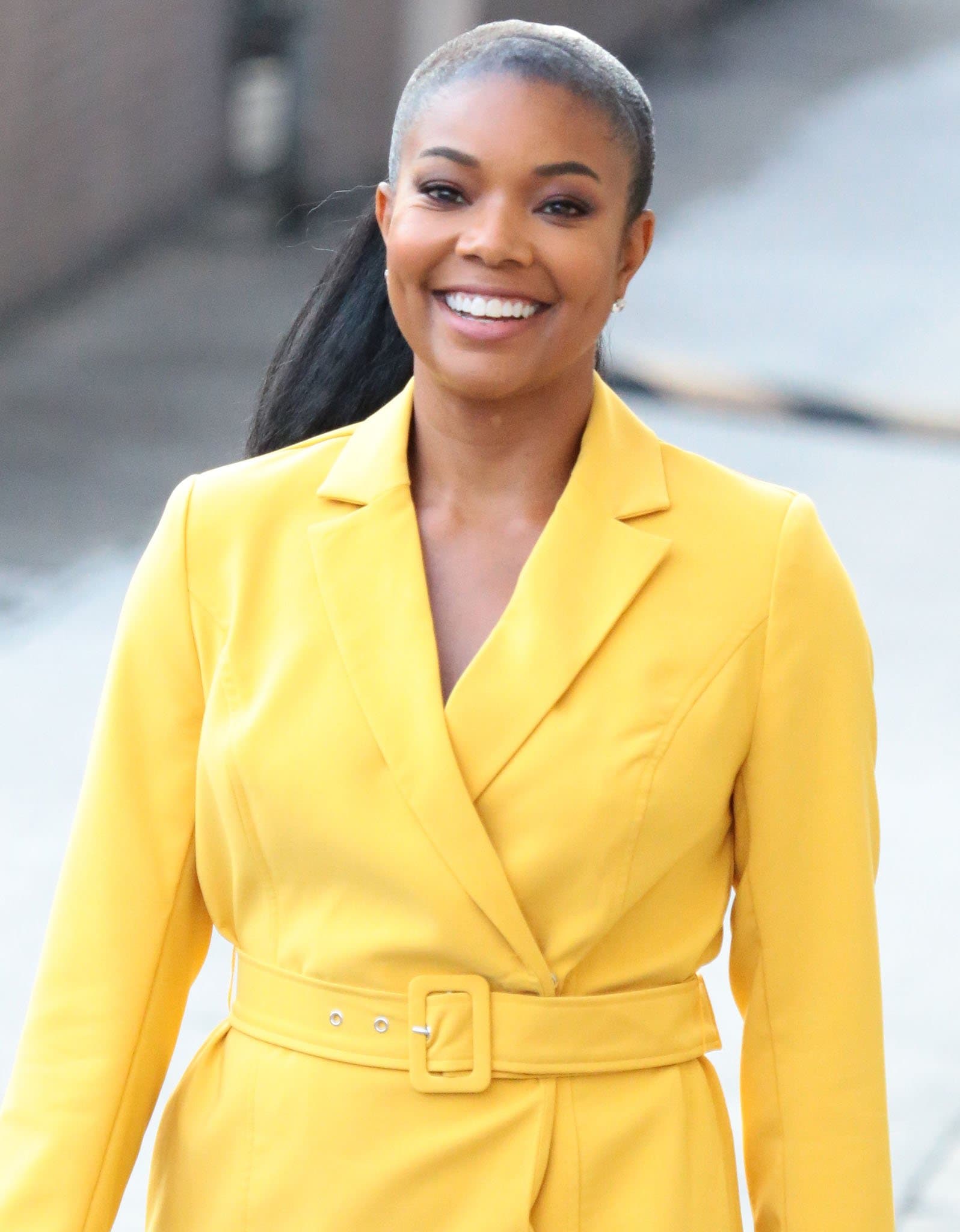 Gabrielle Union wears subtle smokey eye-makeup with nude lipstick and a high ponytail (Credit: Guillermo Proano / WENN)
For her feet, she swapped her black heels for bronze sandals that feature criss-cross ankle straps, open toes, and about 4-inch heels.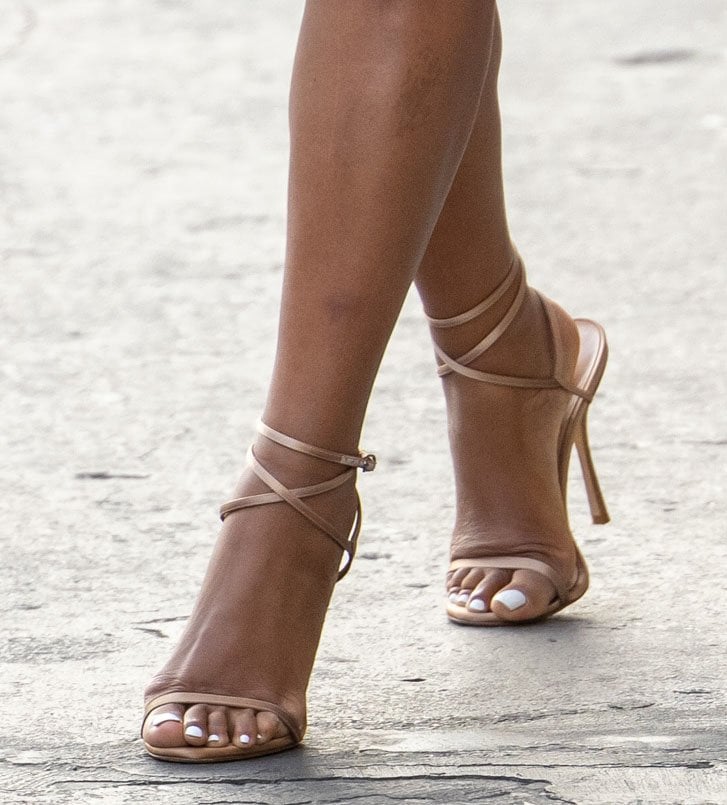 Gabrielle Union shows off her pedicured feet in a pair of bronze heels (Credit: Mega / WENN)
On Saturday, the mom-of-one arrived solo at the Veuve Clicquot Polo Classic in Los Angeles, wearing another bold look.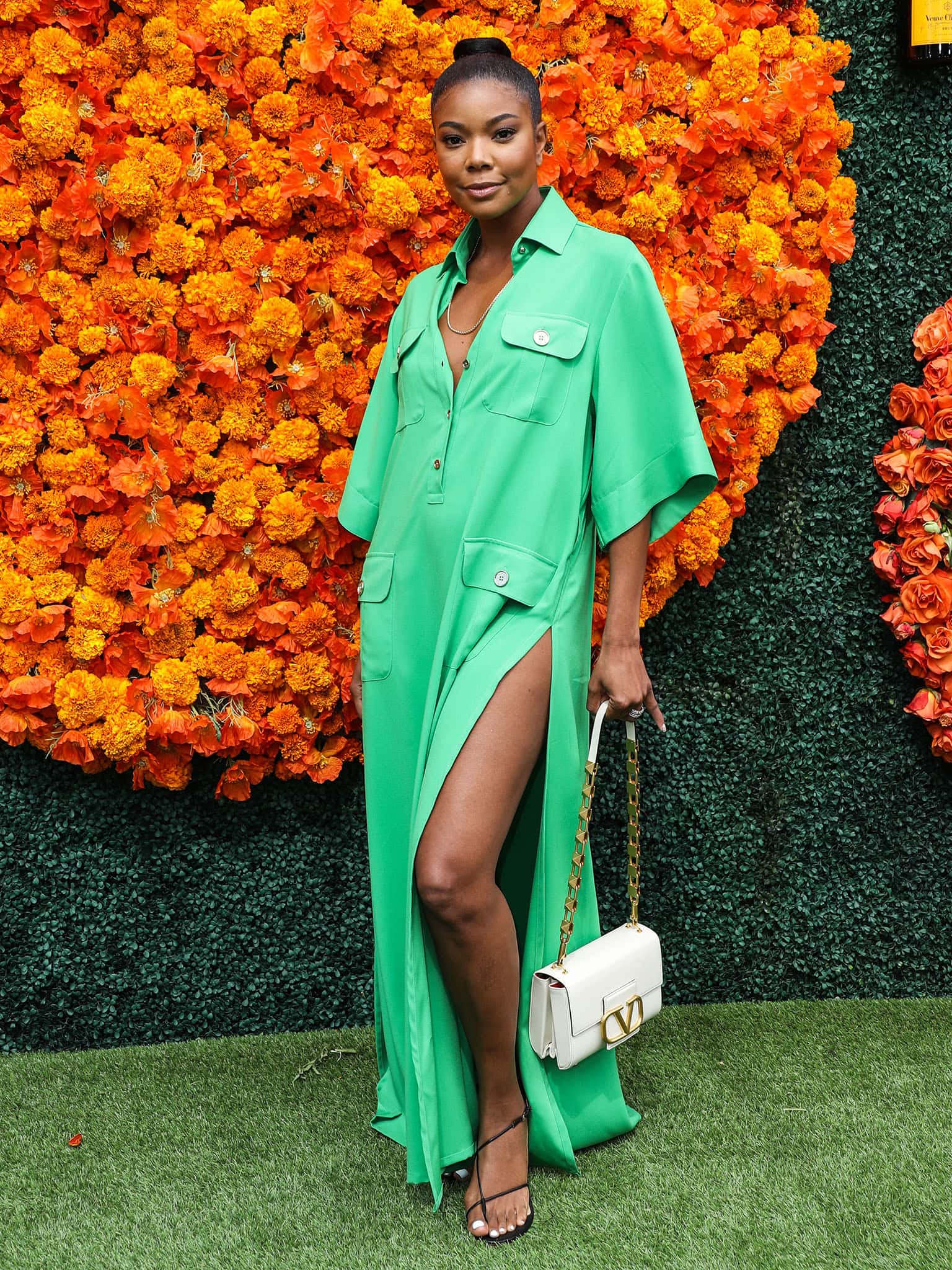 Gabrielle Union arrives solo at the Veuve Clicquot Polo Classic Los Angeles 2021 on October 2, 2021 (Credit: Avalon / WENN)
She was hard to ignore in a breezy emerald green maxi shirtdress from Elie Saab's Spring/Summer 2021 collection, featuring four utility-style front pockets, oversized quarter sleeves, and a sharp collar.
It also has an unbuttoned neck and risky thigh-high slit on either side that gave onlookers a glimpse of her cleavage and toned legs.
Gabrielle Union shows off her toned legs in an emerald green Elie Saab maxi shirtdress (Credit: Avalon / WENN)
Her stylist Thomas Christos styled her look with a Laura Lombardi necklace and a white Valentino handbag with a chunky gold chain shoulder strap.
Makeup artist Fiona Stiles highlighted the actress' features with neutral makeup while hairstylist Larry Sims pulled her tresses into a slicked-back bubble ponytail.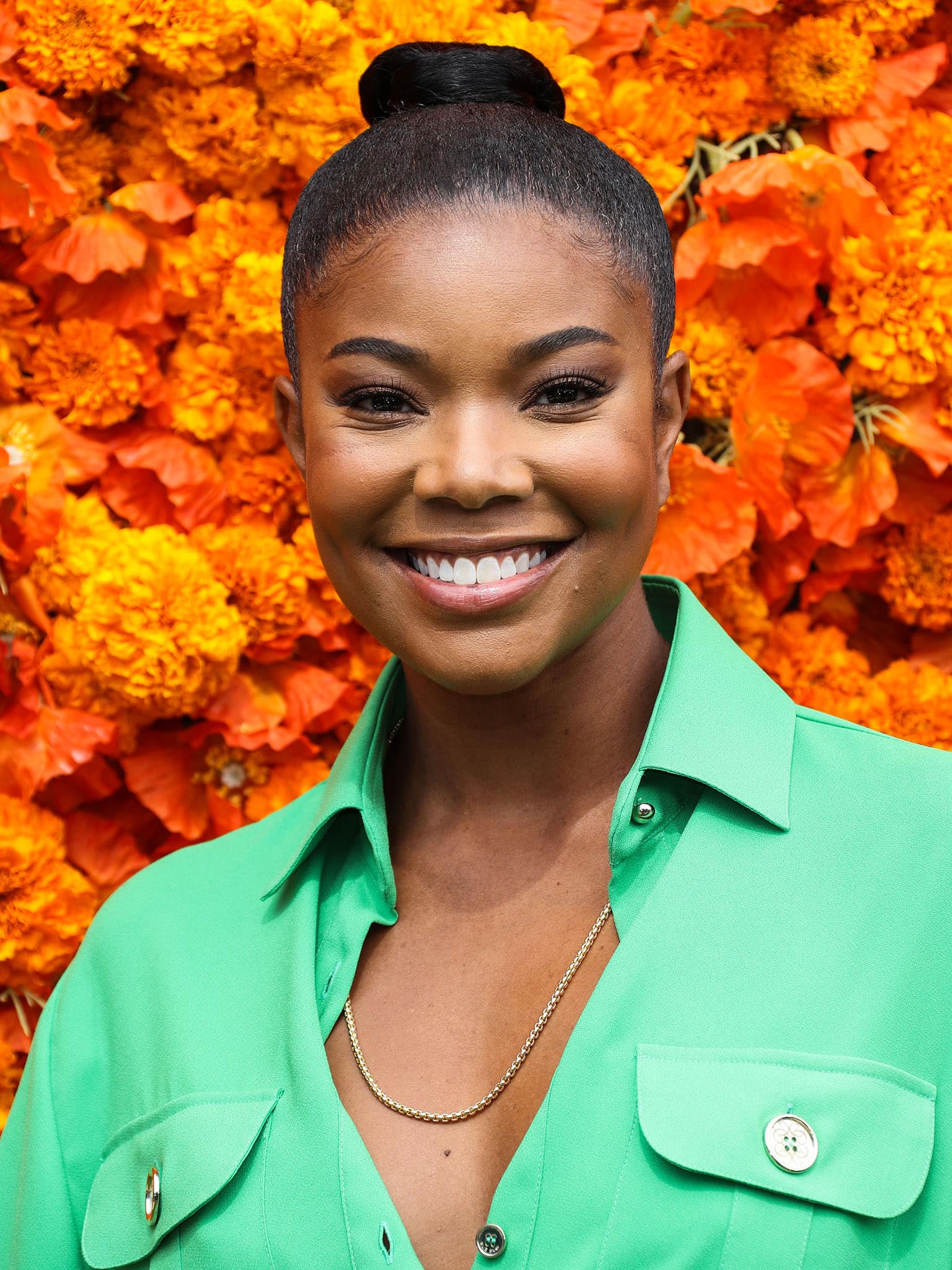 Gabrielle Union pulls her tresses back into a bubble ponytail and highlights her features with neutral makeup (Credit: Avalon / WENN)
To complete her afternoon look, Gabrielle slipped her pedicured feet into a pair of sandals from footwear designer Emme Parsons.
These minimalist flat sandals have thin black leather cord straps that wrap the foot, complete with a toe loop and 0.5-inch heel.
Gabrielle Union completes her afternoon look with a white Valentino bag and a pair of Emme Parsons flat sandals (Credit: Avalon / WENN)
Emme Parsons 'String' Sandals, $395
Emme Parsons' String sandal features nappa leather cords that curve asymmetrically around the instep
Gabrielle Reveals Details on Dwyane Wade's Cheating
They've been dating for six years before tying the knot in 2014. But prior to their marriage, Dwyane impregnated another woman, reality star Aja Metoyer, who also has two daughters with her ex-boyfriend Damon Wayans Jr.
In an excerpt from her book published by Time Magazine, Gabrielle revealed: "In 2013, before we were married, Dwyane had a baby with another woman. It should go without saying that we were not in a good place at the time that child was conceived. But we were doing much better when he finally told me about the pregnancy. To say I was devastated is to pick a word on a low shelf for convenience."
"The experience of Dwyane having a baby so easily—while I was unable to—left my soul not just broken into pieces but shattered into fine dust scattering in the wind."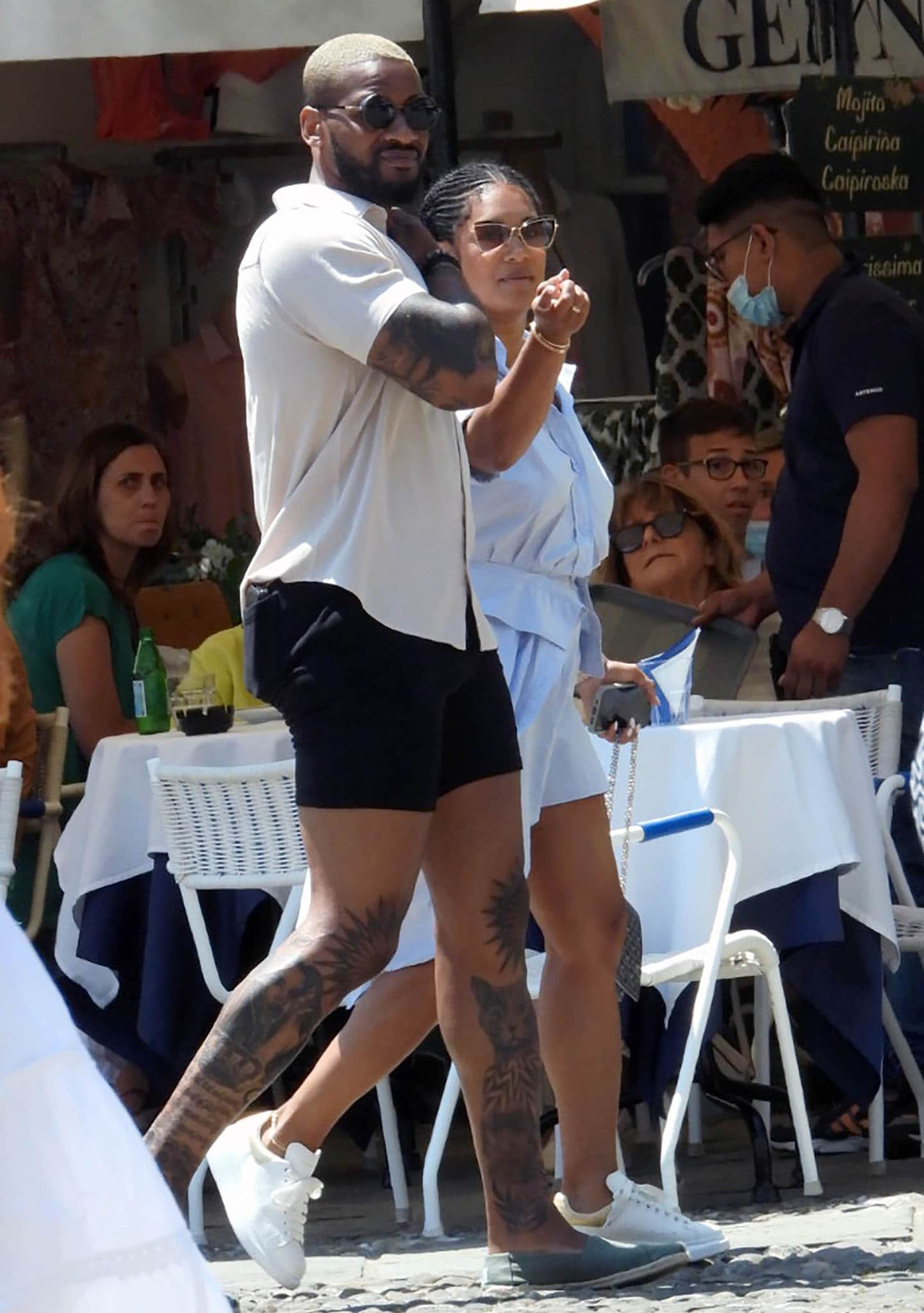 Dwyane Wade and Gabrielle Union strolling in Portofino, Italy on July 11, 2021 (Credit: Mega / WENN)
She also talked about her surrogacy journey, saying: "So much of what made the decision so difficult was that if I didn't submit to surrogacy, then I was convinced I needed to let Dwyane go. Even if he didn't want to, I had to let him find someone who could give him what he wanted."
The couple welcomed their child, Kaavia James Union Wade, in 2018 via surrogacy. They're now in a happy marriage after she decided to forgive and stay with Dwyane.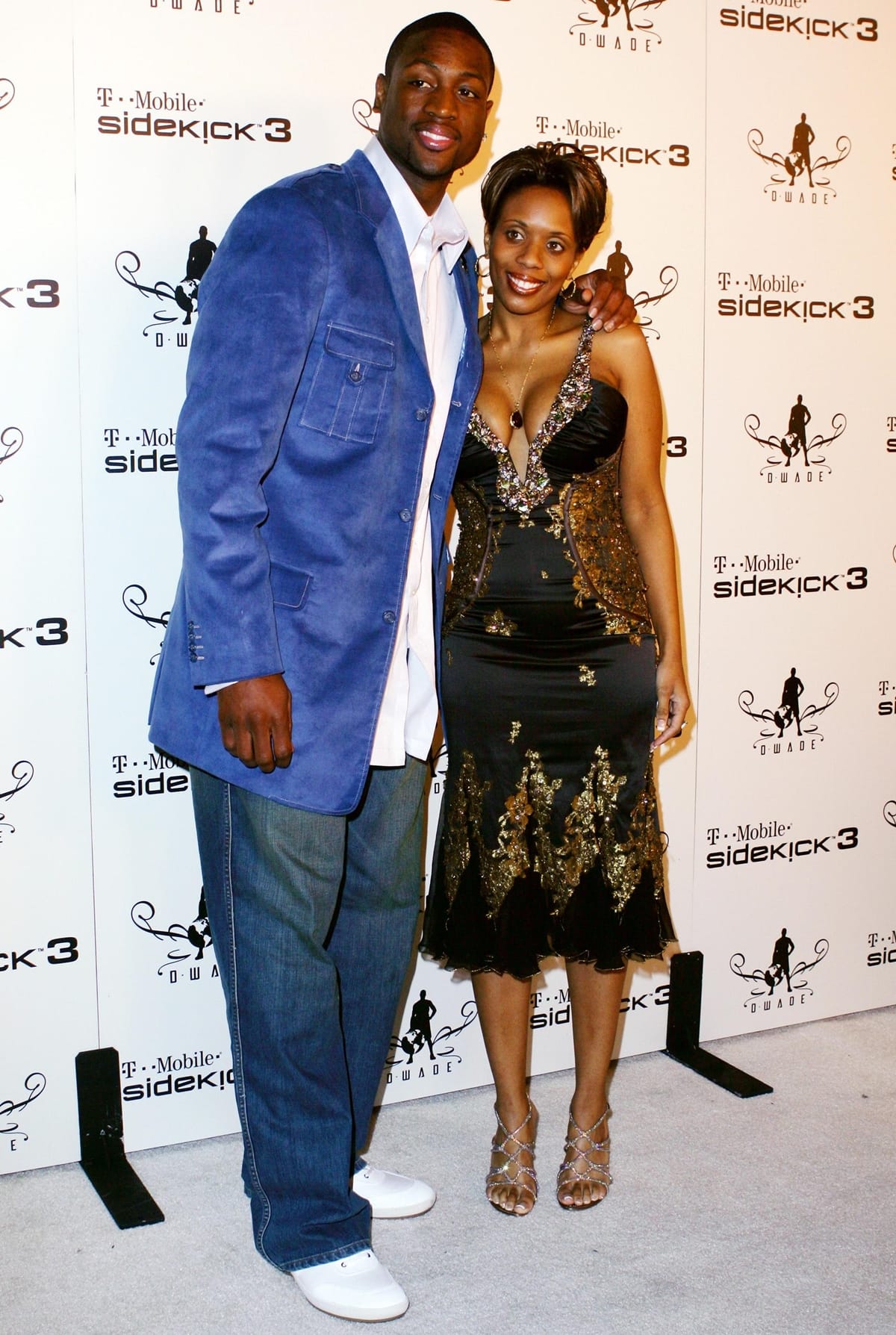 Dwyane Wade has two children with his high school sweetheart Siohvaughn Funches, with whom he was married from 2002-2007 (Credit: Judy Eddy / WENN)
"Each day, he had worked to be forgiven, and I had chosen to do so. And part of this journey of making peace with our love is also making peace with ourselves."
Dwyane Wade also has two children, Zaya Wade and Zaire Blessing Dwyane Wade, with his ex-wife and high school sweetheart, Siohvaughn Funches.