The single mother to two African American adopted children, Jackson and August, Charlize Theron was among the biggest Hollywood stars who graced this year's Veuve Clicquot Polo Classic in Los Angeles.
According to a 2013 NPR investigation, dark-skinned black children are cheaper to adopt than light-skinned white children. The cost to adopt the Caucasian child was approximately $35,000. For a full African-American girl, the cost was about $18,000.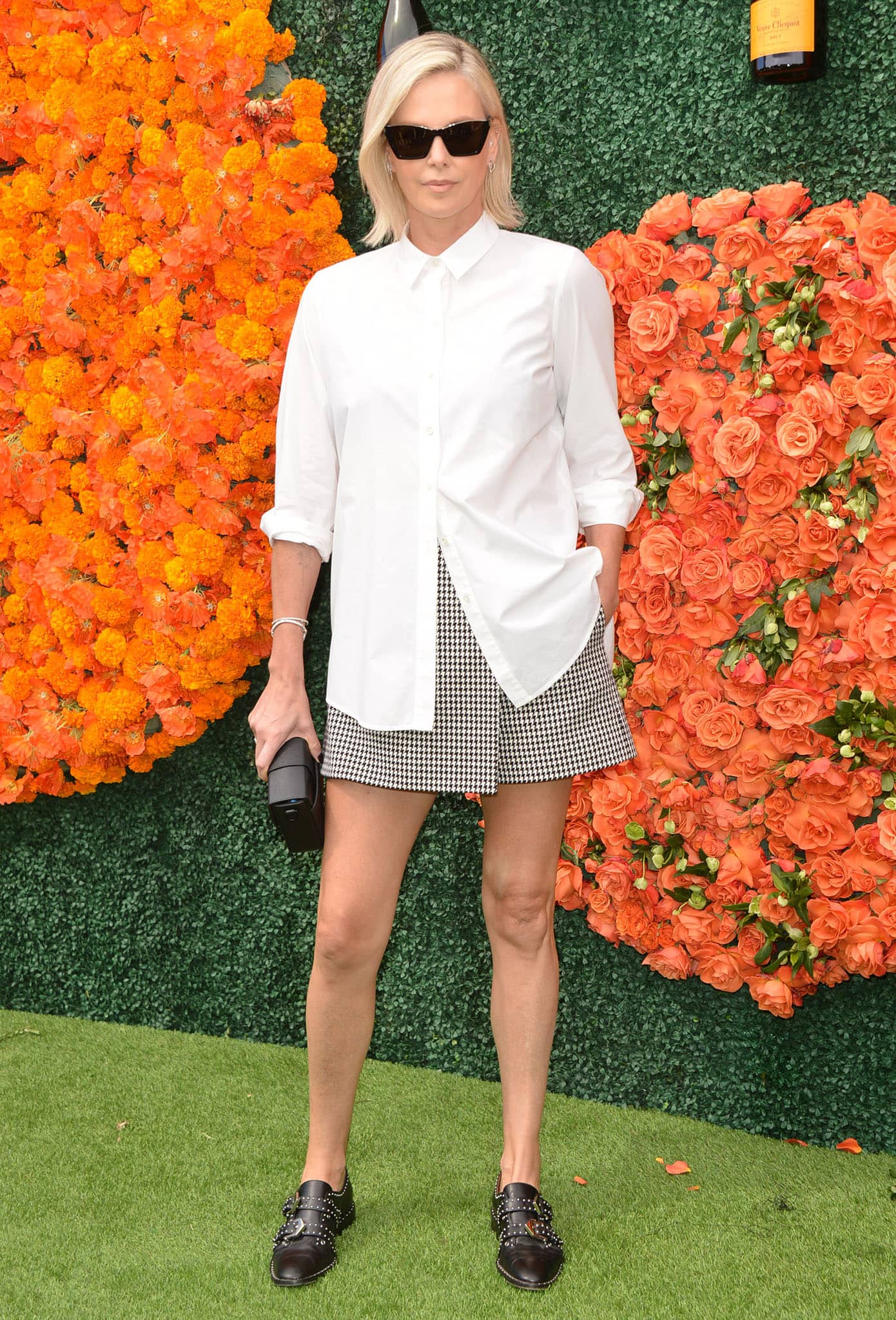 Charlize Theron in Givenchy monk strap shoes at the Veuve Clicquot Polo Classic Los Angeles on October 2, 2021 (Credit: Mega / WENN)
Putting on a casual-chic display, the Monster actress arrived at the Will Rogers State Historic Park in a plain white button-up shirt and a houndstooth-patterned mini skirt that showcased her slender legs.
She kept the casual-cool vibe going as she rolled up her sleeves and left her shirt partially unbuttoned at the bottom.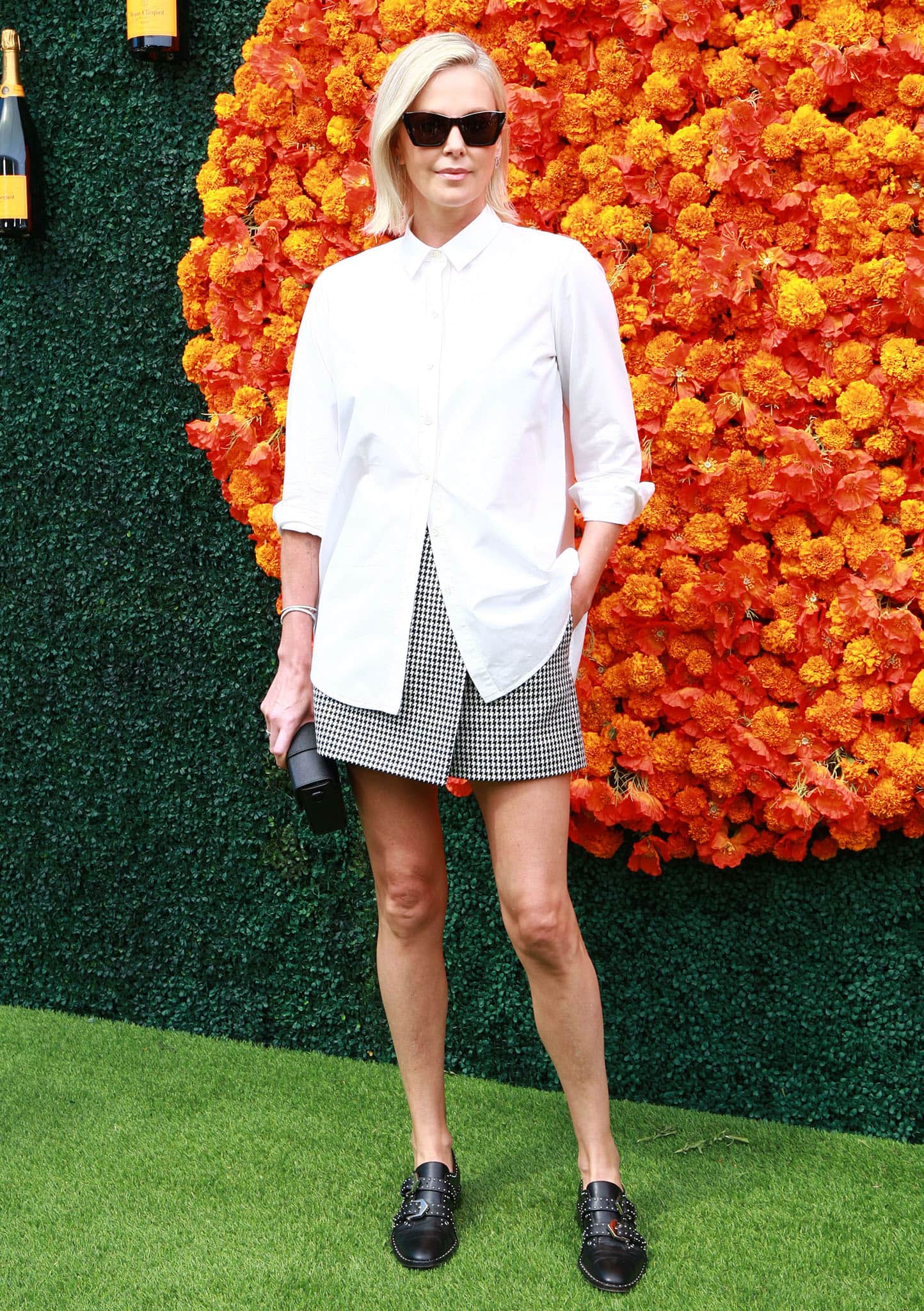 Charlize Theron flaunts her legs in a houndstooth mini skirt with a basic white shirt (Credit: Mega / WENN)
One of the world's highest-paid actresses, Charlize gave off a classy vibe as she styled her look with a pair of large black sunglasses and minimal jewelry, including mismatched earrings, two diamond bracelets, and a ring.
When it came to her beauty look, she simply parted her blonde bob to one side and wore minimal makeup with a hint of pink lipstick.
Charlize Theron opts for minimal makeup and wears her blonde hair down with a side parting (Credit: Mega / WENN)
Charlize then carried a $3,800 Dior 30 Montaigne box bag that's crafted from black grained ultra-matte calfskin leather with a gradient finish.
It has a compact streamlined design with a matte tonal metal CD clasp on the flap and a removable wide leather shoulder strap, which Charlize chose to go without.
Charlize Theron carries her essentials in a Dior 30 Montaigne box bag (Credit: Avalon / WENN)
A pair of Givenchy studded oxfords with two buckled straps rounded out Charlize's chic ensemble.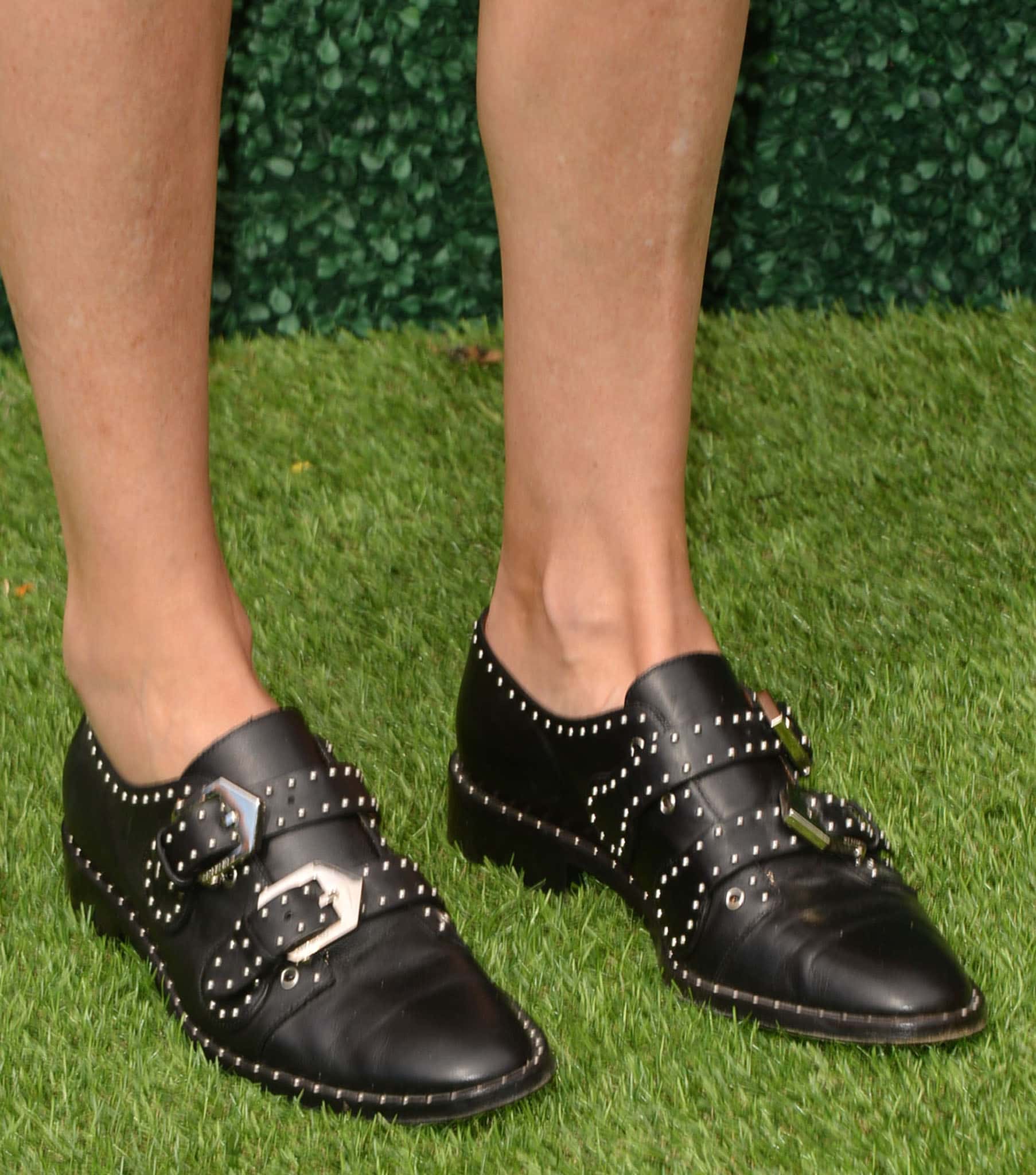 Charlize Theron shows how to wear Givenchy's studded oxfords (Credit: Mega / WENN)
Last week, the mother-of-two made a guest appearance on Jimmy Kimmel Live, where she promoted her new animated movie, The Addams Family 2.
It's a sequel to the 2019 film, and Charlize is again lending her voice to the family matriarch Morticia Addams.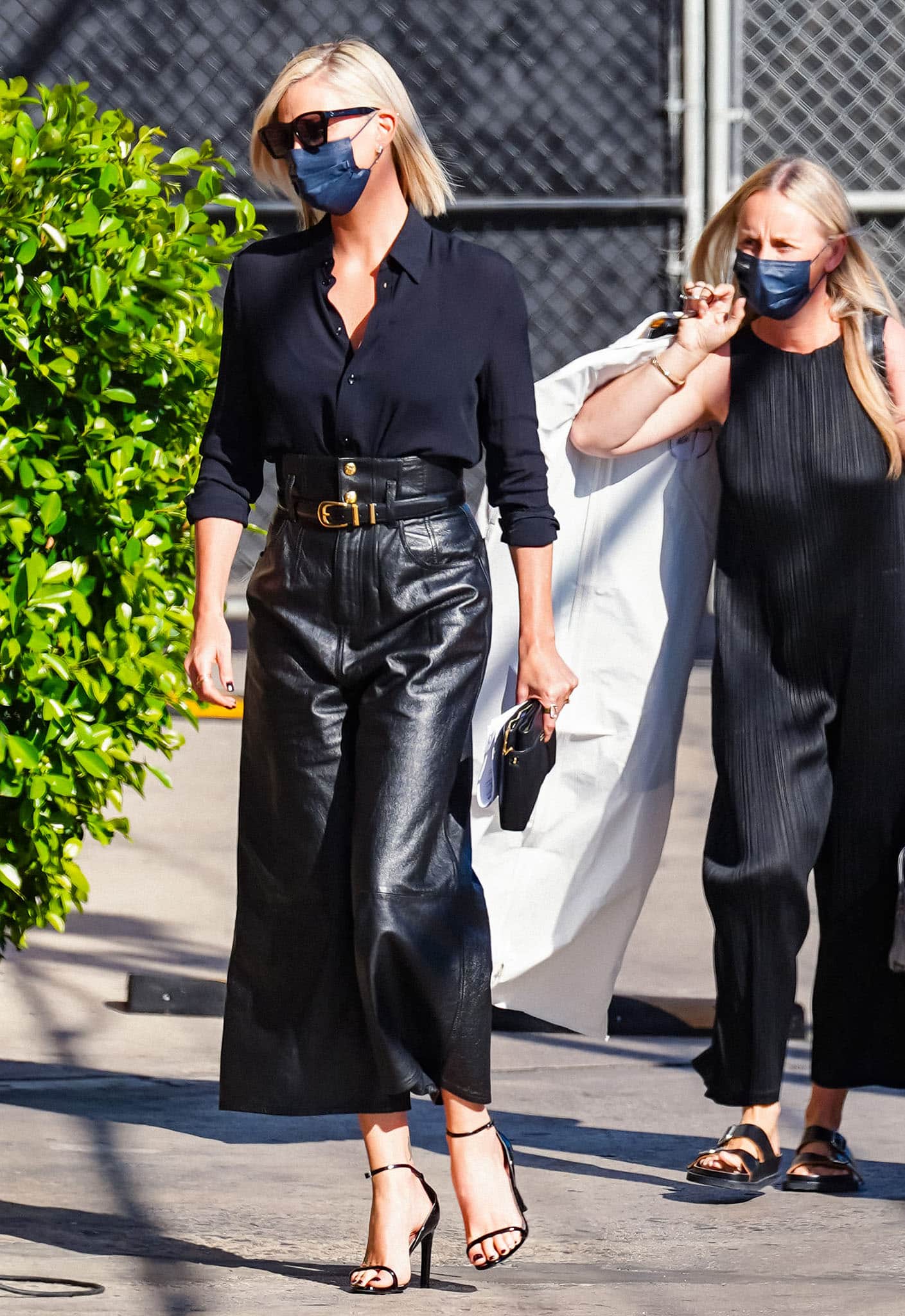 Charlize Theron arriving at the Jimmy Kimmel Live studio to promote The Addams Family 2 movie on September 30, 2021 (Credit: Mega / WENN)
Looking every bit her character, Charlize dressed the part in a gothic all-black ensemble from Celine.
She tucked a $550 classic black silk crepe shirt into a $3,400 black leather culottes that feature a high waist with two gold-tone snap buttons and a cropped wide-leg silhouette.
Charlize Theron channels Morticia Addams in Celine black shirt and leather culottes (Credit: Mega / WENN)
Highlighting her svelte figure, Charlize cinched her waist with a Celine black leather western belt. She then matched the gold hardware finishing on her belt to the gold buttons on her skirt and the zip on her black envelope clutch.
Continuing with the gothic glam theme of her look, the Bombshell star accessorized with gold jewelry, including a $15,260 Katkim diamond Trace ring and a pair of $2,535 Eera 18k gold Reine diamond drop earrings.
She wore her blonde locks straight with a deep side parting and covered her face with oversized sunnies and a black face mask.
Charlize Theron hides her face behind oversized sunglasses and a black face mask (Credit: Guillermo Proano / WENN)
Rounding out her sophisticated look, Charlize showed off her black pedicure in a minimalist pair of black heels.
Charlize Theron shows off her black pedicure in black patent leather heels (Credit: Mega / WENN)
Charlize Theron on Raising Her Two Black Daughters
While Charlize is known for her violent action movies, she admitted that she was glad to have the opportunity to make a family-friendly movie like The Addams Family, which her two kids could see.
In a recent interview with Essence, Charlize said: "I felt very lucky to be asked to be part of this. I definitely do not get to share a lot of my work with my kids. They'll probably be in their late 50's before they get to see anything [else] that I've done."
Actress Charlize Theron out with her transgender daughter Jackson Theron in Los Angeles on August 3, 2015 (Credit: Cousart / JFXimages / WENN)
The South African actress also opened up about the black community that helps and teaches her how to raise her adoptive daughters—Jackson, a 9-year-old transgender girl, and 5-year-old August.
"I am so grateful to the incredible village of strong black women in my life who I can pick up a phone to, or come over to my house and they'll tell me: 'You need to stop doing this,' or 'these baby hairs are breaking off. What are you doing?' So they put me in my place, and because of them, I feel this great confidence in raising my girls."
View this post on Instagram