For her portrayal of serial killer Aileen Wuornos in Monster, a 2003 biographical crime drama film, Charlize Theron won the Academy Award for Best Actress at the 76th Academy Awards in February 2004, the Screen Actors Guild Award, and the Golden Globe Award.
Christina Ricci (as Selby Wall) and Charlize Theron (as Aileen Wuornos) in Monster
Written and directed by Patty Jenkins in her feature directorial debut, filming started on February 4, 2003, when Charlize Theron was 27-years-old. Her co-star Christina Ricci turned 23 on February 12, 2003. The film was released on November 16, 2003.
For her role as real-life serial killer Aileen Wuornos, Charlize put on 30 pounds of weight.
Charlize Theron put on 30 pounds of weight for her role as Aileen Wuornos
"It wasn't about getting fat. Aileen wasn't fat," Theron said in an interview with SPLICEDwire.
"Aileen carried scars on her body from her lifestyle, and if I'd gone to make this movie with my body — physically I'm very athletic — I don't know that I would have felt the things Aileen felt with her body. It was about getting to a place where I felt closer to how Aileen was living."
Charlize Theron portrays serial killer Aileen Wuornos, a former street prostitute, in the 2003 biographical crime drama film Monster
Speaking as part of a roundtable chat between producers in The Hollywood Reporter in November 2019, Charlize talked about being called out for gaining weight.
I started producing on Monster, and it just happened that I felt the need to protect a first-time director [Patty Jenkins], who was really taking a huge risk. The character was very unusual. And initially when we went in to get our financing, it became very clear to me that there was this need for me to step in.

Because I think the financiers actually thought they were basically paying for a hot lesbian movie with me and Christina Ricci. And knowing what Patty wanted to do with it, I knew that we were going to come up against things.

There were a lot of fights. As soon as I started gaining weight, I had one of the financiers call me up. Actually, his wife saw me, and she was like, 'Did you see Charlize? Have you seen what she looks like?' And I got that call, like, 'What's going on with that?'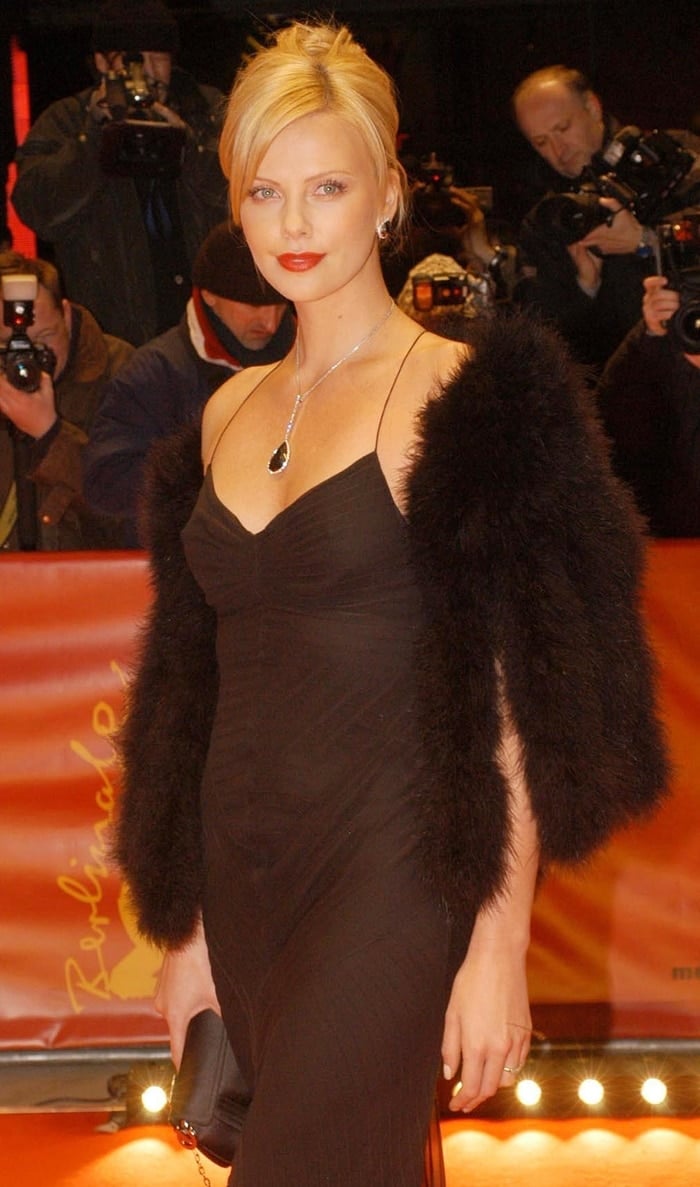 Charlize Theron at the premiere of 'Monster' during the Berlin Film Festival in Germany on February 8, 2004
In May 2012, Charlize Theron promoted her latest movies in New York City wearing the "Decoupata" sandals from Christian Louboutin.
Charlize Theron wears her hair down as she leaves Claridge's Hotel in London's Mayfair in London on June 1, 2012
A few days later, she traveled to London to promote her new movies Snow White and the Huntsman and Prometheus, and we spotted her once again wearing the same pair of Louboutin heels.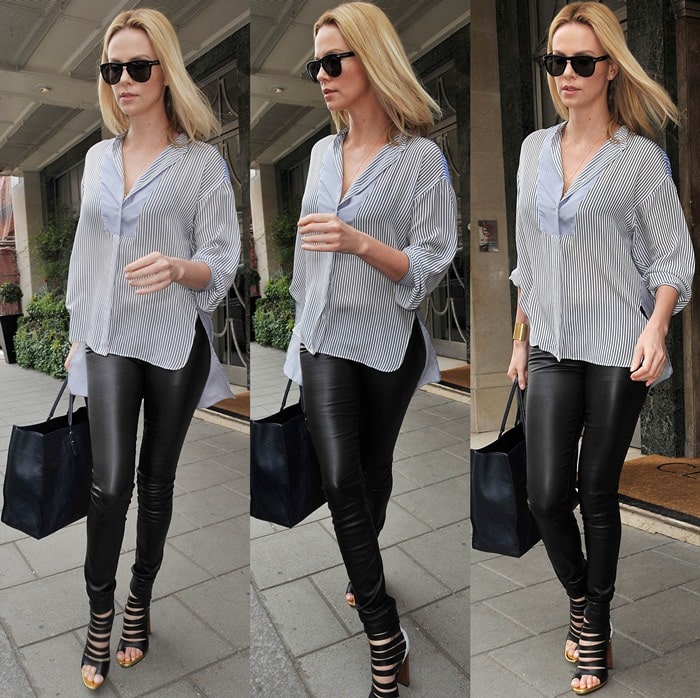 Charlize Theron wears leather leggings and a semi-sheer tunic top in London
In New York, Charlize paired her "Decoupata" heels with a sleek and simple black dress. This time she kicked the look up a notch with leather leggings and a semi-sheer tunic style top.
Charlize Theron's feet in Christian Louboutin shoes
This particular style has unfortunately sold out online, but you can browse other Christian Louboutin shoes at Mytheresa and Nordstrom.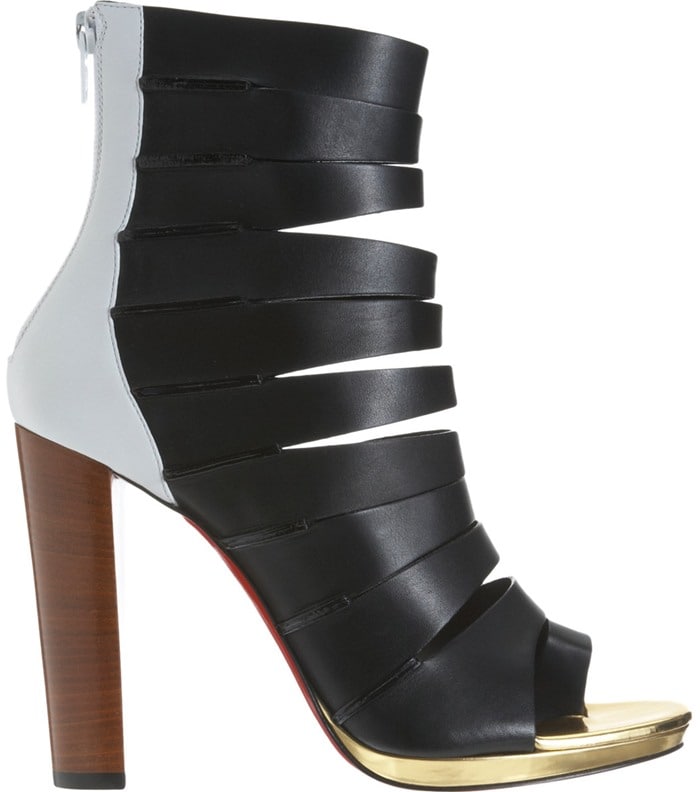 Christian Louboutin Decoupata Color-Block Leather Ankle Boots, $1,295
Credit: Charles Ruby/ WENN / SCHROEWIG / Mathias Krohn