She's usually dressed in polished, minimalist tailoring and oftentimes in black and white. But for the 2020 British Academy Film Awards on Sunday, Charlize Theron decided to swap her signature style for something more daring.
Charlize, who's nominated for Best Actress for her portrayal of Megyn Kelly in Bombshell, brought a striking pop of color to the BAFTA red carpet at Royal Albert Hall in London. She wore a purple Dior Haute Couture gown, which is probably her boldest Dior look to date.
Charlize Theron brings color to the red carpet at the 73rd British Academy Film Awards at Royal Albert Hall in London on February 2, 2020
Leslie Fremar, Charlize's stylist, told British Vogue: "Maria Grazia [Dior's artistic director] gave Charlize the option of wearing purple of red. The vibrant purple was the standout option, and dictated the silhouette of the traditional Old Hollywood gown."
The pleated chiffon strapless gown highlighted Charlize's svelte figure. It has a sculpted bodice with a daring plunging neckline that drew attention to her cleavage. It also features a black belted waist to accentuate her figure and a floor-sweeping flowing pleated skirt.
View this post on Instagram

Charlize kept the accessories simple with Tiffany and Co. jewelry. She wore a selection of earrings and rings and debuted a choker from the new T1 collection, set in 18k rose gold and encrusted with over 240 diamonds.
Hairstylist Adir Abergel styled Charlize's blonde pixie in a side-parted messy updo. Makeup artist Kate Lee complemented her dress with magenta eyeshadow and matching lipstick. She also applied mascara and a hint of blush on her cheeks.

While Charlize is a beauty on her own, she had to wear a few prosthetics to make her look like Megyn Kelly in her Bombshell movie.
In an interview with Hollywood Reporter, Charlize said she wore a total of eight prosthetics on her face to achieve Megyn's look, designed by special makeup effects artist Kazu Hiro.
"We worked with the greatest [special effects makeup artist], Kazu Hiro. It's really hard to get him to do new stuff. But I did a lot of begging and he came on and designed eight [prosthetic] pieces for me. Two of them basically covered my entire eyelids. It was very intricate work. Intricate work where you still need to be able to do what you need to do, like blink."

Kazu Hiro told LA Times that the eyelids were the toughest part in creating Charlize's Megyn look. "Eyes are so important, and to change the look of Charlize's eyelids, I had to make a big eyelid appliance, which had to be added every day."
"The skin around the eyes is very sensitive. If you use too much glue, it hurts the skin. Charlize was working almost every day for 40 days: We couldn't afford to hurt her skin because we didn't have time to rest or change the schedule. Combining the prosthetic makeup with the beauty makeup was also very challenging because we are applying fake skin on top of real skin; we have different techniques to make it believable, but the beauty makeup covers up any blemishes and makes it very smooth," he added.

Last week, Charlize attended the 2020 Oscar Nominees Luncheon in Hollywood dressed in Dior Pre-Fall 2020 ensemble.
Rocking her signature look, she wore an understated white short-sleeved collared top tucked into a belted, flared pinstripe midi skirt.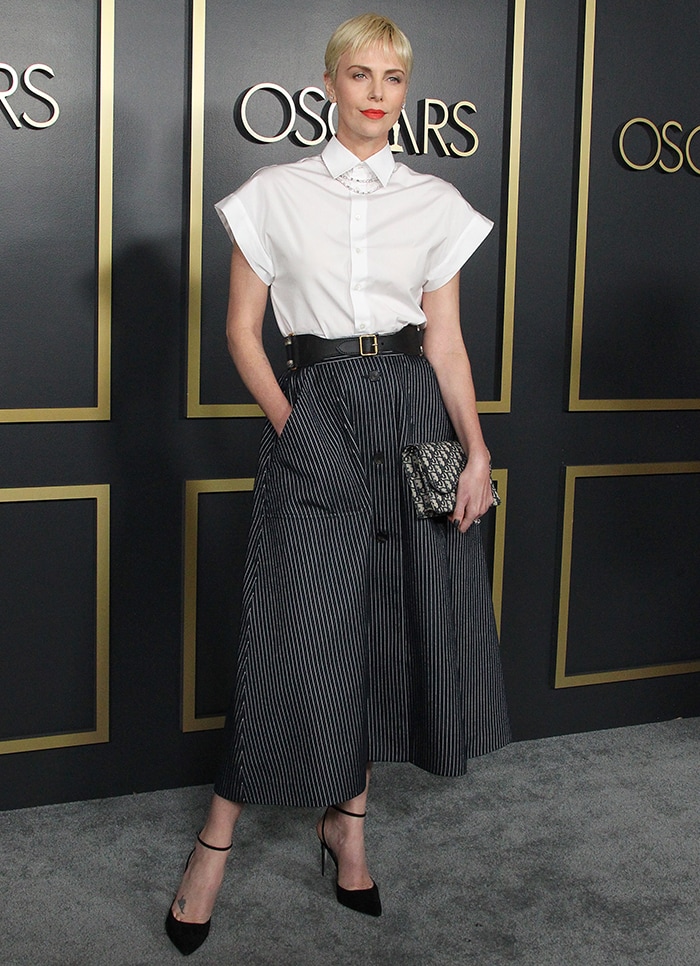 Charlize Theron in her signature black-and-white tailored look at the Oscars 2020 Nominees Luncheon in Hollywood on January 27, 2020
Charlize accessorized her sophisticated ensemble with diamond stud earrings and a layered diamond necklace. She also carried an oblique saddle clutch from Dior and finished off her business-chic look with a pair of black pointed-toe pumps.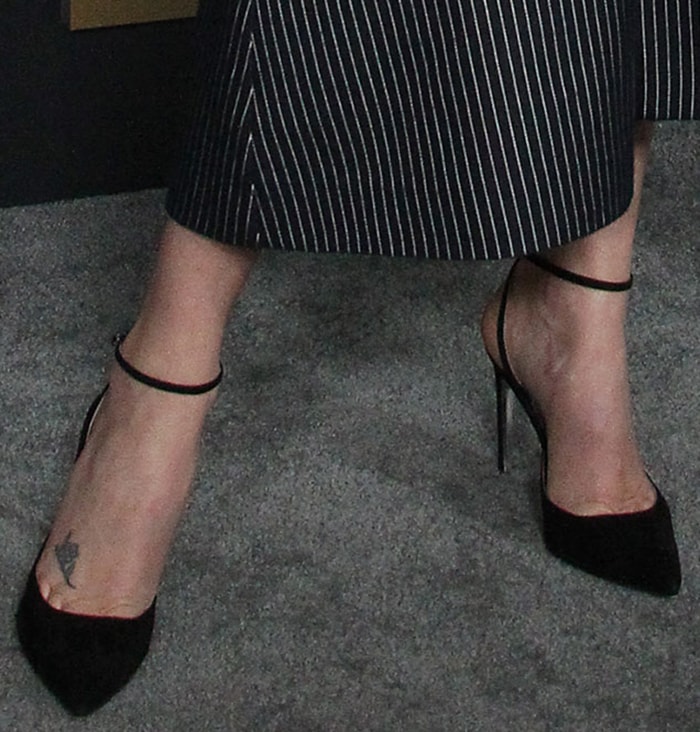 Charlize Theron completes her business-chic outfit with pointed toe pumps
Beauty-wise, she wore a bleached pixie, courtesy of Adir Abergel, and added a pop of color to her black-and-white outfit with a slick of bold red lipstick.
Charlize Theron adds a swipe of bold red lipstick to her monochrome look
Credit: Mario Mitsis / Adriana M. Barraza / WENN