Knee-high boots are a shoe closet staple for every woman. While these shoes may look intimidating at first, they'll change up your look.
You can wear these shoes year-round, although they come into their own during the colder months. One thing that puts people off buying knee-high boots is that they're unsure how to wear them.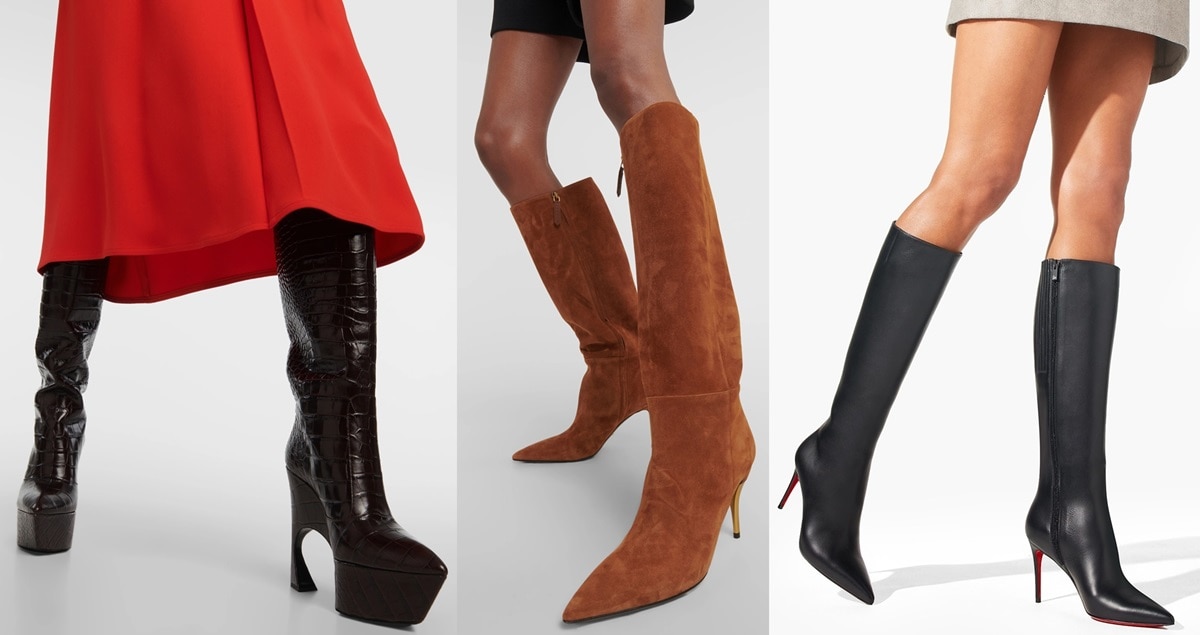 Knee-high boots, a versatile closet essential, can transform your style, especially during colder months
Dresses are your best friend if you own a pair of knee-high boots. We're giving you styling tips and tricks and product recommendations to show you how to wear knee-high boots with dresses.
The Origins of Knee-High Boots
Like most footwear, knee-high boots began as a menswear shoe.
Everyone from dairy workers to fishermen and soldiers used these tall boots to protect their feet from the elements and stabilize them while walking through uneven surfaces.
Boots have been around in one shape or form since 15,000 BC. There is evidence of boots depicted in cave paintings in Spain, dating back to this era.
They were found within the tomb of Khnumhotep in Egypt, giving us vital insight into how this shoe style has evolved over the generations.
The boots of Khnumhotep are a pair of ancient Egyptian boots discovered in the tomb of Khnumhotep, who served as a manicurist and confidant to the Fifth Dynasty pharaoh Niuserre (Credit: Sailingstone Travel / Shutterstock)
Boots became part of the traditional dress of the Asiatic and Arctic cultures, while the Greeks made their boots using untanned leather and a leather thong.
The first appearance of knee-high boots as we know them came in the fifteenth century. People of all social classes wore these shoes, although they were designed exclusively for men.
Wearing knee-high boots was one of the charges against Joan of Arc in 1431. Instead of knee-high boots, most women wore ankle boots.
Knee-high boots jumped into the mainstream fashion scene in the 1950s. They made the most popular styles using leather, featuring a mid-heel and a side zipper for a perfect fit.
The introduction of knee-high boots in cinema can be traced back to iconic films like 'Rebel Without a Cause' and 'The Wild One.' From the 1960s onward, knee-high boot fashion underwent creative evolution.
With their taller shafts, these boots serve as a stylish choice for staying warm in the winter months. Some designers, like Hunter, have even made socks to go with their knee-high boots.
With the wide variety of options available on the market, you're sure to discover the perfect style of knee-high boots to suit your taste and needs.
Knee-High Boots: A Guide to Materials, Heel Heights, and Colors
Knee-high boots can be made from various materials, including leather, suede, and faux leather. The material you choose will depend on your style and the occasion you plan to wear the boots.
For example, leather knee-high boots are versatile and durable, while suede knee-high boots are more delicate and feminine.
They also come in various heel heights, from flat to stiletto. The heel height you choose will depend on your comfort level and the overall look you are going for.
For example, flat knee-high boots are a good option for everyday wear, while stiletto knee-high boots are a more glamorous option for special occasions.
Knee-high boots come in a variety of materials, heel heights, and colors, so you can choose the perfect pair for your style and needs (Credit: Dmytro Golovchenko / Shutterstock)
Knee-high boots come in a variety of colors, including black, brown, tan, and gray. The color you choose will depend on your style and the rest of your outfit.
For example, black knee-high boots are a classic and versatile option, while tan or gray knee-high boots can add a pop of color to your outfit.
We've broken down the five most popular knee-high boots styles to make it easier for you to choose the right pair:
1. Classic Knee-High Boots
Classic knee-high boots are made using smooth leather with various color palettes. Like these styles from Nordstrom, these shoes have a block heel:
Three classic knee-high boots from Tory Burch, Børn, and Fendi
2. Knee-High Corset Boots
Corset-inspired knee-high boots feature lace-up detailing that is unapologetically sexy and feminine.
3. Equestrian Knee-High Boots
Equestrian knee-high boots have a flat heel and a patent leather shaft. These knee-high boots are amongst the most wearable styles, whether you're a fan of dresses or jeans and a t-shirt.
Equestrian boots are an ideal choice for a wearable, everyday knee-high boot.
4. Motorcycle Knee-High Boots
Motorcycle knee-high boots take their inspiration from the world of rock 'n' roll, looking similar to your classic leather jacket.
Like the Harley-Davidson Walfield riding boots you can buy at Zappos, these boots usually have an added feature, like a zipper or lace detailing:
The Harley-Davidson Walfield riding boots with sturdy metal eyelets
This style of knee-high boots is more casual, although you can elevate them with a dress.
5. Stiletto Knee-High Boots
Stiletto knee-high boots are a style that is synonymous with nightclubs everywhere. These shoes come just under the knee and are usually styled with a mini skirt or something fun and flirty.
What makes these knee-high boots sexy is their thin stiletto heel. Below are three alternatives from Nordstrom: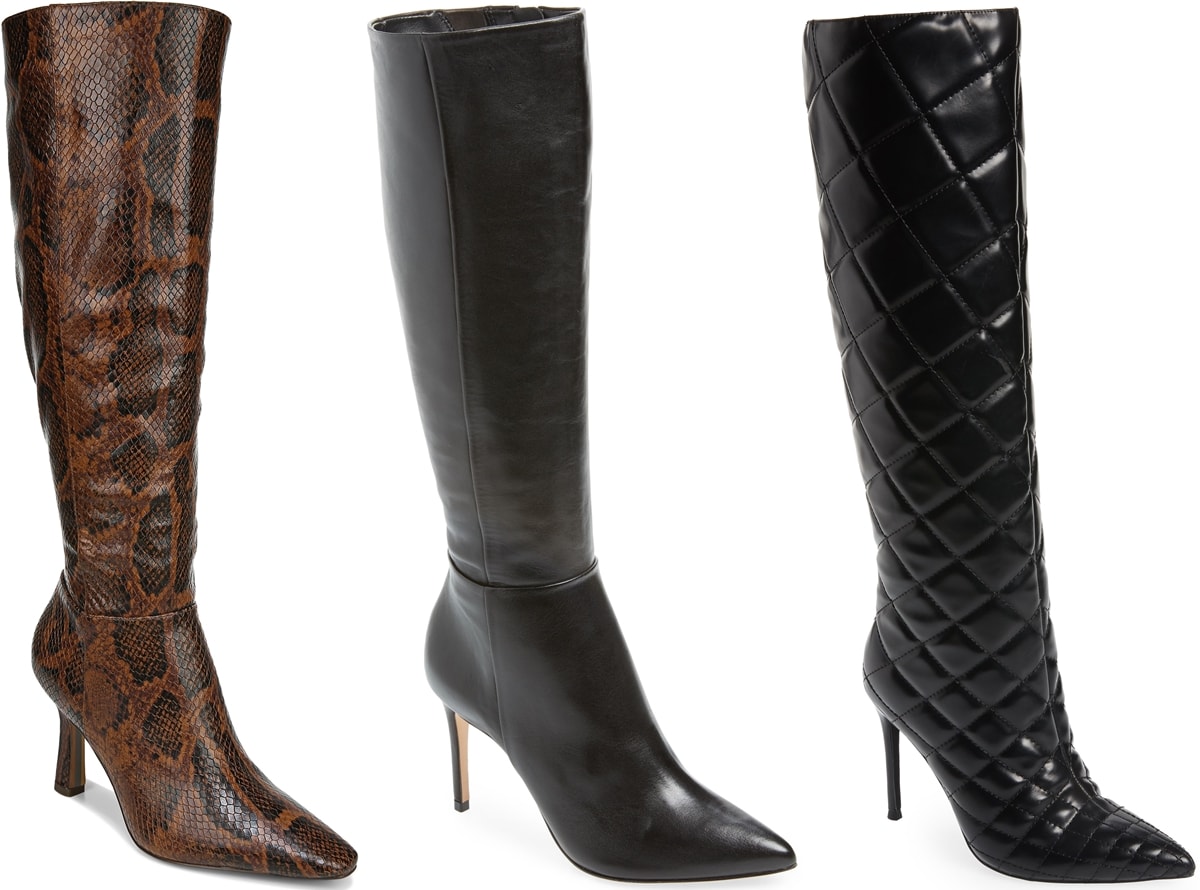 Three knee-high stiletto boots from Sam Edelman, Schutz, and Jeffrey Campbell
While you can wear any of these knee-high boots with dresses, they'll change the overall aesthetic of your look.
Equestrian knee-high boots are a more casual style, while stiletto knee-high boots will give your dress an elevated feel.