Our shoes are usually the last piece of an outfit. Some of us are guilty of grabbing the first pair before rushing out the door. Whether you have a capsule closet or jump on the latest try, every woman needs shoes that go with everything.
These shoes are the ultimate heroes of your closet. They're versatile enough to be packed for a two-week vacation or thrown in your work tote, and they always look great. Their timeless design makes them seasonless, meaning you can wear them all year round, and they'll never go out of style.
What we love about women's shoes that go with everything is that they're often the most comfortable. These shoes deserve a spot in your closet.
While ladies' shoes go with everything, they're not for everyone. You can curate this list to suit you by considering your lifestyle needs and personal style.
1. White Sneakers
When in doubt, wear white sneakers. There's no other accessory you can style with yoga bottoms, a t-shirt, or a summer dress. The beauty of white sneakers is that they look effortlessly chic.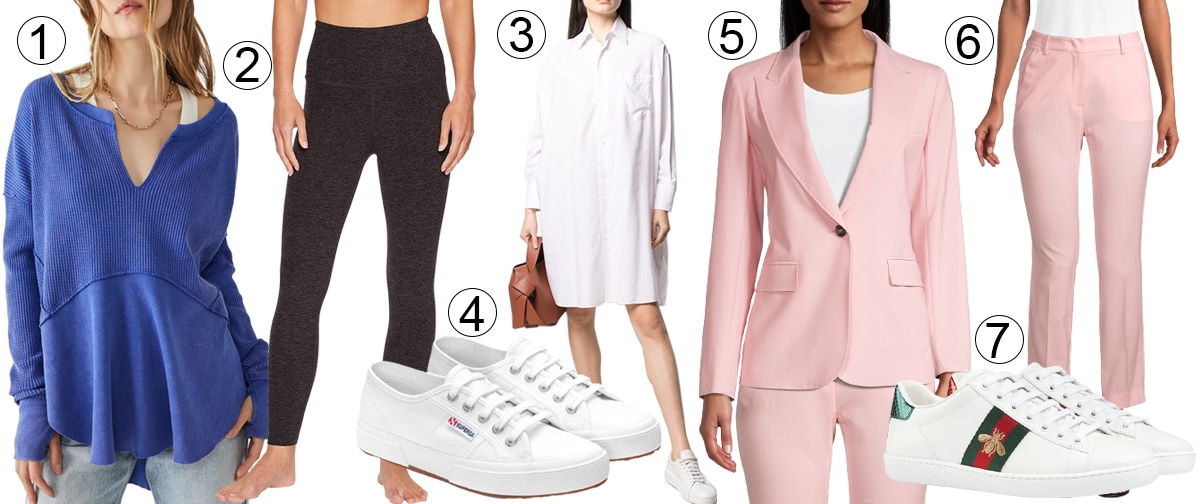 This casual and stylish outfit, featuring a Free People We the Free Monterey thermal T-shirt, Beyond Yoga Spacedye high-waisted midi leggings, AMI Paris knee-length shirt dress, Weekend Max Mara Valda jacket, and Weekend Max Mara Canon trousers, looks effortlessly cool when paired with crisp white sneakers like Superga 2750 COTU classic sneakers (4) or Gucci bee-embroidered Ace sneakers (7)
Women often swap their work heels for white sneakers when commuting or heading to after-hours drinks. It's why designers often include white sneakers in their permanent collection.
Superga offers budget-friendly white sneakers with its 2750 Cotu Classic style, while Gucci takes it to the next level with its Ace Sneaker.
2. Ballet Flats
Rejoice; ballet flats are officially back in style. These flat shoes will take you from a day in the office to a trip to the theatre.
They have a vintage-inspired look that will remind you of some of the world's most elegant women, from Audrey Hepburn to Grace Kelly.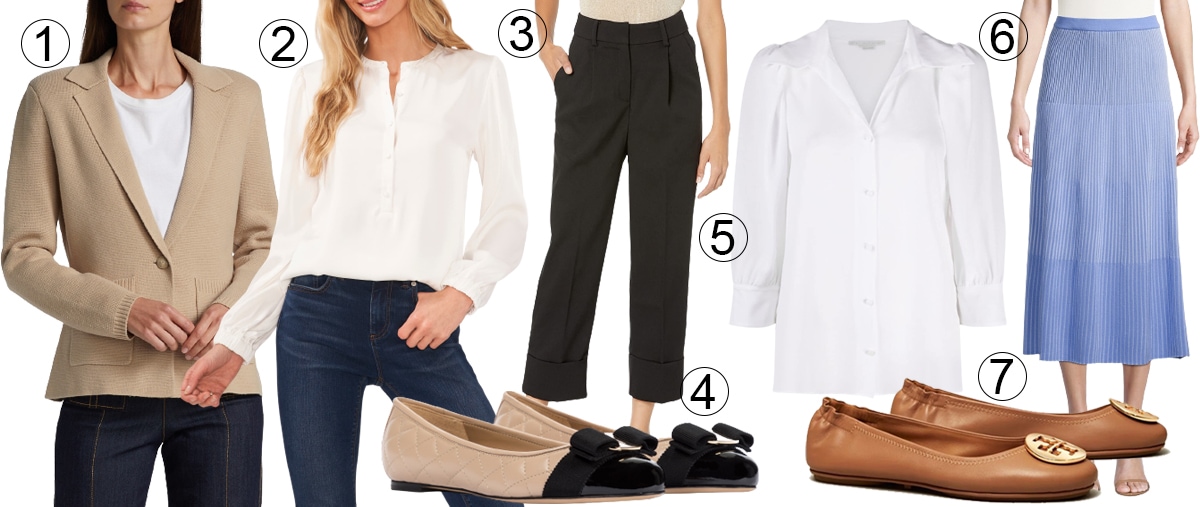 This chic ensemble featuring a L'Agence Lacey knit blazer, CeCE charmeuse blouse, Mango Lisboa trousers, Stella McCartney three-quarter silk shirt, and Misook knit ombre midi skirt is a perfect outfit to pair with elegant ballet flats, such as Salvatore Ferragamo Vara quilted flats (4) or Tory Burch Minnie travel flats (7)
These Parisian chic shoes deserve a spot in your everyday wardrobe. You'll find them in a myriad of styles and color options, from Chanel's classic quilting to Ferragamo's Vara ballet flats.
These shoes are perfect for when you want the sophistication of a high heel with the comfort of flat shoes.
3. Ankle Boots
Ankle boots go with everything, from denim jeans to a midi skirt. While we often think of ankle boots as autumnal shoes, they work for every season.
Wear them with tights when the temperatures drop, or go bare-legged in spring and summer.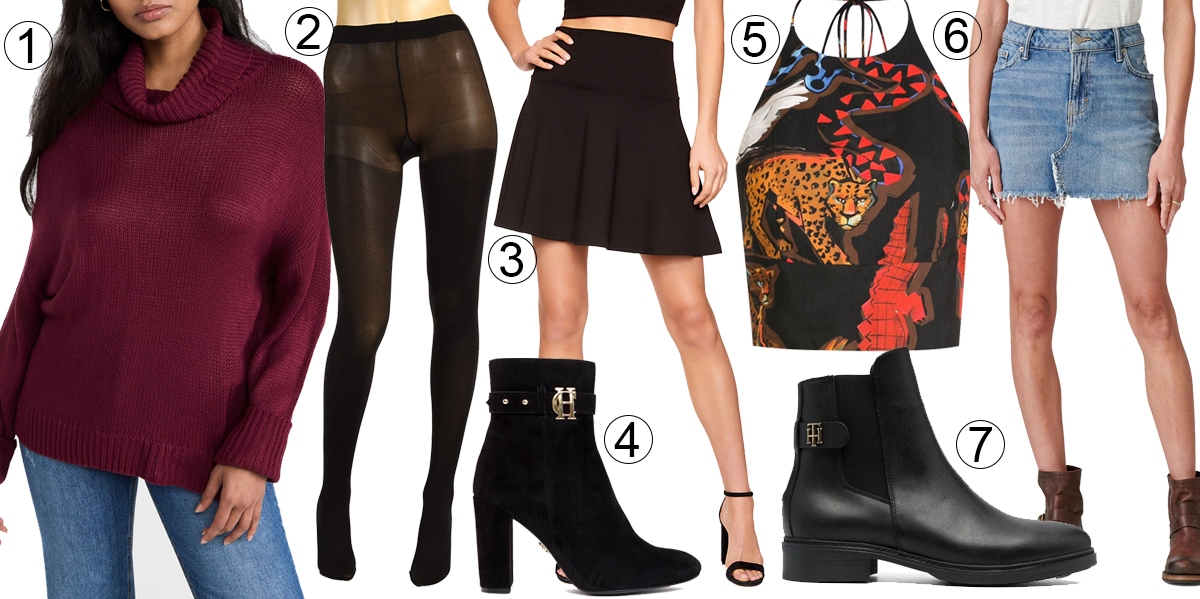 This fashionable outfit, consisting of a 525 soft acrylic easy turtleneck pullover, HUE super opaque tights, Susana Monaco high-waist flare miniskirt, Osklen animal-print halter crop top, and Lucky Brand denim miniskirt, pairs perfectly with stylish ankle boots like Holland Cooper Mayfair suede ankle boot (4) or Tommy Hilfiger monogram boots (7)
You can tailor these shoes to suit your lifestyle. Holland Cooper's 'Mayfair' ankle boots feature a block heel for a sophisticated look, while Tommy Hilfiger's Monogram boots have a small heel for easy wear.
4. Knee-High Boots
Knee-high boots are just as easy to style as their shorter counterpart – now more than ever. We love that tall boots are becoming more size-inclusive, with brands offering 'sporty' options with a wider calf space.
This chic and trendy outfit, featuring a French Connection Ruth bateau neck minidress, Line & Dot Sincerely sweater, Abercrombie & Fitch high-rise skinny jeans, SweatyRocks ripped crop sweater, and Levi's 501 original cutoff denim shorts, looks stunning when paired with knee-high boots such as Steve Madden Fedora black Paris boots (4) or Steve Madden Aggie black boots (7)
You can follow the styling book of Kendall Jenner by wearing knee-high boots with a little black dress, over jeans, or with denim shorts. These shoes are supermodel-approved and work for every season.
Steve Madden is famous for its knee-high boots, giving you a high-quality style without spending hundreds of dollars. The black Fedora Paris boots are ones you can wear with almost anything. Want a lower heel? Try the black Aggie boots.
5. Sandals
As temperatures begin to climb, versatile footwear becomes essential. Enter the versatile sandals. Their wide range of styles demonstrates just how indispensable a pair of sandals can be in your wardrobe.
There's something for everyone, from Hermes' iconic Oran sandals to the cult-favorite Birkenstock sandals.
This breezy and stylish outfit consists of a Halogen textured tie-waist shirtdress, Reformation Ellora top, Levi's '90s 501 distressed jeans, WAYF tiered maxi dress, O'Neill Doreen blouse, and Joe's The Ozzie cutoff denim shorts, and is perfect for warm weather and pairs effortlessly with sandals such as Hermes Oran sandals (2), Birkenstock Arizona sandals (5), or Ancient Greek Plage braided sandals (9)
Look out for sandals in a material that works for your climate. Rubber sandals are best for those who spend time around the pool but aren't ideal for walking long distances. Leather sandals are more elevated and versatile.
Gladiator sandals are a catch-all style that ticks every box. You'll always find this style from high-street brands like Zara and H&M. Ancient Greek Sandals is a brand that specializes in this traditional style.
6. Nude Court Shoes (Pumps)
No closet is complete without a nude court shoe. You want to choose a style that compliments your skin tone to give your legs an elongated appearance.
Choose a heel you're comfortable walking in, as too high a heel means you'll not get a good cost per wear from the style.
This sophisticated and polished outfit, featuring an Alix NYC Eden open-back midi dress, Mango Fifty blouse, L'Agence Margot jeans, Sandro Haby ruffle silk blouse, and Boss Vikena pencil skirt, is perfect for dressing up and pairs seamlessly with nude pumps such as Aldo Kennedi pointed-toe pump (2), Zara d'Orsay pump (5), or Christian Louboutin So Kate slingback pump (8)
Every footwear brand has a nude court shoe, from Aldo to Christian Louboutin and Zara.
7. Loafers
Loafers are the more mature big sister of the ballet flat. They give you the comfort of a flat shoe with a more resilient sole. These shoes are synonymous with preppy fashion and are a closet staple.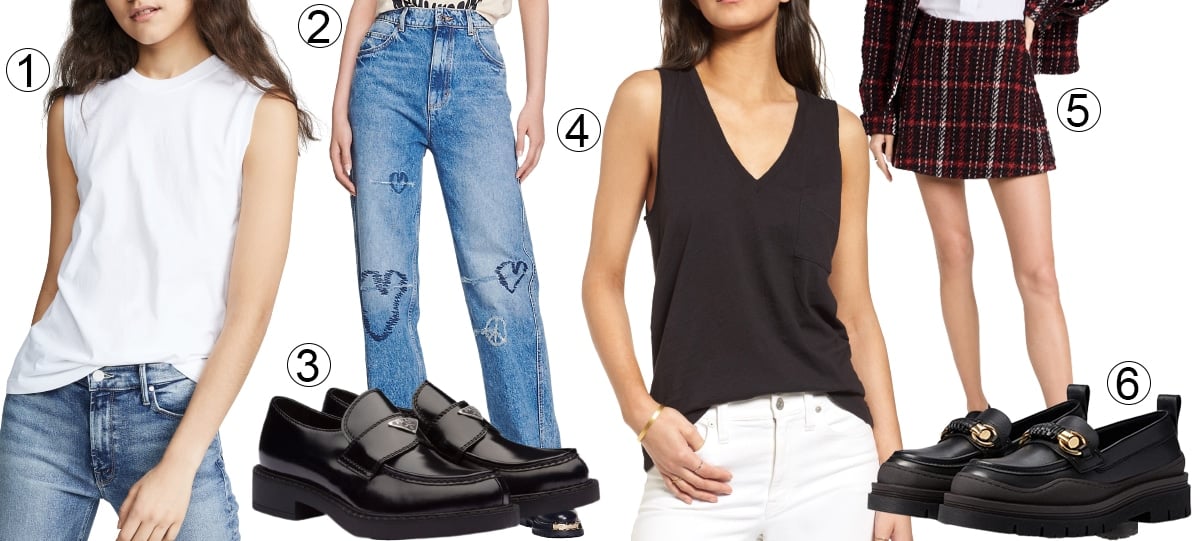 This comfortable and stylish outfit, featuring an ATM Anthony Thomas Melillo sleeveless boy tee, Sandro Patty embroidered straight-leg jeans, Madewell V-neck tank top, and Marni mini A-line skirt, is ideal for casual outings and pairs effortlessly with loafers such as Prada logo-plaque chunky loafers (3) or See by Chloe Lylia loafers (6)
Depending on their material, you'll sometimes see boat shoes or deck shoes. Leather loafers are a more sophisticated alternative to white sneakers with the same versatility. Gigi Hadid and Taylor Swift are famous for their love of loafers.
Prada is leaning into the loafer trend, adding its iconic triangle logo to the minimalistic silhouette.
8. Chelsea Boots
Chelsea boots are your best friend if you live in a colder climate. This transitional style is one of our list's most versatile autumn/winter shoes.
They're easy to slip on and can be worn with socks for extra insulation.
This versatile and stylish outfit, featuring a Billabong Spring Romance print wrap dress, Altuzarra Quincy dress, Zimmermann funnel neck cashmere sweater, 12 Storeez oversized wool coat, and Lucky Brand Uni Fit skinny jeans, is perfect for transitioning between seasons and pairs effortlessly with Chelsea boots such as Dolce Vita Harte H20 boots, Dr. Martens 2976 Chelsea boots (4), or Hunter Boots Original Refined Chelsea booties (8)
You can style Chelsea boots with a spring mini dress and switch to knitwear in the autumn. These timeless shoes are the perfect choice for a splurge purchase.
While Dr. Martens is famous for its quirky styles, the brand offers classic Chelsea boots in smooth leather.
9. Low-Block Heels
High heels aren't for everyone – especially a stiletto. If you want shoes that go with everything, shop for a low-block heel instead. These shoes are easier to walk in and can be dressed up or down.
You can choose a low-block heel, whether a classic slingback or open-toe sandal, that suits your lifestyle. Mary-Jane shoes are a timeless example of this shoe.
Opting for a block heel provides added stability and comfort in a higher silhouette, making them a more practical and wearable choice for various occasions.
This chic and comfortable outfit, featuring a Tahari ASL embroidery & crochet A-line dress, Z Supply modern slub tee, Agolde distressed denim shorts, and Good American fitted scuba blazer, is perfect for a variety of occasions and pairs seamlessly with low block heels such as Proper Zuri pump (2) or Vaneli Aliz slingback low block heel pumps (6)
Elevate your closet with these women's shoes that go with everything. They're all you need to put your best foot forward – no matter the occasion. Make your next shoe one that goes with everything.