Are you tired of the maximalism that comes with modern consumerism? Have you followed the advice of Marie Kondo and edited down your belongings? If this sounds like you, you're likely a minimalist.
The concept of minimalism is to own what you need and nothing more. A key feature of minimalism is the capsule wardrobe.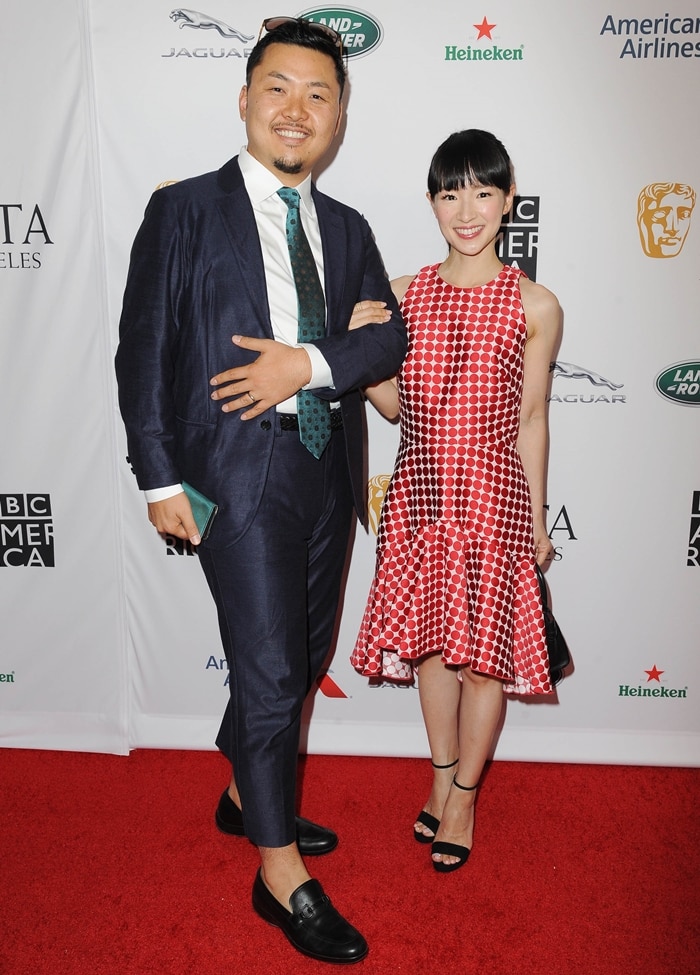 Takumi Kawahara and his wife Marie Kondo attend the BAFTA Los Angeles + BBC America TV Tea Party 2019 at The Beverly Hilton Hotel on September 21, 2019, in Beverly Hills, California
We're going to tell you everything you need to know about capsule wardrobes, and how to start your own.
What is a Capsule Wardrobe?
Everywhere you look, people are talking about capsule wardrobes.
The concept of the capsule wardrobe goes hand in hand with minimalism. By choosing to have a capsule wardrobe, you're deciding to curate your closet full of essential and everyday pieces.
What is a capsule wardrobe? It's a smaller collection of clothing that enables you to invest in quality pieces. A capsule wardrobe helps you reduce the number of things you own. You'll also likely save a pretty penny by choosing to swap out your closet for a capsule wardrobe.
If you have ever stood in front of your closet and thought you had nothing to wear, then a capsule wardrobe might be the solution. As a capsule wardrobe has fewer pieces, you can focus on versatile garments that can be easily mixed and matched together.
Organizing consultant Marie Kondo was listed as one of Time's "100 most influential people" in 2015
When you build a capsule wardrobe, your shopping habits change. Not only do you have less, but you also shop less. Gone are the days of walking into Zara and impulse buying the entire store.
Most people who subscribe to the capsule wardrobe idea operate a 'one-in-one-out' system, buying something new after they donate another piece.
There's no perfect number of items for a capsule wardrobe, and it is a personal preference. If you have a closet, you can use it to determine the size of your capsule wardrobe. The size of most capsule wardrobes on average is around 50 pieces.
If you're looking to save money, or lower your carbon footprint, a capsule wardrobe will be perfect for you.
Tips for Starting a Capsule Wardrobe
When you decide to build a capsule wardrobe, you'll want to start by editing down the clothing and accessories that you already have.
There are a few methods for how you can do this, including the Marie Kondo method. The easiest way to do this is to pull out all your clothing so you can see exactly what you have.
One thing to consider when going through your clothing is to focus on keeping timeless pieces. The rejection of trends and consumerism is part of the philosophy of a capsule wardrobe.
If you're struggling to edit down your closet, think of what you wear every day. Are you someone who lives in jeans? Do you have dresses in your wardrobe that haven't seen the light of day in years? These are things to consider when determining what to keep.
Marie Kondo, whose net worth is estimated to be around $8 million, wore a floor-sweeping Jenny Packham dress at the 91st Annual Academy Awards at Hollywood and Highland on February 24, 2019, in Hollywood, California
When you subscribe to the idea of a capsule wardrobe, you'll end up buying a few pieces of clothing every year. You can expect this number to be in single digits. The rejection of fast fashion goes hand in hand with the concept of a capsule wardrobe.
You should focus on well-made pieces that are timeless and that use high-quality material. Your wardrobe is an investment, and if you shop less, you can afford to spend a little more on quality pieces. Anything that you buy should be intentional instead of an impulse purchase.
The first step of creating a capsule wardrobe is to edit your current collection of clothing. You should spend a few weeks living with what you have, instead of running out to buy new pieces.
This period of time is important as it makes you aware of what pieces you rely on, and what might be missing from your wardrobe. It'll also take you a while to adjust to the idea of having less clothing.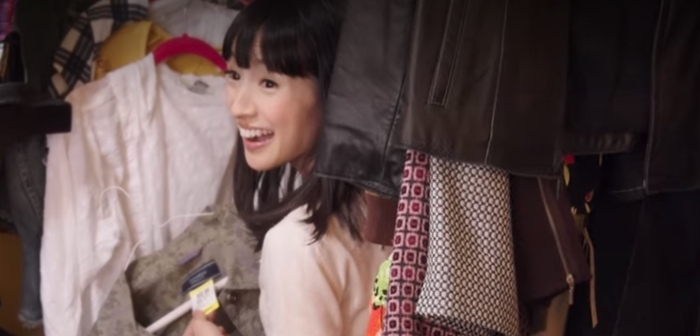 The Netflix reality television series Tidying Up with Marie Kondo follows Marie Kondo as she visits families to help them organize and tidy their homes
You can go into a store and make an intentional and mindful purchase of something that you know your capsule wardrobe needs.
Speaking of shopping, you'll want to be deliberate in what you buy. The last thing you want is to build a capsule wardrobe and then buy unnecessary clothing and end up back at square one.
When you are considering purchasing a piece, ask yourself what you can mix and match it with other items in your capsule wardrobe. If you can think of at least three or more items, then it'll fit right into your collection.
What Pieces Do I Need to Have?
There are no perfect 'one-size fits all' guides for a capsule wardrobe. For a capsule wardrobe to work, it needs to be personalized to you.
The climate in which you live and your daily routine will determine the contents of your capsule wardrobe. Unless you live somewhere that the weather stays the same throughout the year, you'll want to have a few seasonal pieces.
If you work from home, your capsule wardrobe will differ from someone who works in an office. If you live in dresses and skirts, your capsule wardrobe will look nothing like that of someone who prefers trousers and jeans.
We have a few recommendations of what you should focus on adding to your wardrobe. Each of these recommendations is flexible, so you can apply them to your needs and what will work for your lifestyle.
Basic Neutral Pieces
The key to building a capsule wardrobe that works is by having a strong foundation. You want to get as much versatility out of each garment as possible. The more that you can mix and match something, the better!
You'll want to have a few pieces that you can depend on to work for any occasion, and that you can easily layer with other garments. Think of the clothing that you'll see in every store – jeans, t-shirts, and sweaters.
You should pick these essentials up in neutral colors so that it's easier to style them with other pieces in your capsule wardrobe. When in doubt, go with black, grey, or white.
Colors That Flatter Your Complexion
When you have a capsule wardrobe, you need every piece to work for you. While you can opt for a monochrome or neutral colored wardrobe, most of us would rather have a dash of color in there.
We all have favorite colors that we think we look great wearing. If you're struggling to find colors that work for you, then you can take a quick analysis of your complexion.
Your complexion determines the colors that suit you, instead of the color of your skin. Look at the inside of your wrist in the daylight. If you see pink and blue veins in your skin, then you have a cool skin tone.
You can tell that you have a warm undertone to your skin if these are green. Once you determine your skin tone, you want to look for opposing colors.
If you have a cool skin tone, you'll want to focus on adding blue garments to your capsule wardrobe. People with a warm skin tone are better suited to golden and yellow-based colors.
An Investment Coat
With a capsule wardrobe, you're guaranteed to reduce the cost per wear of each garment. This makes it easier to justify spending a little more on high-quality pieces that you know you'll be able to utilize.
If you're making the switch from fast fashion to investment pieces, the first garment you should look at is a coat. Ideally, you want to choose something that you can wear all year-round.
Depending on your climate, a trench coat might be an ideal choice. If you live in a colder country where summer is usually only a few weeks long, you can opt for a heavier wool-based coat. You want to pick a coat that you could happily see yourself wearing every day.
If you're unsure about which color to choose, it's always best to go for a neutral color. An accent color, especially one that matches your skin tone, is a perfect alternative if you want something more cheerful.
Practical Shoes
Accessories are part of a capsule wardrobe. That means that you can wave goodbye to the idea of having a shoe collection to rival Carrie Bradshaw's. You should try to limit your shoe choices to no more than five.
If you want to get the most out of your capsule wardrobe, then these shoes need to be practical. If you can't comfortably walk in the shoes, they shouldn't be in your capsule collection.
Make sure that you have a pair of sneakers in your capsule wardrobe. Even if you're not an athletic person, you will want to have a pair of 'off-the-clock' shoes that you can wear for a casual weekend look.
Add a pair of heels that are a comfortable height that you know you can walk in for several hours. You should choose a classic style like a pointed-toe court shoe in a neutral color that you can wear anywhere from the office to a formal event.
You'll also want to consider the climate you live in when choosing your shoes. If your weather is colder, you will want to add a pair of winter shoes or rain boots.
Choose a style of boots you know will work with the aesthetic of your capsule wardrobe. Flip-flops or espadrilles might be a practical shoe for you if you're lucky enough to live in a warmer country where it's summer all year round.
Layering Pieces
Even if you live in a warmer climate, you'll want to think about layering pieces. These can be something as simple as a neutral-tone cardigan or a button-up shirt that you might want to wear over a t-shirt or camisole.
When you are deciding what clothing you want to keep in your capsule collection, think of how you can layer garments together. This process is mainly with tops and jumpers, so you will want to think of what pieces you can wear together.
You can style a button-up shirt under a jumper and pop the collar over-top. You can wear a hoodie over any top or shirt, and you can layer a vest under anything.
Well-fitting Garments
When you are purging your closet to build your capsule wardrobe, get rid of anything that doesn't fit. Along with clothes that might be too tight or loose, remove any clothing that doesn't flatter your body type.
You want to feel confident wearing every piece in your capsule wardrobe. Getting dressed in the morning should be as simple as being able to pick any three or four pieces from your closet and getting ready in the blink of an eye.
This philosophy also applies to when you're shopping. Avoid buying clothing that doesn't fit properly. If you fall in love with something that isn't a perfect fit, there is a solution.
A tailor is something you should look into finding if you have a capsule wardrobe. They can take any item in your closet and alter it to fit your measurements. The more alterations that are required, the more expensive the process will be. Try to buy clothing that you know needs only minor alternations.
Is a Capsule Wardrobe Right for Me?
We think that a capsule wardrobe can work for anyone. It'll make you more mindful about what you own, and it can save you money. Swapping from closets full of clothing to a capsule wardrobe can be a daunting process.
If you want to give the method a test run, you can go into your wardrobe and choose 30 or 40 pieces that you want to wear for a month. A trial run can help you come to grips with the mentality of having a capsule wardrobe and allow you to determine if it's the right fit for you.
The key to building a capsule wardrobe that works is to personalize it to you. There are thousands of checklists online telling you what you must have in your capsule wardrobe.
No two people are the same, and everyone's lifestyle is different. We hope this article has given a few tips on how to build a customized capsule wardrobe that works for you.
Credit: WENN / Instar / Ivan Nikolov / Apega