It's time to embrace your curves. Skirts are your best friend as a plus-size woman. They'll hug your curves and accentuate your natural silhouette.
Don't wait for the warm weather to wear a skirt. These capsule closet essentials will see you through every season.
Slipping into a skirt is the perfect way to embrace body confidence and show your curves the love they deserve.
Skirts are stylish, comfortable, and functional. Whether you're heading to work or grabbing brunch, there's a skirt for every occasion.
Plus-size celebrities Ashley Graham, Amy Schumer, Melissa McCarthy, Oprah Winfrey, Meghan Trainor, and Lena Dunham in skirts (Credit: Janet Mayer / Startraksphoto / DARA KUSHNER / Jose Perez / Doug Peters / PA Images / INSTARimages / Curtis Means / ACE / INFphoto / Sara De Boer)
Skirts can be daunting—especially for a plus-size woman. Some of us choose to live in trousers and hide our legs away, not to mention chub rub! Don't let these put you off wearing skirts. It's nothing cycling shorts can't sort.
Knowing where to start is half the challenge. We're sharing the skirt styles that every plus-size woman needs in her closet. These are the skirts that flatter your figure and give you a new sense of confidence.
1. Leather Skirt
A skirt is an elegant and unexpected way to add texture to an outfit. If you like structure, a leather skirt will be right up your street.
A leather skirt with pleating can help smooth your silhouette and shape your hourglass figure. You can find leather skirts in every size and length, from miniskirts to tailored pencil silhouettes.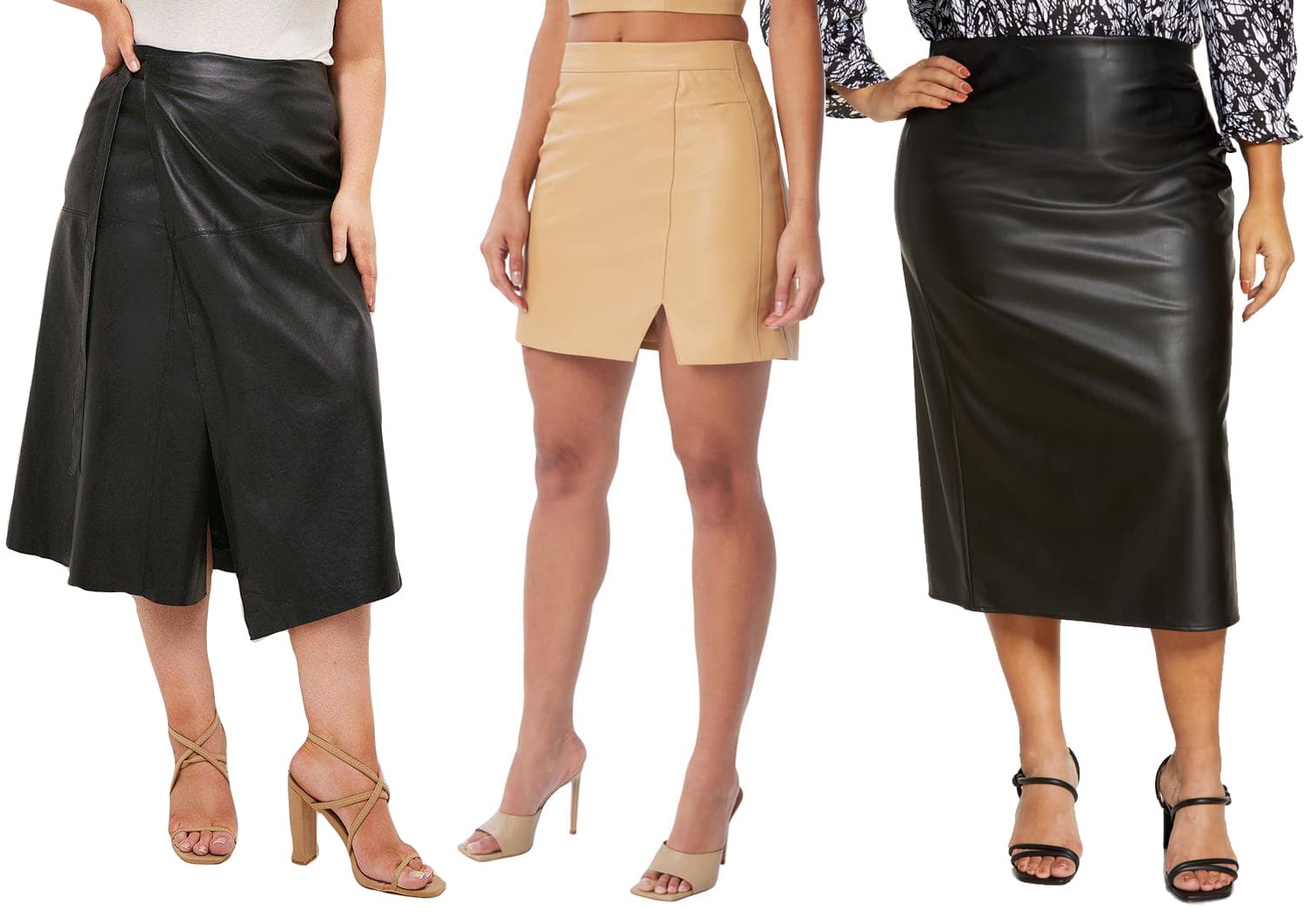 Karen Millen Leather Wrap Midi Skirt, $172 at Karen Millen; Lita by Ciara Leader Leather Skirt, $298 at Nordstrom; Halogen Side Shirred Faux Leather Skirt, $41.30 at Nordstrom
Sizing matters when shopping for leather skirts. You want to avoid choosing a skirt that is too tight or clings to your stomach. Sizing up in your skirt will give you extra wiggle room and more comfort.
The Karen Millen leather wrap midi skirt is a modern ladylike style that is effortlessly chic and available in plus-size options.
2. Bodycon Midi Skirt
If you're not comfortable wearing a short skirt, choose a midi silhouette. This feminine and elegant type of skirt is versatile and effortlessly chic.
Slip your bodycon midi skirt on over your go-to shapewear for a day at the office or a semi-formal look.
Lrady Women's High Waist Slim Bodycon Skirt, $23.99 on Amazon; Bar III Plus Size Bodycon Jersey Midi Skirt, $29.50 at Macy's; Verdusa Women's Plus Size Elastic High-Waist Long Bodycon Skirt, $25.99 on Amazon
A bodycon skirt is universally flattering. It's easy to style and a capsule closet essential. If you're experimenting with a bodycon for the first time, choose darker colors to help conceal your stomach.
Another thing to look out for when shopping for bodycon skirts as a plus-size woman is to search for thicker fabrics. A thicker skirt will have more structure and support.
3. Skater Skirt
Shop around for a skater skirt with an elastic waistband to give you a tailored fit to accentuate your curves. Most skater skirts are made with stretchable fabric for extra comfort. The loose silhouette of a skater skirt makes it universally flattering.
Invest in a skater skirt in neutral shades that you can style with a silk blouse or wear casually with a graphic t-shirt.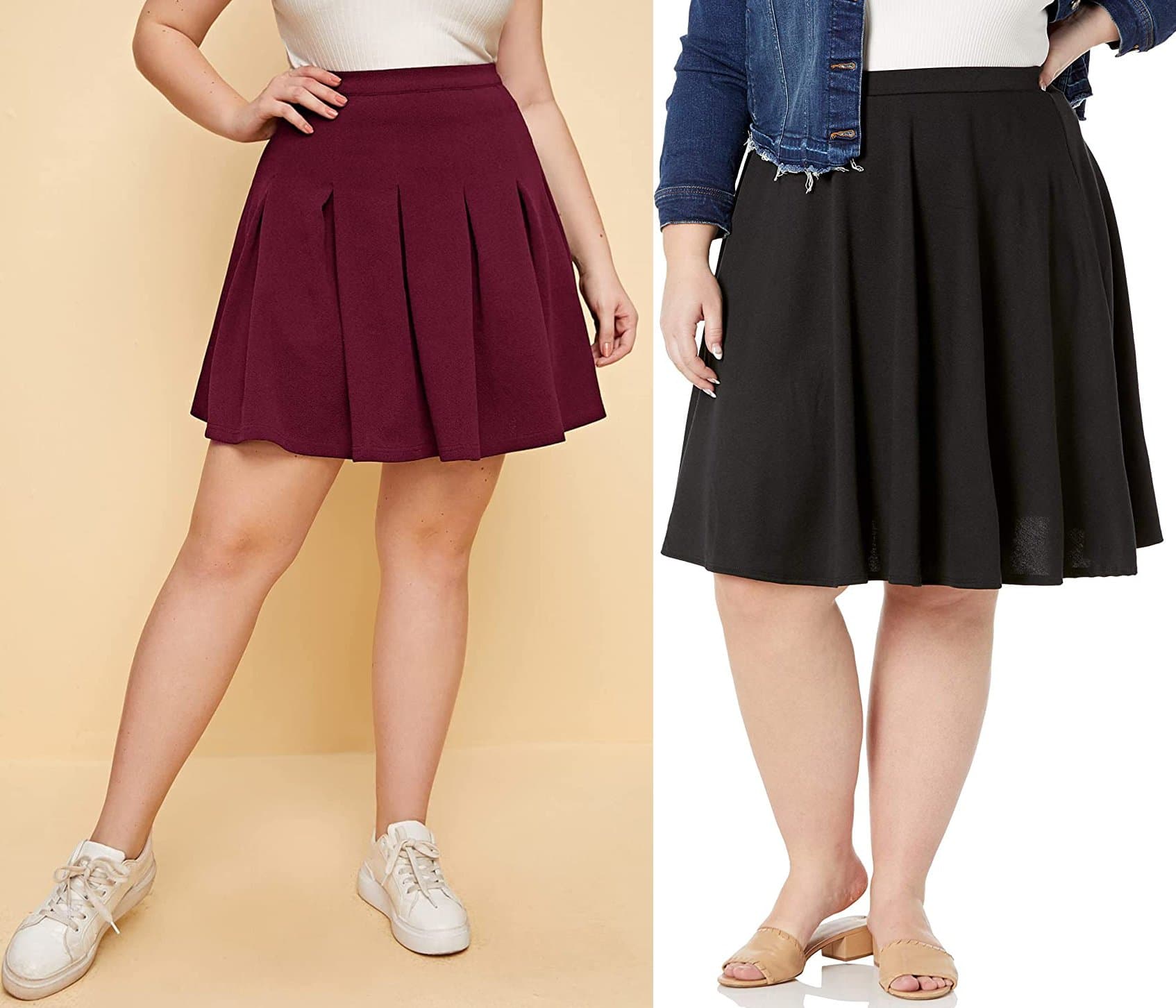 Romwe Women's Plus Size Basic Stretchy Skater Skirt, $24.99 on Amazon; Star Vixen Women's Plus-Size Knee Length Full Skater Skirt, $18.77-$22.91 on Amazon
Plus-size women will usually look best in a knee-length skater skirt. It gives you extra comfort and the option to wear bicycle shorts underneath your skirt to prevent rubbing.
Miniskirts are a silhouette you'll usually want to avoid as a plus-size woman. This shorter silhouette often enlarges the appearance of your bottom and can therefore make you seem larger.
A fit-and-flare skirt is a transitional staple that you can style with sneakers for the weekend or dress up for the office with your favorite stilettos.
4. A-Line Midi Skirt
Another way to flatter your curves is to invest in A-line midi skirts. The midi-skirt silhouette gives you the glamour of a longer length but with added versatility.
If maxi skirts aren't for you, a midi skirt is a perfect alternative.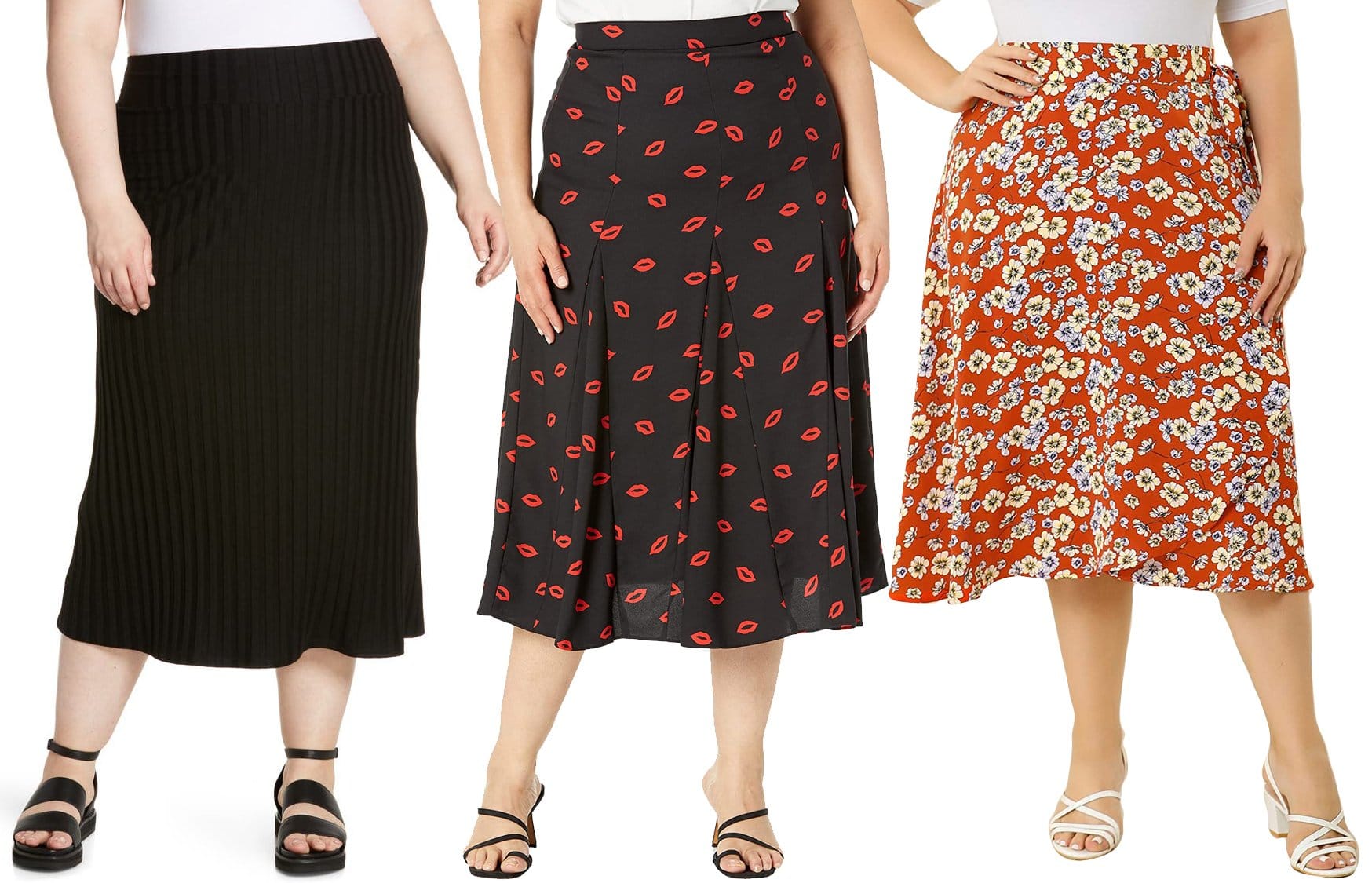 Eileen Fisher Rib A-Line Midi Skirt, $148 at Nordstrom; Kate Spade New York Kisses Fluid Skirt, $268 at Zappos; Agnes Orinda Women's Plus Size A-Line Midi Skirt, $30.99 on Amazon
An A-line midi skirt should be top of your shopping list. You don't have to worry about excess fabric around the waist that can make your hips appear fuller.
The pleating on an A-line midi skirt is what sets it apart as a plus-size essential. The pleating helps to conceal your stomach and creates a glamorous, feminine look.
5. Pencil Skirt
Nothing makes a plus-size woman look more glamorous than a pencil skirt. This skirt will showcase your hourglass figure and give you an elegant look.
While most pencil skirts have a slim fit, you'll want to shop for a skirt with a spandex blend fabric.
Vince Camuto Side Slit Pencil Skirt, $69 at Nordstrom; Eloquii Abstract Print Neoprene Pencil Skirt, $41.98 at Nordstrom; Spanx Ponte Pencil Skirt, $118 at Nordstrom
Pencil skirts with a high waistband can give you the illusion of a longer and slimmer silhouette. A statement belt can elevate the look of your skirt and help to cinch in your waist for an hourglass silhouette.
Style your pencil skirt with a blazer for a chic workwear look. A blazer will help to conceal any insecurities and balance your proportions.
6. Denim Skirt
Denim is an unexpected addition to this list. What makes denim ideal for skirts is that it maintains its shape and is easy to care for.
If you want a low-maintenance skirt that you can throw into your suitcase or style last minute, a denim skirt ticks all the boxes.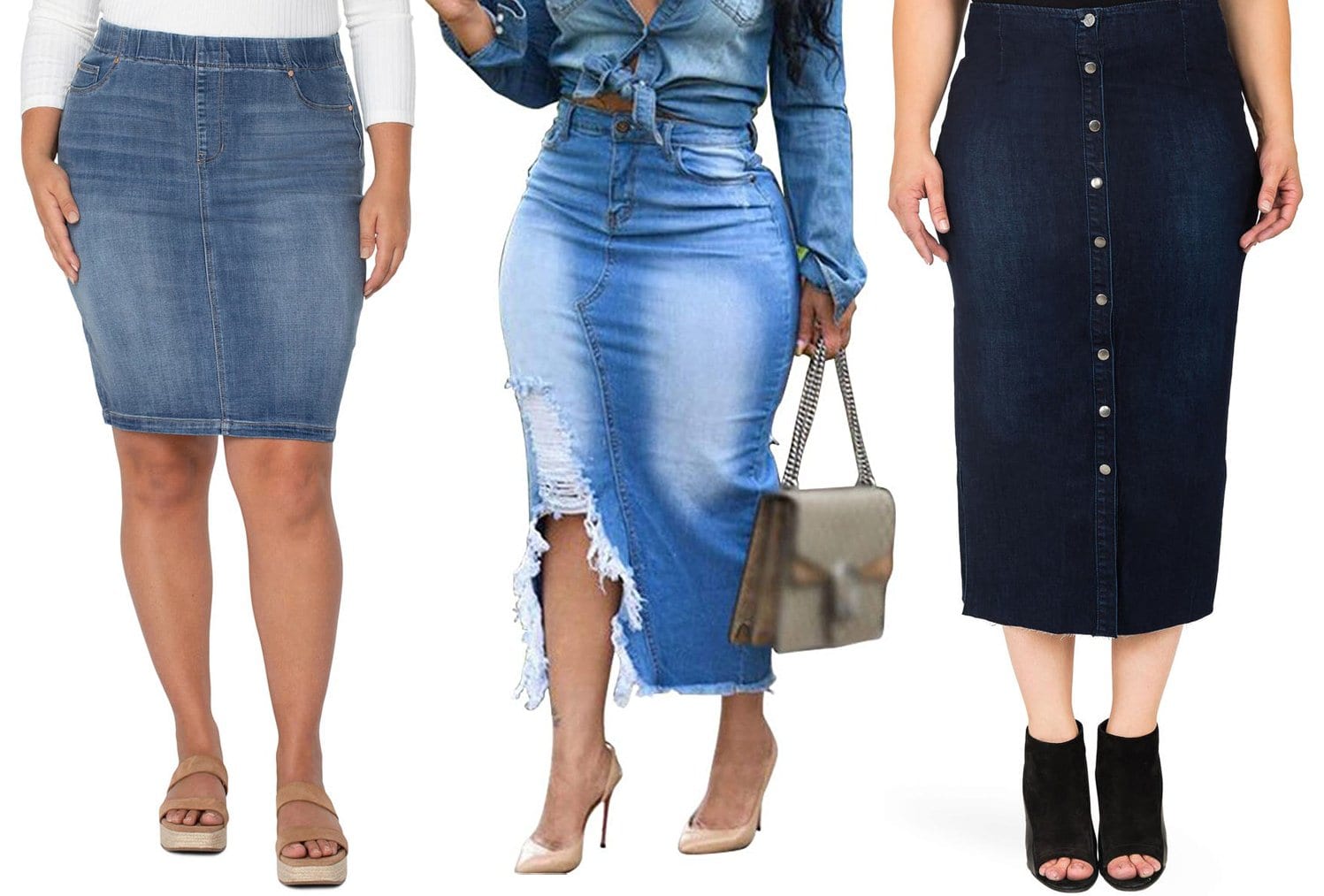 Liverpool Los Angeles Chloe Pull-On Denim Pencil Skirt, $68 at Nordstrom; Meslima Casual Distressed Ripped Denim Skirt, $31.99 on Amazon; Standards and Practices Elain Denim Pencil Skirt, $78 at Nordstrom
While you'll often find denim miniskirts, shop around for longer silhouettes. They'll be more comfortable and offer extra structure.
If your hips are larger than your waist, tuck your top into your denim skirt to show off your silhouette.
7. Plaid Skirt
While you can wear most skirts every season, you want to add a few styles for autumn and winter. Plaid is a print that creates a slimming illusion. It's a statement that elongates your figure and gives you an hourglass look.
A plaid skirt is one you'll reach for every autumn and winter. Style with a turtleneck for a preppy look, or elevate your style with a silk blouse.
Floerns Women's Plus Size Plaid Bodycon Skirt, $12.99-$18.99 on Amazon; Vince Camuto Plaid Pleated Midi Skirt, $109 at Nordstrom; HDE Plus Size Plaid Mini Skater Skirt, $18.99-$24.99 on Amazon
Your dress size is only a number. Don't let your figure put you off from buying the skirt of your dreams. These seven skirt styles are all ones that deserve a spot in your closet. The secret to shopping for plus-size skirts is to focus on your specific body shape.
Whether you're an hourglass or apple shape, there's a skirt style that will hug your curves and add a skip to your step.