If you have ever worn a tight dress, you likely experienced "under-garment stress." Finding the right hosiery, underwear, and bra that don't create undesirable rolls and creases can be a real struggle.
It was a struggle for Sara Blakely too, who knew this stress all-to-well! As the founder of Spanx, Sara saw a need in women's shapewear and has since helped millions of women feel confident in their clothes.
Sara Blakely, the founder of Spanx, has revolutionized the intimate apparel industry with her American company known for its pants and leggings, offering women comfort, style, and confidence (Credit: Adriana M. Barraza / WENN / Flashpoint)
History of Spanx Shapewear
After graduating from Florida State University, Sara Blakely sold fax machines. One night she was getting ready for a party but couldn't find a pair of pantyhose without seamed toes that didn't roll up or down in unflattering ways.
She wanted to wear them under white pants for added support. Fed up, she grabbed a pair of scissors and cut the feet off her control top pantyhose – this sparked the beginnings of Spanx!
At only 27 years old and with just $5000 in savings, she started the brand and created her prototype. Sara, along with her mom, sisters, and friends, tested out the product. Unlike other brands, Spanx used different-sized waistbands, which received patent approval.
Sara Blakely, the founder of Spanx, expands her innovative line by introducing Haute Contour, a collection specifically designed to cater to the needs of pregnant women, providing them with comfort, support, and style during their journey (Credit: Adriana M. Barraza / WENN / Flashpoint)
From the beginning, Spanx has been different from every other brand of pantyhose, including the bright red packaging. She launched the brand from her apartment in 2000, and in 2002 Spanx was sold at Saks Fifth Avenue in Atlanta.
A great deal of the initial success was thanks to the product appearing on an episode of Oprah Winfrey's "Favorite Things." By 2012, Sara was named by Forbes as one of the world's youngest self-made billionaires!
Spanx: Tummy-Control and Lower Belly Pooch
Spanx gives women an hourglass figure and can tuck in problem areas like the tummy and lower belly pooch, creating a flat stomach.
A huge differentiator is that Spanx really does work while remaining undetectable and comfortable. The lightweight layers form a bonded tummy panel that flattens the tummy and creates a smooth look.
The rear is also shape-enhancing by supporting curves without giving wearers the dreaded uni-butt.
Even celebrities are swearing by the shapewear. Miley Cyrus has called them "a gift from God!" and Kim Kardashian said, "Spanx are my bed friend."
Spanx, known for its groundbreaking innovations in the intimate apparel industry, now extends its expertise to men with its revolutionary line of underpants designed to effectively minimize love handles and middle-age spread, allowing men to confidently embrace their desired shape and feel their best
Tyra Banks said it best, "Every celebrity walking down the red carpet. You think she's all just naturally look 'shooop.' A lot of them have Spanx on. They're these tight little tights. You put 'em on, it sucks you up, baby. No matter what red carpet, I got 'em on. I look like a granny before I put the dress on, but I put on the dress, and it's like 'palow!".
If you are looking for a product to tuck in your tummy and lower belly pooch, check out these 15 best Spanx Shapewear.
Spanx makes a large number of tummy-control products including leggings, panties, and hosiery.
Clothing
1. Faux leather leggings, $98 at Spanx
These are AMAZING! I cannot say enough good things about these faux leather leggings. These tuck everything in that you want to be tucked while enhancing your God-given curves.
The contoured power waistband is great for tummy control and smoothing the lower belly pooch. As Spanx says, these leggings give you a "flat gut and a great butt." Unlike much of their other shapewear, these are worn as pants – not under them.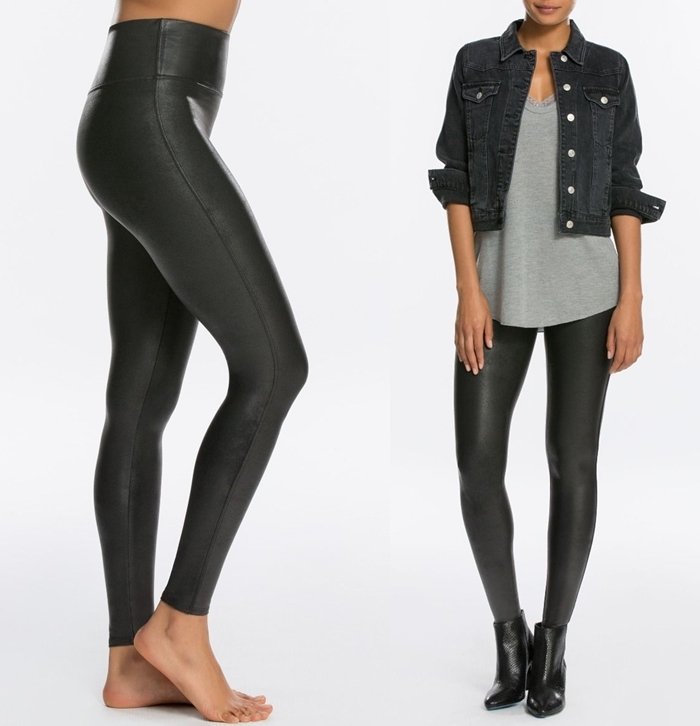 Discover the ultimate combination of comfort and style with these faux leather leggings, featuring a contoured power waistband that not only ensures a flat gut but also enhances your curves, giving you a stunningly flattering silhouette and a fabulous posterior
With a black, faux leather look, they are very stylish. They are also available with a petite, regular, or tall inseam for the perfect fit!
Some say they run small, which could simply be the feeling of compression. Either way, everyone who wears them swears by them – they do the job well!
2. The Perfect Black Pant, Hi-Rise Flare, $148 at Spanx
For pants you can wear to work or to a formal dinner, these gorgeous high-rise flares are great for any occasion.
They have a higher waist with 4-way stretch ponte fabric as well as the Slim is Built InTM – hidden Gut CheckTM patented design that is great for tummy control and targets the lower belly pooch.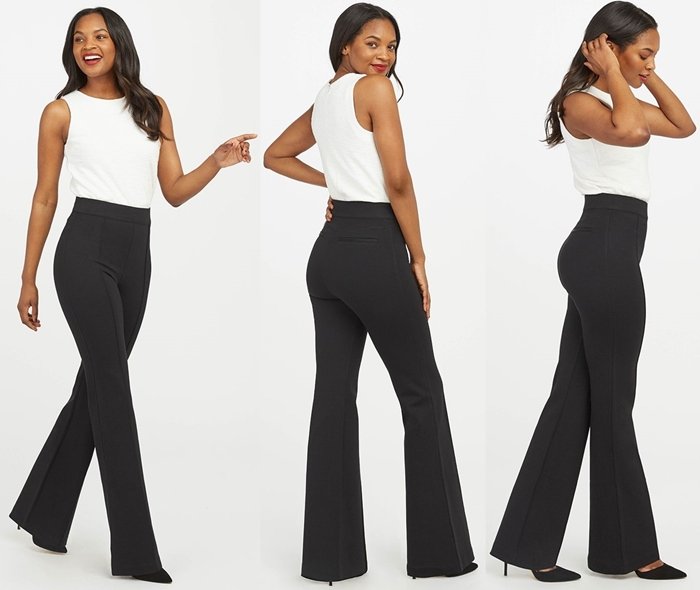 Experience the epitome of style and confidence with these sleek pants that not only provide a flattering fit and accentuate your curves, but also boast a fashionable flare hem, adding a playful and trendy touch to your ensemble
They are pull-on design and fitted through the hip and mid-thigh. Available in black and petite, regular or tall inseam.
3. Distressed Ankle Skinny Jeans, $128 at Nordstrom
Many jeans can enhance a tummy and pooch, but these beauties give the perfect amount of control. The specially designed panel tucks the tummy, and the waistband provides coverage and prevents the dreaded muffin top.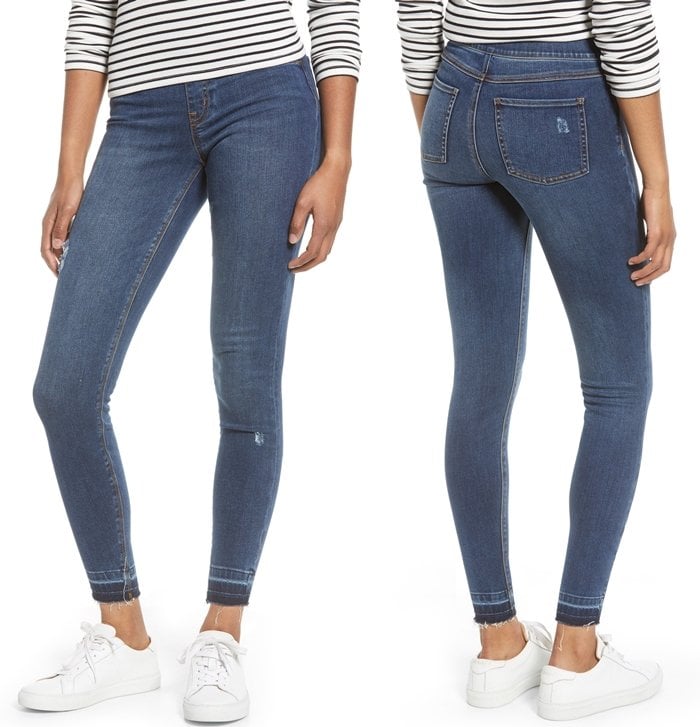 A dream come true with figure-sculpting support and a second-skin fit, these stretch-denim leggings are perfect to pair with nearly anything
These are pull-on, ankle-length skinny jeans that look great with tees, sweaters, and tanks. After trying a pair of Spanx jeans, it's hard to wear anything else.
4. Look At Me Now Seamless Moto Leggings, $88 at Shopbop
Feel confident in the gym with these moto leggings that provide great control. These allow women to focus on the workout instead of having to readjust their leggings and shirt constantly.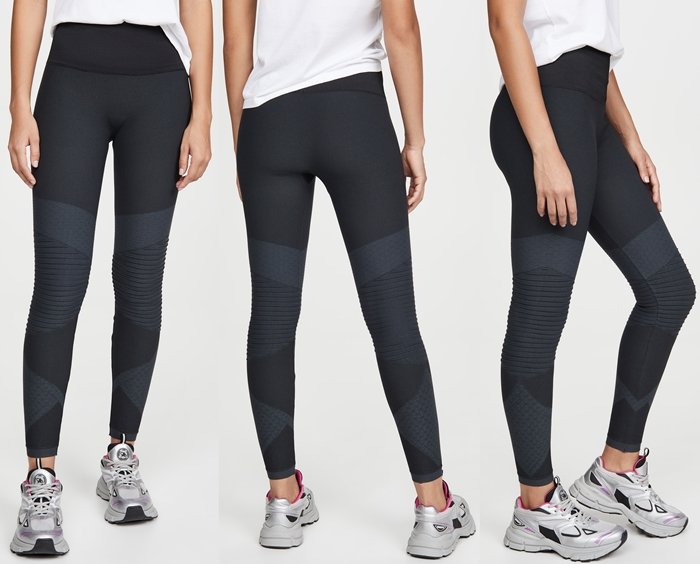 Ribbing at the knees adds a moto touch to Spanx's signature Look At Me Now leggings
The flexible, 4-way stretch fabric provides supports while still being flexible enough to allow you to take on a tough workout. The natural waist is also great for coverage and will prevent a muffin top.
5. Black Ankle Skinny Jeans, $128 at Spanx
These are a wardrobe-must-have. They are stylish and versatile, making them look great with everything! The special tummy panel controls the lower belly pooch giving you a super flat stomach.
Designed with comfortable stretch denim, high-rise coverage, and the slim built-in, Spanx' Skinny Jean is a "jean come true"
The high-waist also prevents a muffin top. Although they provide a great deal of control, they still have enough flexibility to be comfortable all day long. The black jeans are available with a petite, regular, or tall inseam in sizes XS to XL.
6. Booty Boost Active 7" Bike Short
Bike shorts are very popular right now, but it's hard to find ones that look good and complement a curvy figure. The sculpting performance fabric provides tummy control while providing a booty lift.
Get a booty lift with Sara Blakely's sculpting performance fabric and a contoured waistband
A high-waistband will keep these in place during workouts and prevent a muffin top. Whether you are wearing these for fashion or function, they will look and feel great!
Underwear
7. Everyday Shaping Panties Brief, $22 at Spanx
These everyday shaping panties have a hidden shaping waistband that provides great tummy control while being comfortable enough to wear all day long. The smooth lines will keep them invisible under clothes.
These panties provide just enough shaping to keep you confident and in control
These look just like any other pair of panties, so no one will even know your shapewear secret! These are available in five different colors and run in XS to 3X.
8. OnCore High-Waisted Mid-Thigh Short, $78 at Nordstrom
If you are looking for something to wear under your clothes, this mid-thigh short is one of Spanx's best sellers. These short panties offer total body transformation with fully-bonded front panels that give a perfectly flat stomach.
They also have booty enhancing pockets that prevent uni-butt and leg openings for a seamless look. Available in 5 different colors and runs from XS to 3X.
Whether you are wearing a dress or pants, these panties provide superior tummy-control and will flatten that lower belly pooch.
9. Higher Power Short, $38 at Spanx
This shapewear doesn't have the frustrating seams that most brands have. It's a great option for those who are looking for tummy-control and to flatten the lower belly pooch without feeling as compressed.
Lightweight, all-day shaping that's center-seam free— the Higher Power Short features soft yarns and offers smoother results with less squeeze
It's a little more giving and flexible while still being very supportive. The high-waist and stay-put design mean no muffin top! These are comfortable enough for everyday wear.
10. Everyday Shaping Panties Boyshort, $22 at Zappos
These boy shorts will shape both your tummy and behind. They can be worn under anything and have a hidden shaping waistband for comfortable control. The flat leg opening makes these "wedgie-free."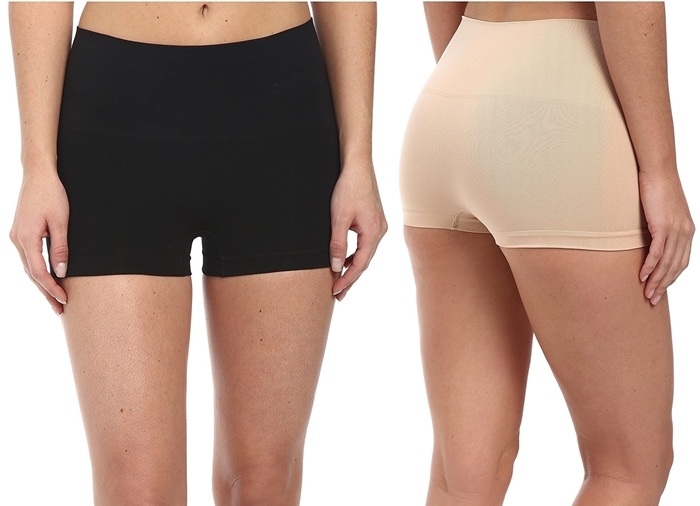 Everyday Shaping Panties provide just enough shaping to keep you confident and in control
Available in four different colors and sizes XS to XL. These will be one of the most comfortable undergarments you own!
11. Waist Cincher, $48 at Spanx
Get that Kardashian-like hourglass figure with one of Spanx's waist cinchers. Using powerful microfiber and flexible boning, it is comfortable while still tucking you in, in all the right spots.
This body-shaping waist cincher uses powerful microfiber and flexible boning at the sides to target the tummy while offering a cling-free, comfortable fit
The seams run on the sides, so it will remain undetectable when you wear it under a fitted dress.
Hosiery
12. Tummy Shaping Sheers, $24 at Spanx
The product where it all began, these sheer pantyhose have a tummy targeting waistband with no thigh shaper, which means you can wear a high hemline, and no one will know you are wearing them!
With a waistband that targets the tummy and forgiving stretch with easy recovery, these sheers are perfect for everyday wear
The soft waistband won't create a muffin top, and the sheer look makes them virtually invisible!
13. High-Waisted Shaping Sheers, $32 at Spanx
These pantyhose have a built-in high-waisted shaper that controls the tummy while also shaping the legs.
Designed with a built-in, high-waisted shaper and comfortable yarns in a variety of shades, these sheers keep your legs looking better than naked
The soft, elastic-free waistband means no digging, pinching, or rolling, giving you a smooth look. They are available in eight different colors and sizes.
14. Super High Power Tummy Control Footless Capri, $28 at Macy's
The Higher Power Capri is the more refined version of what Sara created in her bedroom that day when it all began. These footless pantyhose are great underpants with a pair of sandals.
These comfortable, body-shaping footless pantyhose control the tummy through the thighs, and airbrush cellulite for a flawless finish
They feature a tummy panel that flattens the tummy as well as a comfortable waistband that doesn't dig in. Spanx patented technology also smooths legs and the behind. This style is available in two colors and seven sizes.
15. 8-15mmHg Graduated Compression Tights, $42 at Spanx
The innovative technology in the graduated compression tights provides improved circulation while the shaping panel offers tummy control. The mild compression (8-15 mmHg) relieves aching legs, swelling, and pain associated with varicose veins.
These must-have tights feature innovative technology that provides graduated compression throughout the leg for improved circulation and all-day support
Just like the other pantyhose, these have an elastic-free waistband, so they won't roll or create a muffin top. These are available in black in 5 different sizes.