If you're looking to invest in shoes, loafers are a perfect choice. Their versatility means that you can style them for any occasion, while the leather makes them a transitional shoe that you can wear for every season.
While there are dozens of loafer styles to choose from, we're highlighting 7 of the most popular styles that are each a staple in their own right.
The three most common loafer shoe types are penny, tassel, and bit loafers (Credit: Istry Istry / Shutterstock)
When you're choosing which loafer is right for you, consider how you can incorporate them into your everyday closet and which style best fits your lifestyle.
With the classic silhouette of a loafer, you can experiment with different types of textures and design elements to add your own twist to this classic shoe. You buy the shoes featured below at Nordstrom and Zappos.
1. Penny Loafers
While loafers are largely considered to be a European style of shoe – with origins in Georgian England – Penny loafers are the American take on the style.
Penny loafers are slip-on shoes defined by a small detail located on the vamp
They have a distinctive saddle that sits across the upper of the shoe that is cut large enough to hypothetically hold a penny. It's this design element that gives the penny loafer shoes their name.
2. Heeled Loafers
If you're a fan of block heels, you'll fall in love with this style. Heeled loafers take the front section of traditional loafers and add a blocked heel for extra versatility.
This style is the perfect hybrid between heels and flats, giving you the classic look of loafers but with the sleek finish of a block heel.
These high-heeled loafers show that not all loafers have flat or low heels
Heeled loafers are also a feminine twist on what's largely considered a more masculine style of shoe.
Most heeled loafers balance the block heel with a design element across the front vamp, whether it's a horsebit or a metal bar.
3. Platform Loafers
Does the low sole of a loafer put you off? We've got just the style for you. Platform loafers are becoming increasingly popular for people who want a little extra height to their shoes without having to wear stilettoes.
We love platform loafers as a more contemporary twist on the classic silhouette. These shoes are perfect if you want a younger streetwear look for your outfit.
Sophisticated loafers lifted by platforms that will boost your height
They're a more elevated alternative to platform sneakers and offer you a twist to your outfit if you're usually a fan of ballet shoes.
4. Tassel Loafers
Loafers are known for their lace-less design, meaning that the front of the shoe is often left blank for a minimalistic design. This silhouette means that there's limitless potential for the front vamp of the shoe.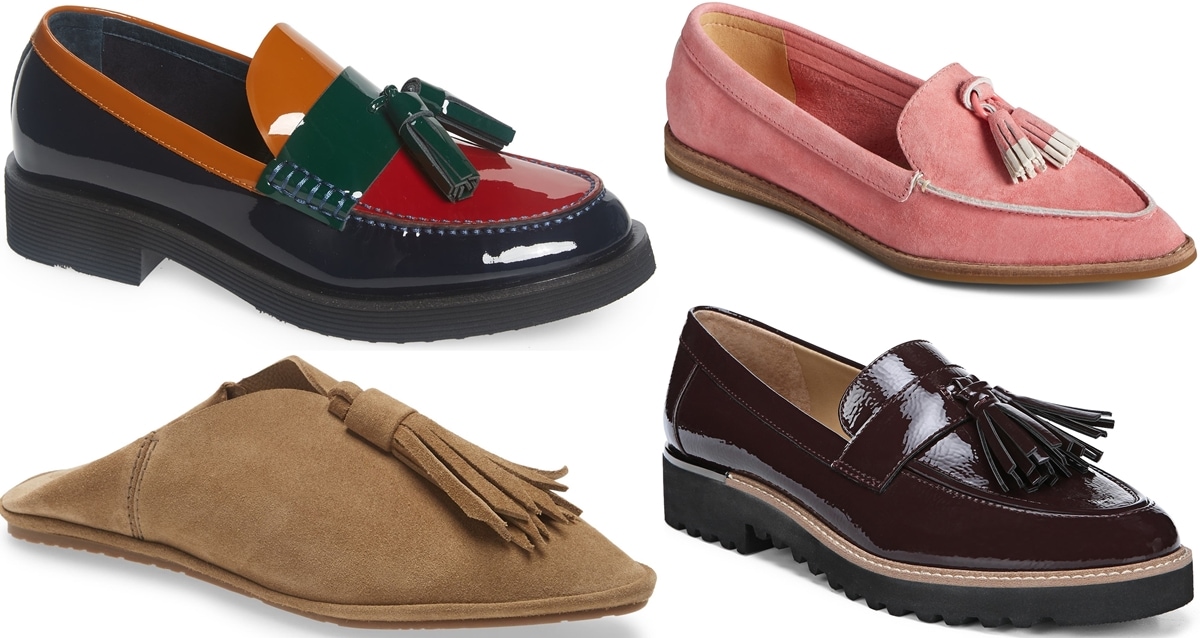 Tassel loafers are characterized by decorative laces hanging from the vamp
Tassels are amongst the most popular choice to help dress up the loafers for a business casual look.
5. Velvet Loafers
When it comes to loafers with a unique design element, velvet loafers are in a league of their own. This style is more elevated than its penny loafer counterpart.
Brands like Kate Spade often take this silhouette and give it a quirky twist. Velvet loafers are a go-to for evening wear and special occasions when you don't want to slip into stilettoes or high-heeled shoes.
Velvet loafers are a tasteful and elegant option for weddings and formal occasions
The one thing to consider with velvet loafers is their practicality. Although they're sleek and stylish, these aren't the loafers you want to be wearing when it starts to rain or in the snow.
6. Driving Loafers
Driving loafers are closer to the moccasin design than other types of styles on this list. These loafers focus on giving you the best grip possible without compromising on comfort.
Driving loafers are a type of shoes that was created to help while driving
The shoes were specifically designed with driving in mind to make it a more comfortable experience. The lace-less design makes it easy to kick off other shoes and slip into these loafers just before driving. This style of loafers is the ultimate travel shoe.
7. Horsebit Loafers
If you're a fan of Gucci shoes, you'll recognize horsebit loafers. A '70s classic, horsebit loafers have had a major comeback in recent years.
Gucci is largely thanked for bringing back this style in 2015 when Alessandro Michele became Creative Director.
Guccio Gucci's son Aldo Gucci was inspired to create horsebit loafers in the 1950s after a trip to New York
Horsebit loafers are amongst the most elevated options on this list and a more wearable alternative to velvet loafers. You'll usually find these shoes with gold hardware for a sophisticated finish. If you're going to invest in any loafers, horsebit loafers are our top pick.
What are your thoughts on loafers? Are they a closet staple for you?