Whether you love them or hate them, animal prints are a timeless piece of fashion. Every season at least one animal print becomes the must-have trend.
While cow print is having its moment, we'll still be faithful to the classics of leopard, snakeskin, and zebra. Although it might be a classic, we know that animal prints can be intimidating at first.
They're not as easy to style as neutrals, and figuring out the best way to incorporate them into your closet can be difficult.
That's why we created this styling guide for animal prints. While it's a catch-all for animal prints, these tips can be used for almost any type. Whether you're a fan of dalmatian or leopard, it's all about how you style the animal print.
These styling tips will help you incorporate animal print into your everyday closet and learn to love them as a classic trend.
1. Wearing more than one animal print
When you slip into a pair of animal print shoes, you might be debating whether you can add another print to your outfit.
Generally, you want to avoid this. It's possible to have too much of a good thing, and it's best to stick to one animal print. While you can style it with a bold color, wearing more than one animal print can throw your outfit off balance.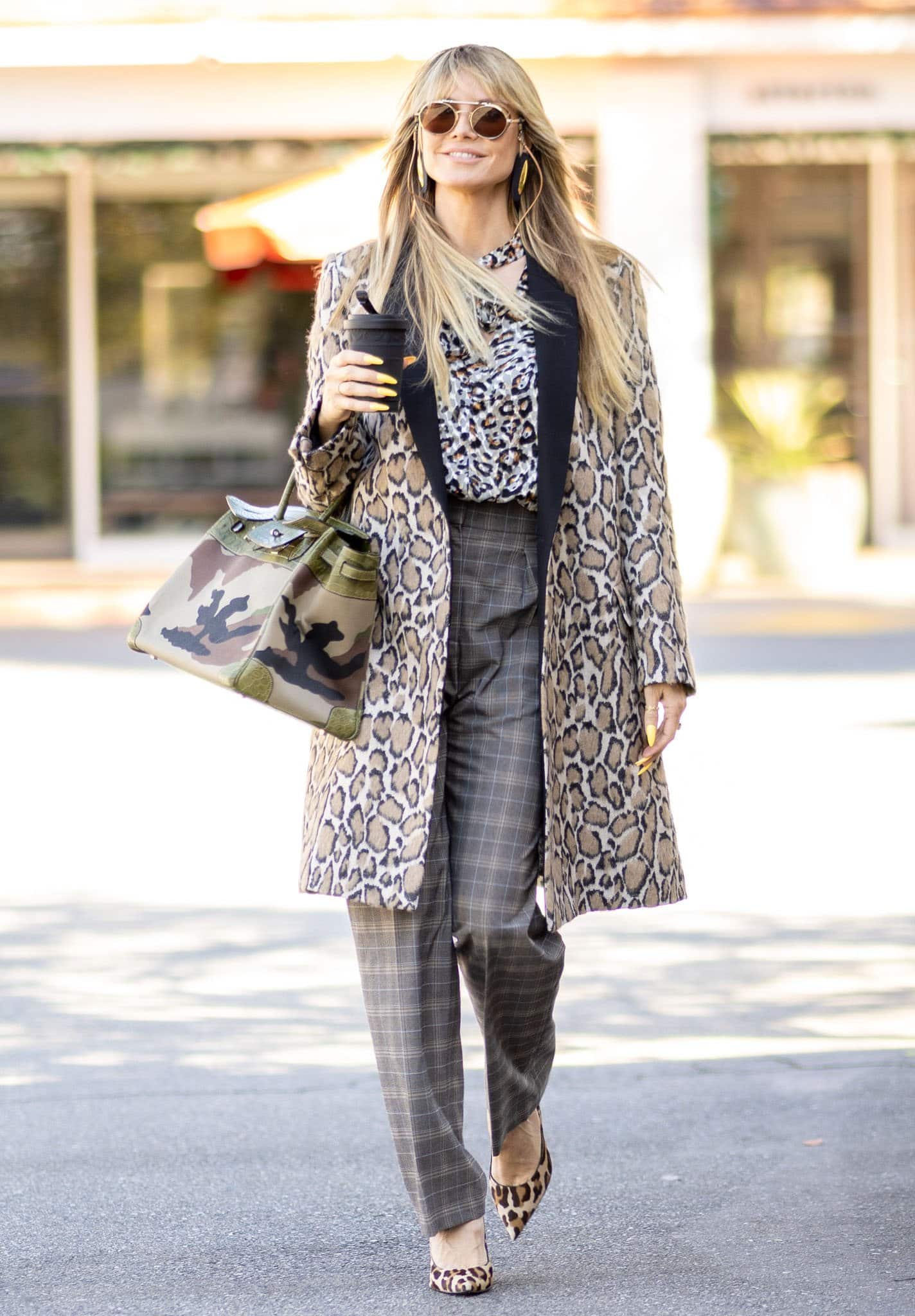 Heidi Klum wearing leopard print blouse, coat, and pumps (Credit: Mega / WENN)
2. Animal print for black tie
If you want to stand out at an event, animal print is a perfect choice. You can take a little black dress to the next level or add a classic feel to a contemporary style with the right animal print shoes.
This styling tip is all about creating a balance between your dress and footwear.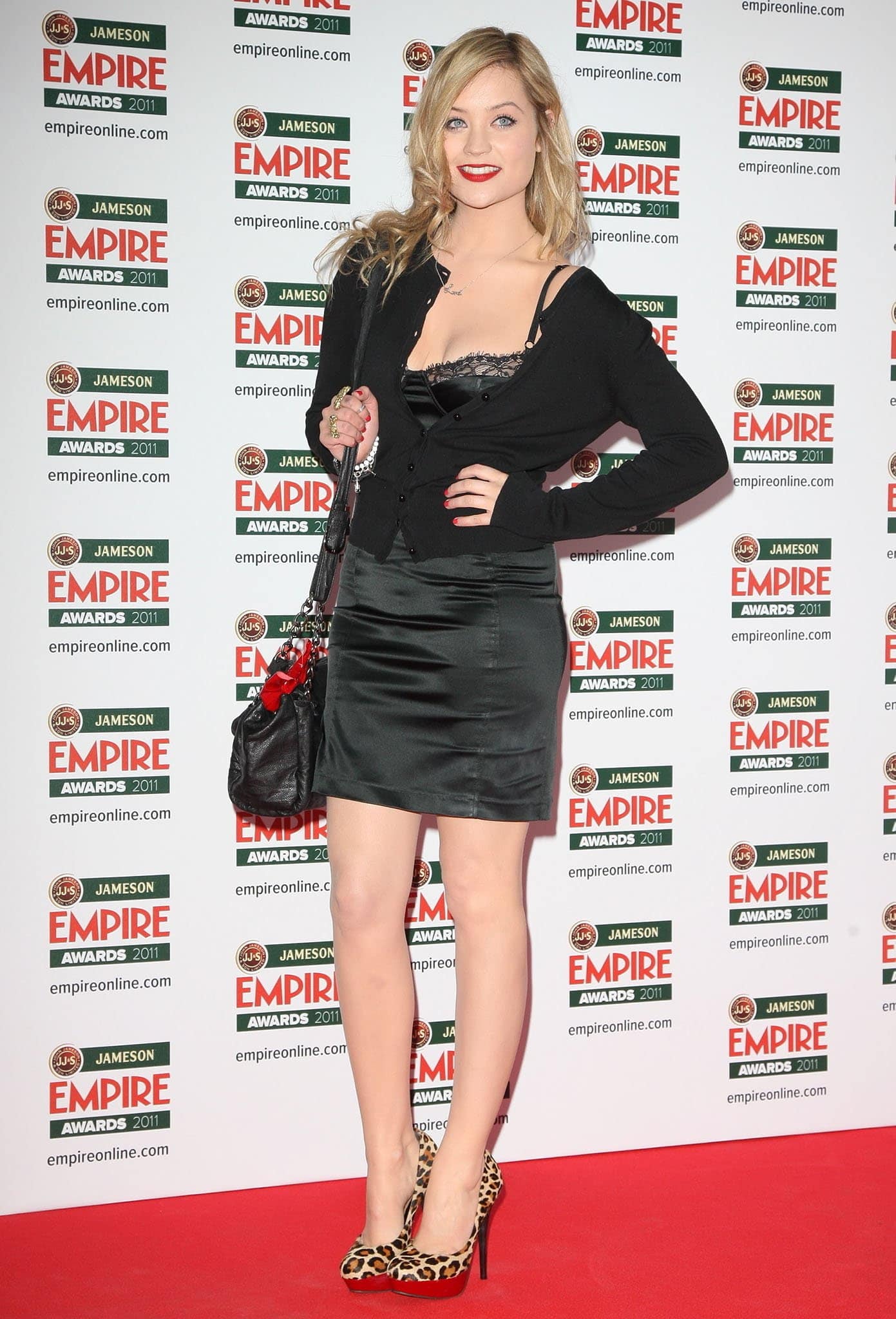 Laura Whitmore amps up the sultriness of her lacy LBD with leopard-print pumps (Credit: WENN)
If your dress is simple, go wild with your animal print. If your dress is a statement, keep your footwear simple.
The Christian Louboutin 'Kate' sling 85 shoes in leopard print are the perfect plus one for any black-tie event.
Christian Louboutin 'Kate' Sling 85 leopard-print leather slingback pumps, $795 at Net-A-Porter
Made in Italy from leopard-print leather, the "Kate" slingback pumps feature pointed toes and about 3-inch heels
3. What seasons can you wear animal print?
The beauty of animal prints is that they work for every season. While some are better suited to a particular season, you can usually wear them all year round.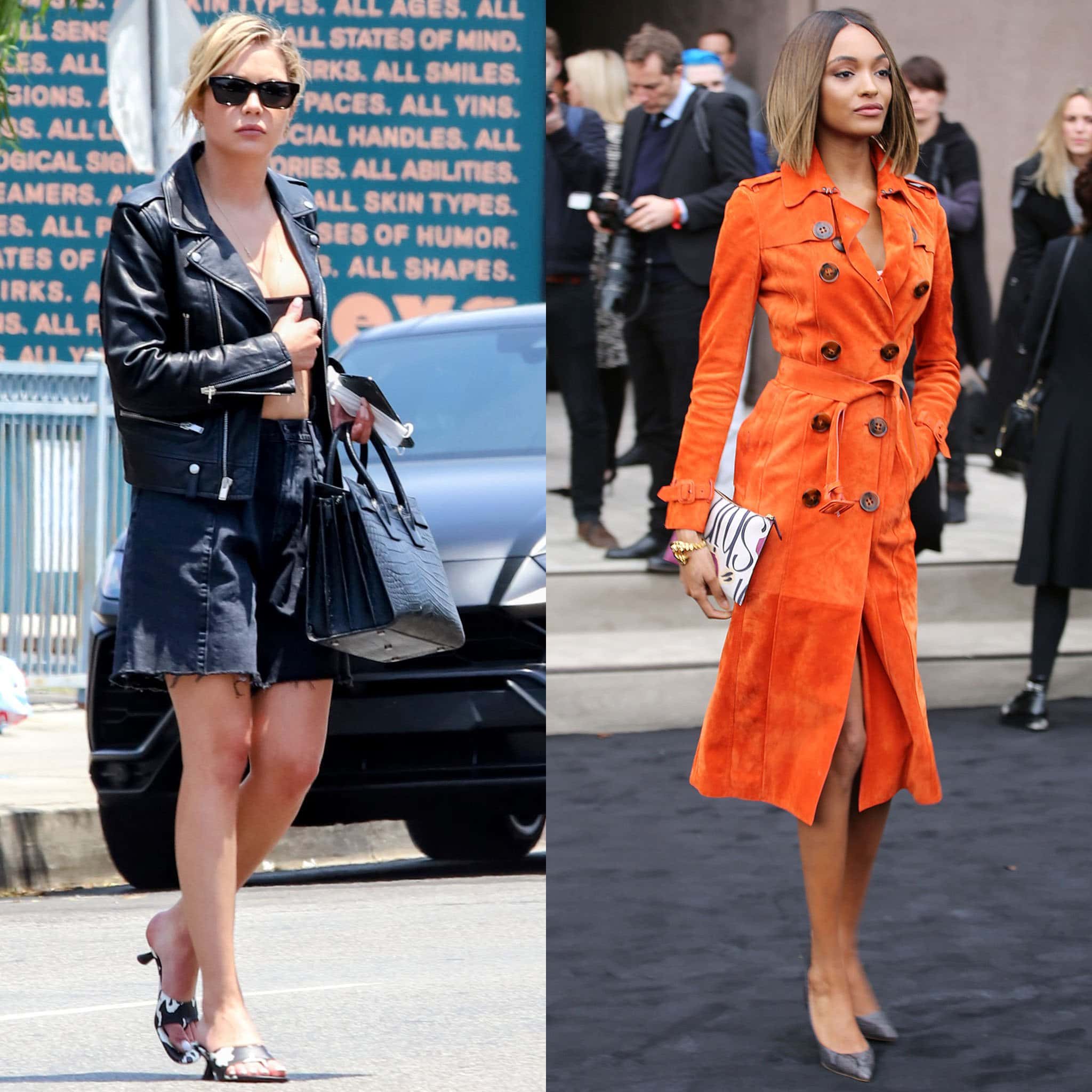 Ashley Benson is summery in crop top, denim shorts, and cow-print mules, while Jourdan Dunn looks cozy in her orange winter coat and reptile pumps (Credit: Mega / Lexi Jones / WENN)
Cow's print is a trend that's been popping up in spring and summer face within recent years, while reptile print is a go-to for autumn and winter.
4. Don't be afraid to wear color
One mistake people make when styling their animal print shoes is thinking that the rest of their outfits must be neutral.
In fact, the bolder, the better. Don't be afraid to experiment with an animal print and jewel tone to create a color clash moment.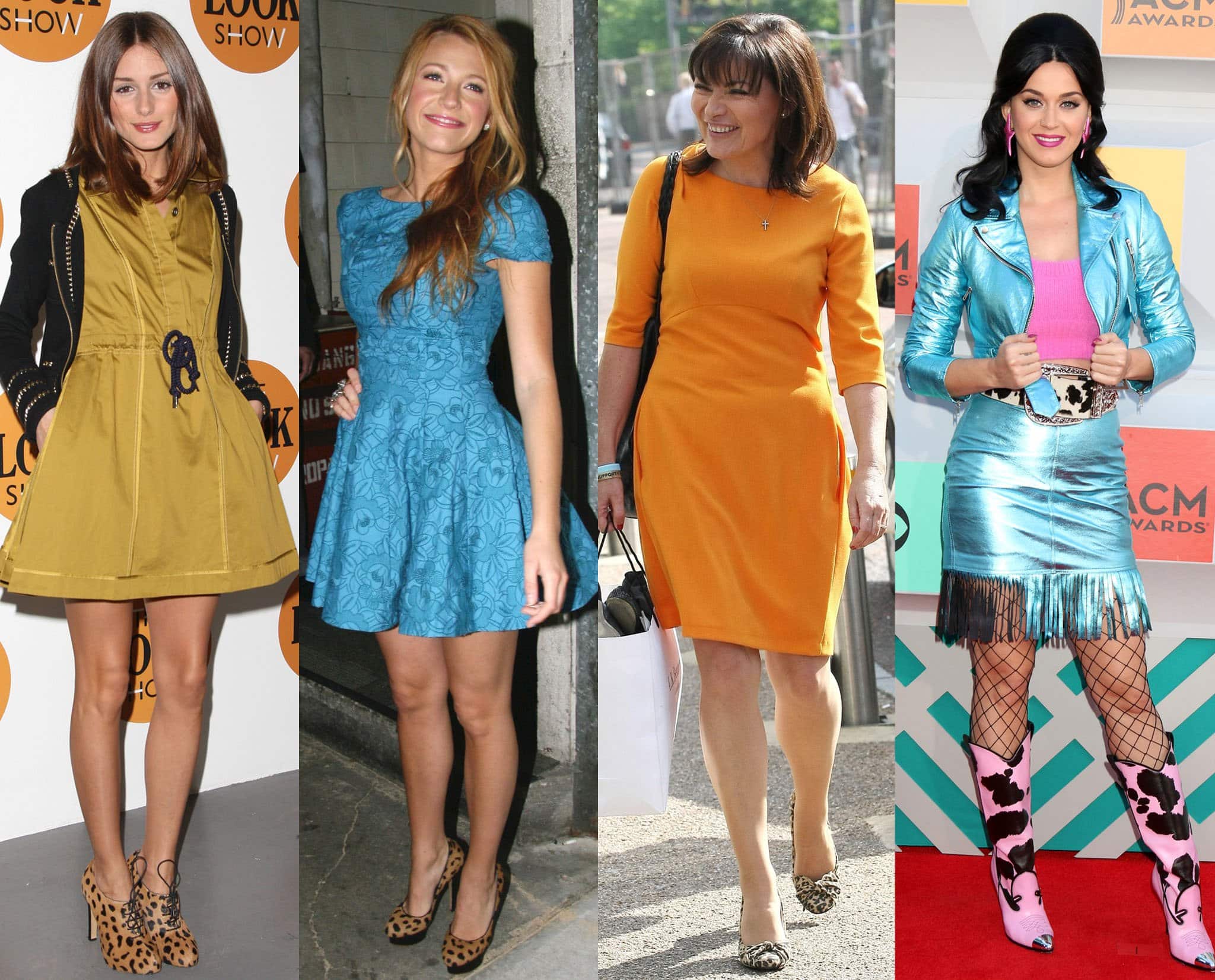 Olivia Palermo, Blake Lively, Lorraine Kelly, and Katy Perry wearing animal-print heels with clashing jewel-tone dresses (Credit: Nicky Nelson / WENN)
If you're trying this styling tip, choose a color that you can carry through to the rest of your outfit. Pink is a classic choice to wear with any animal print, including zebra.
5. When to not wear animal print
The art of knowing how to wear animal print is to know when not to wear it. While we're devoted to our love of animal print, there are some occasions where it's not appropriate.
You can slip into animal print for a wedding, but it's not appropriate for a funeral. It's usually personal judgment to decide whether it's suitable for the occasion, but animal print is seen as a bolder and eye-catching styling.
If the occasion calls for a more somber look, skip your animal print for neutrals. You can still incorporate animal print on some occasions, like with these black snakeskin heels by Guess.
Guess 'Rajani' Python-Look Court Shoe
The Rajani court pumps come in classic black synthetic python leather material
6. Wearing animal print in summer
Summer is the one season when you might struggle to style your animal print shoes. The good news is that animal print comes in every style of shoes – including summer shoes.
Sneakers are transitional animal print shoes that you can wear for every season, but you can also find summer-specific shoes.
Fearne Cotton and Teri Polo pair their leopard-print heels and slip-on sneakers with summery casual outfits (Credit: WENN)
Moschino's latest footwear collection includes a statement snakeskin sandal that we'll be wearing all summer long. These sandals are ones you can style with anything, from a bikini and cover-up to denim shorts and a white t-shirt.
The key to wearing animal print in summer is to look out for bold pastel and jewel tone shades that will complement your summer tan.
Moschino Snakeskin-Effect Double Buckle Sandals, $420 at Farfetch
Make a chic summer statement with these chunky green snakeskin-effect leather sandals from Moschino
7. Style with solids
When in doubt, play it safe by wearing your animal print with solids. While we'll usually be reaching for a neutral, you can use this styling tip for bolder colors.
Animal print shoes can help draw attention to your legs and elongate your figure with a solid color accentuating this effect.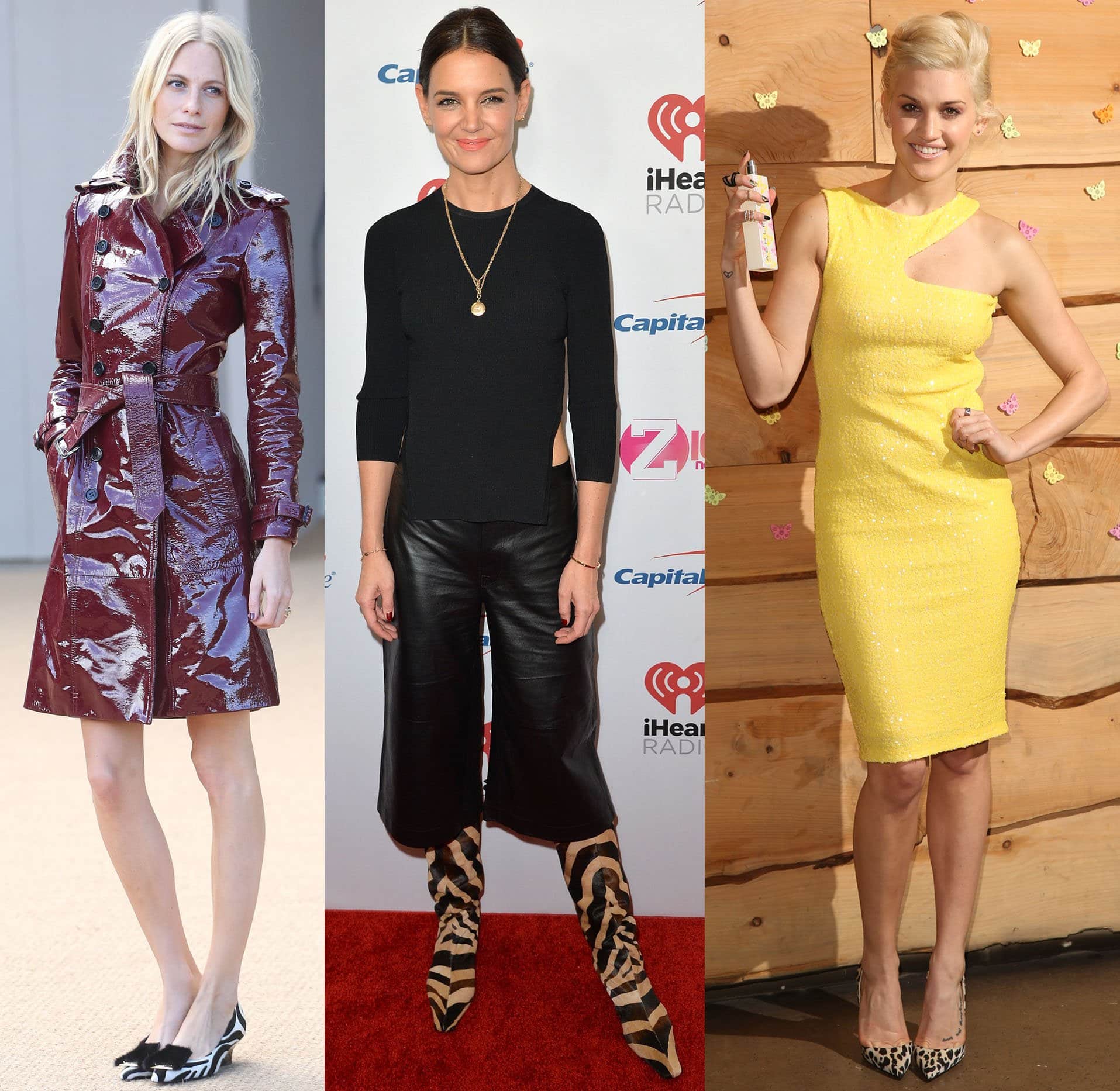 Poppy Delevingne, Katie Holmes, and Ashley Roberts show how to elevate solid colors with animal-print heels (Credit: Lia Toby / Avalon / WENN)
Golden Goose's cow-print logo-patch leather sneakers are easy for styling with a solid color athleisure set for a laidback weekend look.
Golden Goose Cow-Print Logo-Patch Leather Sneakers, $780 at Farfetch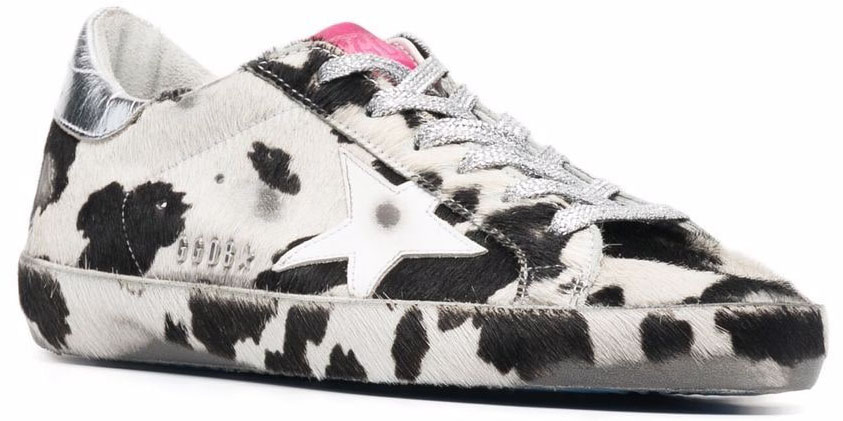 Pair these cow-printed sneakers with solid color athleisure for cool and chic street style
8. Keep it simple
You don't need to be bold to make an impact in animal print. It's easy to be put off by extravagant silhouettes or skyscraper heels. Some of the best animal prints are the most simplistic.
When you start adding animal print to your closet, start with classic shoes. Incorporating animal print into your daily wardrobe can make styling easier by making you more comfortable with wearing the style.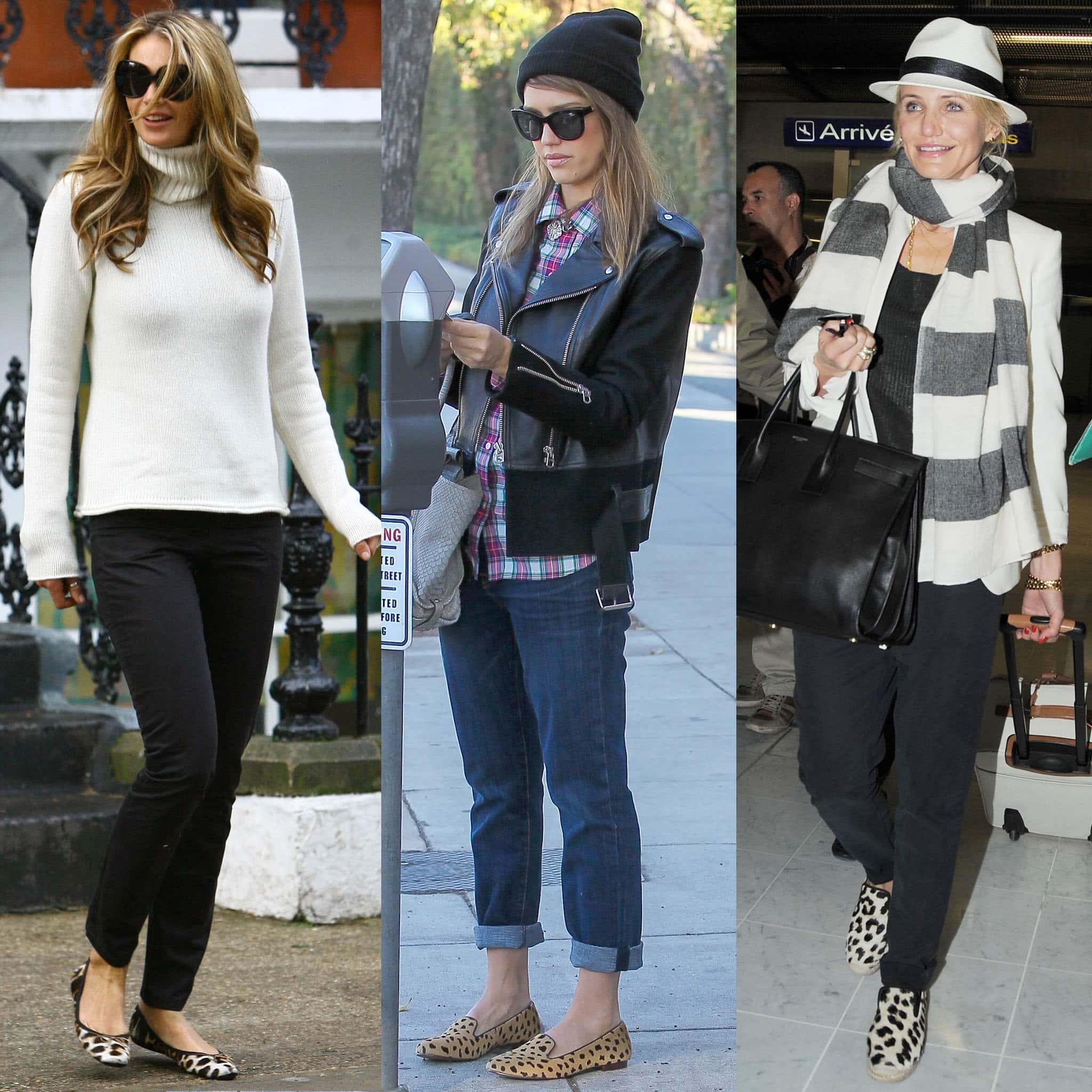 Elle Macpherson, Jessica Alba, and Cameron Diaz pair statement animal-print shoes with laid-back ensembles (Credit: WENN)
Animal print loafers, like the 'Cora' leather loafers by Hush Puppies, are a comfortable style for everyday wear. Once you become more confident wearing animal print, you'll find it easier to style with your favorite outfits.
Hush Puppies 'Cora' Leather Loafer, $95 at Nordstrom

Elevate any casual outfit with Hush Puppies' Cora loafers
Wearing animal print shoes doesn't have to be daunting. It's all about how you choose to style them. The key to wearing any type of animal print is to find balance with your outfit. You want to avoid wearing another type of animal print.
If you're going for a matching look, keep your animal print limited to your accessories instead of carrying it through to your clothes. With the right styling, you can wear your animal print shoes anywhere from the office to a black-tie event.
What are your favorite styling tips for wearing animal print shoes?