Do you have too many pairs of shoes? A survey conducted in 2011 by ShopSmart Magazine shows you probably do. It discovered the average woman owns 17 pairs of shoes.
4 years earlier, a similar telephone study showed that the average woman owns 19 pairs and buys four new pairs per year. 15% of women have over 30 pairs of shoes. How many pairs do you own? How many shoes are too many shoes?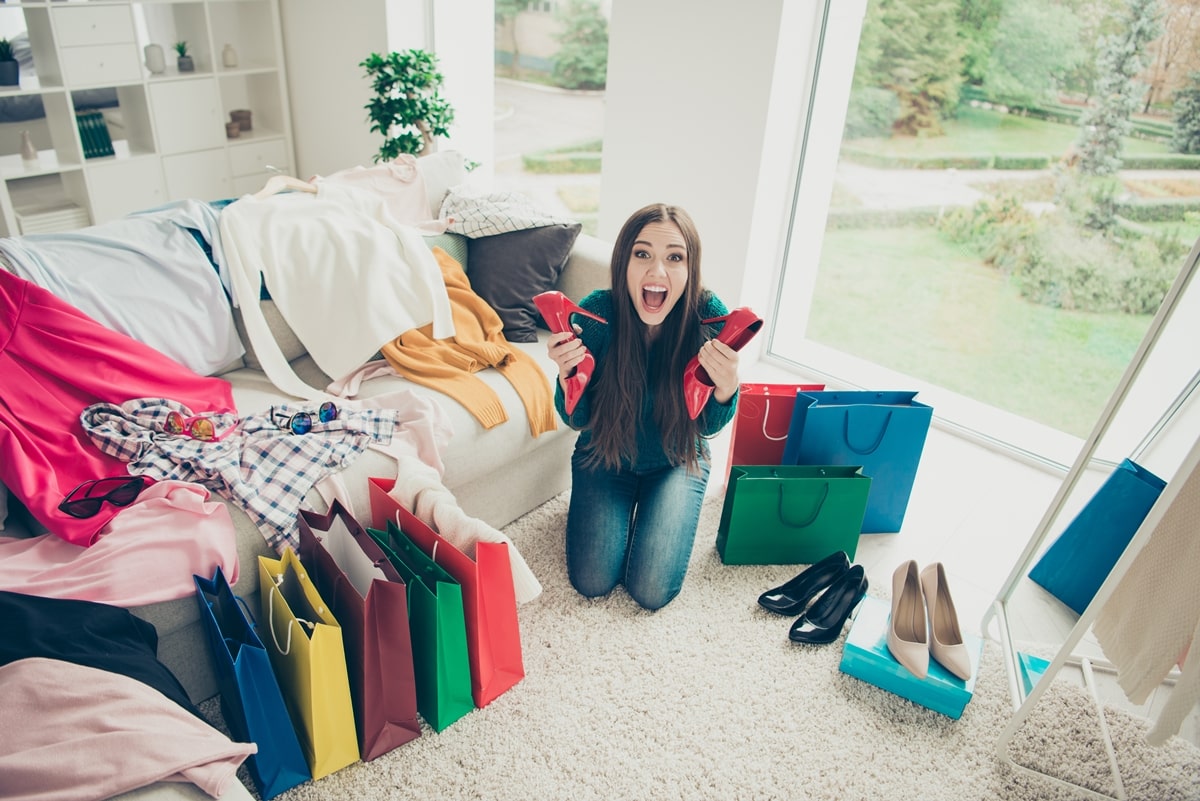 Women own an average of 17 pairs of shoes (Credit: Roman Samborskyi / Shutterstock)
"Shoes never make your butt look big, you don't have to worry about squeezing into them if you've put on a couple of pounds, and they can instantly make you feel sexier. Maybe that's why, despite the economy, we're still buying shoes," said Lisa Lee Freeman, editor-in-chief of ShopSmart.
"So we've compiled a guide to share the hottest trends, the most addictive shoe-shopping websites, how to pick a pair that won't kill your feet, and an investigation into the difference between a $30 and $575 pair of shoes."
Shopaholic women usually own many more shoes and clothing than the average woman (Credit: Luanateutzi / Shutterstock)
Of course, some women distort the average. Celine Dion owns more than 3,000 pairs, poker player Beth Shak has more than 1,200 pairs, Kim Kardashian can't even count the stilettos in her closet, and Paris Hilton also owns a sizable collection. Perhaps they don't know that it's possible to donate footwear.
Compared to celebrities' massive shoe wardrobes, having 17 pairs sounds reasonable — even minuscule! However, another study shows that the average woman has 11 pairs of pristine or hardly worn shoes that'll never see the light of day!
If that is true for you, and you only wear less than a handful of pairs from your entire shoe closet, then it could mean you have way more footwear than you need.
Below are six signs you may be someone who owns too many.
1. You shop for shoes to cheer yourself up
It doesn't need to be explained that buying shoes can make you happy. That's why it's called "retail therapy," right?
However, shoes can quickly pile up in your closet if you buy a pair each time you crave a dopamine kick. According to the study, one in five women has gone shoe shopping in an attempt to get out of a bad mood.
Kim Kardashian shopping at a boutique in Paris, France, on July 21, 2015 (Credit: Dennis Van Tine / Future Image / TNYF / WENN)
2. You've hidden a shoe purchase from your significant other
You just might have too many shoes if you're starting to hide your purchases from your SO. 14 percent of those surveyed admit to hiding at least one shoe purchase to avoid their partner's disapproving look.
Kylie Jenner hiding her face while shopping at CVS Pharmacy on November 11, 2014 (Credit: Dennis Van Tine / Future Image / TNYF / WENN)
3. Online shoe shopping has become an obsession for you
While the internet has made it easier than ever to access beautiful shoes, it has also made it harder than ever to resist the temptation of buying a pair — or two or three.
Almost a third (29 percent) of the women surveyed buy shoes online, with that number increasing every year.
Lucy Watson and Stephanie Pratt looking at a laptop on an episode of the television series "Made in Chelsea: LA." (Credit: E4)
4. You think shoes are the most important part of your outfit
There's nothing wrong with thinking that your shoes are the most important part of your outfit. 28 percent of those surveyed think the same thing.
However, this could mean that you have shoes on the brain (and in your closet) all the time, especially if you're one of the 51 percent to notice the shoes of other people.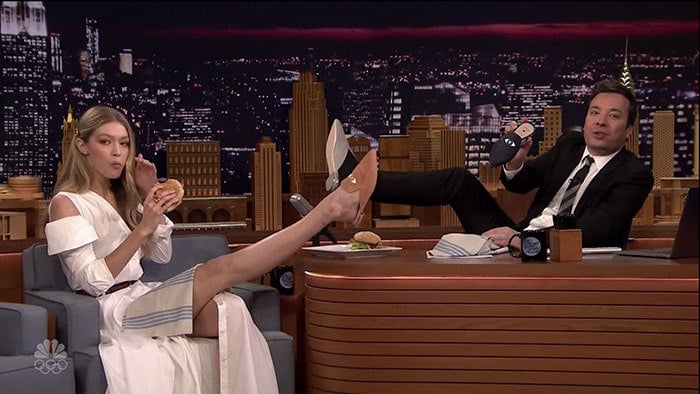 Gigi Hadi holding up her foot to show off the mules she designed in collaboration with Stuart Weitzman on a guest appearance on "The Tonight Show with Jimmy Fallon" in New York City on November 15, 2017 (Credit: NBC)
5. You buy pretty shoes even if they hurt your feet
With 46 percent saying that they have bought ugly footwear for comfort and 39 percent preferring flats, you might be fooled into thinking that women are sensible when it comes to their shoes.
However, a whopping 60 percent canceled those sensible figures out by admitting they are willing to tolerate pain for the sake of fashion.
If you buy killer heels, wear them once, and then keep them in the back of your closet, you are not alone.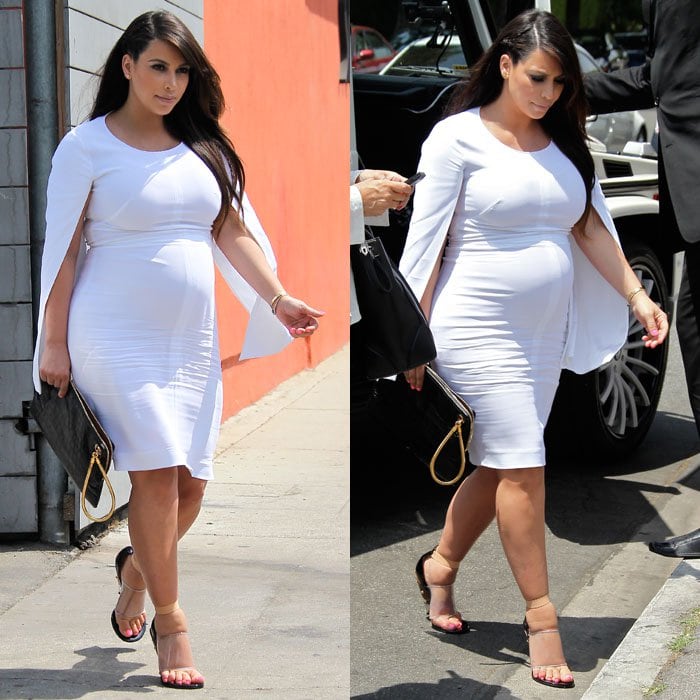 Pregnant Kim Kardashian with her visibly swollen feet stuffed in Givenchy heels while visiting Naimie's Beauty Center in North Hollywood, California, on May 16, 2013 (Credit: Dennis Van Tine / Future Image / TNYF / WENN)
6. You carry around a change of shoes
It's practical to keep a change of shoes with you. 61 percent of women do. But always having to have an emergency pair means more shoes in your closet, in your car, in your purse, or wherever you keep them. Ah, if only heels were as comfortable as they are beautiful.
Kristen Stewart changing from glittery Christian Louboutin "Iriza" pumps to her trusty Vans sneakers at the "Clouds of Sils Maria" screening held during the 52nd New York Film Festival at Lincoln Center's Alice Tully Hall in New York on October 8, 2014 (Credit: Dennis Van Tine / Future Image / TNYF / WENN)
How many shoes do you need? Make sure to check out these 60 signs that you are obsessed with shoes!