So Kim Kardashian posted Instagram pictures of her incredible shoe closet over the weekend and naturally, the love-her-or-hate-her Internet crowd is abuzz over them.
The pictures of Kim Kardashian's shoe collection are below if you haven't seen them yet.
Kim Kardashian's shoe closet – "Rainbow brights"
"Take a look at Kim Kardashian's massive shoe collection!", they say. "See how many YSLs, Guccis, Giuseppe Zanottis and Louboutins she has!"
Clearly, we're expected to be blown away by Kim Kardashian's designer-filled shoe collection and/or be disgusted by her ostentatious display of wealth.
But it's not the expensive designer labels or the stacks upon stacks of Benjamins Kim K. has that surprised us about this peek into her shoe closet (we all kind of already know that).
It's not even how she has so many red, blue, nude, and glittery shoes that she has enough to organize them according to color.
Kim Kardashian's shoe closet – "So nude"
The thing that surprised us the most about Kim Kardashian's shoe closet is how she just posted pictures of it on the internet for FREE. For someone who made a profit off of her own wedding, that doesn't sound very Kim Kardashian-ish, does it?
Even Khloe Kardashian had an Elle magazine feature before she revealed the inside of her shoe closet. Now here's the ShoeDazzle founder flaunting it all supposedly just in honor of Paris Fashion Week.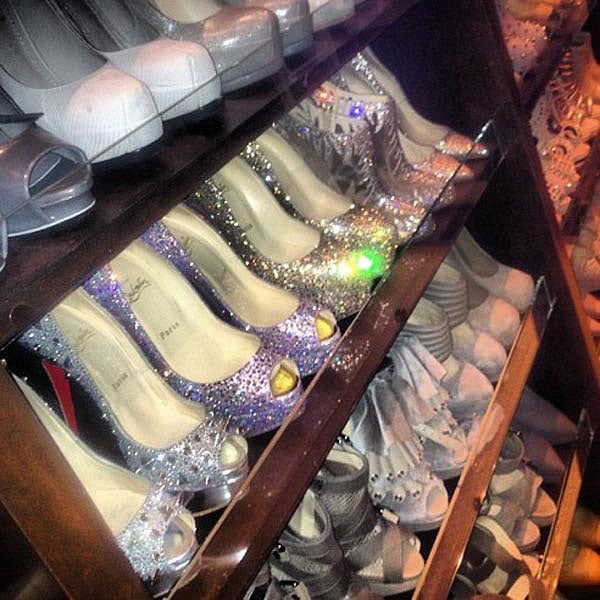 Kim Kardashian's shoe closet – "And a little bit of glitz and glam"
Plus a bonus one of Kim Kardashian standing inside her shoe closet which many others have missed:
Kim Kardashian showing off her shoe closet