Ever heard of ShoeDazzle? Well, it's a lot like JustFab except that the celebrity leading the styling pack is none other than Kim Kardashian.
ShoeDazzle was founded by Kim Kardashian, Brian Lee, Robert Shapiro, and M.J. Eng in 2009
Yep, the certified Christian Louboutin addict and reality TV star is among the founding members of this popular shoe club.
Kim Kardashian helps celebrate the opening of the new ShoeDazzle kiosk at Westfield Century City Shopping Mall in Los Angeles on January 29, 2010
How ShoeDazzle Works
Essentially, ShoeDazzle is a personalized styling service. How it works is also very much similar to JustFab:
1. Answer a few style-related questions for profiling
2. The stylists choose items for you based on your profile (around 5 per category – shoes, handbags, jewelry),
3. Enjoy browsing the shoes selected for you!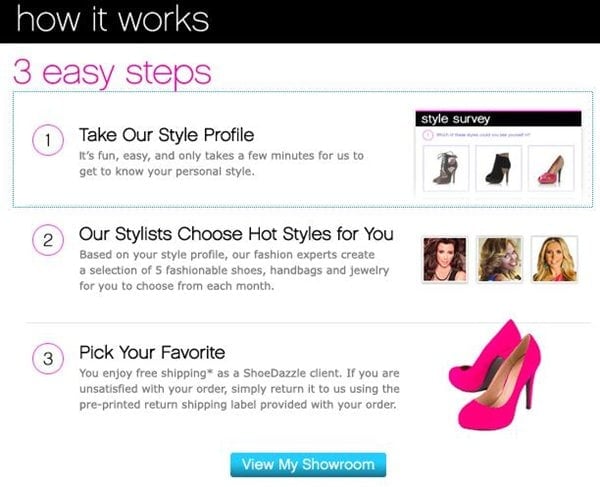 You will find the pre-selected items in your showroom, many of which cost just $39.95.
What To Do
Note that if you're a first-timer, you won't get charged until you make your first purchase. The item will be shipped to you for FREE (within the US only) so the only amount you have to spend is really just $39.95.
That's not exactly bad for a pair of shoes with FREE shipping, never mind that it isn't made of real leather.
Each month, you will get new styles handpicked by Kim and the group of stylists. If you don't like any of the selections provided, or if you have no plans to shop for that particular month, just click on the "Skip This Month" button.
This button will ONLY be available on the first five days of the month so it's very important to visit your showroom (and click that button) during this time so that you won't get charged.
If you're charged a membership fee, please note that the amount will be applied to your next purchase.
If for some reason you want new styles that are not in your showroom, you can also opt to click on the "See More Shoes" button, which will show you the shoes that almost made it to your top five:
Shoes that ALMOST Made it to the Showroom
OR, click on the "Request for Alternates" OR "Send Me New Options" buttons. These buttons will erase the previous selection and provide you with five new ones.
It'll take about 5 days so be sure to click on the "Skip This Month" button if your request falls at the start of the month to avoid getting charged for the previous selections.
Request for New Styles Questionnaire
Quick Review
Now for the review. I joined ShoeDazzle last month hoping I might find some great stuff. After all, trying it out is FREE and you only get charged when you make your first purchase.
Jenny McCarthy attends a design session with ShoeDazzle with profits benefiting the charity Generation Rescue in Los Angeles on January 12, 2011
The style profiling quiz labeled me as "Modern Cosmopolitan".
ShoeDazzle and Jenny McCarthy have teamed up for their Celebrity Shoe Design Program for Charity
I wasn't exactly sure if that was accurate given my preference for classic silhouettes but the moment I checked my showroom, I was actually impressed.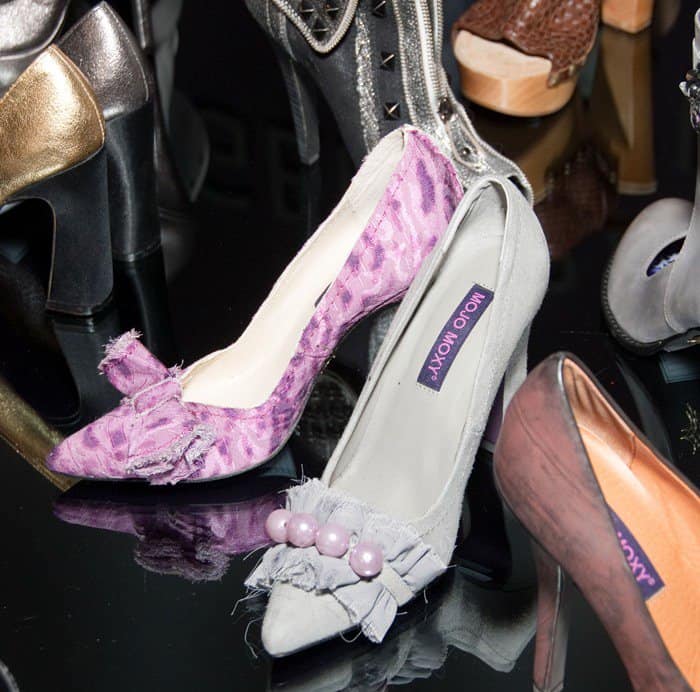 Embellished ShoeDazzle pumps and high heels
Well, not 100% impressed, but I think they almost got me profiled correctly.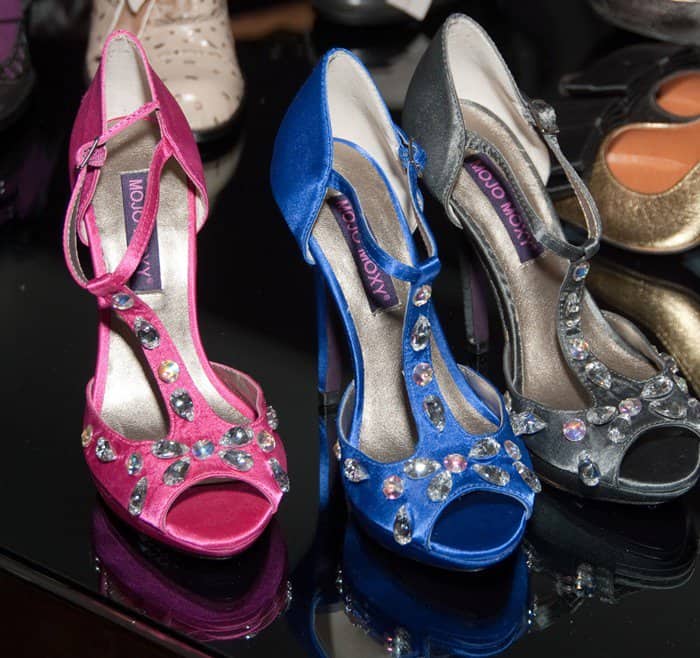 ShoeDazzle is famous for affordable high heel shoes for women
I say almost because the majority of the shoes they provided were high heel pumps in different styles. I would have wanted to see some peep toes, flats, and a few sandals.
Nonetheless, I am very much a pumps person, so browsing through my showroom was still a pleasure.
GRACIA (Kim's Pick!)
YORK
PRIMP
I have to admit, the shoes are quite pretty and I can actually see myself wearing them so for that I give ShoeDazzle an 8 out of 10. Hopefully, once I request new styles, that will improve. I will get back to you on that one soon.
As for the handbags and accessories, I give it an 8 as well. Just to show you a couple of the ones I really like:

Lust for Leather & Ocean (Jewelry Sets)
Amanda & Tribeca
The Negative
That said, the only problem I have right now with ShoeDazzle is its size offering. I am quite petite with very small (and narrow) size 5 feet and the smallest they offer is size 5.5, which is big for me. Not being able to buy the shoes is quite disappointing.
I actually voiced this concern and emailed them about it. Response time was within 24 hours. Tami, from their Client Services, explained that they do plan on expanding their size offerings to better serve clients but in the meantime, they will put me on the size waiting list so they can give me a call once a smaller size is available
She also offered to add a couple more shoes into my showroom that run a little small. She even added a Foot Petals Kit, which is supposed to address minor fit issues. So now my showroom actually has more than just 5 styles, though still mostly pumps as I have yet to request new styles.
The Go or No-Go

Other than that issue, I don't see any other reason why you shouldn't this shoe club. If you're the busy kind of girl who literally has no time to look around and shop (on a budget), this site is for you. They also offer personal styling assistance via phone if you like.
You can also view their FAQs page if you're a little hesitant. That way you come prepared before you try it out. Good luck and enjoy dazzling!
Credit: WENN / Daniel Tanner