The beauty of Chelsea boots is their versatility. Whatever your aesthetic, you can pull off a pair of Chelsea boots. These shoes work year-round and are essential to have on hand when the weather starts to turn colder.
They are one of the easiest shoes to style for both men and women, serving as an ideal investment to make into your closet.
Both men and women can wear them every day, with the right pair even being appropriate for the office.
Your closet won't be complete without at least one pair of trusty Chelsea boots at your side. The boots featured below are from Shopbop, Charles & Keith, and Amazon.
1. Jeans + Chelsea Boots
You'll find that Chelsea boots are commonly paired with denim jeans. Although any style of jeans will work, skinny jeans give you the option of tucking them into or out of the shaft of the boots.
Chelsea boots are the way to go if you need shoes that go with jeans
Depending on the season, you can complete your outfit with a blouse, blazer, or cable-knit sweater. As jeans and Chelsea boots are a classic look, it's the rest of your outfit that will determine the overall aesthetic.
If you want to go for a more casual look, you can cuff up the bottom of your jeans to show off the boots.
2. Midi Dress + Chelsea Boots
Chelsea boots are nothing if not versatile. When the summer months come around, you don't have to make a beeline for sandals and espadrilles.
One of the most popular trends in recent years has been the midi dress, which pairs perfectly with Chelsea boots.
Due to the length of the dress and the height of the boots, you show just a flash of skin without being too revealing.
Chelsea boots create an unexpected contrast when styled with floral dresses and are the perfect way to embrace your inner rock chic while still wearing a feminine dress.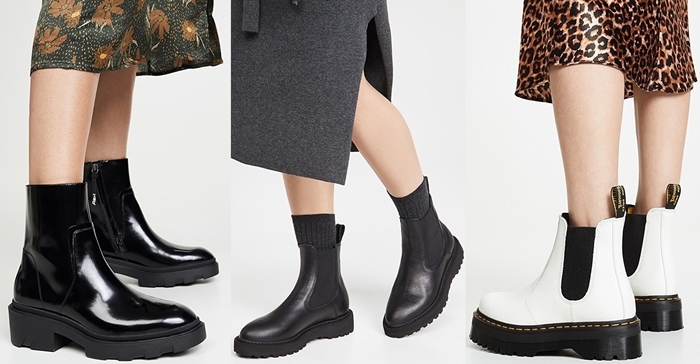 Chelsea boots can look effortlessly stylish with a midi dress
You can easily adapt this look for the colder months by adding a pair of wool tights and layering up with a cardigan or blazer. Chelsea boots let you look put together, while still feeling more comfortable than you would be in a pair of stilettos.
Along with midi dresses, bohemian-inspired outfits work well with Chelsea boots for a vintage-inspired look. Think of dresses with puff sleeves, ruching, and smock detailing.
3. Suit + Chelsea Boots
Whether it's a three-piece suit or a pantsuit, you can style them with a pair of Chelsea boots. You'll want to look for suede or leather boots to keep your outfit looking office-appropriate.
Straight legged trousers work perfectly with Chelsea boots as the material sits comfortably over the boot shaft, which elongates your leg.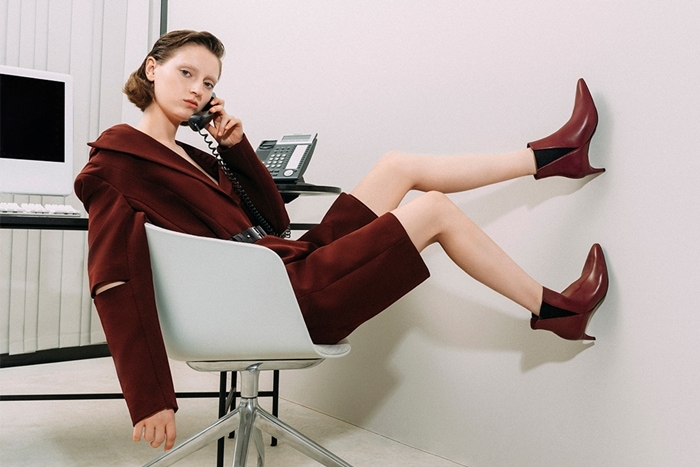 Model wearing Charles & Keith Chelsea boots at the office
If you want to create an outfit that is business casual, then try to choose a pair of Chelsea boots in the same color family as your suit. You can also never go wrong with a pair of black patent leather boots.
4. Let Your Boots Take Centre Stage
If you're a minimalist with a capsule wardrobe, then you should think of adding a fun pair of Chelsea boots. Every season the latest trends make their way into the world of Chelsea boots.
Metallic boots are the perfect way to bring a modern twist to any outfit. You can style a simple monochrome look with a pair of metallic or sparkly shoes and completely change your outfit.
Nothing says boss like a pair of Chelsea boots from Paul Evans
Don't be afraid to let your shoes take center stage and make a statement. If you're not a fan of walking in six-inch heels, swap them out for a pair of adventurous Chelsea boots.
5. Consider Sizing
Our last tip is important for both men and women. Generally, buying Chelsea boots is a straightforward process. One thing you'll want to consider though is the size of the ankle shaft.
If your legs are thinner, you might find that the shaft can be too big, causing the extra material to bunch around your ankle. The opposite can be true if your legs are larger, as you'll want to make sure the shaft doesn't sit up against your ankle.
If it's too small, this can lead to the material cutting into your leg and quickly becoming uncomfortable.