She has been inseparable from her new dog since adopting her from fellow actress Kristen Bell just a few days ago.
On Saturday, Lucy Hale introduced the newest member of her family to the world via Instagram. She shared a photo of her, her Maltipoo Elvis, and her new pup, Ethel, along with the caption: "My little family of 3. Everyone meet Ethel."
The Pretty Little Liars star added: Thank you Melissa and everyone at @wagmorpets for rescuing her & for all you do to find safe homes for these angels. And a big thank you to the best @kristenanniebell for fostering!! We love u."
View this post on Instagram
On Wednesday, Lucy was spotted pumping gas while carrying her fur baby at a gasoline station in Los Angeles.
For the afternoon outing, she opted for a blue denim shirt jacket paired with gray leggings and matching trainers.
Lucy Hale fills up her car with her new dog at a gas station in Los Angeles on February 10, 2021 (Credit: Instar / WENN)
The Katy Keene actress slipped into the Wool Dasher Mizzle sneakers in the meteorite colorway from Allbirds.
Made from renewable materials, the sneakers feature a reinforced ZQ merino wool upper incorporated with a breathable bio-based shield with fluorine-free water-repellent coating.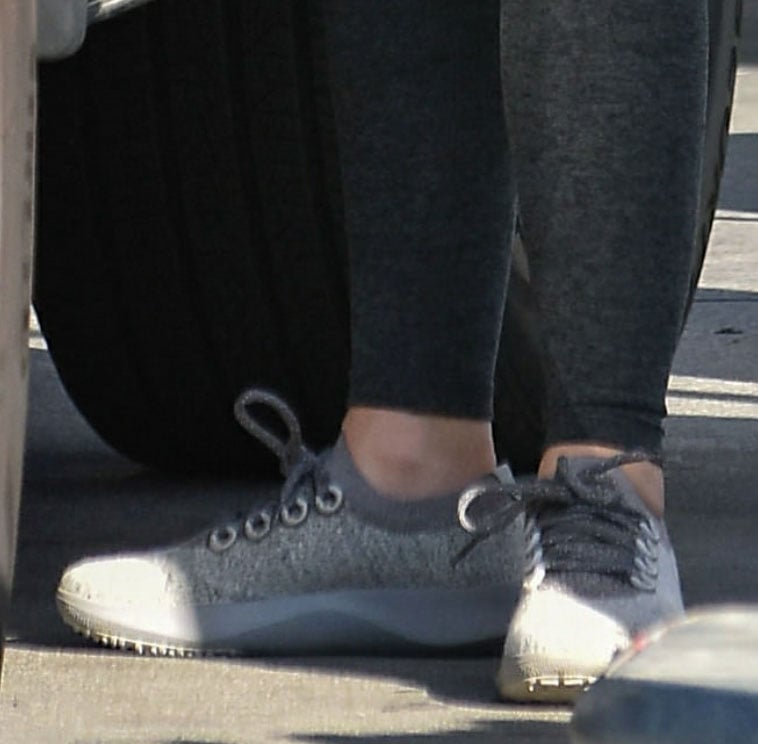 Lucy Hale slips into a pair of Allbirds Wool Dasher Mizzles shoes (Credit: Instar / WENN)
Her shoes also have dual-density sugarcane SweetFoam midsoles and Sweetfoam flared outsoles with natural rubber treads for extra traction and stability.
Allbirds Wool Dasher Mizzles, $135 at Allbirds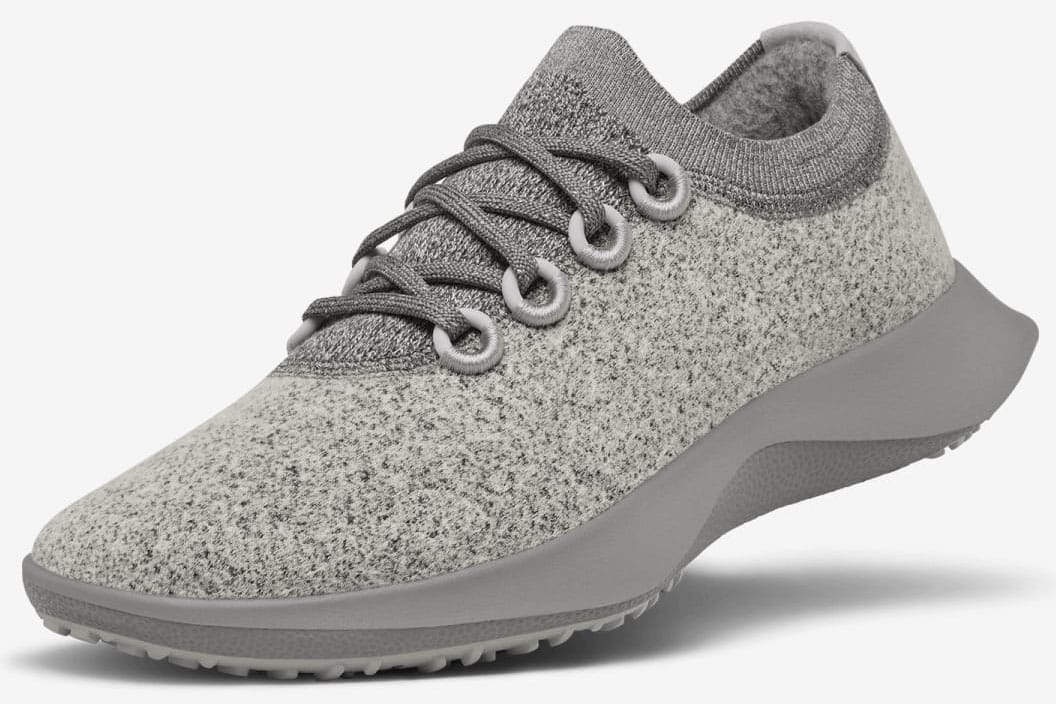 Take stormy weather in stride with this Chinese-made running shoe from Allbirds that uses natural materials to give you extra grip and keep your feet dry
Lucy elevated the casual look with gold jewelry, including several earrings and a pendant necklace. She tried to keep things low-key with a pair of round-framed sunglasses, barely-there makeup, and a casual bun hairstyle.
Lucy Hale wears Paradigm sunglasses and multiple gold earrings (Credit: Instar / WENN)
On Tuesday, the 31-year-old actress was seen cradling her new pup in a gray sling while running errands in LA.
Lucy went the rock-chic route, wearing a black leather biker jacket over a black-and-white horizontal-striped long-sleeved top.
She teamed the look with Tribe Kelley Butter sweatpants featuring the usual cuffed ankles and waistband.
Lucy Hale cradles her newly adopted pup, Ethel, in Tribe Kelley sweatpants (Credit: Instar / WENN)
With her hair pulled away from her face, Lucy showed off her multiple ear piercings with an array of gold earrings.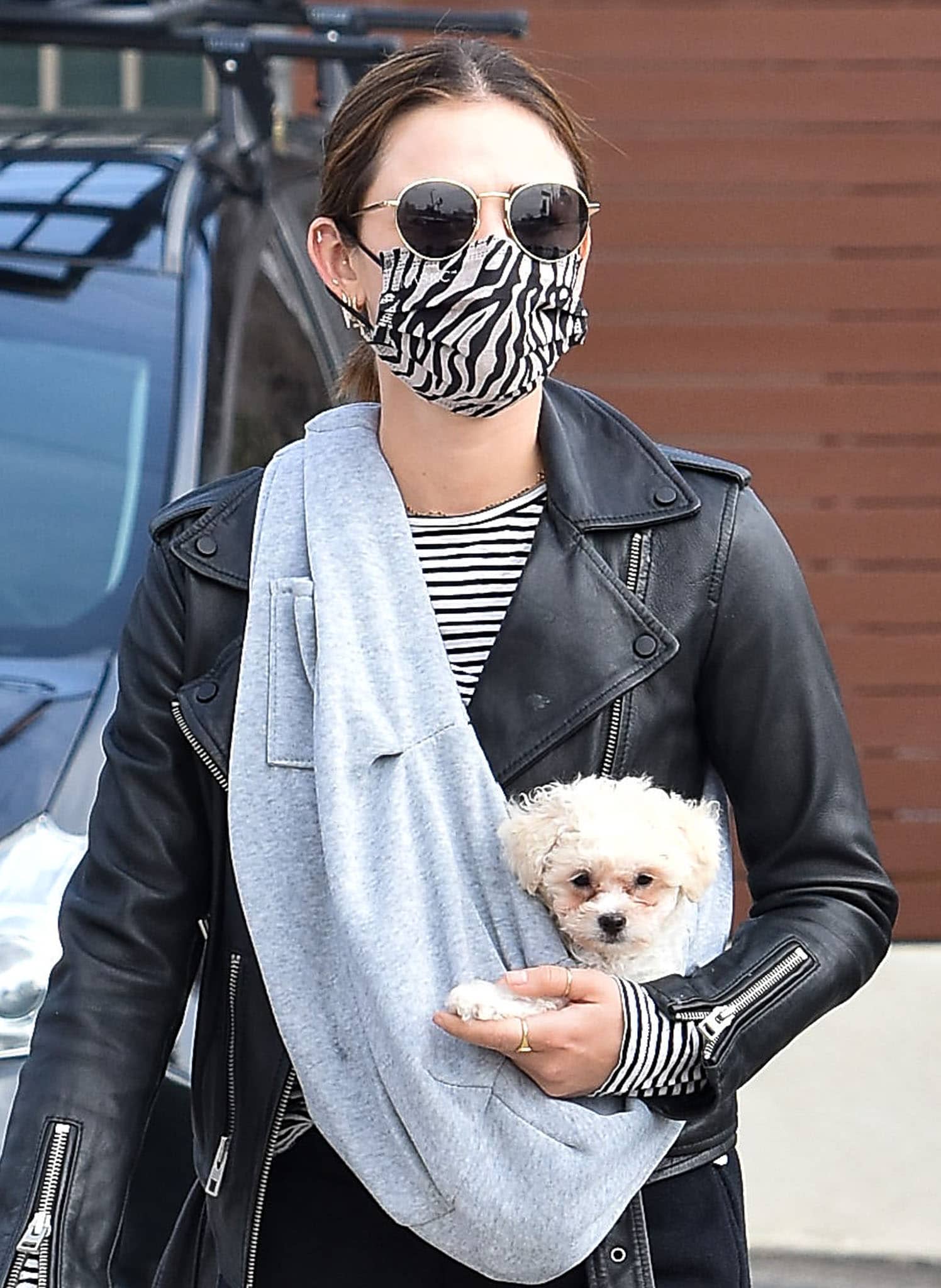 Lucy Hale stays safe with a Maskc zebra-striped face mask (Credit: Instar / WENN)
She wore her round sunglasses and stayed safe with a zebra-print face mask from Maskc.
Lucy Hale teams her rock-chic outfit with Converse Chuck Taylor high-top sneakers (Credit: Instar / WENN)
To complete her monochrome look, Lucy opted for a white pair of Converse Chuck Taylor High sneakers.
Converse Chuck Taylor All Star High-Top Sneakers, $41.22 – $129.77 at Zappos
Add a retro staple to your style with the iconic silhouette of the Converse Chuck Taylor All Star '70 Hi sneakers
Before stepping out in her tough-chic ensemble, Lucy was spotted leaving a fitness studio in an athleisure outfit earlier that day.
She paired a red Richer Poorer relaxed long-sleeved top with gray skintight leggings that showed off the fruits of her hard work.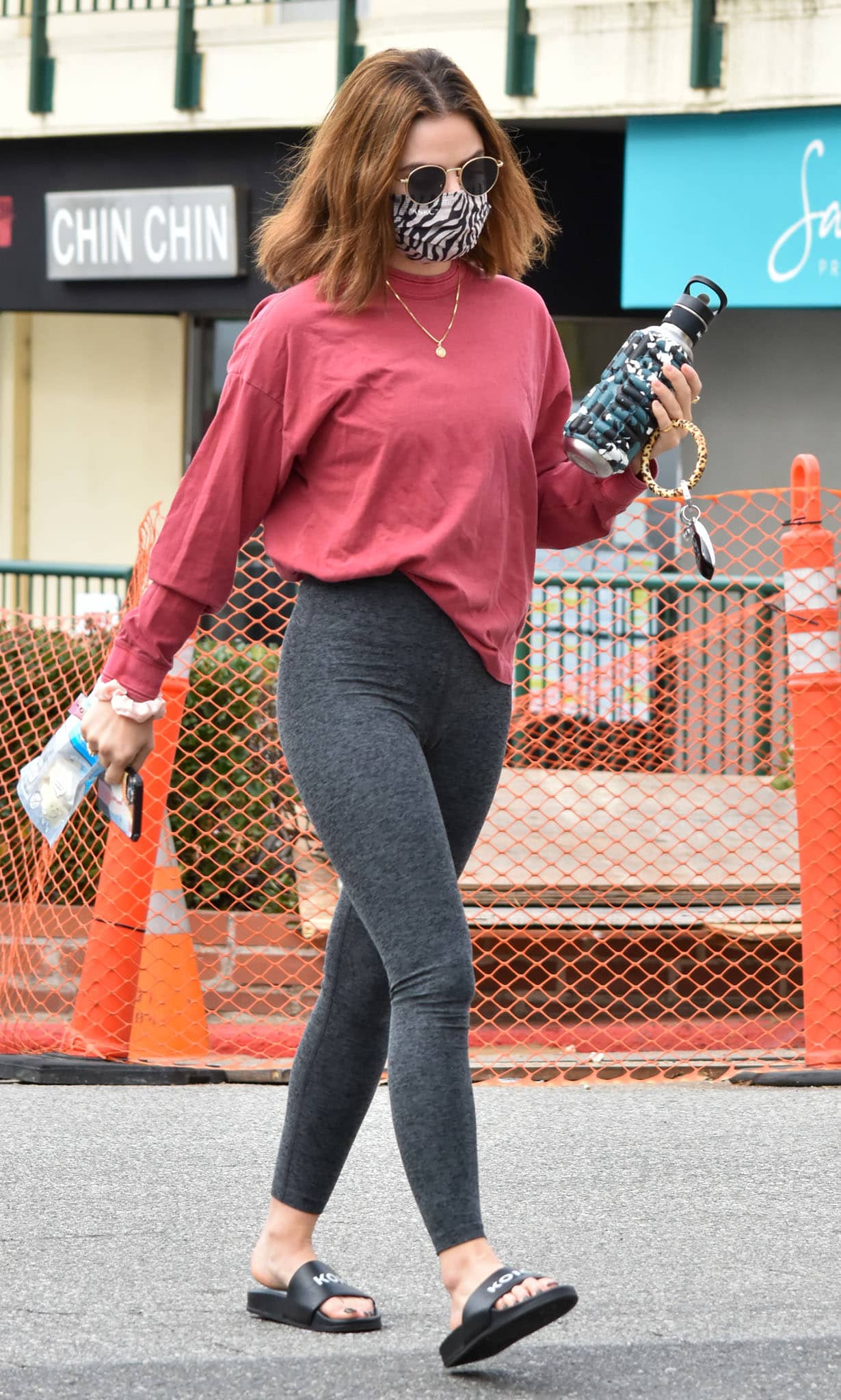 Lucy Hale leaving a workout session in Los Angeles on February 9, 2021 (Credit: Instar / WENN)
Carrying her keys and water bottle in one hand, Lucy wore her short tresses loose and covered her face with a Maskc zebra-striped face mask and Paradigm sunglasses.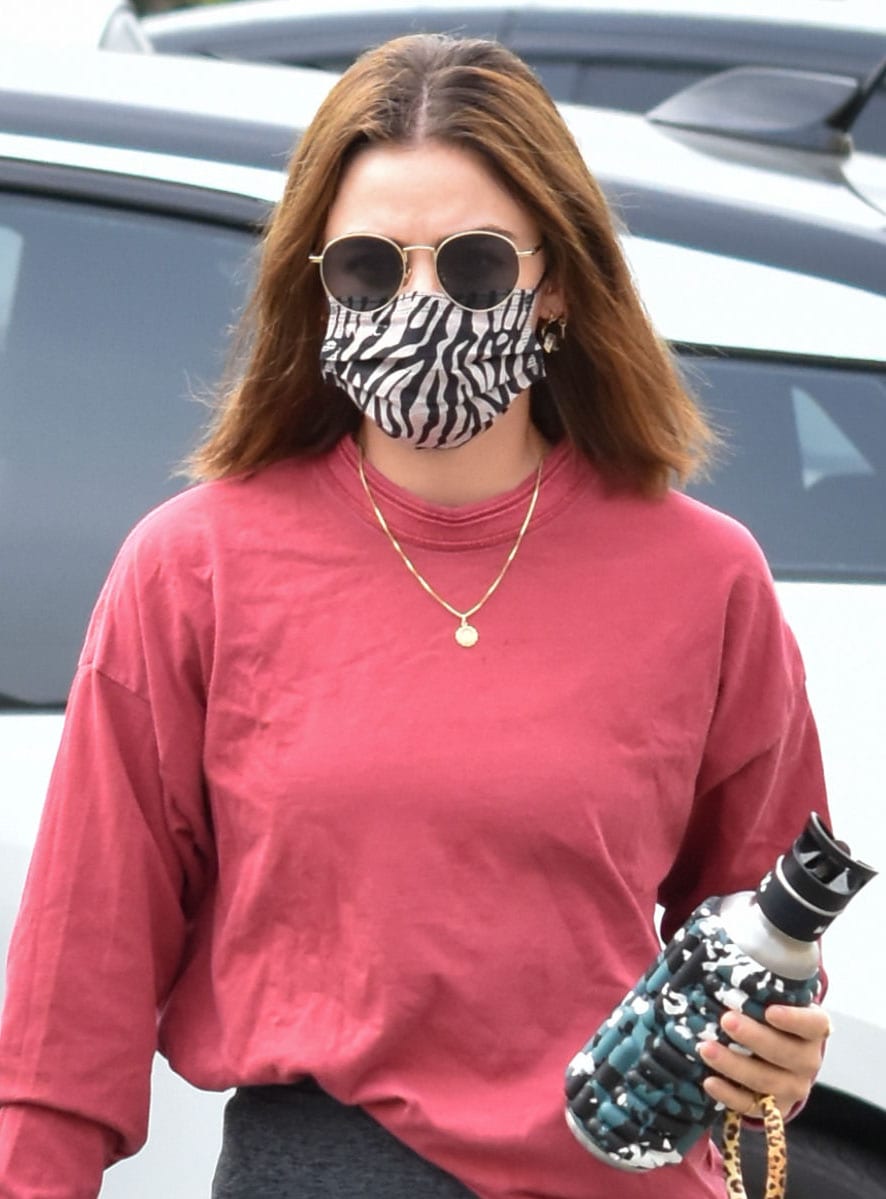 Lucy Hale keeps her hair down and covers her face with Paradigm sunnies and Maskc face mask (Credit: Instar / WENN)
Sporting a black pedicure, Lucy completed her look with Koio black leather slide sandals.
Lucy Hale wearing a pair of black Koio slide sandals that show off her black pedicure (Credit: Instar / WENN)
Keeping up with her workout routine, Lucy was seen on a solo hike in LA on Monday.
She grabbed an iced coffee before going for a walk in her Alo Yoga Stadium half-zip cropped hoodie and Mono B seamless hybrid pocket ribbed shorts.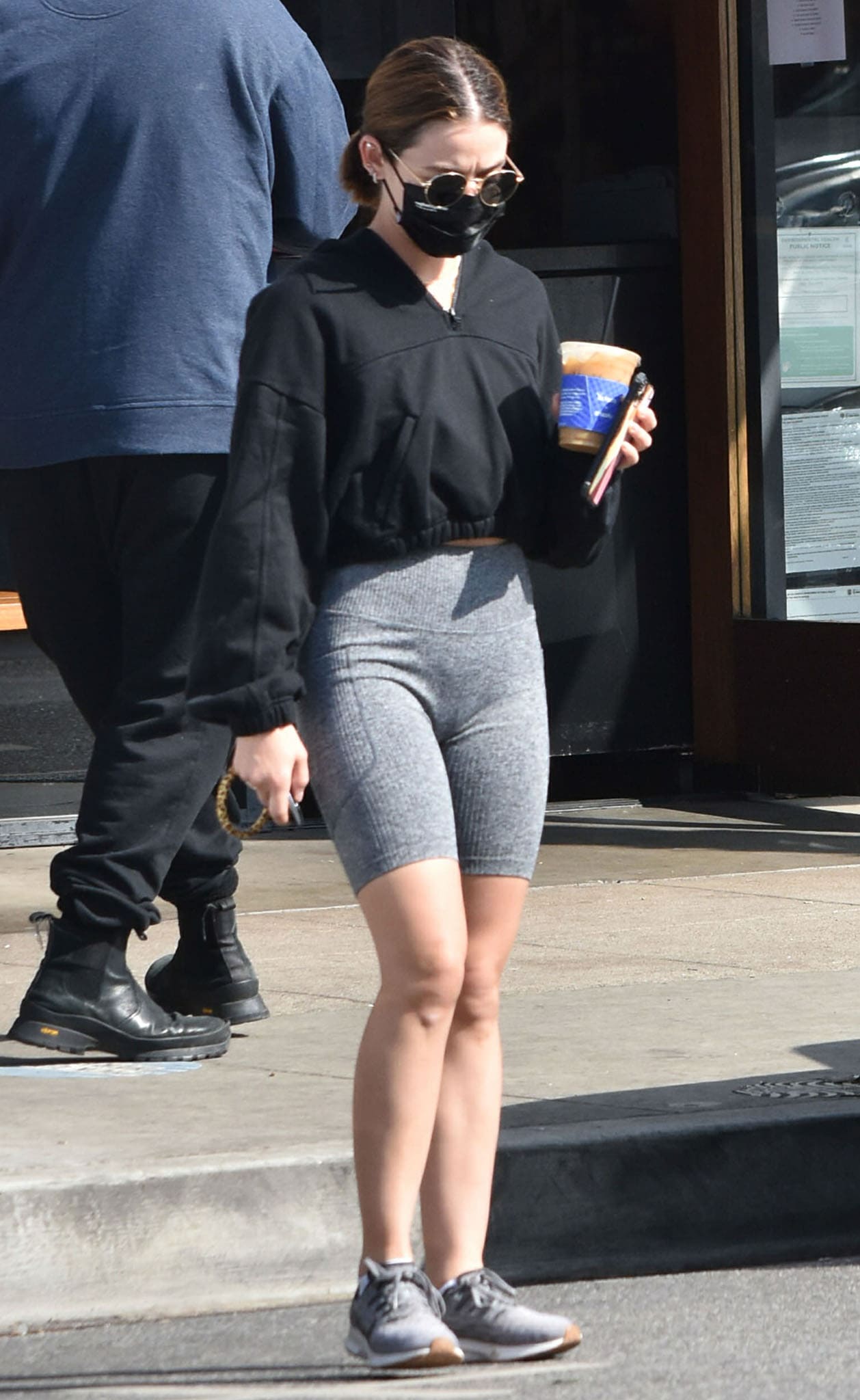 Lucy Hale grabs an iced drink before hiking in Alo Yoga cropped hoodie and Mono B Athleisure shorts on February 8, 2021 (Credit: Instar / WENN)
The Wizards of Waverly Place star then wore pink headphones and accessorized with several earrings and her favorite Paradigm sunnies.
Lucy Hale goes hiking with headphones on (Credit: Instar / WENN)
A pair of Nike Air Zoom Pegasus 36 sneakers rounded out her hiking look.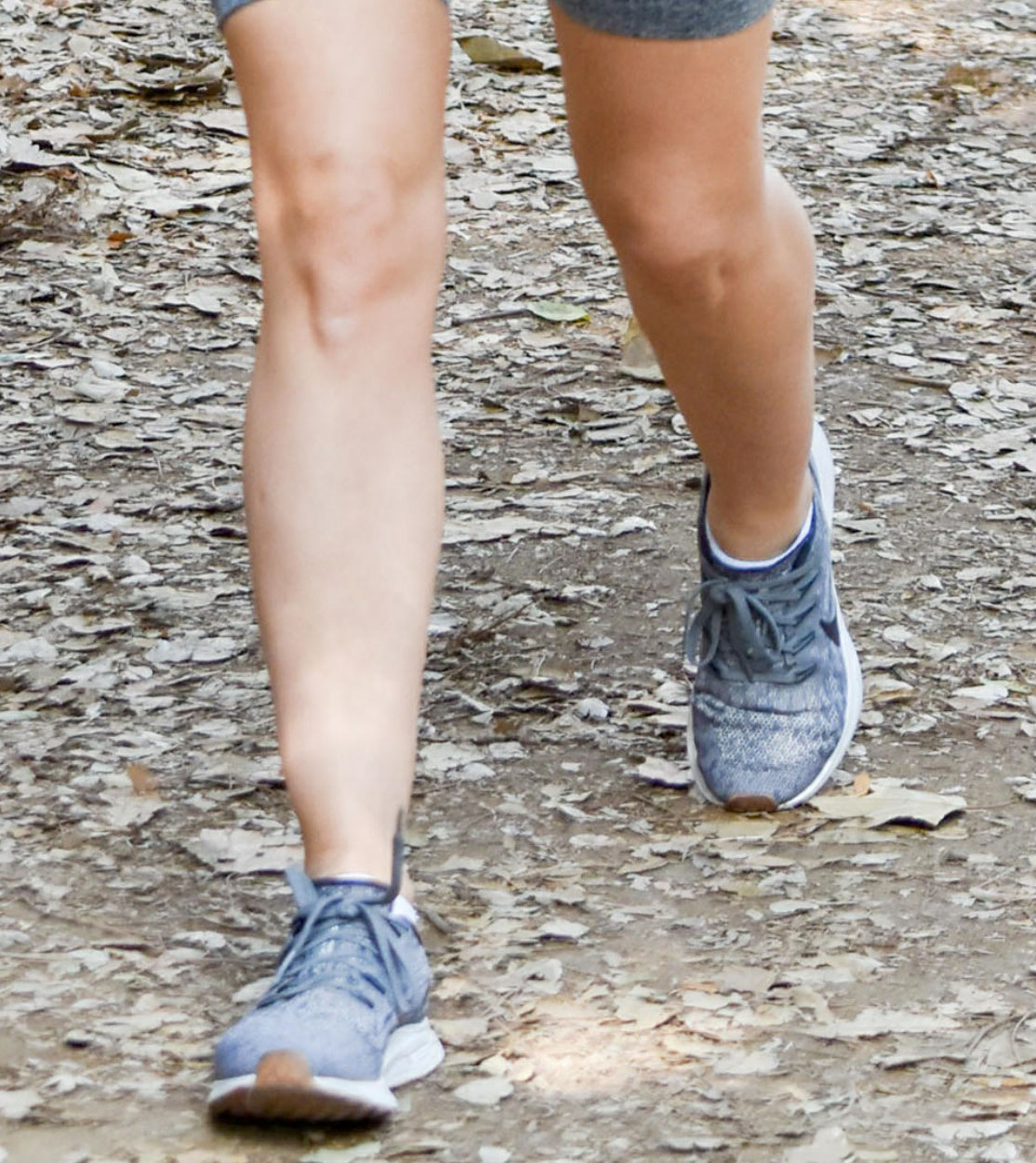 Lucy Hale wears the Nike Air Zoom Pegasus 36 for her trail hike (Credit: Instar / WENN)
Right after announcing her newly adopted pup on Saturday, Lucy stepped out to run some errands around her neighborhood.
She looked chic in a black-and-white outfit, which included a striped shirt dress that fell a few inches above her knees.
Lucy Hale steps out to run errands in a striped shirt dress and black denim jacket on February 6, 2021 (Credit: Instar / WENN)
She teamed it with a black denim jacket and a pair of black Bottega Veneta BV Chelsea lug boots.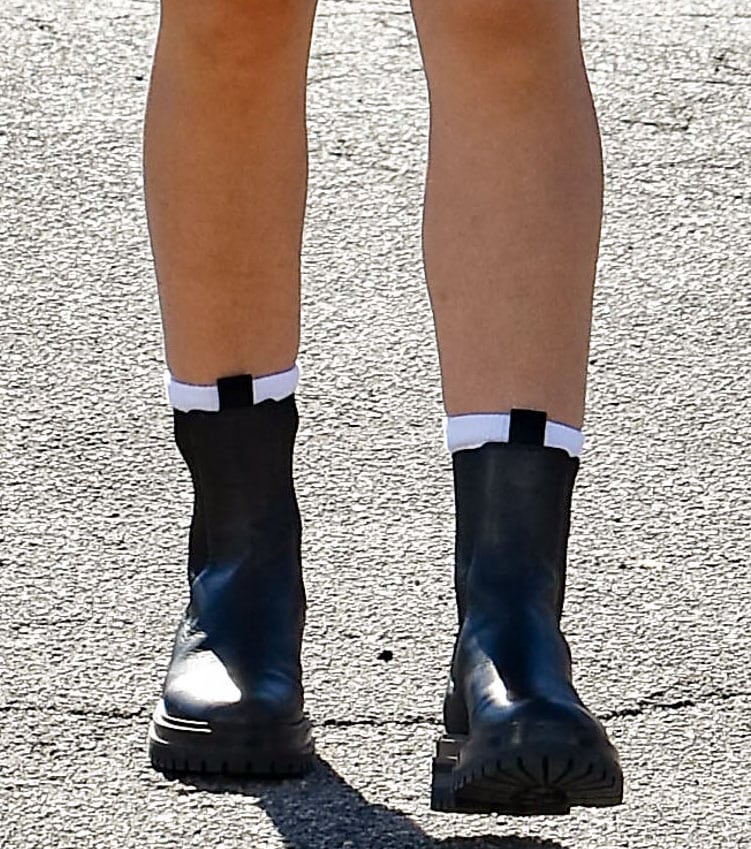 Lucy Hale completes her chic look with Bottega Veneta Chelsea boots (Credit: Instar / WENN)
Crafted from calf leather, these Chelsea boots feature elasticated side panels, tonal rear pull tabs, 1-inch platforms, and 2-inch heels with lugged rubber soles.
Bottega Veneta BV Lug Leather Ankle Boots, $1,450 at Mytheresa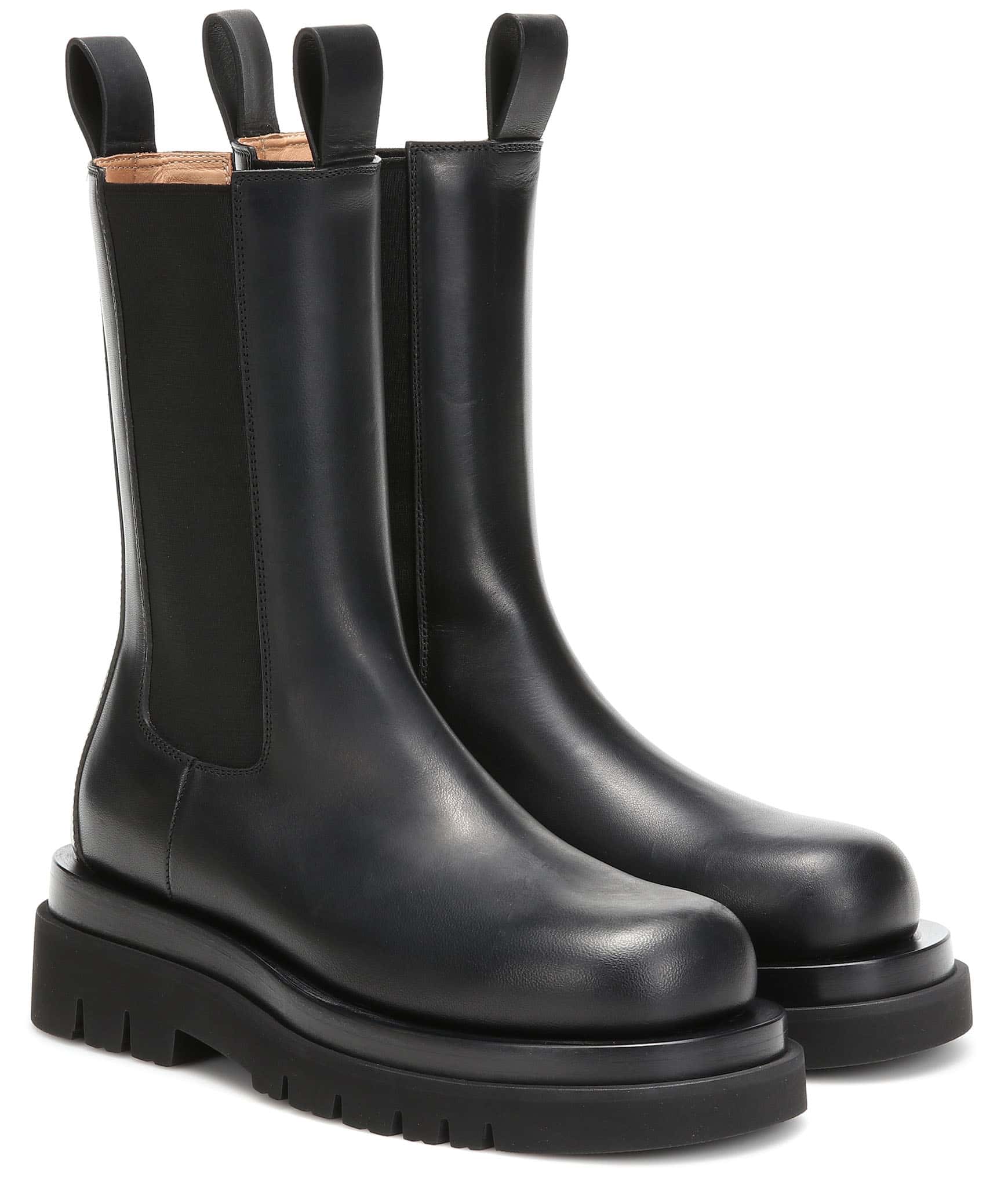 Usher practicality into your wardrobe with these Chelsea-inspired BV Lug ankle boots from Bottega Veneta (Credit: Instar / WENN)
Last week, Lucy Hale was seen flaunting her perfectly toned legs while strolling around Studio City.
She wore a pair of light gray shorts with a cream-colored Venus Et Fleur hoodie and added a pop of color to the look with the Nike Air Max 270 sneakers.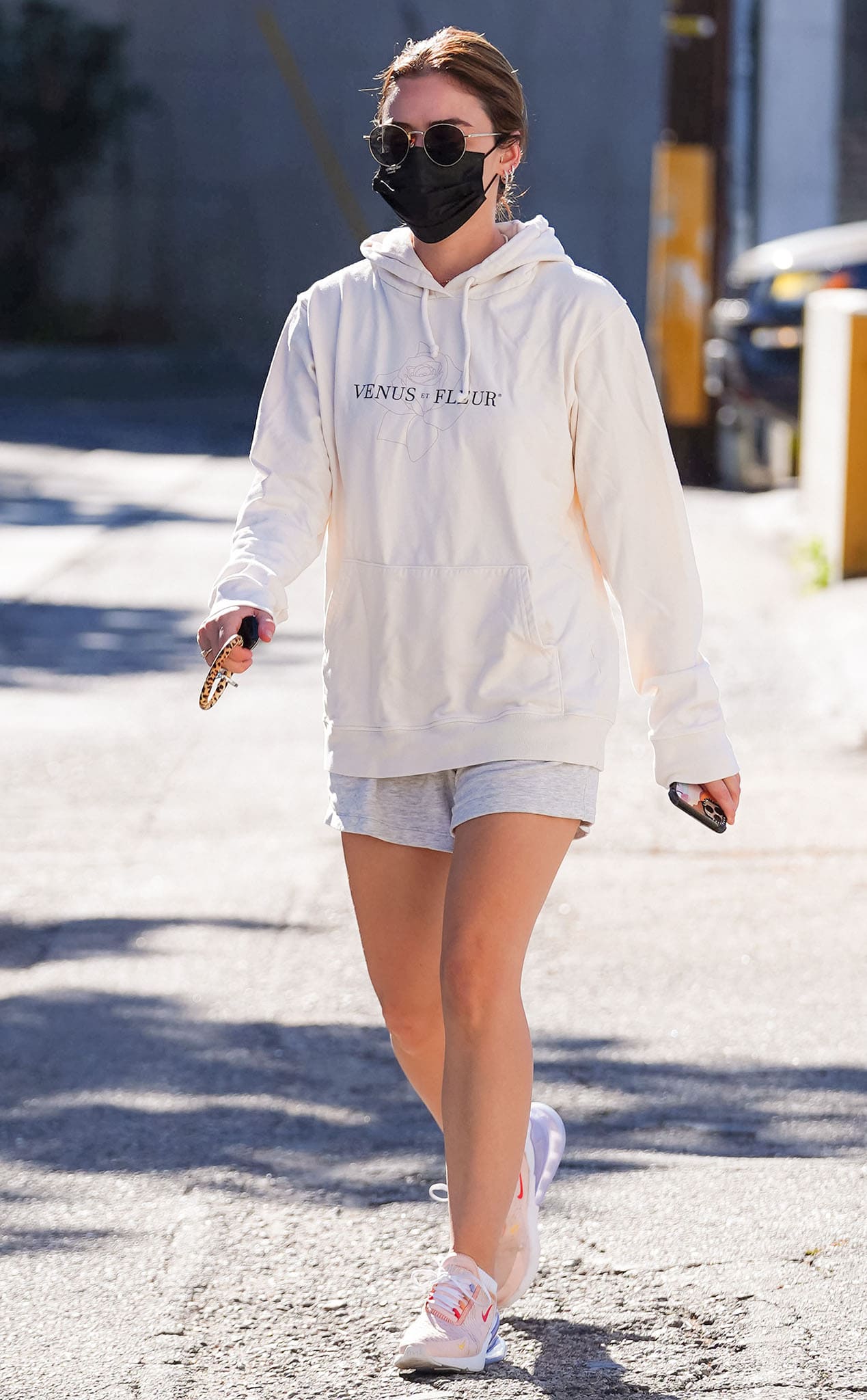 Lucy Hale strolls around Studio City in Venus Et Fleur hoodie on February 5, 2021 (Credit: Instar / WENN)
She chose the Air Max 270 in pastel colorway, released in spring last year. It features a washed coral base with hints of red, orange, yellow, and purple colors.
Lucy Hale adds color to her look with Nike Air Max 270 in Washed Coral pastel colorway (Credit: Instar / WENN)
A day before showing a leggy display, Lucy Hale walked Elvis in a head-to-toe black ensemble.
She covered up in a black Tkees Core Crew sweatshirt teamed with matching Sleek Fleece pants.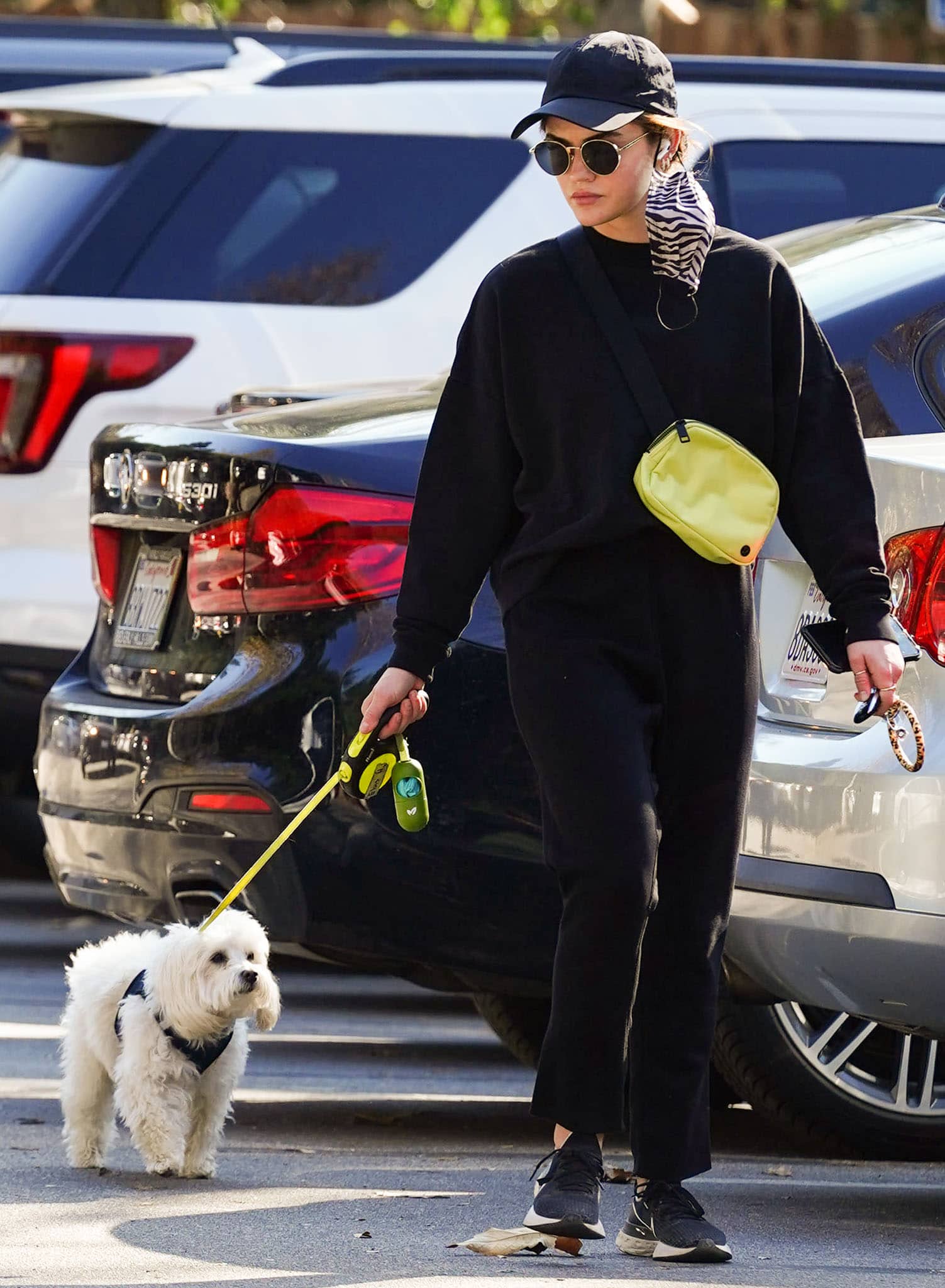 Lucy Hale takes her Maltipoo Elvis out for a walk in a Tkees sweater and pants on February 4, 2021 (Credit: Instar / WENN)
Lucy also wore a black cap and slipped into a pair of Nike Renew Run sneakers in a black-and-white colorway.
A neon yellow Lululemon Everywhere belt bag added a splash of color to her look.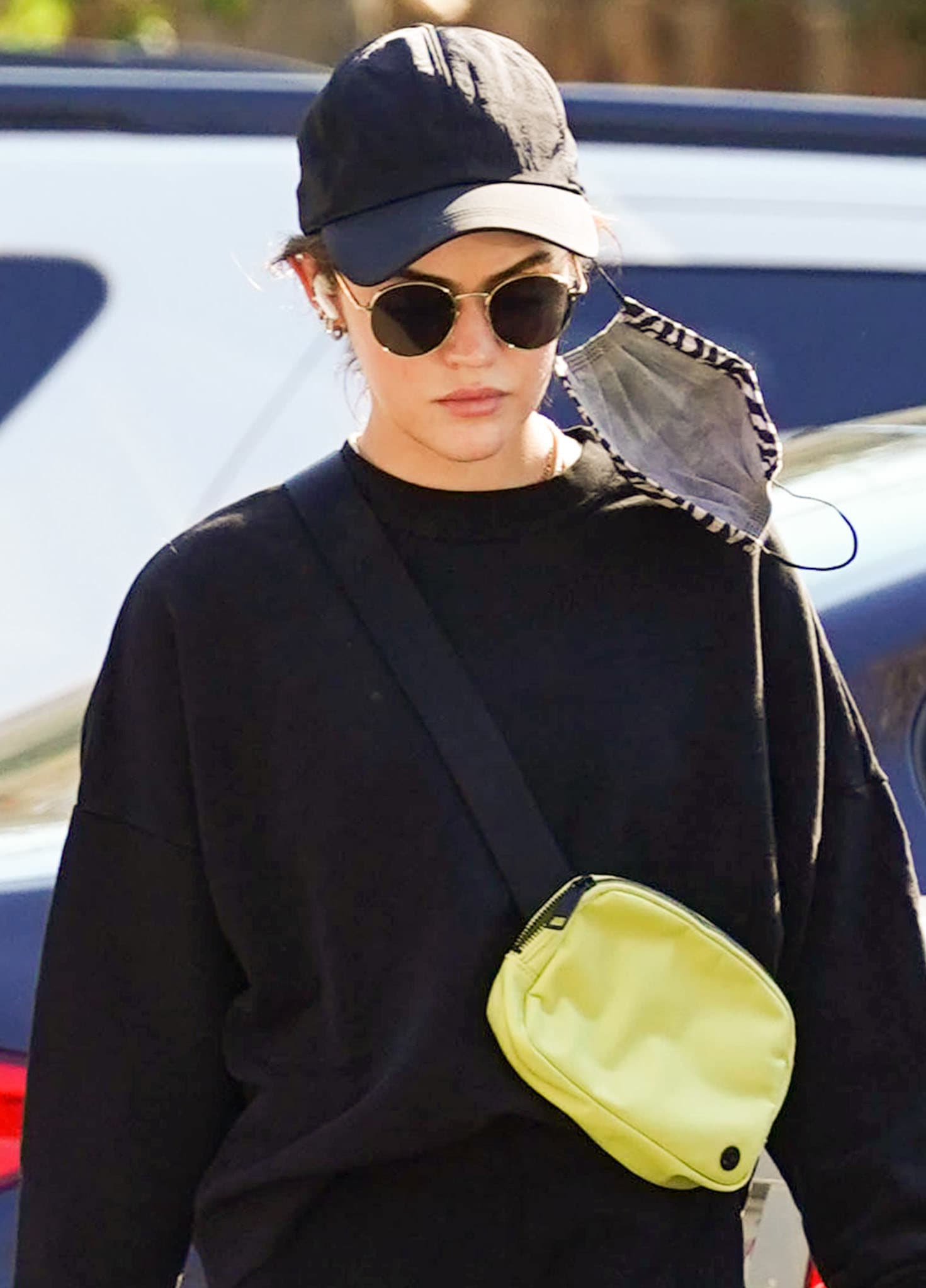 Lucy Hale adds a pop of neon yellow to her look with a Lululemon belt bag (Credit: Instar / WENN)