Rarely seen in the same shoes more than once, Lucy Hale stepped out for a walk on Friday in Studio City, California. She rocked gray Nike Air Zoom Pegasus 36 sneakers that have been discounted at Zappos.
Lucy Hale rocks gray Nike Air Zoom Pegasus 36 sneakers on June 12, 2020, in Los Angeles, California
One day earlier, her friends threw the Wizards of Waverly Place actress a birthday dinner that featured a Tiger King birthday cake. She was born 31 years ago on June 14, 1989, in Memphis, Tennessee.
Lucy Hale totes a pink HydroFlask water bottle
Best known for her portrayal of Aria Montgomery in the Freeform series Pretty Little Liars, she styled her authentic Nike shoes with black leggings featuring a brown zebra-stripe waistband, a gray cropped T-shirt, a pink HydroFlask water bottle ($34.95 at Dick's Sporting Goods), Ignite ankle weights, a black iPhone case, Apple Airpods, and Ray-Ban hexagonal flat lens sunglasses.
Nike Air Zoom Pegasus 36 Sneakers, $102 – $120
With an improved Flymesh upper, enhanced breathability, and responsive cushioning, these running shoes will push you farther and farther than ever before. They're also available in black at Zappos.
I am on my feet all day. I am a real estate investor. I can't dress up because I'm going in and out construction sites, hardware stores and running errands. I prefer to wear stylish activewear and sneakers. This shoes are VERY comfortable and offer great support. I am overweight and prone to knee pain. After wearing these shoes for a few days of work, my knee pain has faded. I am ordering more colors.

These sneakers feel like a dream. I have extremely high arches and for whatever reason, shoes without much arch support feel the most comfortable, so these sneakers are perfect. They are really good-looking, and I get compliments from people at the gym fairly regularly.

I have moderate sciatica which bothers my feet so good sneaks are crucial. These are really comfortable for walking! Width feels good, cushioning is there but not too much; I like the gray/black simple color combo which feels modern. Good shoe!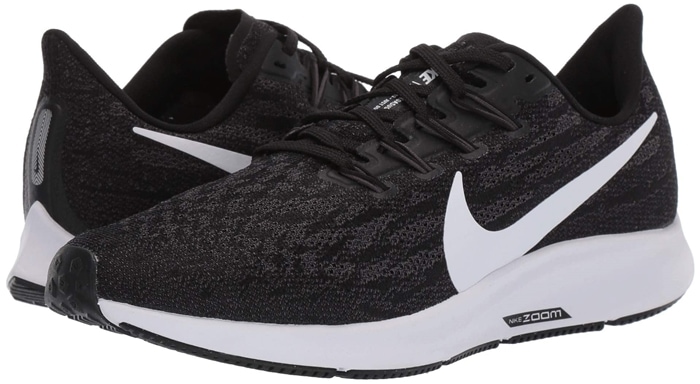 Credit: Instar / WENN