Leggings are one piece of clothing you can wear year-round. Whether it's a pair of classic black leggings, yoga pants, or your latest activewear purchase, you can style them in a dozen different ways.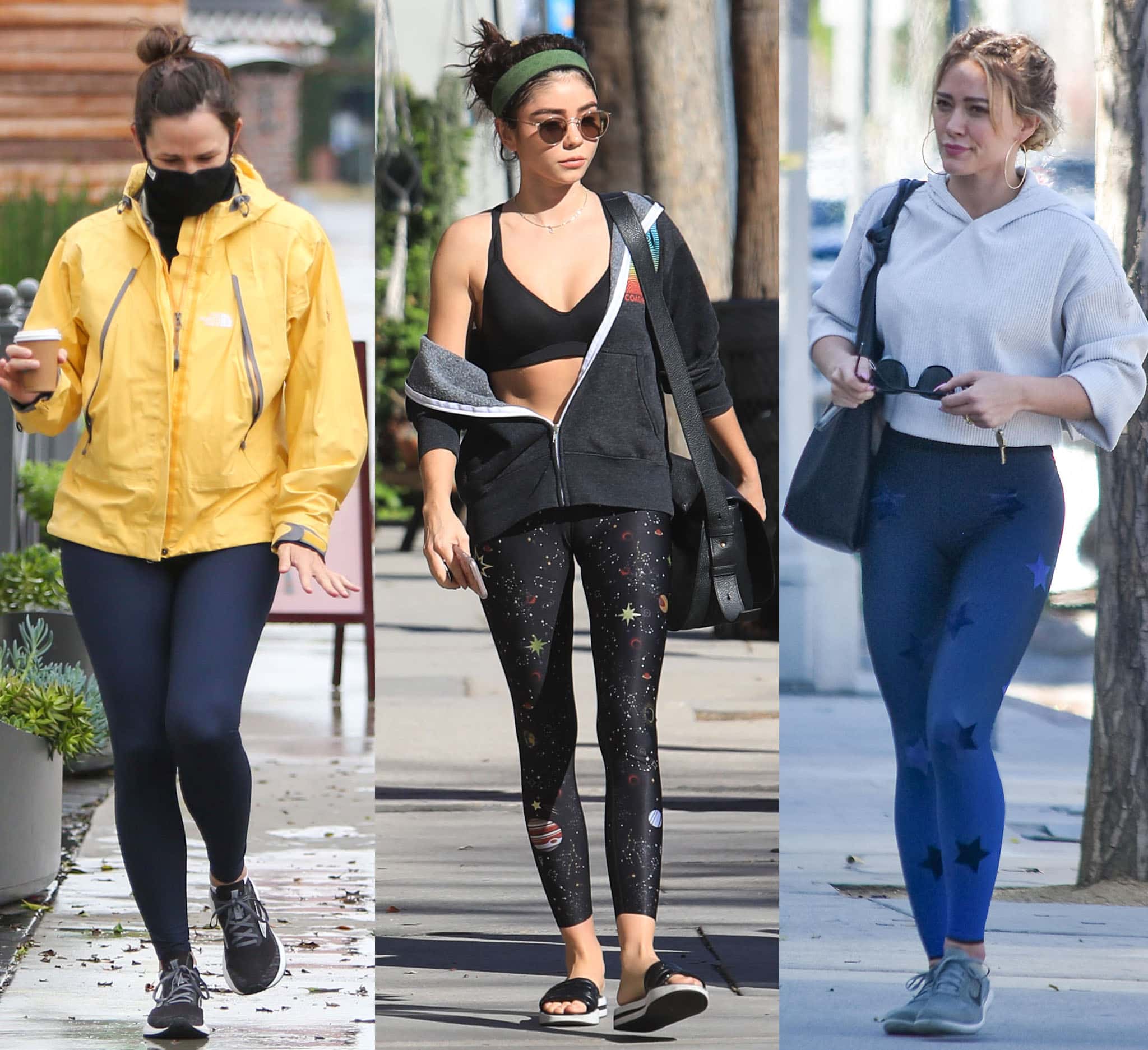 Jennifer Garner, Sarah Hyland, and Hilary Duff go for athleisure looks in leggings (Credit: Instar / WENN)
The right pair of shoes can take your leggings from a casual loungewear look to an outfit you can wear to the bar or dinner with friends. We all have a pair of black leggings that are our go-to for every season.
Lucy Hale, Sophie Ellis Bextor, and Eva Longoria show street-chic outfits with leggings (Credit: Instar / WENN)
Is there anything more comfortable than wearing your favorite leggings and an oversized sweater?
Our guide helps you get the most out of your favorite leggings by showing you the ten pairs of boots, sandals, and sneakers to wear during winter and summer.
We're also going to tell you which shoes you shouldn't wear with workout tights and yoga pants to avoid a fashion faux pas.
Leggings are everyone's go-to choice when you want to be comfortable and stylish. While we think these trousers can go with almost anything, we have ten shoes you should keep in the front of your closet to wear with your favorite leggings during winter and summer.
We also have outfit ideas for how you can style your leggings with these shoes for everyday wear.
1. Trainers (Winter and Summer)
When you're shopping for leggings, there are two types to consider, fashion leggings and activewear leggings. Adding a pair of trainers to either of these styles will give you an instant athleisure look.
Whether you're heading to the gym or want to fool people into thinking you are, pair your leggings with running trainers. Make sure to pick up a pair of ankle socks to wear with your trainers, as long socks are a no-go with leggings.
Nike Air Max Bella TR 3 Trainers, $79.95 on Amazon
Wear the Nike Air Max Bella 3 trainers with your leggings for an instant athleisure look
You can create a more refined outfit by choosing trainers that match your leggings for a monochrome look. Shop around in stores like Nike, Adidas, and Puma, to find a pair that works with your style.
If you want to make your shoes more versatile, look for running shoes with a platform. Finish off your outfit with a hoodie, running jacket, or a classic white t-shirt.
2. Ballet Flats (Winter and Summer)
Channel your inner Audrey Hepburn with a pair of ballet flats. Wearing a pair of leggings doesn't mean your style is put in a box and has to be casual. These shoes work best with classic black leggings to create a casual-chic look.
If you're looking for a business casual outfit, add an oversized white blouse and blazer with button detailing.
Chloe Lauren Scalloped Leather Ballet Flats, $495 at Nordstrom
A classic pair of Chloe Lauren ballet flats are perfect with leggings no matter the season
Ballet flats are the secret to creating a Parisian-inspired look. You can use your leggings as an alternative to tights and wear them with a sweater dress.
If you're not sure where the day might take you, style your leggings with a pair of ballet flats.
Nina Esther Glitter Ballet Flats, $20 – $39.99 at Nordstrom
Elevate your leggings look with a pair of Nina Esther glittery ballet flats
This outfit is one of the most versatile you can create with a pair of leggings. Try ballet flats with a faux reptile finish for an elevated look. If you want to add a feminine twist to your outfit, search for a pair with bow or glitter detailing.
3. Sneakers (Winter and Summer)
If you want an athleisure look you can wear anywhere, including the cocktail bar, try a pair of sneakers. White platform sneakers work with any color of leggings and allow you to have comfort without compromising on style.
Dig out your latest pair of sneakers and show them off with leggings the next time you're heading out for an iced latte or to grab brunch with your friends.
The model below is wearing Reebok x Victoria Beckham seamless high-rise leggings ($72 at Shopbop) with white APL: Athletic Propulsion Labs TechLoom Breeze sneakers ($220 at Shopbop).
You'll never go wrong with a pair of white sneakers and leggings combo
You can bring together two of the most versatile pieces of your wardrobe to create a wearable outfit that can take you from day to night.
You can swap out the laces in your sneakers for a bright pair to give your outfit a pop of color. If you're not a fan of laces and want something more carefree, choose a pair of slip-on shoes like the ones below from Shopbop.
Wear simple slip-on sneakers or shoes with leggings or yoga pants for an easy-casual style
You'll want to keep your sneakers at the front of your wardrobe to wear in both summer and winter with your go-to pair of leggings.
4. Knee-High Boots (Winter)
We've all experienced the pain of trying to get a pair of knee-high boots on with jeans. Unless your jeans are like a second skin, it can take you ten minutes to get a pair of boots on.
Knowing what to wear with a pair of knee-high boots can be difficult and frustrating. Leggings are the perfect trousers to wear with boots as they make it easier to slip them on over your leg.
London-based fashion influencer Doina Ciobanu, English actress Kate Beckinsale, and American model Ashley Haas show three ways to wear knee-high boots with leggings (Credit: BauerGriffin / INSTARimages / Runway Manhattan / Valentina Ranie / Cover Images)

These shoes work best for winter with neutral-colored leggings. The trick to pulling off this look is to let your boots take center stage and for your leggings to compliment your shoes.
You can take a leaf from the Kardashian style book by keeping your look monochrome with black boots, leggings, and a matching sweater.
5. Slides (Summer)
The next time you go to the airport, you can be sure to see fellow passengers sitting at the gate wearing a pair of slides with their leggings. These shoes are the perfect alternative to flip-flops and give your leggings an athleisure look.
You can use slides as a way to give your outfit a pop of color. Slides come in every color under the rainbow, whether you want to be pretty in pink or bold with a vibrant blue.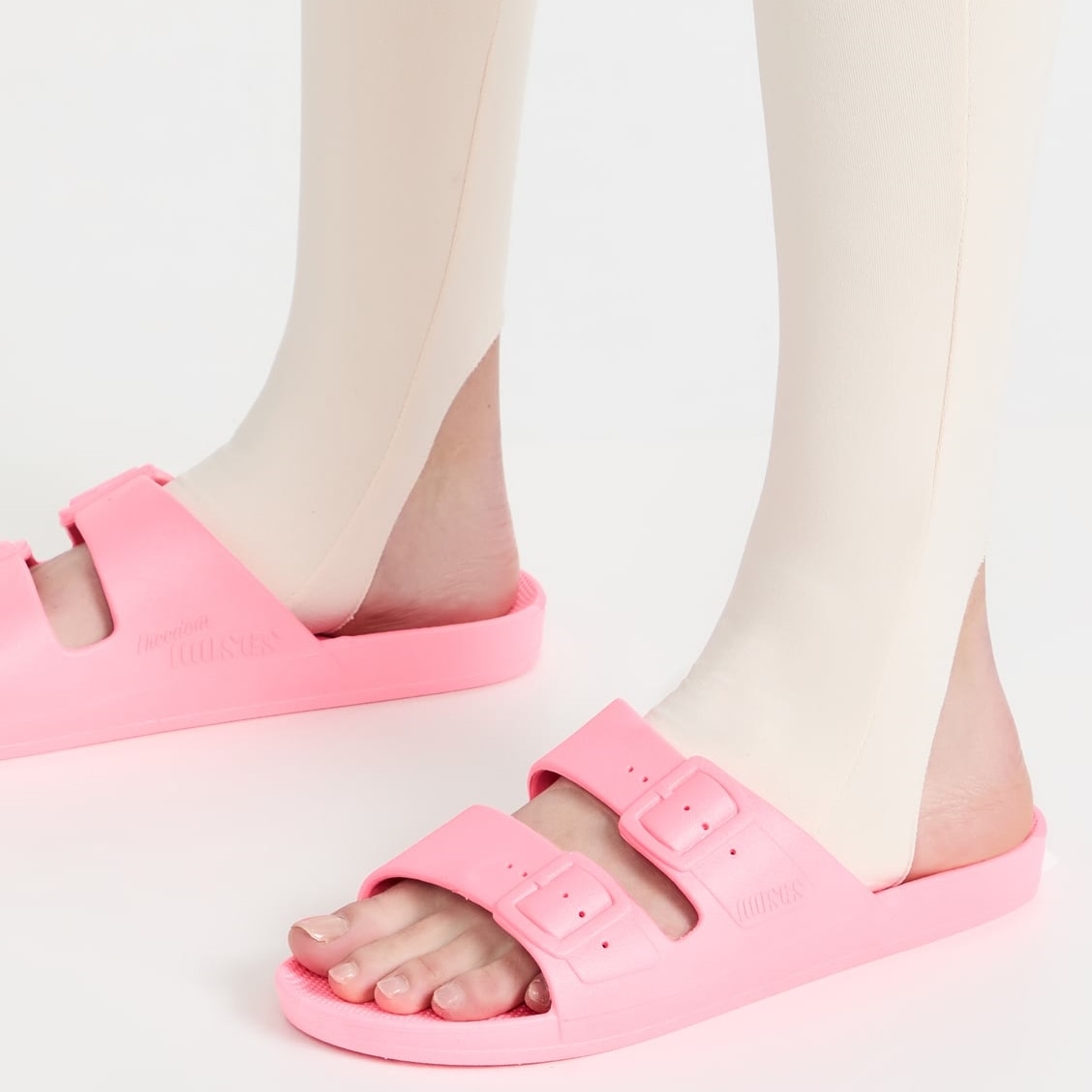 Pink Freedom Moses two-band slides worn with Live The Process stirrup leggings
Slides and leggings work with everything from a classic white t-shirt to a blouse or a leather jacket. This combination will take you from a yoga class to dinner with friends.
It's also the perfect outfit for a self-care day when you're going to a pedicure appointment or a trip to the spa.
A comfy Nike slide with exotic snake-print straps is exactly what you need for a comfortable summer getup
6. Espadrilles (Summer)
Not everyone loves an open-toe shoe. If flip-flops are your enemy or you don't like having to keep on top of your pedicures, espadrilles are the perfect alternative.
They're an instant way to make any outfit chic, and you can walk a mile in these shoes. Whether you're heading to the beach or spending the summer at the poolside bar, you'll want to wear these shoes with your leggings.
You can make your favorite leggings look chic with a pair of espadrilles (Credit: Michelle Sangster / Picture-Alliance / Cover Images)

Espadrilles and leggings are the perfect off-duty look for summer. If you have a vibrant print on your leggings, choose a pair of neutral color espadrilles to let them pop.
If you're packing for a tropical vacation, add a pair of espadrilles and leggings into your carry-on. They make the perfect outfit for a day of sightseeing.
7. Ankle Boots (Winter)
When you're wearing ankle boots, you want a pair of trousers you can tuck inside the shoes.
Leggings are ideal as they fit snugly against your leg and can make your calves appear smaller by leaving a gap between your ankle and the boots.
Blanca Padilla, Luna Bijl, and Gigi Hadid show three ways to wear ankle boots with leggings (Runway Manhattan / Michael Ip / Cover Images / INSTARimages / Roger Wong)

Choose a pair of ankle boots with a heel for date night or a shopping trip. When the snow starts to fall, swap them out for flat Chelsea boots as a sleeker alternative to trainers.
If you have a pair of leggings with a distressed pattern or a shiny finish, you can put together an edgy outfit with ankle boots. If you're hitting the club, style your leather leggings with a pair of studded ankle boots.
8. Heels (Winter and Summer)
If you have a pair of black leather leggings, you'll want to style them with your favorite pair of heels or check out these new styles at Shopbop.
Elongate your legs while elevating your leggings look with high heel shoes
Whether it's a pair of sparkly heels or classic court shoes, the length of leggings perfectly complements high heels and lets you show off your favorite pair. When you're wearing heels with your leggings, you want to choose a looser top or jumper.
Consider wearing an oversized blouse or a loose-fitting tunic to balance out your look. During winter, throw on a scarf on top and layer up to keep away the chill.
Heels are the best way to take your outfit from day to night. If you're getting ready in a rush before a night out, swap your sneakers for heels and touch up your makeup. You'll be ready to head out the door within ten minutes.
9. Mules (Winter and Summer)
The right pair of leggings can take you from a catch-up over coffee to drinks with the girls. As mules are open-back shoes, they provide a contrast between your shoes and leggings while elongating your legs.
Alessandra Ambrosio rocks black leggings with black Tod's Double T mules at LAX on November 16, 2016 (Credit: LA / INFphoto)
If you've got an ankle tattoo, mules and leggings are the perfect way to show it off. This combination keeps you comfortable during winter and summer, whatever the weather may bring.
For a chic winter look, pair your black leggings with a pair of flat mules and a crisp white blouse.
10. Loafers (Winter and Summer)
When the temperatures drop and the rain is falling, you want a pair of flats you can throw on with leggings. Loafers are the perfect rainy-day alternative to ballet flats.
For a little Parisian chic, choose loafers in nude or pastel pink with metal detailing.
A chic showgoer attending the Miu Miu show during Paris Fashion Week, Nicky Hilton, and Vanessa Hudgens show three chic ways to wear leggings with loafers (Credit: Runway Manhattan / Cover Images / INSTARimages)
Loafers are a great way to look stylish without compromising on comfort. If you want to wear leggings to the office or for a trip to the theatre, you can style them with a pair of loafers. A blazer or trench coat will give your look a polished finish.