If you want your shoes to dazzle, there's no better choice than sparkling shoes. Designers have been using glittering embellishments to make show-stopping shoes for decades.
Beloved by celebrities, influencers, and 'it girls' across the globe, these dazzling shoes have become a staple for trendsetters who seek to make a truly standout statement with their outfits. Donning a pair of these shimmering beauties is a surefire way to captivate attention and exude unparalleled style.
Below we'll be sharing all the different ways a shoe can sparkle, along with style tips to help you pull off this daring trend flawlessly.
1. Sequins: The Party Essential
Nothing says party like sequins! These dazzling discs will instantly give your outfit Studio 54 vibes with their disco ball-like texture and incredible shine.
The beauty of sequins is that they can be as bold or subtle as you like, depending on the size, color, and finish of the sequins.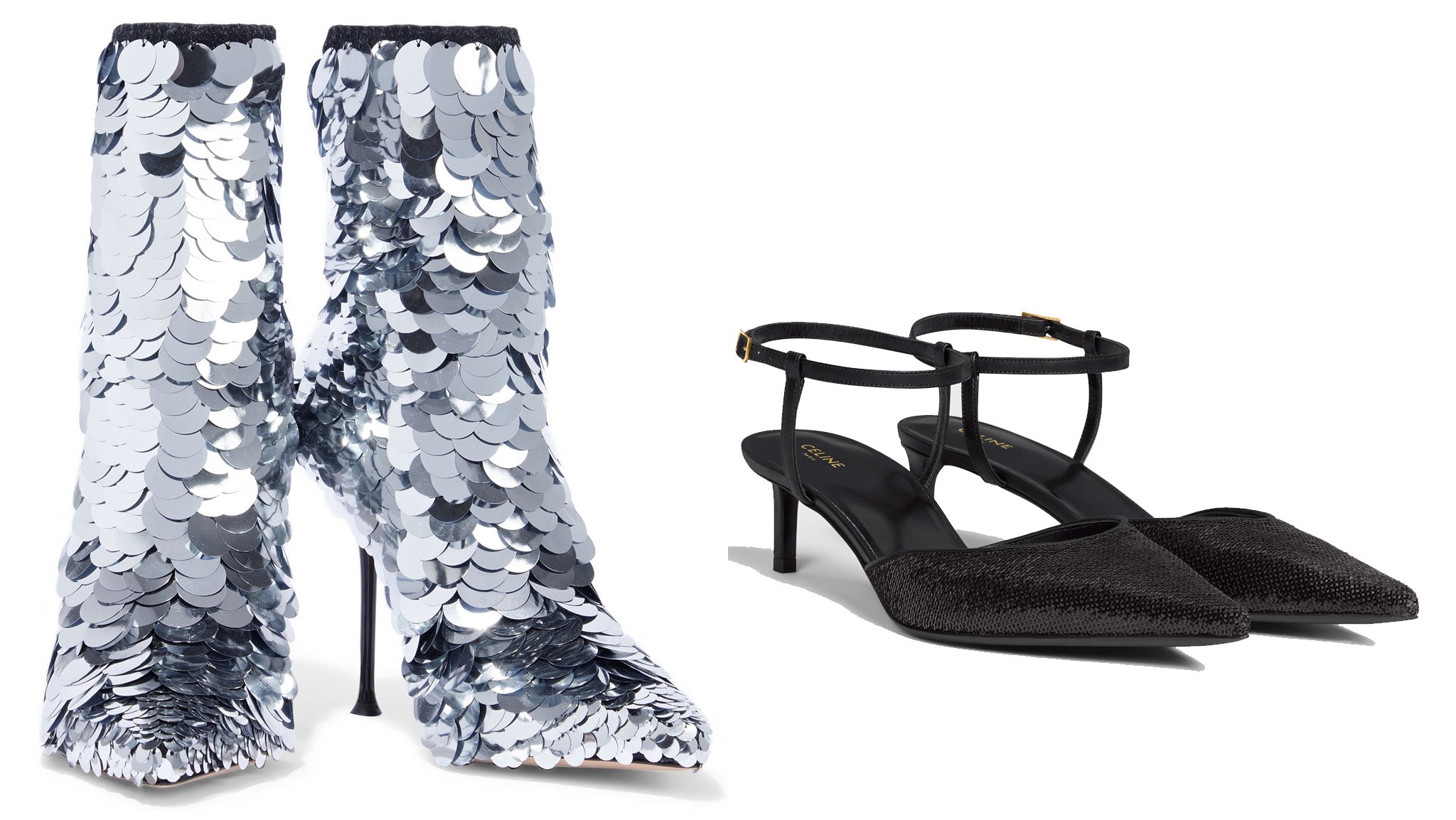 Sergio Rossi Sequined Stretch-Jersey Ankle Boots, $1,605; Celine Kitten in Sequins, $760
The Sergio Rossi silver sequin ankle boots are the perfect example of statement shoes, while Celine's elegant kitten heels feature matte black sequins that are subtle enough for the office.
2. Crystal Shoes: The Ultimate Princess Shoe
Precious gems are another popular choice to add brilliance to otherwise plain shoes. The crystal shoe creates a magical, princess-like feeling that women love for special occasions like weddings and galas.
Jimmy Choo Alia Crystal Pumps, $4,700; Rene Caovilla Cleo 85mm Crystal Sandals, $1,440
Crystal embellishments are a favorite of luxury shoe designers like Jimmy Choo and Rene Caovilla and have been used to enhance formal shoes for centuries.
These dollar-sign-motif Swarovski crystal-encrusted heels from Giuseppe Zanotti make a statement (Credit: Andres Otero/ WENN)
An Austrian brand name for a range of precision-cut crystal glass, Swarovski often collaborates with Giuseppe Zanotti, Jimmy Choo, and other footwear designers to create crystal-embellished evening pumps and sandals for celebrities and shoe lovers.
Since Swarovski's manmade "simulated diamonds" are not real diamonds, they are cheaper than diamonds mined from the ground.
Jane Krakowski attends a party co-hosted by shoemaker Jimmy Choo and crystal manufacturer Daniel Swarovski at Viceroy L'Ermitage Beverly Hills on March 20, 2000 (Credit: WENN)
3. Glitter Shoes: The Fun and Festive Alternative to Crystals
This enchanting texture offers all the sparkles of crystals without being so delicate. Rather than being made up of tiny gemstones, glitter is made up of sparkling particles that are generally derived from metals like aluminum and plastic.
It's simply glued onto shoes to give them that magical sparkle.
Jimmy Choo Emsy 85 Glitter Sandals, $795; Miu Miu Metallic Technical Fabric and Glitter Sandals, $1,290; Giuseppe Zanotti Glitter-Detail 95mm Leather Sandals, $503
Glitter is another signature Jimmy Choo embellishment, but it's also used by playful designers such as Miu Miu and Giuseppe Zanotti.
4. Pearl Shoes: The Ultimate Symbol of Elegance
Often referred to as the diamonds of the sea, pearls offer a sophisticated shine and ladylike feel to shoes.
They're often used to create eye-catching ankle straps and heels, as displayed by luxury shoe legend Stuart Weitzman and avant-garde shoe queen Sophia Webster.
Sophia Webster Natalia Pearl Heel, $604; Stuart Weitzman Nudist Disco Faux Pearl-Embellished Platform Suede Sandal, $550
When Can You Wear Sparkling Shoes?
Unsurprisingly, these stunning styles are often reserved for special occasions. Sparkling shoes are most often worn for extravagant parties, nights out, and weddings.
They're an excellent way to take your outfit to the next level and truly make it stand out, so sparkling heels are often the footwear for brides who want to go all out on their big day.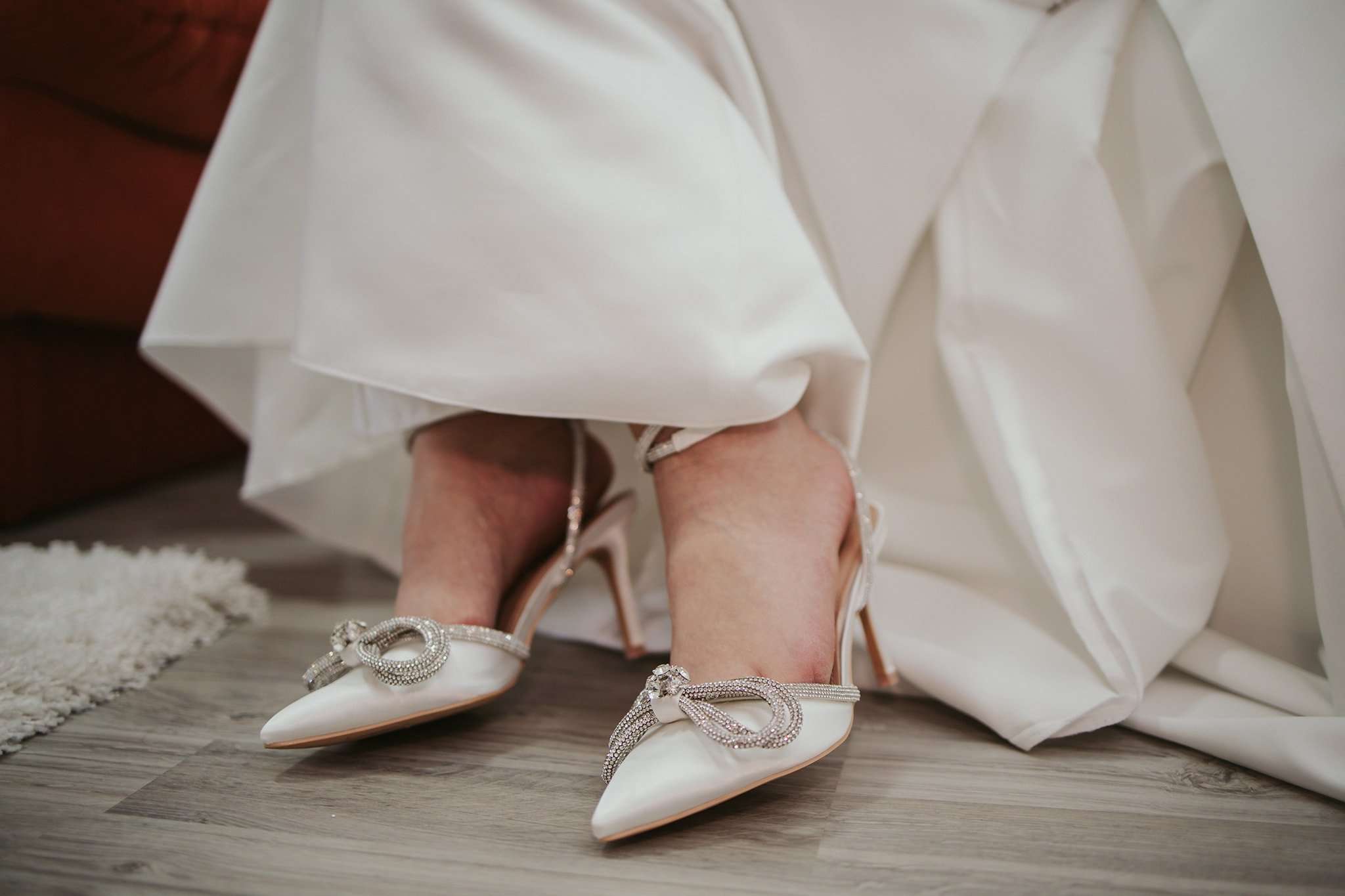 Brides often opt for heels that are sparkling with crystals, glitters, or sequins to create a standout look (Credit: Wirestock Creators / Shutterstock)
You can still make sparkling shoes appropriate for the day by choosing casual styles with a subtle shine. Glitter sneakers are the perfect example.
This playful design has been created by everyone, from high-end designers such as Chloe and Alexander McQueen to classic sneaker brands like Converse and Vans.
Chloe Lauren Glitter Low-Top Sneakers, $679; Vans Old Skool Sneakers in Gray Glitter, $75; Alexander McQueen Glitter Leather Sneakers, $590; Converse x JW Anderson Glitter Pack Sneakers, $175
How To Style Sparkling Shoes
Sparkling shoes will undoubtedly be the talking point of any outfit, so it's best to put them in the spotlight and keep the rest of your outfit simple. Stick to solid colors and simple fabrics that won't clash against your sparkling shoes.
You can still choose rich, luxurious textures like silk and chiffon – make sure they feel minimal compared to the shoes.
For example, a slinky silk jumpsuit could be paired with glitter heels for a chic retro vibe for a party. If you're keeping things casual, you could dress up a jeans and t-shirt look with glitter sneakers.
1. Cami NYC Jackie Halter Neck Stretch Silk Jumpsuit, $465; 2. Badgley Mischka Lovely Stiletto Mules, $128; 3. Re/Done Los Angeles Tee, $150; 4. Nobody Denim Geo Skinny Ankle Jeans, $167; 5. Golden Goose Superstar Leather Sneakers, $605
You can double up on sparkles if you're going to an extra special event, such as a wedding or a high-end party. Just be sure to break it up so you're not shining from head to toe.
For example, you could wear a glitter top with glitter shoes but add a simple contrast with a solid-colored skirt.
Also, be mindful of the colors you're wearing. If you're wearing gold glitter shoes, you probably won't want to pair them with a neon green top or dress.
Stick to a monochromatic color scheme, and when in doubt, choose neutral shades like black and white that will pair well with anything.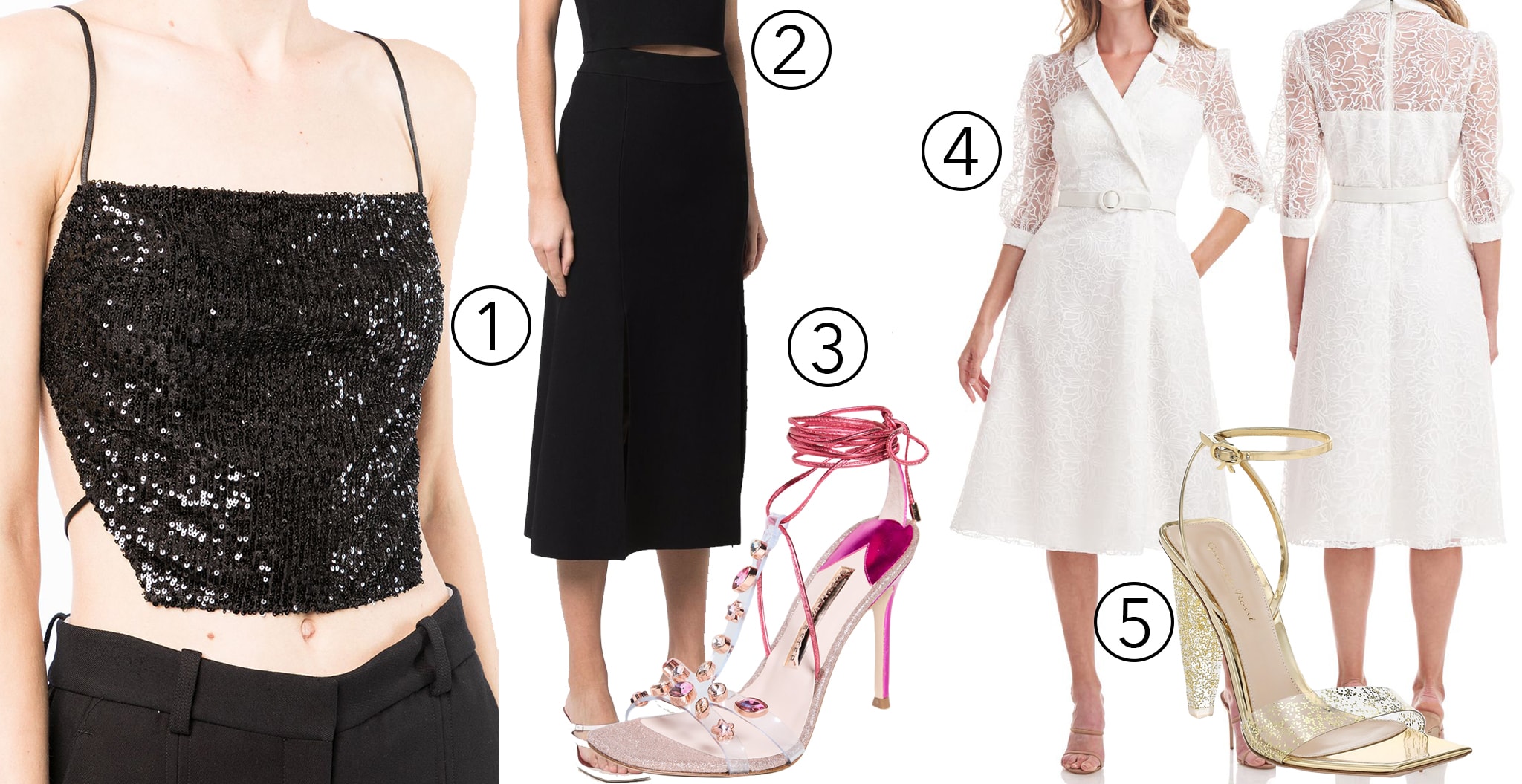 1. In The Mood For Love Glitter Square-Neck Top, $294; 2. Maje Front-Slit Midi Skirt, $295; 3. Sophia Webster Camille Sandals, $750; 4. Kay Unger Khloe Floral Illusion Lace Dress, $398; 5. Gianvito Rossi Glitter Stiletto Sandal, $1,095
Sparkling shoes are must-haves for any woman who loves glamor and indulgence. Whether you're headed for a big night out or want to add a touch of luxury to your everyday look, there's a sparkle shoe out there!
Which type of sparkle will you choose?