It can be easy to feel like every designer shoe looks the same. While certain silhouettes appear everywhere you look, the thing that makes a shoe distinctive is its embellishments.
Classic patent leather shoes will never go out of style, but the way a designer decorates and embellishes a shoe makes it more unique.
Whether it's the brand's signature or on-trend embellishments, designers find a way to make every shoe their own.
We're taking a look at 9 ways that designers decorate and embellish their shoes, along with the styles that deserve to be top of your wish list.
1. Beads
Beads might have been something that you weaved through your laces as a child, but now they're not in style. They're an easy embellishment to incorporate into a style and are starting to make an appearance within the world of low-top sneakers.
One of our favorite styles is the beaded fringed Superga sneakers, by one of the Duchess of Cambridge's favorite brands. These sneakers remind us of the beaded bracelets that are synonymous with the '90s while also incorporating the tassels trend.
Off white Mira Mikati x Superga sneakers with multicolored grommets and beaded tassels for a carefree off-duty look
Available at Shopbop, the beaded fringed sneakers are part of a collaboration between Superga and Mira Mikati and take the sneaker brand's signature 2750 style and give them a colorful Italian update. Mira Mikati's playful style inspired the wooden beads and neon color palette.
Another Superga collaboration that incorporates beading is the Olivia Rubin x Superga lace-up sneakers. Also available at Shopbop, these quirky and feminine sneakers have a pastel color palette with pearl beading tied into the laces.
Olivia Rubin x Superga lace-up sneakers with imitation pearl beads
Historically, one of the original beaded shoes was the Peranakan beaded slippers – called Kasut Manik.
These beaded slippers are made by blending beadwork and embroidery and are still worn today for Chinese New Year and birthdays.
2. Crystals and rhinestones
If there's one thing that designers like to do, it's to add bling to their shoes. Most designer shoes will set you back anywhere from $700 to $2000.
The top-ticket designer shoes commonly feature crystals and rhinestones, giving the shoes their heavy price tag. Ever since Cinderella stepped into her glass slipper, designers have been striving to create their own take on the shoe.
Whether you're shopping for bridal shoes or a style to wear at the weekend, crystal and rhinestone shoes are amongst the most popular embellishments for designer shoes.
The ultimate crystal shoes are the glass slipper-inspired crystal-covered pointy toe Ari pumps by Jimmy Choo that made for the modern Cinderella. You can check out all the colors at Jimmy Choo.
Layered from toe to heel in luxurious Swarovski crystals, this classic pointy toe pump from Jimmy Choo features a dramatic spike heel
Some designers have even made the embellishment their signature. You'll rarely find a pair of Amina Muaddi shoes without an oversized crystal or a strap of rhinestones, like her satin Begum mules that you can buy at Matches Fashion.
These embellishments are chosen to appeal to the brand's niche demographic, often party goers or those who aren't afraid to make a statement.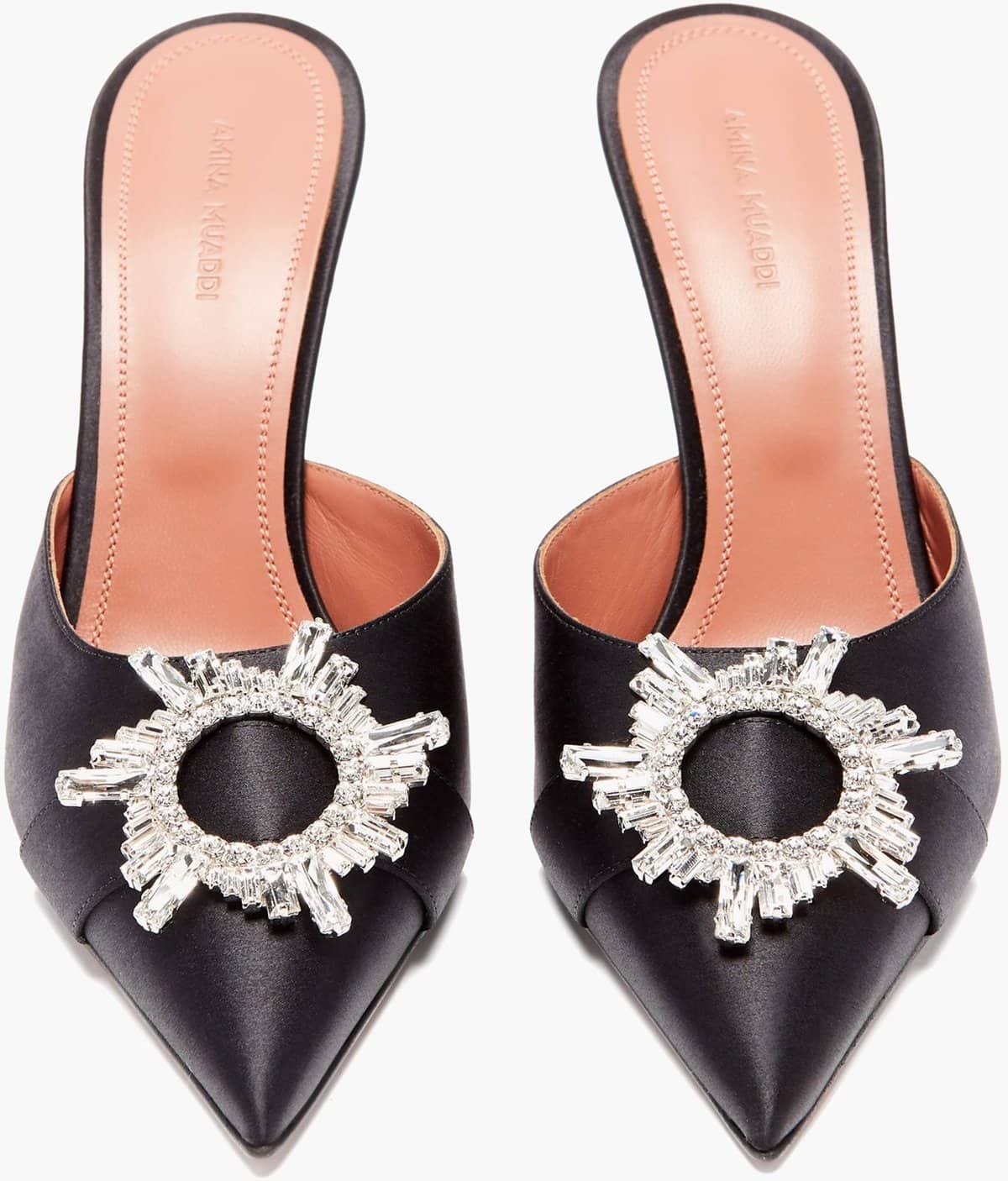 Amina Muaddi's black Begum mules are embellished with crystal buckles for an opulent mood
The beauty of crystals and rhinestones is that they allow you to take a classic and understated silhouette and give the shoe a new look. All it takes is a few well-placed crystals and rhinestones.
Swarovski crystal shoes are in a league of their own. Christian Louboutin's bridal range is synonymous with crystals and rhinestones. The Degrastrass heels feature hand-placed crystals set on transparent PVC, giving the shoe a look of effortless glamour.
Designers often use crystals and rhinestones as a way of taking a signature style and reimagining it for a contemporary audience.
Available at Nordstrom, Manolo Blahnik's popular Lurum champagne satin crystal-embellished mules are exactly what Carrie Bradshaw would wear in 2021.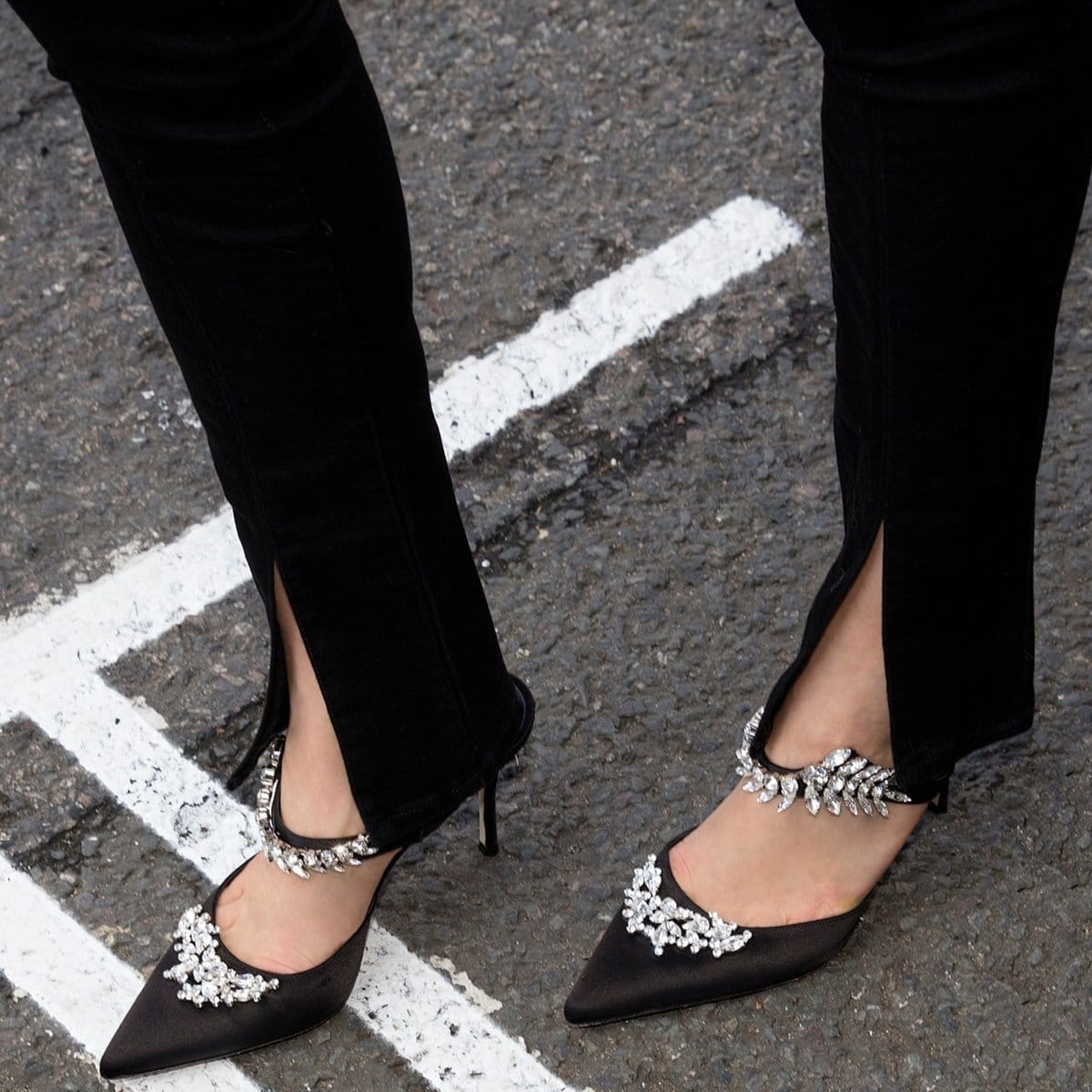 Sparkling crystal leaves vine across this pointy-toe satin pump, showcasing Manolo Blahnik's flair for dramatic embellishment (Credit: Manolo Blahnik)
Another designer brand that isn't afraid to experiment with crystals and rhinestones is Roger Vivier. Their RV Lounge leather slippers blend comfort with rhinestones to create an elevated mule loafer.
3. Stars
Designers often take their inspiration from the world around us, with stars being no exception. While we might be used to seeing stars and celestial symbols on bags and jewelry, they're increasingly making an appearance in our footwear.
Since Gold Goose jumped up in popularity amongst celebrities and influencers, it seems every designer is coming out with star embellished sneakers.
Stars are one of the brand's synonymous features and appear on almost every style of sneaker. Available at Farfetch, the Super-Star sneakers in white and gold leather feature an embellished metallic star.
Super-Star sneakers by Golden Goose with signature star patch to the sides
Stars aren't the only thing that Golden Goose likes to embellish onto their shoes. The pink glitter Super-Star leather sneakers will remind you of the night sky with sparkly glitter and a contrasting white star.
Saint Laurent has released their own take on Golden Goose sneakers with the Court Classic SL/06 metallic California sneakers in leather.
These shoes differ in style as they have a repeating stars motif and perforated stripes while also lacking the overall distressed look of the Golden Goose shoes. If you want stars that are elevated, these are the shoes for you.
White leather and rubber Court Classic SL/06 metallic California sneakers from Saint Laurent with multiple star patches
It's not just sneakers that feature stars. Sophia Webster is a designer who isn't afraid to shy away from feminine silhouettes and motifs.
Her Rosalind Star heels remind us of a rainbow with its ombre pastel glitter textile and 100mm stacked star heel. These shoes are designed to make you feel like a superstar with every step you take.
4. Pearls
Pearls are one of the most feminine embellishments of them all, instantly elevating any pair of shoes. This embellishment offers an effortlessly chic twist to classic shoes, giving contemporary shoes a Parisian twist.
For a budget-friendly option, check out the Shore Light blue leather block heels by Moda in Pelle. These shoes are available in ten colorways, featuring a sculptural silhouette that incorporates individually placed lustrous pearls.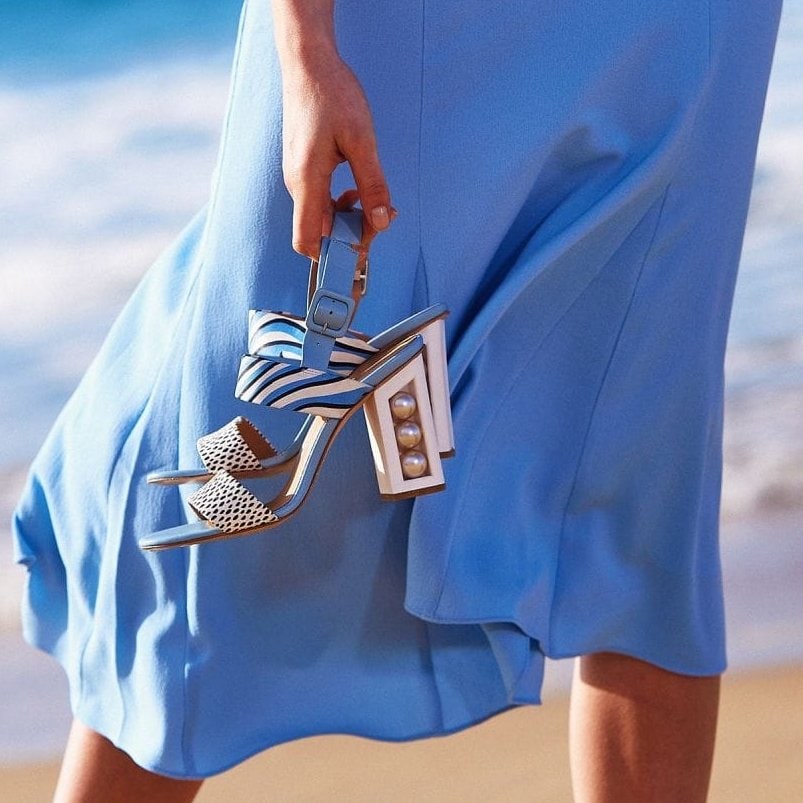 Sculptural blue sandal with head-turning block heel featuring lustrous pearls
Another affordable style that incorporates pearls is the Paphos pearl detail high-heeled shoes by ASOS. These pointed-toe shoes feature faux-pearl embellishments across the straps, contrasting against the jacquard fabric.
Jacquard Asos Paphos pearl detail high heeled shoes
Jimmy Choo is one brand that has already been featured on this list. The brand isn't afraid to embrace different embellishments and decorations, with pearls being no exception.
The Sacora 100 faux pearl-embellished sandals show the art of maximalism glamour. These white satin shoes have faux pearls and logo-engraved beading. They're one of Jimmy Choo's signature bridal shoes, perfect for both brides and wedding guests.
Pearl appears in another innovative way in the Soraya Ivory block heel sandal by Freya Rose. These statement heels feature mother-of-pearl that is carefully crafted into a floral design inside the brass block heel.
Freya Rose's Soraya statement sandal features a unique mother of pearl and polished brass block heel with a carefully crafted floral design
Freya Rose's shoes have graced the feet of everyone from Rihanna to Olivia Palermo and Kate Moss, with the designer winning multiple awards, including Best Bridal Footwear Designer.
5. Pom Poms
Is there anything more fun than pom-poms on your feet? While you might be used to seeing pom-poms on keychains, this embellishment is no stranger in the world of women's footwear. They have a classic bohemian feel to them and give any outfit a free-spirited aesthetic.
Pom poms are synonymous with summer and add a playful feminine twist to classic shoe silhouettes. The embellishment was popular throughout the early 2000s and is making a return onto the footwear scene following the resurgence of 2000s-inspired fashion.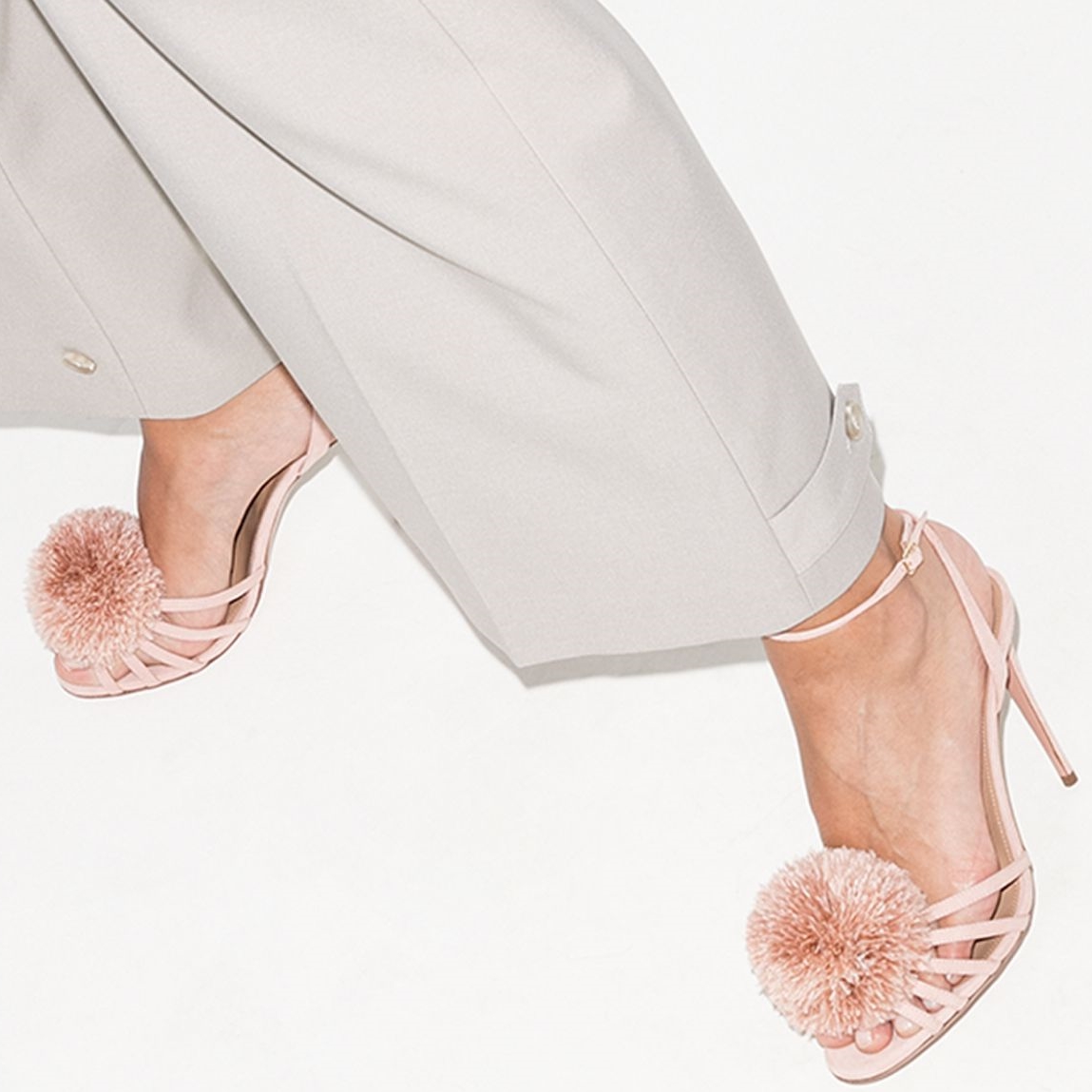 These pink Aquazzura X Browns 50 120 pom-pom leather sandals have been made in Italy
Aquazzura is one brand that seems to incorporate pom poms into every style they can. The Aquazzura x Browns 50 pink 120 pom-pom leather sandals are an ultimate party shoe, incorporating an ankle strap fastening with a feathered pom-pom and caged toe.
The brand also has summer-appropriate sandals, such as their woven pompom-embellished sandal that are sunset-ready, featuring both raffia and pom-poms.

These slip-on summer mule sandals are finished with pompom detailing
Aquazzura also has a mule-heel version of these sandals if you want a more elevated style.
6. Tassels
Tassels aren't just for your vintage leather jackets. These embellishments are synonymous with the 70s, adding a touch of rock chic to any outfit.
They're the ultimate party girl shoe, whether you're heading out for cocktails with friends or hitting up the latest music festival. You can style them with everything from straight-leg jeans to a little black cocktail dress.
Available at Ssense, Valentino's Upflair high-heel sandals feature a tassel detailing that turns the understated strappy sandal into a statement piece. The tassel is almost as long as the thin stiletto, although you've no danger of stepping on the ends of it.
Crafted from leather, these black Upflair sandals from Valentino Garavani are decorated with tassel detailing
Jimmy Choo makes another appearance on this list with their Viola 110 crystal & feather suede sandals that show that sometimes, more is better.
These shoes incorporate contrasting crystals, with an ostrich tassel feather that sits against your arch foot. The buckle detailing and front strap make the shoes perfect for dancing the night away.
Tassels can also be a fun embellishment to add to everyday shoes. The Clover patterned vibrant summer loafer by HB Shoes is available in four color palettes and adds a bohemian twist to the classic silhouette.
7. Feathers
You might have grown up wearing feathers in your hair or found yourself lusting after a feather dress, but have you thought of adding feather shoes to your closet?
This embellishment makes an appearance with more sultry footwear, particularly with heels. They take their inspiration from the boudoir style trends and are the perfect occasion shoe.
Whether you're heading to a birthday dinner or stepping out for cocktails, feather shoes are one style you want to have in your closet.
About Last Night is a budget-friendly style of feather lace-up heels by Oh Polly. They feature a diamante feather strap with a thin stiletto heel and lace-up strap guaranteed to steal the show.
Bottega Veneta's turquoise Dot stiletto heel sandals are made from lamb leather with ostrich feathers
One designer brand that has embraced the feather trend and run with it this season is Bottega Veneta.
While the brand is synonymous with understated silhouettes and textures, they've been getting bold with their footwear. The feather dot sandals are available in four color options and feature leather and ostrich feathers.
For statement shoes that won't break the bank but are attainable luxury, check out Twinset. Their satin sandals with feathers are available in beige and fuchsia pink.
Pink satin Twinset sandals with feathers, ankle strap, and leather sole
The contrasting feathers appear across the ankle straps of the shoes, taking a minimalistic silhouette and making them more Vegas appropriate.
8. Flowers and butterflies
Nothing is more feminine than flowers and butterflies, both of which are no strange to footwear. This embellishment appears on heels of all styles, from abstract straps to silk satin roses.
If you want to add a whimsical twist to your outfit, these are the shoes that you want to be styling.
Saint Laurent's Ivy flower sandals in silk satin feature a thin strap and almond toe with flower detailing, replicating the shape of a rose in bloom. These heels are available at Mytheresa in emerald, black, and magenta.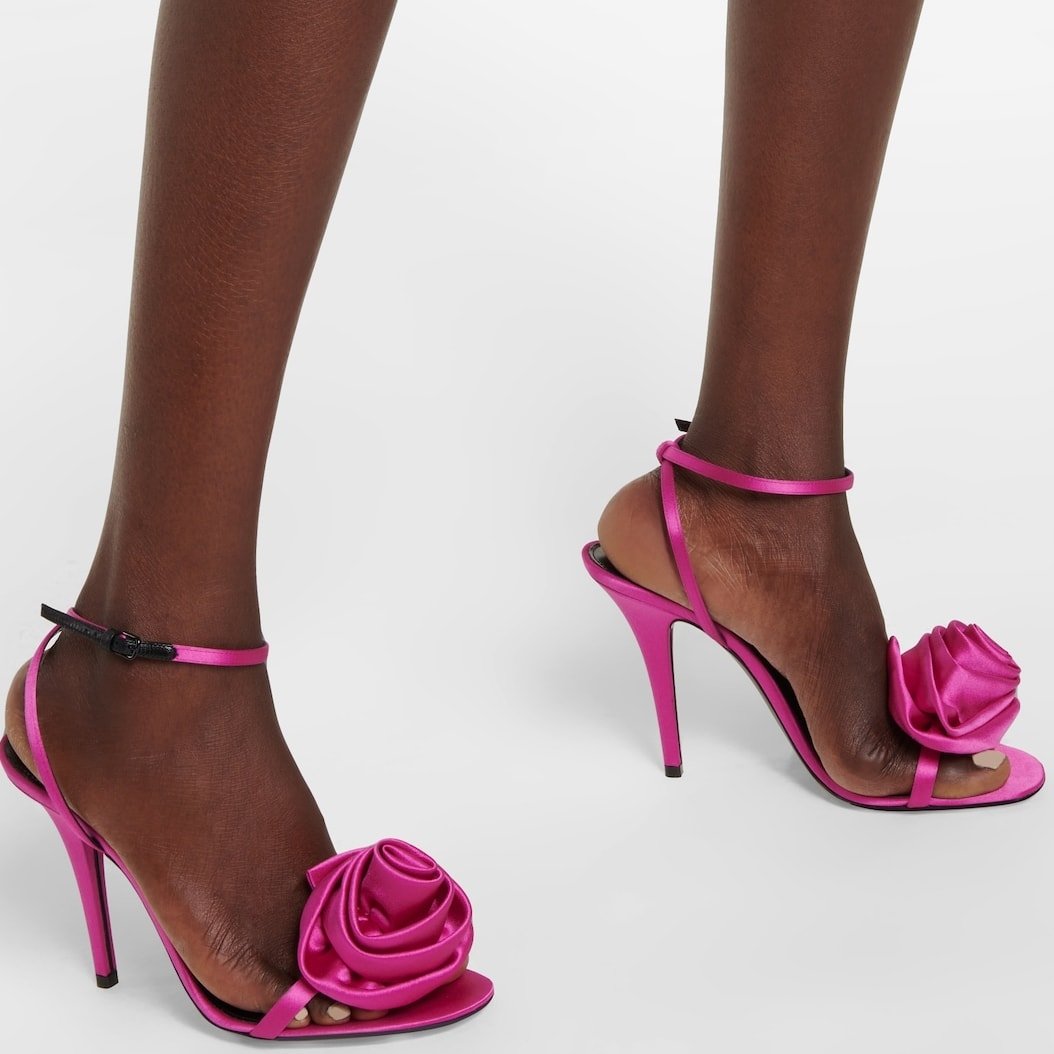 Fuchsia pink Ivy sandals from Saint Laurent featuring gathered floral appliqués at the toe straps
Flowers are another embellishment that Aquazzura experiments with. Available at Saks Fifth Avenue, their Bougainvillea sandal pays homage to the beautiful Bougainvillea flower, with petals that bloom across the shoe.
Whimsical floral appliqué and delicate ties that encircle the ankle adds a romantic touch to these metallic leather sandals
If you're looking for a more casual style, check out the latest style by Superga. Their 2750 Jellygum Flower Bloom shoes take the brand's signature silhouette and add a flower-covered sole for a quirky and feminine twist.
Some designers even go as far as to use nature as the inspiration for their signature embellishment. Sophia Webster is a designer synonymous with butterflies, which appear throughout her footwear.
The Chiara heels are her most famous style, with new colors added each season. These shoes have a screen-printed 3D butterfly wing detail that sits above the 100mm heel.
9. Rockstuds
Valentino is one brand that took an understated embellishment, make it their signature, and turned it into one of the biggest footwear trends of recent years.
Everyone has found themselves looking at the Valentino Rockstud shoes at least once, and they spent several years at the top of the most coveted designer shoe list.
The Italian fashion house took a simplistic leather heeled sandal and gave them a contemporary feel and a rock chic look with Rockstuds.
Their iconic So Noir 100 Rockstud heels have inspired everything from bracelets to handbags and other footwear silhouettes. If you prefer flat shoes, check out the Valentino Rockstud point-toe leather ballet flats at Matches Fashion.
Valentino Garvani So Noir Rockstud patent-leather heeled sandals and point-toe leather ballet flats
Embellishments are a way for designers and brands to take a classic silhouette and make it their own. These nine embellishments are only a dip in the water of how designers decorate their shoes.
Some people find an embellishment that fits their aesthetic and makes it their signature. Whether you're looking for floral shoes or crystal-embossed heels, we hope this list has given you inspiration for your next shoe purchase.
Which of these embellishments is your favorite?