Israeli actress, model, and singer Gal Gadot began her journey by dedicating two years to the Israeli Defence Forces as part of her compulsory service. After completing her military duty, she embarked on a successful career that showcased her diverse talents.
In 2004, she achieved recognition by winning the prestigious Miss Israel title, which opened doors for her entrance into the world of entertainment. Since then, Gal Gadot has captivated audiences with her remarkable performances as an actress.
Gal Gadot towers over her shorter co-star Elsa Pataky at the French premiere of "Fast and Furious 5: Rio Heist" in Marseille, France on April 28, 2011 (Credit: WENN)
Starring in the 4th Fast & Furious film in 2009 as Gisele, Gadot has since propelled herself further into the film industry and continues to impress fans with her strong physique and beautifully tall height.
Gal Gadot's Childhood and Early Life
Gal Gadot's impressive fitness and athleticism can be attributed to her upbringing, which embraced a strong sports-oriented lifestyle.
Supported by her mother, Irit (née Weiss), who happened to be a PE teacher, Gadot was immersed in various physical activities from a young age.
She actively participated in sports such as tennis, basketball, and volleyball, honing her skills and nurturing her love for competitive games.
In addition to her proficiency in sports, Gadot also explored the world of dance, studying and mastering various styles, including ballet, jazz, and tap. After gaining a first taste of modeling and winning the Miss Israel Pageant of 2004, Gadot entered the IDF as a combat instructor.
While never having to use weapons in a real-life situation, Gadot became well-practiced in keeping soldiers in shape with gym training, which also kept up her physical fitness.
Gal Gadot's Most Recent Films
Gadot enters her 30s as one of Hollywood's hottest and most striking female action actresses.
Playing the infamous superhero Wonder Woman in Batman v Superman: Dawn of Justice, Wonder Woman, and Justice League, Gadot has shown off human action in the most thrilling way possible.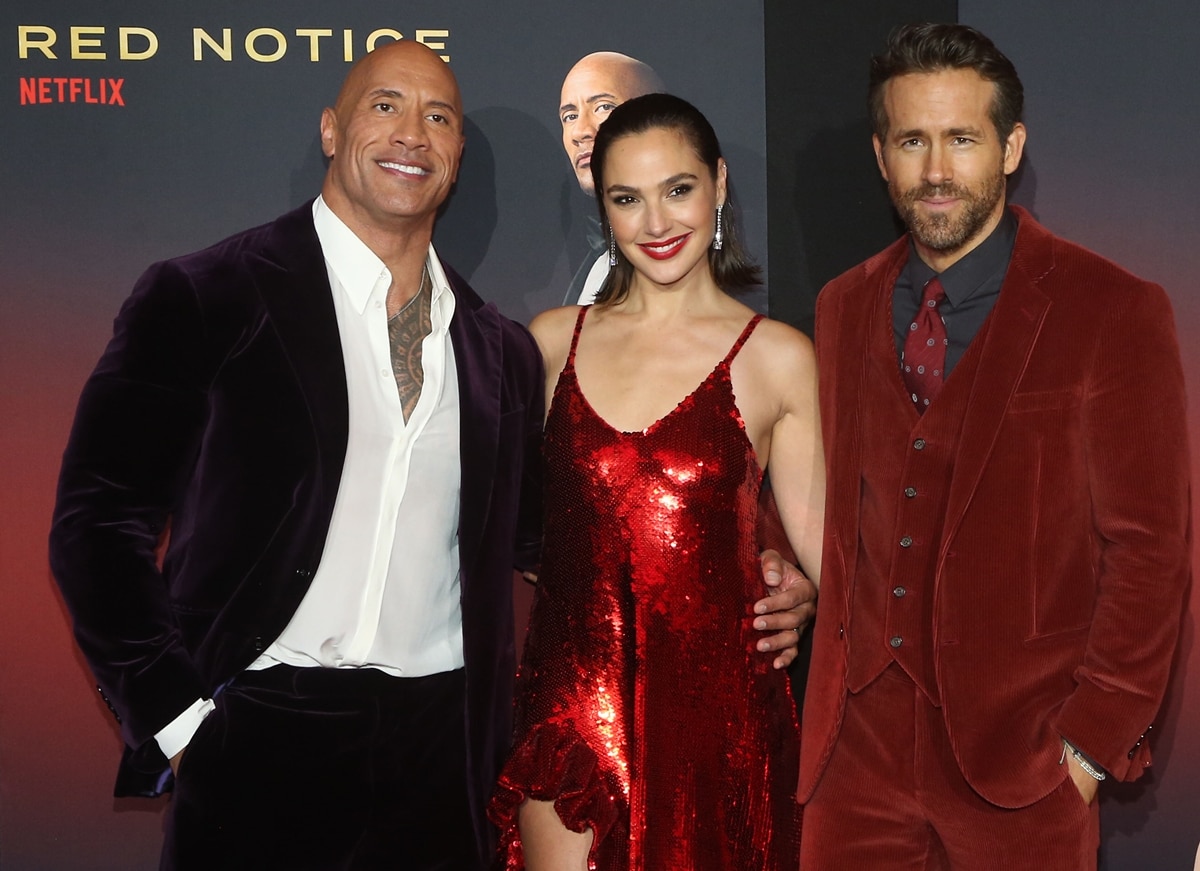 Gal Gadot is almost as tall as her Red Notice co-stars Dwayne Johnson and Ryan Reynolds (Credit: MEGA / WENN)
Moving away from Wonder Woman, Gadot also decided to take on a role in her first comedy, Keeping Up with the Joneses, in which she takes on the persona of an attractive spy in the center of constant action.
With this in mind, it appears that this actress can't keep herself away from tight, sexy outfits, thrilling explosions, and weapons, making her into a ready-made superhero with her physical ability encouraging her to delve deep into these compelling roles.
How Tall Is Gal Gadot?
Gadot's 5'10" (178 cm) height and slim figure complement each other, with her tallness emphasizing her slender frame. This leanness doesn't make Gadot appear small, however, with her impressive physique accentuating her bodily strength.
The physical ableness that this actress carries perhaps helped Gadot get the lead role in such an action-packed superhero franchise.
When wearing high heels, Gal Gadot seems to be the same height as her 6′ 1″ (185 cm) tall husband, Yaron "Jaron" Varsano (Credit: MEGA / WENN)
With the average height for a woman being around 5'5", Gadot's tall height makes her ideal in her modeling and actress career, allowing her to stand out and perfect the most flawless fashion statements.
Despite her Israeli real estate developer husband, Yaron Varsano, being taller than her at 6'0", Gadot aims to show that women can be empowered by their own strength and don't need a male superhero to save them!
To stand ever taller, Gadot admits to her love of high heels, admiring their beauty and fashion appeal.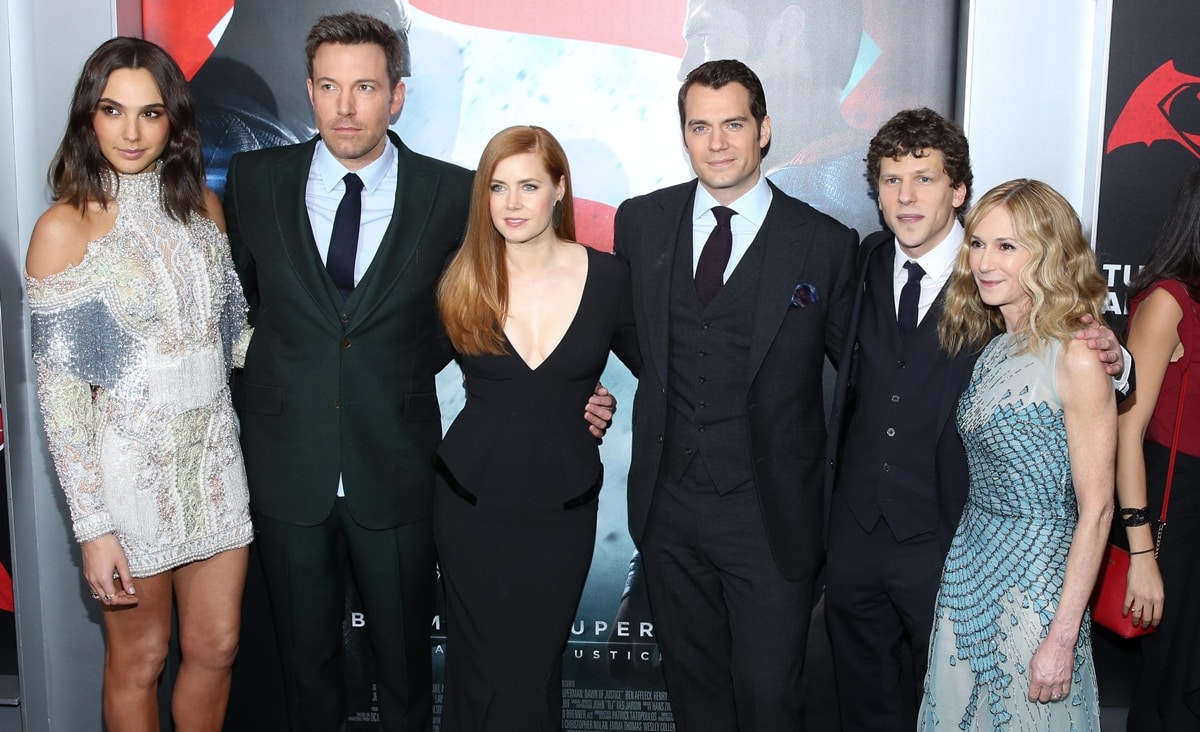 Gal Gadot and Ben Affleck make their co-stars Amy Adams, Zack Snyder, Henry Cavill, and Jesse Eisenberg look short (Credit: Andres Otero / WENN)
"I love wearing high heels – I think it's beautiful, it's sexy, whatever," she told USA Today. But at the same time, especially stilettos, it puts us out of balance. We can fall any minute. It's not good for our backs. Why do we do it?"
"By the way, I can wear stilettos. I can wear high heels. It's not like I can't wear it because of my back. But I was like, 'Let's go all the way. Let's wear flats!' I've been waiting for this moment," she added about wearing flats to red carpet events.
However, with heels putting females off balance and triggering backache, Gadot sometimes ditches the high heels just to endure the pure comfort that flat shoes have to offer.
Gal Gadot wears shoe size 10 (US) and loves wearing high heels to make herself look taller (Credit: MEGA / WENN)
Always off to premieres and shows that celebrate her acting career, Gadot wants to guarantee that she is comfortable with her outfit to make an empowering statement for women across the world.
In March 2016, Jimmy Kimmel brought attention to Gal Gadot's unconventional Wonder Woman costume, a clear deviation from the bright star-spangled red-and-blue costume in the comics.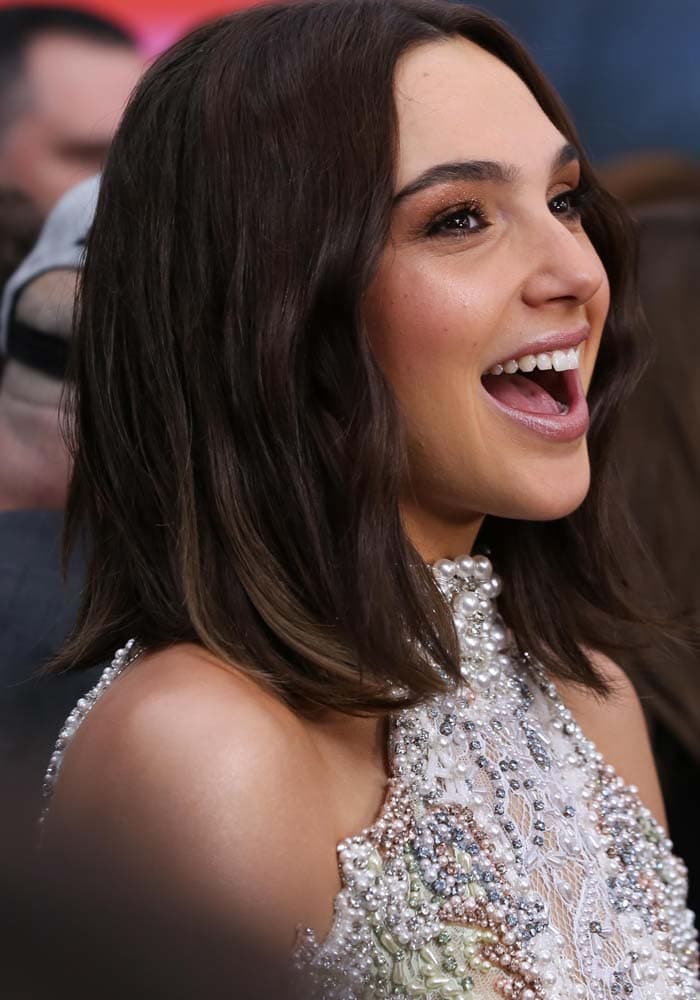 Gal Gadot wears her hair down at the New York premiere of Warner Bros. Pictures' "Batman v Superman: Dawn of Justice" held on March 20, 2016, at Radio City Music Hall in New York City (Credit: Andres Otero / WENN)
Gal Gadot took to the red carpet of the "Batman V Superman: Dawn Of Justice" New York premiere to say that she actually had some say when it came time to write Diana's personality and design the Wonder Woman costume.
Gal's say? She wanted her version of Wonder Woman to be a little "muddier" than most cut-and-dry superheroes.
Gal Gadot wears an embellished Balmain dress on the black carpet (Credit: Andres Otero / WENN)
The gorgeous Israeli actress showed up on the red carpet of the New York premiere in an extravagant, fully-embellished creation from Balmain's Pre-Fall 2016 collection.
Gal styled her look with jewelry from Fred Leighton and a pair of satin Sophia Webster "Rosalind" sandals.
Gal Gadot's feet in satin Sophia Webster sandals (Credit: WENN)
Gal was asked where Wonder Woman was on the light-dark spectrum after pointing out that Superman was more on the light and Batman was more on the dark.
The actress said writers deliberately made Wonder Woman a bit "muddier." They didn't want to typecast Diana as a perfect character, so they muddied her character — and costume — up a bit to put her in the middle of the dark-vs-light spectrum.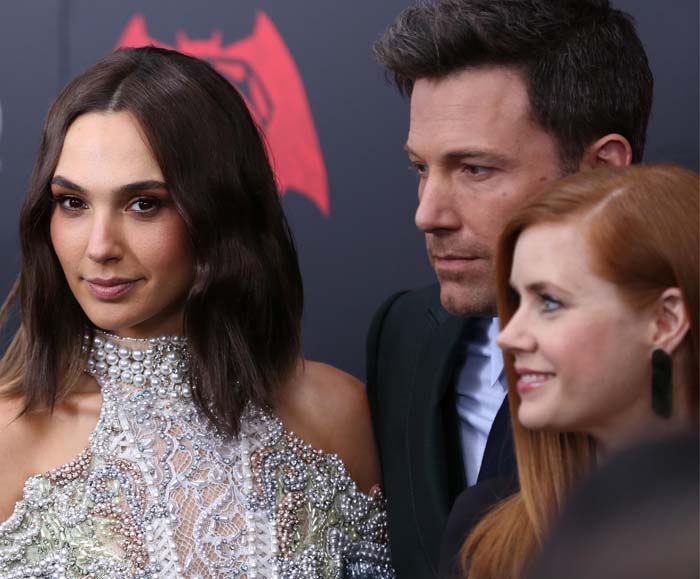 Gal Gadot poses on the red carpet with her co-stars Amy Adams and Ben Affleck, who played Lois Lane and Batman (Credit: Andres Otero / WENN)
Dazzle like Wonder Woman in Gal Gadot's red carpet pick: grab Sophia Webster's "Rosalind" sandals on Farfetch.
Sophia Webster "Rosalind" Crystal-Embellished Metallic Leather Sandals, $495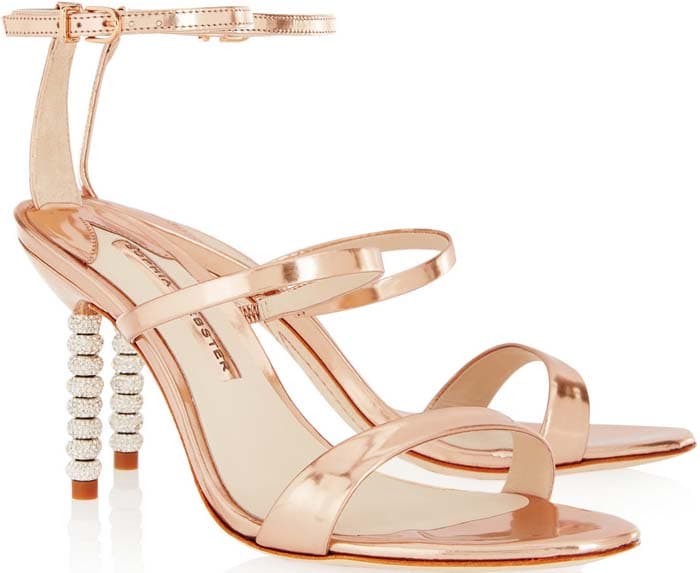 Sophia Webster "Rosalind" Crystal-Embellished Metallic Leather Sandals, $495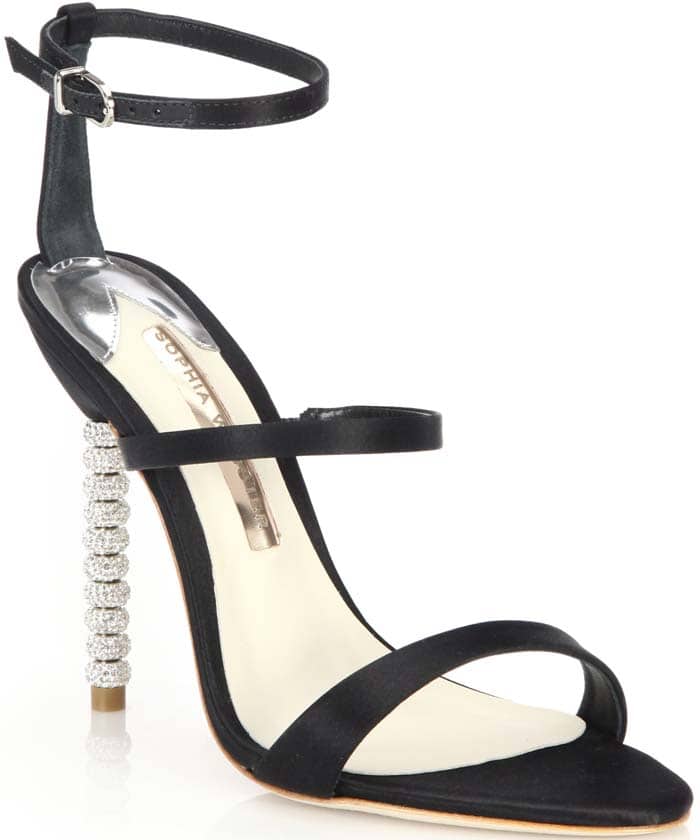 Sophia Webster "Rosalind" Crystal-Embellished Satin Sandals, $495