In late 2013, American film director Zack Snyder cast Gal Gadot in the role of Wonder Woman for the 2016 film, Batman v Superman: Dawn of Justice.
The "Fast & Furious" actress — who had the role of Gisele Yashar in three installments of the franchise — beat the most-talked-about candidate Jamie Alexander to play the iconic DC superhero.
How old was Gal Gadot in Fast & Furious?
She was introduced in the 2009 film Fast & Furious (alternatively known as Fast & Furious 4).
Her character Gisele Yashar helps Dominic Toretto's team while forming a romantic relationship with team member Han Lue. Filming began in February 2008 when Gal was 22-years-old.
Gal Gadot was 22-years-old when filming Fast & Furious as Gisele Yashar
Gadot, who performed her own stunts in the Fast & Furious films, said in an interview that her army background convinced Taiwanese-American film director Justin Lin to give her the role as Gisele Yashar.
"I think the main reason was that [the director] Justin Lin really liked that I was in the military, and he wanted to use my knowledge of weapons," she said about the casting process. Gadot served for two years in the Israel Defense Force as a combat trainer.
The movie was released on March 12, 2009. Born on April 30, 1985, in Petah Tikva, Israel, she turned 24 just over a month later on April 30, 2009.
Actress Gal Gadot arrives at the premiere of Universal's "Fast & Furious" held at Universal CityWalk Theaters on March 12, 2009, in Universal City, California
Her character was killed in the 2013 film Fast & Furious 6. She sacrifices herself to save Han Seoul-Oh (Sung Kang) from Owen Shaw's henchman.
Gal Gadot at the German premiere of Fast Five (alternatively known as Fast & Furious 5 or Fast & Furious 5: Rio Heist) in 2011
The Israeli actress also had small parts in "Knight and Day" and "Date Night," and was crowned Miss Israel back in 2004.
Gal Gadot wears her hair back at the world premiere of "Fast & Furious 6" held in London on May 7, 2013
She even competed in the Miss Universe pageant in the same year.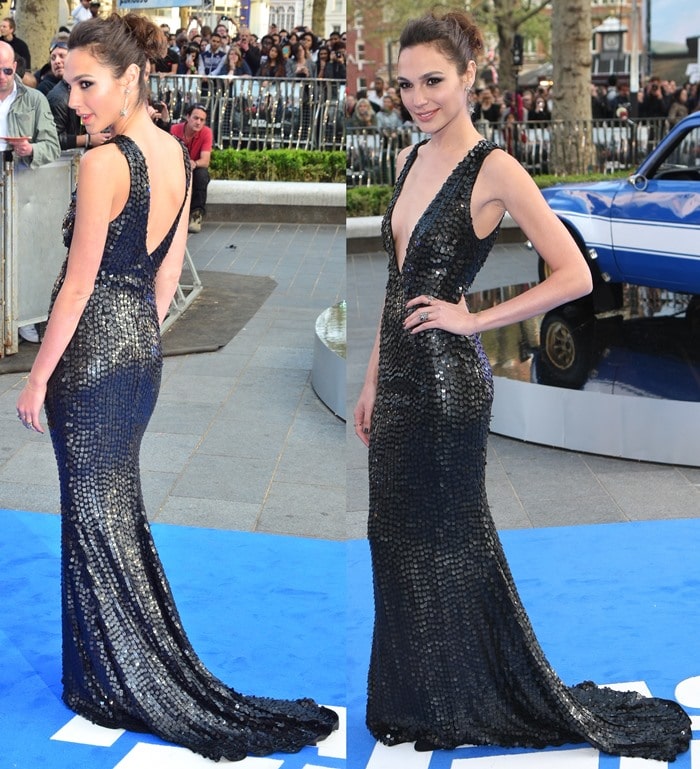 Gal Gadot wears a sequined dress on the blue carpet
If you're still not familiar with the raven-haired actress, take a look at a few premiere photos.
Gal Gadot attends the premiere of "Fast & Furious 6" at the Gibson Amphitheatre in Los Angeles on May 21, 2013
Gal Gadot wears a floor-length gown at the premiere of "Fast & Furious 6"
Gal was also seen at the Riddick premiere, where she rocked a cropped leather top paired with a printed knee-length skirt.
Gal Gadot attends the premiere of Riddick at the Mann Village Theatre in Los Angeles on August 28, 2013
Gal styled her hair into a braid and jazzed up the outfit with lots of arm baubles, before finishing her ensemble with simple strappy shoes.
Gal Gadot styles her hair back into braids
Gal Gadot served her requisite two years in the Israeli army as a combat trainer during the 2006 Israel-Hezbollah War
"My service was for two years, but in an ideal world I would love for all the countries to not have an army so we don't have to fight each other," she told People magazine in an interview.
"But that's not the case – we're still not in an ideal world. There is still a long way to go."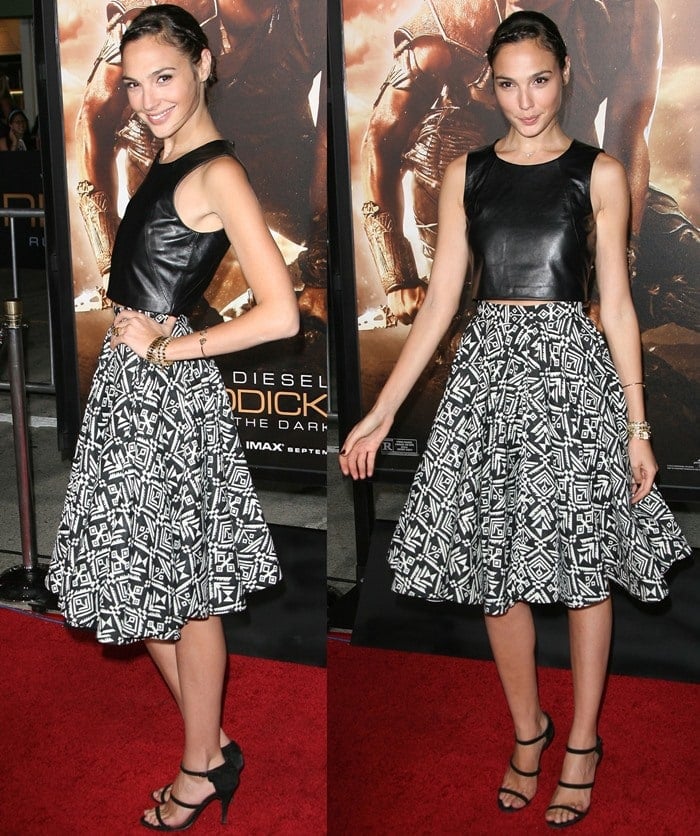 Gal Gadot wears a leather crop top and printed skirt on the red carpet
Gal Gadot's feet in strappy sandals
What do you think of the casting of Gal Gadot as Wonder Woman?
Credit: FayesVision / Apega / Adriana M. Barraza / WENN