Portraying one of the main characters on the Showtime drama series Billions, Malin Akerman stars as Lara Axelrod, the wife of billionaire hedge fund manager Bobby Axelrod, portrayed by Damian Lewis. She was 37-years-old when the first season started filming in 2015.
Damian Lewis and Malin Akerman as Lara and Bobby Axelrod on the set of 'Billions' in New York City on November 20, 2017
From a lower-class, blue-collar background, Lara is Bobby Axelrod's former nurse who ends up becoming his wife.
During season 3, Malin's character Lara Axelrod finalizes her divorce from Damian Lewis' Bobby "Axe" Axelrod. According to The Hollywood Reporter, Malin Akerman scaled back her Billions role after being cast to star in NBC's drama pilot Prism, which was rejected by the network in May 2019.
Malin Akerman wears an Antonio Berardi dress while carrying an Atelier Swarovski clutch at the 2020 Vanity Fair Oscar Party held at the Wallis Annenberg Center for the Performing Arts on February 9, 2020, in Beverly Hills, Los Angeles, California
Cast in Brad Peyton's science fiction monster film Rampage (2018) as Claire Wyden and as Grace Richmond in Martha Stephens' coming-of-age drama To the Stars (2019), Malin Maria Åkerman stepped into a recurring role from season 4 of Billions to accommodate for her film projects.
In October 2020, Deadline reported that Billions has been renewed for a sixth season. It's not known whether Malin Akerman's character Lara Axelrod will appear in the upcoming series that will premiere in 2021.
Damian Lewis and Malin Akerman as Lara and Bobby Axelrod in Billions, an American television drama series
"I just knew, 'Oh, this woman, this character is going to be so much fun to play,'" Malin Akerman said in an interview during an episode of PeopleTV's Couch Surfing about her Billions character Lara Axelrod. "Because she just says it like it is — goes straight for the jugular."
In April 2015, Malin Akerman took a break from filming 'Misconduct' to do some solo shopping in Beverly Hills.
In the 2016 American thriller film directed by Shintaro Shimosawa in his directorial debut, she portrays Emily Hynes, the girlfriend of pharmaceutical firm owner Arthur Denning (Anthony Hopkins).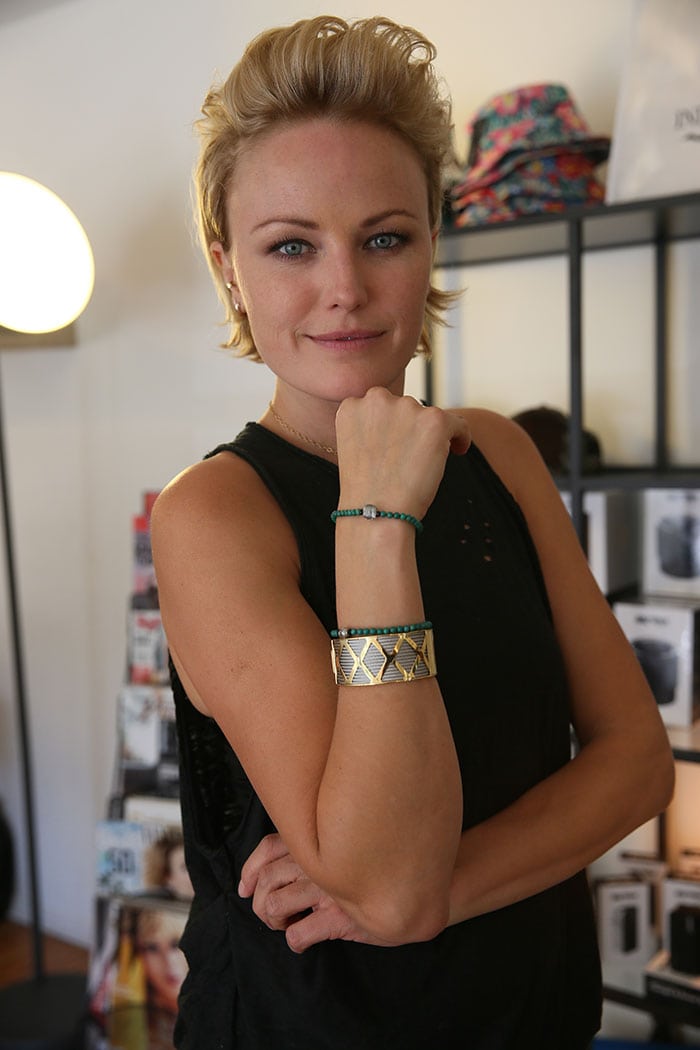 Malin Akerman plays the wife of billionaire hedge fund manager Bobby Axelrod
The then 36-year-old actress opted for a cool and casual ensemble for her shopping trip. She paired a loose black tank top with white cropped pants as she carried her bulging shopping bags.
Malin Akerman pairs a loose black tank top with white cropped pants
The Final Girls actress kept her accessories simple with Ray-Ban aviators, a crossbody bag, and a cuff bracelet.
Originally designed for U.S. Aviators in 1937, Malin Akerman's Ray-Ban Aviator sunglasses offer iconic styling
Giving her laid-back look some edge, she had her short blonde hair brushed back and finished her outfit with a pair of studded booties.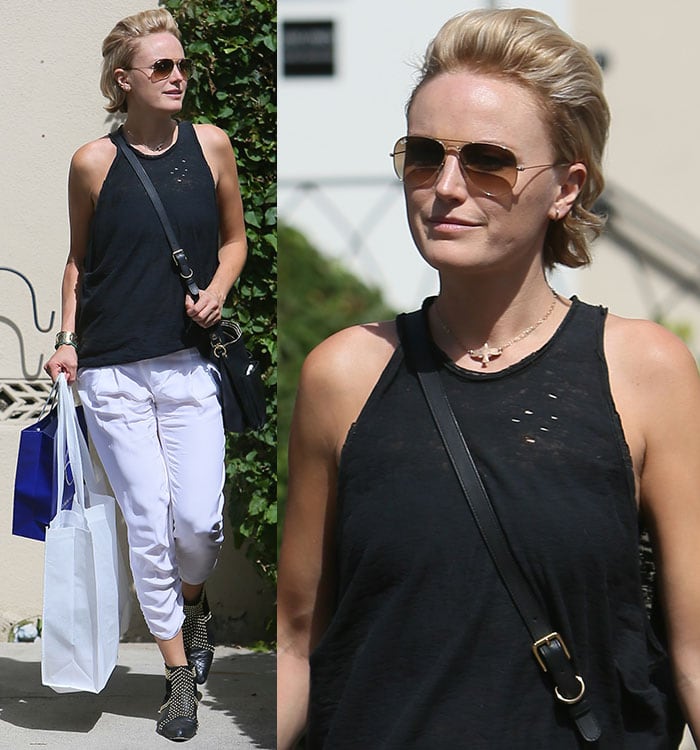 Malin Akerman rocks Anine Bing booties while shopping in Beverly Hills on April 30, 2015
Malin chose the "Charlie" boots by Anine Bing to complete her simple rock-chic ensemble.
These ankle boots feature gold-tone studs throughout, black suede panels at the sides, pointed toes, a Western-inspired hand-stitched pattern at the vamps, rear pull tabs, and about 1.25 inch stacked heels.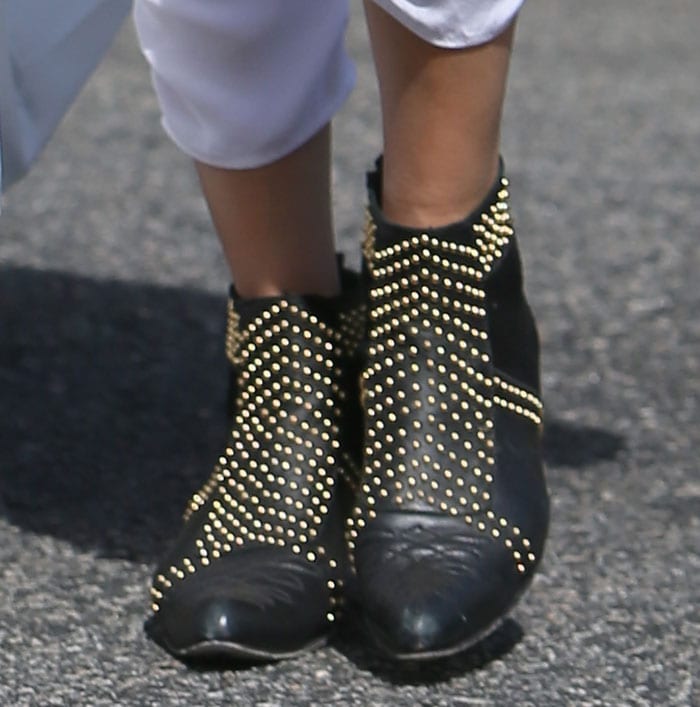 Rendered in a mix of leather and suede and detailed with rows of studs, Malin Akerman's sophisticated booties are truly eye-catching
You can buy Malin Akerman's Anine Bing boots for about $700 at Shopbop. If you're looking for a budget-friendly alternative, you might be interested in the special one-off 1460 boot from Dr. Martens that is stamped with gold studs of all shapes and sizes
Anine Bing "Charlie" Boots With Gold Studs, $699
Dr. Martens 1460 Midas Smooth Leather Gold Studded Boots, $260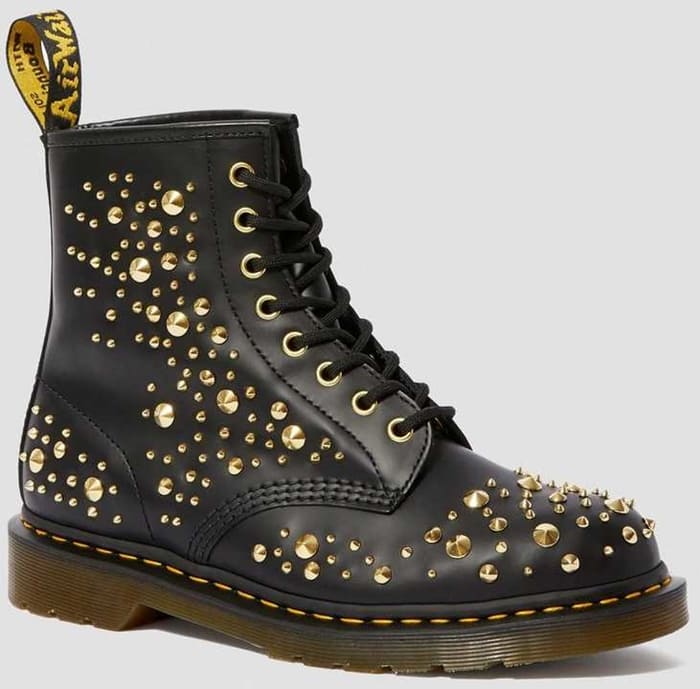 Credit: Michael Wright / WENN / TNYF / Avalon