Gal Gadot and her husband, Yaron "Jaron" Varsano, have been married since 2008. The couple first met at an Israeli desert party through mutual friends.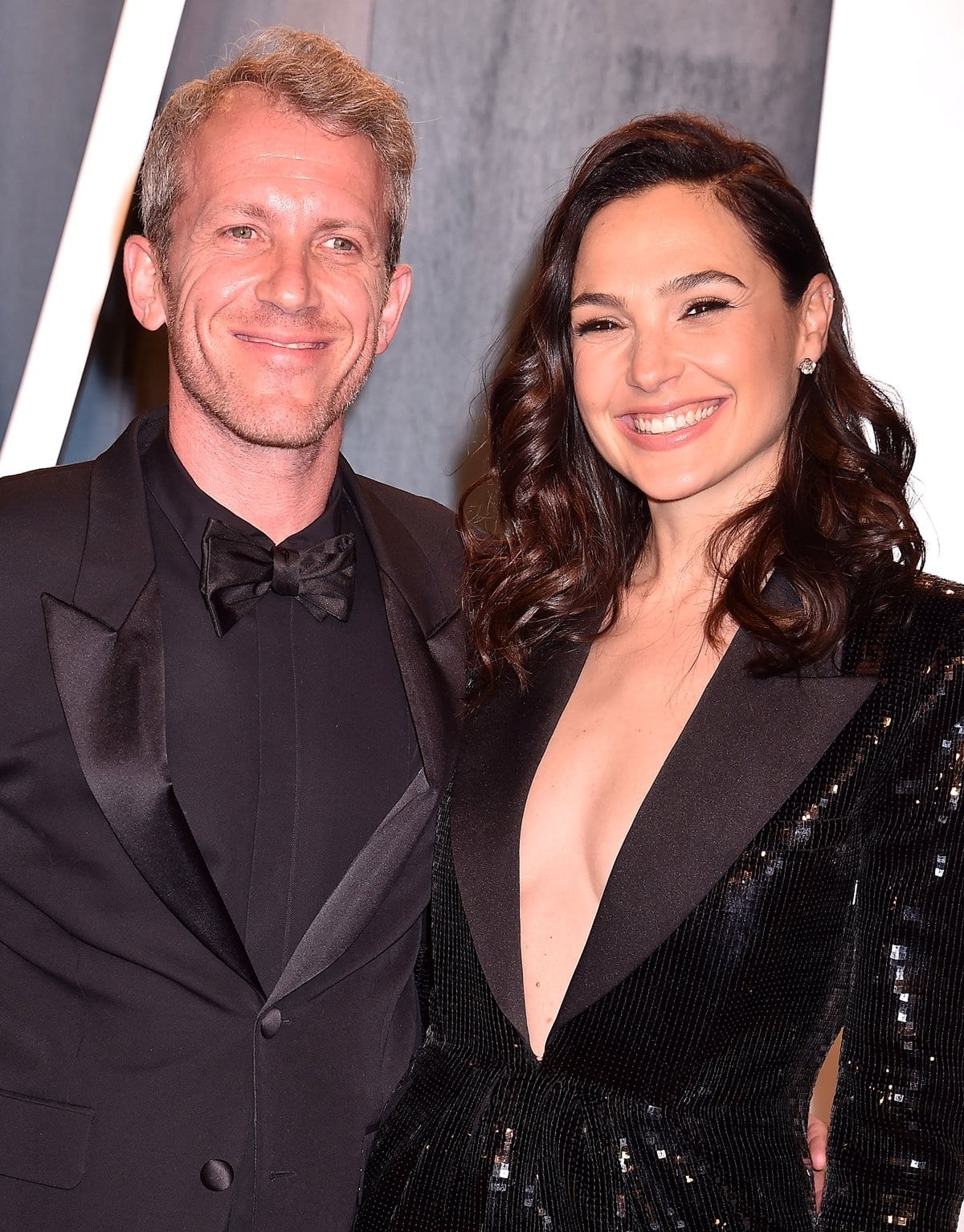 Gal Gadot met her husband, real estate mogul Yaron Varsano, at a "very strange party" in the Israeli desert (Credit: Avalon / WENN)
When asked about the desert party, which was more like a retreat focused on yoga, chakras, and healthy eating, and how they met, Gal said, "we didn't exactly find ourselves there, but we found each other."
Gal Gadot is known as an actress and model. Gal made a name for herself for her role as Wonder Woman in the recent superhero film of the same name.
She also played the character in Batman v Superman: Dawn of Justice (2016). Gal's real-life persona is much like her characters; she is passionate about life and is interested in humanitarian causes.
Gal's Life in Israel
Gal Gadot was born in Rosh Ha'ayin, Israel, on April 30, 1985. She was raised there and served in the Israeli Defense Forces for two years as a combat instructor.
Gal served her country from the age of 18-20. Her parents are Irit and Michael Gadot, who is an engineer. She also has a sister named Dana. Gal's first language is Hebrew, but she also speaks English.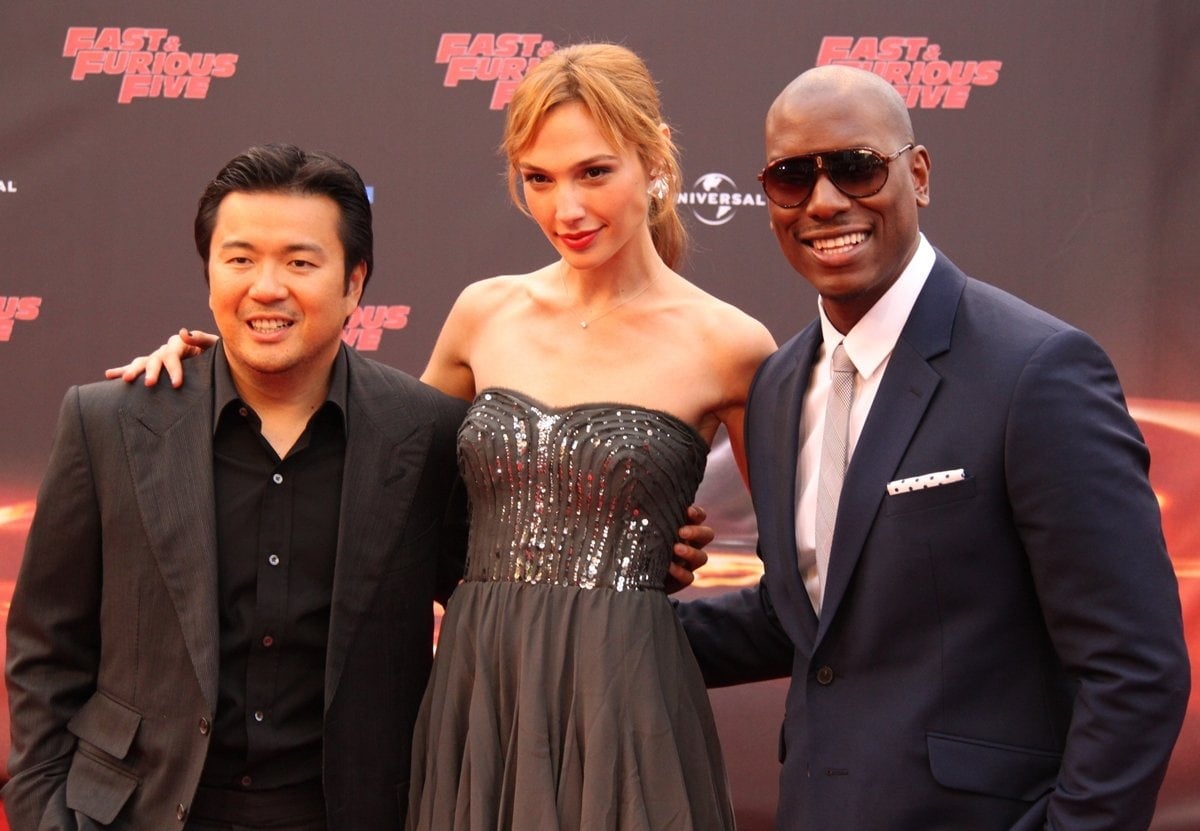 Tyrese Gibson, Justin Lin, and Gal Godot pose at the 'Fast & Furious 5' Germany Premiere on April 27, 2011, in Cologne, Germany (Credit: WENN)
Gal attended high school at Begin High School in Israel. She dreamed of being a choreographer and began studying dance and acting as a teenager.
When Gal was seventeen years old, a talent scout encouraged her to enroll in the Miss Israel competition.
The Start of Gal's Career
Gal's interests are not limited to the big screen. She is also a beautiful model whose campaigns include Miss Sixty and Castro.
At 5'10", her stature and beauty were recognized at a young age. Gal launched her career thanks to her beauty pageant win in 2004 at the Miss Israel competition. Gal also represented Israel in the Miss Universe Competition, which she failed to win.
A Noteworthy Movie Career
Gal has been in several movies since starting her acting career in 2004. However, Gadot got her big break when she was chosen out of thousands of actresses for the role of Gisele Yashar in The Fast and the Furious film series from 2009-2021.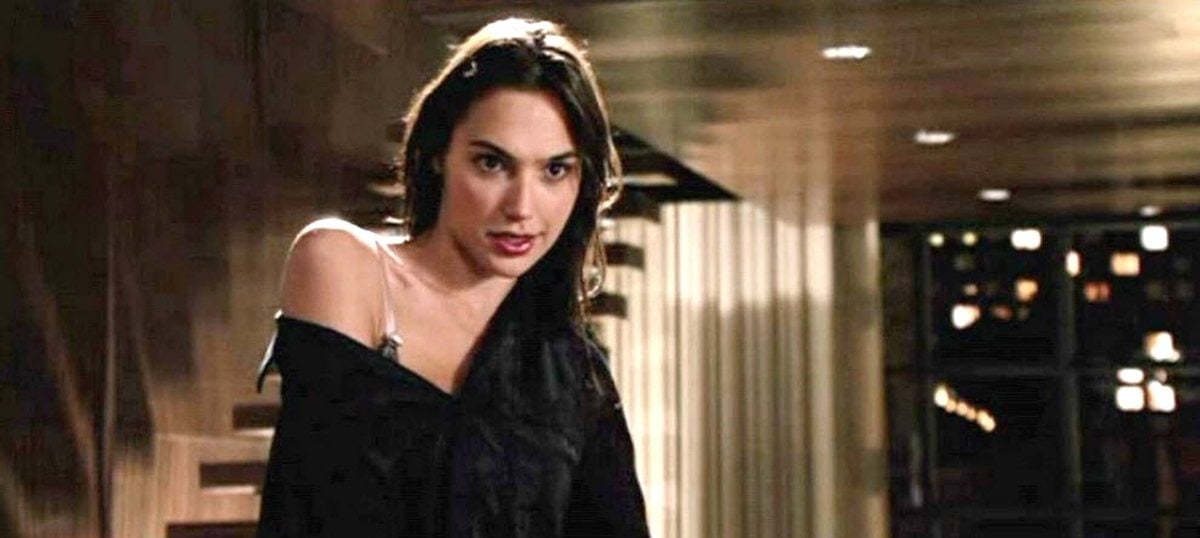 Gal Gadot played Natanya, the girlfriend of Mark Ruffalo's character Brad Sullivan, in the 2010 American romantic comedy crime film Date Night (Credit: 20th Century Fox)
After transitioning into film, she appeared in Knight and Day (2010) and Date Night (2010). Gal continued her work on the big screen with roles in Triple 9 (2016), Criminal (2016), and Keeping Up with the Joneses (2016).
Gal Gadot flaunts her body in a bikini as former Mossad agent Gisele Yashar in the 2011 American heist action film Fast Five (Credit: Universal Pictures)
In 2017, Gal received high praise from fans and critics alike when she starred as the Amazonian Princess Wonder Woman in the film of the same name.
She also played Linnet "Linny" Ridgeway-Doyle in the 2022 mystery film Death on the Nile. Gal has also made appearances on television, including on Entourage.
Awards and Nominations
Gal has won and been nominated for several awards. In 2017, she won a Spotlight Award at the National Board of Review Awards. The same year, she also won Best Actress at the Golden Issue Awards and the Digital Spy Reader Awards.
In 2018, she won many awards, including Best Actress at the EntreNews Awards, Film & Music Awards, and Comic Book Film Awards for Wonder Woman.
Gal Gadot films a scene for the movie 'Wonder Woman' in Trafalgar Square in London on February 21, 2016 (Credit: WENN)
The Israeli actress recently won the EntreNews Awards for Best Actress and Heroine and Best Actress of the Year at the Cape & Castle Awards. She also won the Favorite Superhero award at the Kid's Choice awards in 2021.
Gal's Modeling Career
After several modeling gigs following her win as Miss Israel, Gal was featured in ads for Huawei headphones and Jaguar. She was also featured in a Maxim photoshoot for women in Israel's defense forces. During the height of her modeling career in 2013, her estimated salary was $2.4 million.
In 2015, she became Gucci's face for their new perfume brand, Bamboo.
After reaching prominence in her acting and modeling career, Gal has been featured on the cover of Vogue, Elite, Cosmopolitan, and several other magazines.
Who Is Yaron "Jaron" Varsano?
Gal's husband, Yaron Varsano, is an Israeli real estate developer and businessman with whom Gal has been married since September 28, 2008. They have been married for over thirteen years. Gal's husband, Yaron, is ten years older than her.
"He's 10 years older than me. He told me on our second date he was serious and wasn't going to wait more than two years to ask me to marry him," Gal told Glamour in 2016. "Fast forward two years, he proposed. We were married in 2008."
View this post on Instagram
After getting married, Yaron noticed they had to travel a lot while Gal filmed Fast and Furious 4. This frequent travel inspired him to create The Varsano Hotel.
"We wanted to feel at home, which is when we discovered these apartments within a hotel in Los Angeles. It became the inspiration for Yaron's hotel, The Varsano," she explained to Totally Jewish in 2011.
"I think that Yaron and I make a really good team. I understand his career and he understands mine. We help each other progress in all areas of life. We're both very career-driven."
He also built luxury suites in Tel Aviv with his brother. In 2015, they sold his luxury suites to a Russian billionaire Roman Abramovich for $26 million.
Their Loving Relationship
Gal and Yaron's love story is as charming as Gal herself. Gal was first introduced to Yaron by a mutual friend in Tel Aviv. During the first time they met, Gal initially tried to deny her feelings because she thought she was too young.
However, Gal eventually learned that Yaron was interested immediately. In fact, Yaron told Gal that he was serious on only their second date!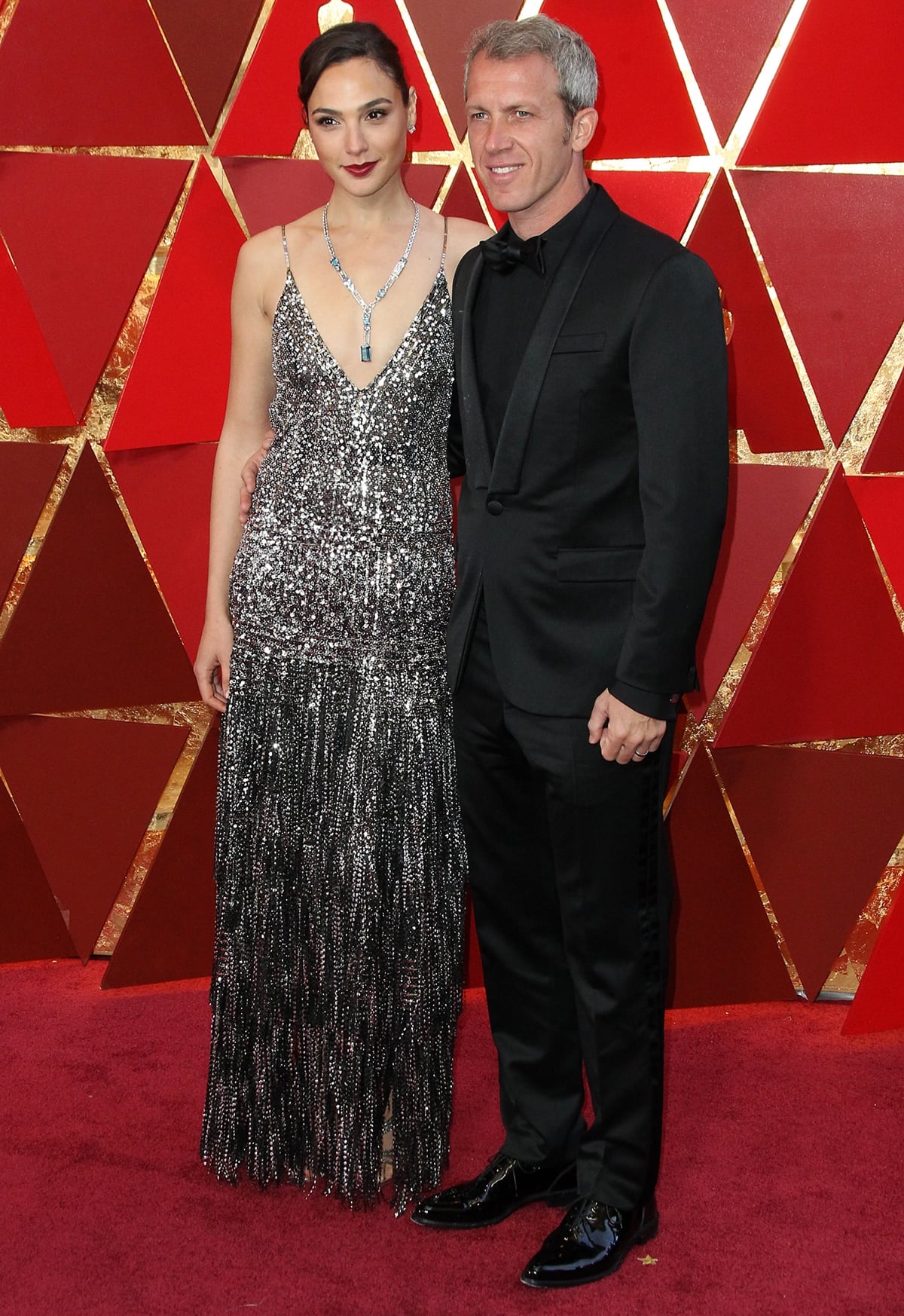 Gal Gadot wears a Givenchy dress and stunning Tiffany & Co. diamond necklace on the red carpet with her husband Yaron Varsano at the 2018 Academy Awards held at the Dolby Theatre on March 4, 2018, in Hollywood (Credit: Adriana M. Barraza / WENN)
Yaron loves Gal's strength and beauty. As a result, he is always supportive of her and her career.
While Gal was panicking about work after their first child, Versano told her, "Gal, think about what kind of role model you want to be. If you want to show Alma that she can follow her dreams, that's what you should do. We will figure out the logistics."
Gal and Yaron's Children
Gal and Yaron have three beautiful daughters together, Alma, Maya, and Daniella Varsano.
Gal and Yaron's first child is a daughter named Alma Varsano, born in 2011. Gal gave birth to their second child, Maya, in March 2017. Later, she revealed that she was five months pregnant with Maya when filming the Wonder Woman sequel.
Pregnant Gal Gadot with her daughters Maya Varsano and Alma Varsano in Hollywood on June 9, 2021 (Credit: MEGA / WENN)
In June of 2021, Gal gave birth to her third daughter, Daniella Varsano. "We are all so excited to welcome Daniella into our family," Gal Gadot said on Instagram, sharing a sweet photo of her family of five.
View this post on Instagram
"My sweet family 🖐🏼 I couldn't be more grateful and happy (and tired 🤪) we are all so excited to welcome Daniella into our family. I'm sending all of you love and health. GG ♥️🖐🏼🖐🏼🖐🏼🖐🏼🖐🏼," she captioned the post.
Pilot Wave & Production
Gal and her husband, Yaron, have started a production company called Pilot Wave. After getting experience co-producing Wonder Woman 1984, Gal is now ready to step into more production roles.
Her future production roles include a limited Apple TV+ series about actress Hedy Lamarr and a historical thriller titled Irena Sendler. Both roles will explore her production abilities while showcasing her acting skills.
The Perfect T-Shirt
An adorable photo of Gal Gadot and her spouse Yaron Versano stormed the internet in June 2017. In the charming photo shared to his Instagram account, Yaron's wearing a t-shirt that says, "your wife" on one side with a picture of a women's restroom sign.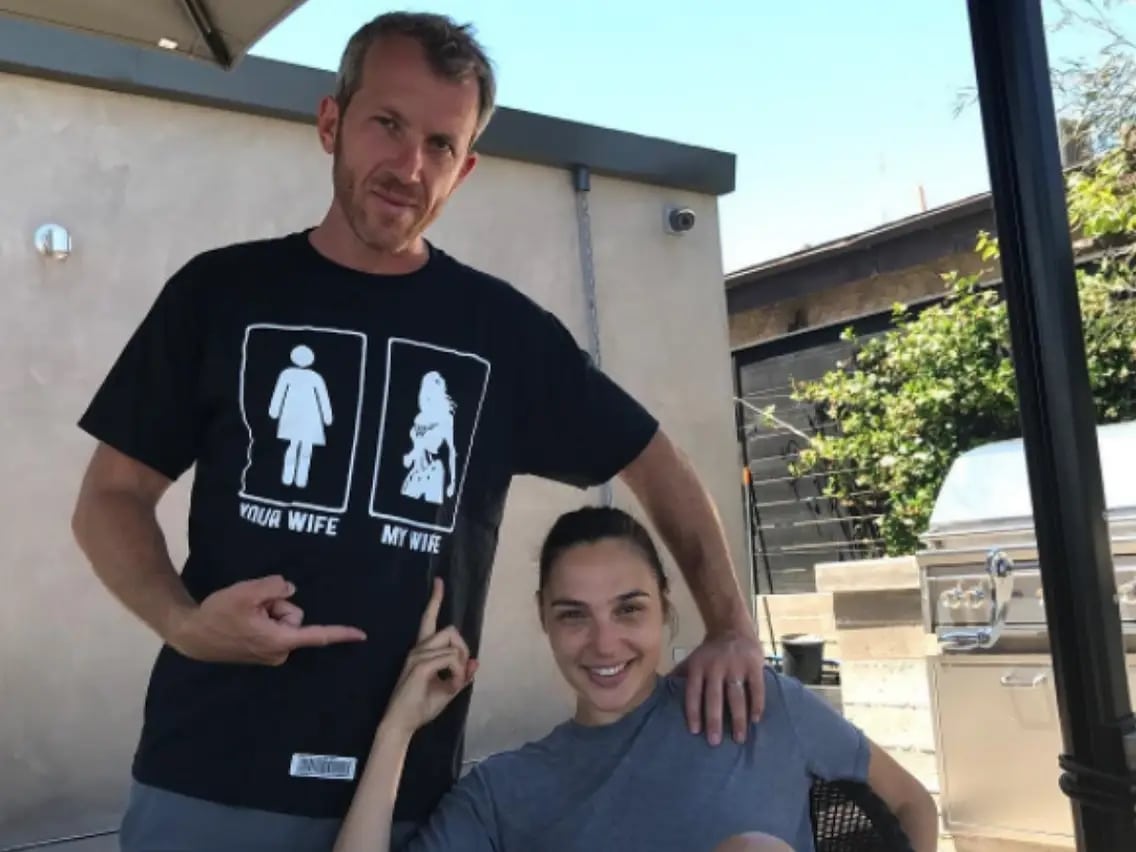 Gal Gadot's husband, Yaron Versano, wears a t-shirt showing the classic symbol for a women's restroom, captioned "your wife," while the other side has an illustration of Wonder Woman, captioned, "my wife" (Credit: Yaron Varsano's Instagram)
On the other side is a portrait of Wonder Woman, captioned "my wife."
Moreover, Gal appears to approve of her husband's assertion, smiling widely and pointing at the t-shirt.
A Wonderful Role Model
Gal Gadot is a beautiful role model who has not shied away from discussing her family values. Gal's priorities have always been her children and family, thanks to Gal's upbringing as an Israeli.
Gal says that growing up as an Israeli helped shape her as a person and an actress because she learned to appreciate the small things in life.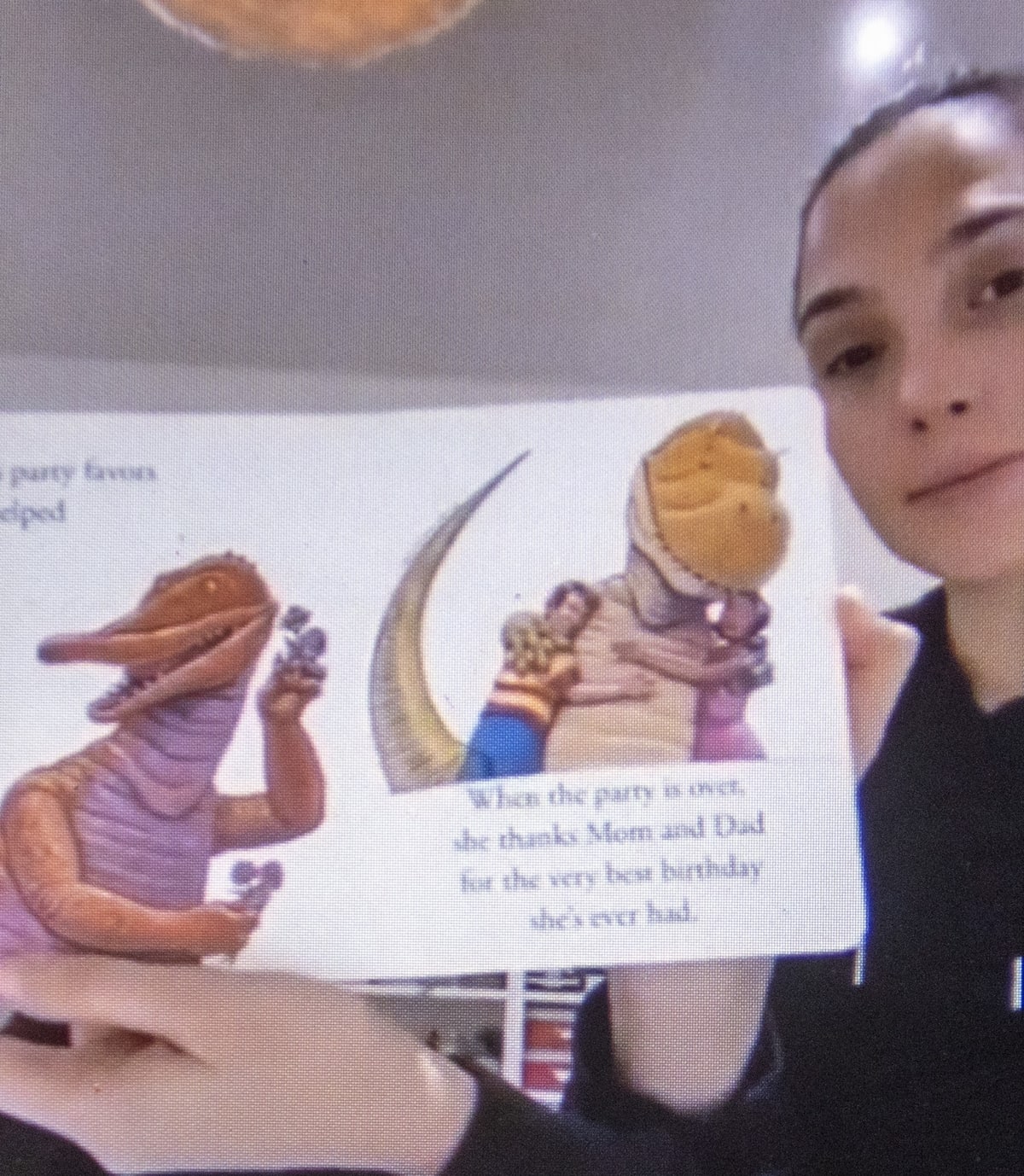 Gal Gadot reads How Do Dinosaurs Say Happy Birthday? to help raise money for Save the Children and No Kid Hungry (Credit: Avalon / WENN)
The Fast & Furious actress continues that she likes the idea of supporting causes that directly affect people's lives because it feels like you're doing something meaningful with your career rather than just working for work's sake.
Gal is also incredibly passionate about women and their roles in society, especially since she plays such strong female characters on screen and wants young girls to look up to those characters and aspire to be them too!
Time at Home
When Gal is not filming, she enjoys family time with Yaron and her three daughters. Gal and Yaron love traveling together, and Gal especially loves to cook for her family.
Gal's favorite foods are Israeli dishes such as shakshuka, hummus, and sabich. She also loves spending time with her husband between work projects. Gal says that she enjoys reading comics in the sun and yoga practice when she is not working or spending time with family!
Actress Gal Gadot goes grocery shopping in sneakers from Reebok at Gelson's Markets in Studio City on October 14, 2021 (Credit: MEGA / WENN)
Although Gal is now a prominent Hollywood actress and has a house in Hollywood Hills, she primarily spends time at her home in Israel.
She describes her Tel Aviv home as near the beach. According to her interview in Vanity Fair, she describes it as one with a large back patio surrounded by overhanging trees and stone.
When describing her home in Malibu, she describes it as sitting on top of a famous hill with a view of the world. However, she is very private about her home life, and not much is known about the exact location of her $5 million California home.
Gal and Yaron's Net Worth
As an actress and model, Gal has amassed a considerable net worth. Gal's salary for her role as Wonder Woman in the 2017 film was $300,000.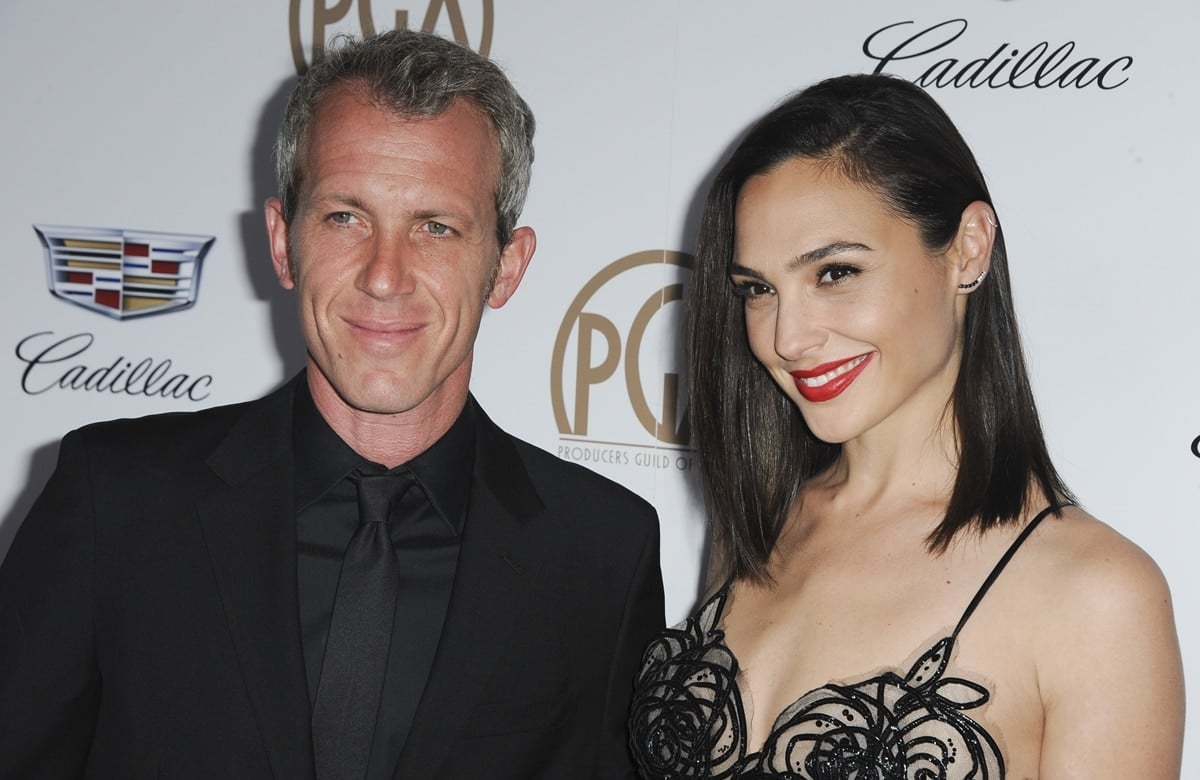 Gal Gadot and her husband, Yaron Varsano, are believed to have a combined net worth of $30 million (Credit: Apega / WENN)
For the second installment, Wonder Woman 1984, she was paid significantly more and made $10 million. In addition, her husband's real estate development contributions boost their net worth to an estimated $30 million.
Furthermore, Gal's salary will only continue to rise with each new movie she stars in.
Gal's Relationship History
Although not much is known about Gal's relationship history before her marriage to Yaron, it is rumored that she was previously involved with Israeli actor Oshri Cohen. She is believed to have dated Oshri for six months before meeting Yaron.
Furthermore, Gal Gadot has never addressed her relationship history in the media.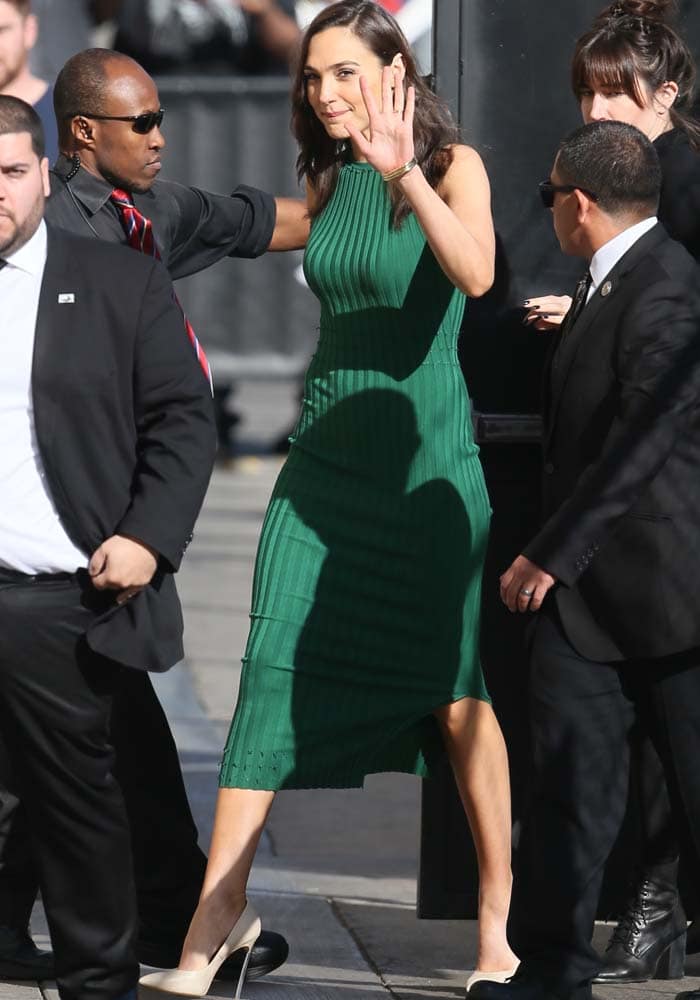 Gal Gadot wears her hair down as she arrives at ABC Studios for "Jimmy Kimmel Live!" on March 15, 2016, in Los Angeles (Credit: Michael Wright / WENN)
Gal Gadot may have acquired supernatural powers on the big screen after landing the Wonder Woman role, but in real life, the gorgeous gal has the power to make Jimmy Kimmel blush with just one question.
In March 2016, Gal arrived at the ABC Studio for her guest appearance on "Jimmy Kimmel Live!"
The statuesque beauty arrived in a green ribbed bodycon dress from Altuzarra, which she wore with a pair of Casadei "Blade" pumps in nude.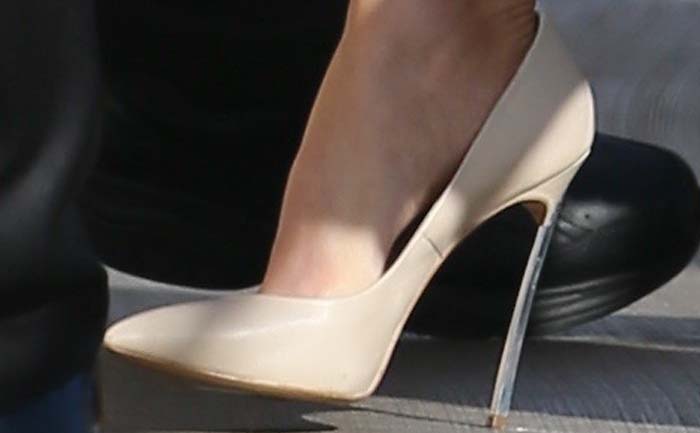 Gal Gadot's feet in nude Casadei pumps (Credit: Michael Wright / WENN)
Miss Israel 2004 kept her jewelry to a minimum, choosing only light makeup and a casual short hairstyle.
Gal switched into a different outfit for the show, zipping herself up into a floral-embroidered creation by Dolce & Gabbana.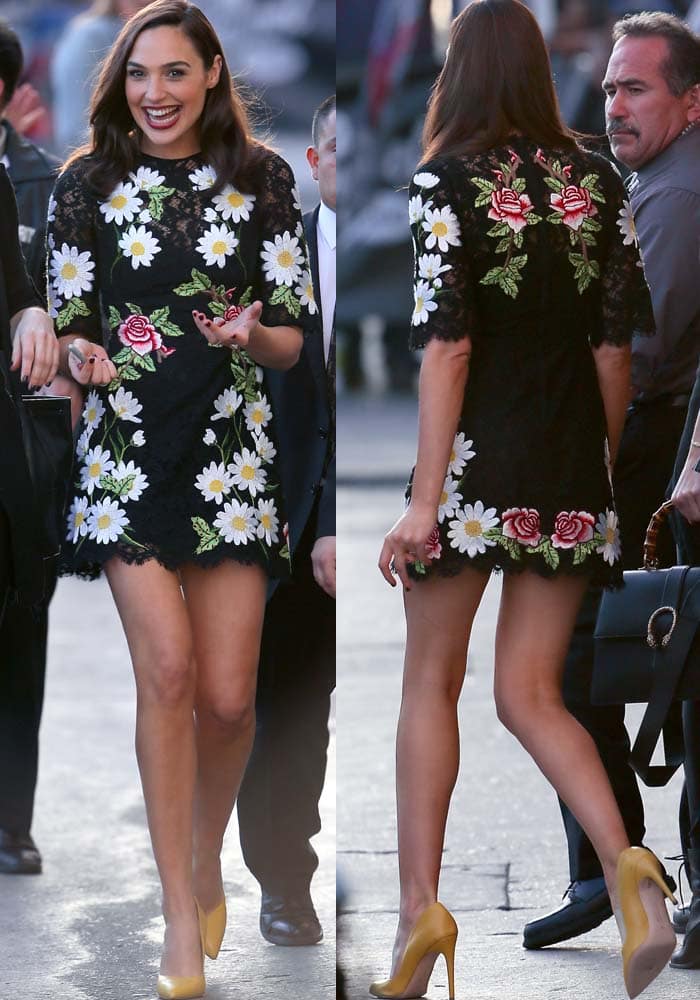 Gal Gadot leaves her guest appearance on "Jimmy Kimmel Live!" in a new ensemble (Credit: Michael Wright / WENN)
The laced hem of the dress emphasized the former Miss Israel's long legs, which tapered down to a pair of Rupert Sanderson "Yves" pumps.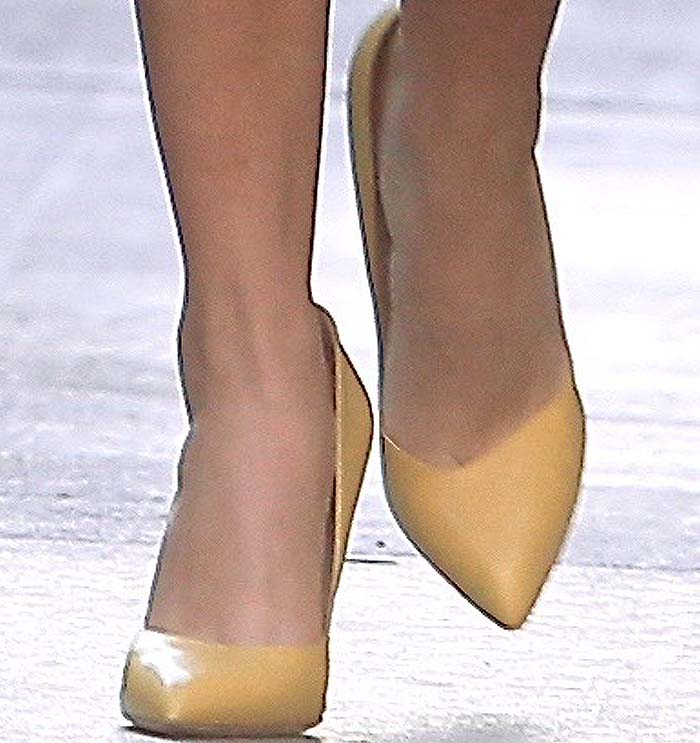 Gal Gadot's feet in yellow asymmetrical Rupert Sanderson pumps (Credit: Michael Wright / WENN)
It's pretty rare to catch Jimmy Kimmel off guard but Gal Gadot was able to do it with just one question: "What do you think of my breasts?"
She asked him the question because some comic fans had criticized her cup size.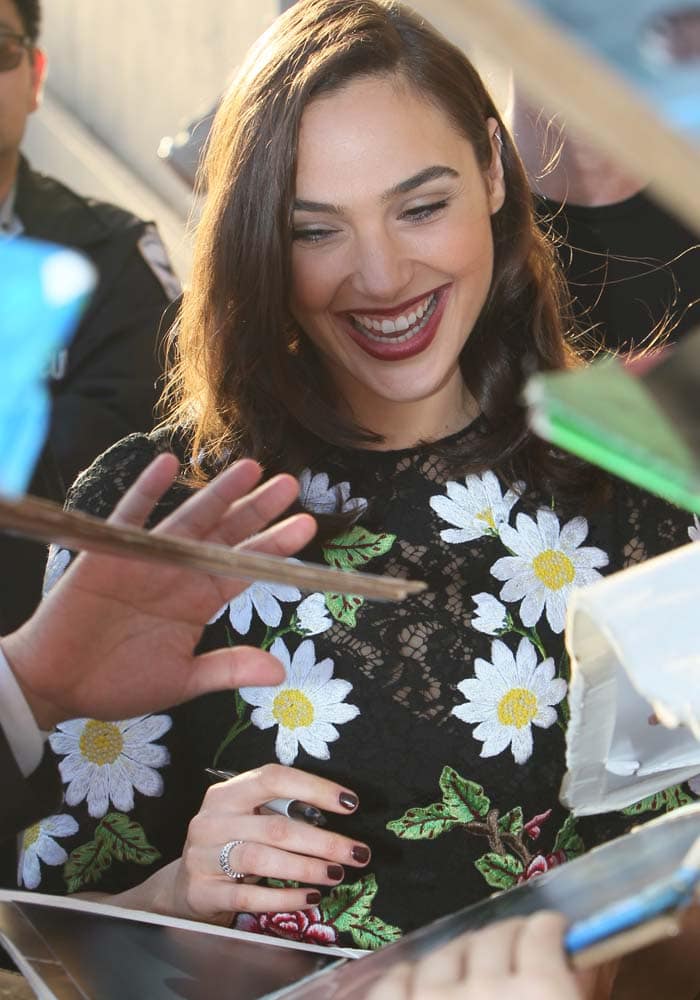 Gal Gadot signs autographs for fans while leaving ABC Studios (Credit: Michael Wright / WENN)
"They look great. Both of them," he responded. The host was able to make light of the situation but not before wiping sweat from his forehead and admitting that the question made him blush. Watch the hilarious clip below:
Here comes the battle of the two pumps: would you go for the metal heel or the asymmetrical cut? Both give a refreshing overhaul to the nude staple pumps, so we understand your predicament.
Casadei Patent Leather "Blade" Heel Pumps, $514.79 – $750
Rupert Sanderson Leather Pumps, $545