Chelsea boots are a closet staple. Whatever your aesthetic is, a pair of Chelsea boots will carry you through life. While other shoes go in and out of style, Chelsea boots have remained at the forefront of fashion.
Their versatility and classic style make them the ideal investment in your closet. These shoes are universally flattering and a must-have for both men and women.
We're going to cover everything that you need to know about Chelsea boots. Also, make sure to check out the best ones to invest in.
The History of Chelsea Boots
Chelsea boots first appeared on the scene during the Victorian era. You'll have probably spotted them in some of your favorite period dramas. Chelsea boots were a favorite of Queen Victoria, who wore them for her daily walks.
Her shoemaker, J. Sparkes-Hall, created a shoe that could be easily pulled on and off without having the fuss of laces. Chelsea boots began their life primarily as riding boots and for hiking.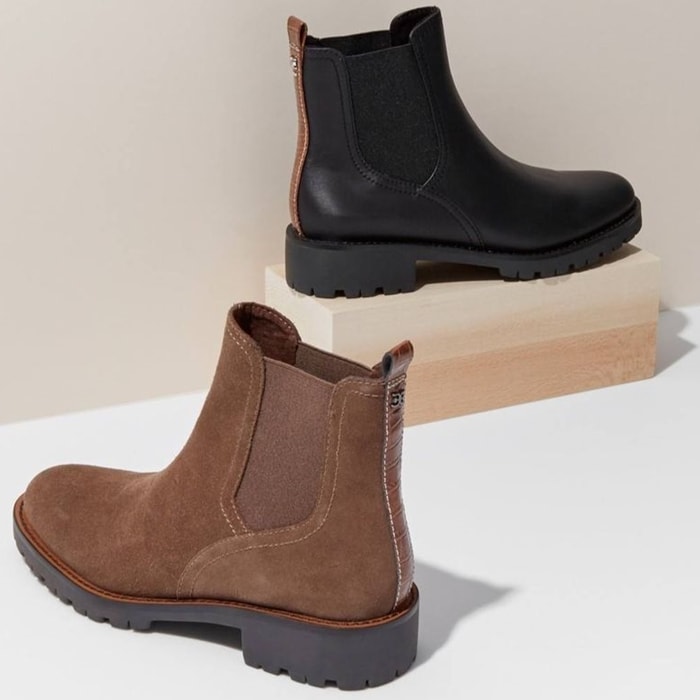 A lugged sole combined with a contrast panel at the counter update a take-charge boot in a classic Chelsea silhouette from Sam Edelman
During Queen Victoria's era, 'Chelsea' boots were known as 'paddock boots' due to their rural origins. They were shorter than the popular equestrian boots, coming up to ankle length as opposed to the knee.
The principal purpose of Chelsea boots is their ability to be pulled onto your feet, making them fuss-free, unlike lace-up boots. Since its inception, the Chelsea boot has been a unisex shoe that both men and women wear.
Today, you'll often find Chelsea boots with an elastic side panel to make them easier to pull on.
Why are they called Chelsea boots?
For generations, Chelsea boots were without a name but not without a purpose. They appeared everywhere, from military uniforms to work shoes.
Chelsea boots got their name from their popularity in Chelsea, an affluent and trendy area of London (Credit: Cktravels / Shutterstock)
The modern version of the Chelsea boot came to prominence during the 1960s in London. They became synonymous with the sleek and tailored look of the 'mod' subculture of the '60s.
Everyone from The Rolling Stones to The Beatles wore this style of shoes, giving them a rock 'n' roll aesthetic.
Available at Nordstrom and Hunter, the Chelsea-cut version of Hunter's Original rubber boot is a style-savvy companion on drizzly days.
Perfect for rainy days, Hunter's Original Chelsea bootie is handcrafted from natural rubber and vulcanized for superior protection
As the boots became synonymous with trendsetters in London, who were often found around King's Road, a major street stretching through Chelsea and Fulham in west London, the name Chelsea started to be associated with the boots.
Even though their origin dates to the Victorian era, these boots have a more contemporary name.
Fast forward to today, and 'Chelsea' is one of the most affluent areas of London and still plays host to celebrities and trendsetters alike.