Before they became all the rage among fashionistas, rubber boots or wellies were traditionally worn by fishermen, farmers, soldiers, and other occupations frequently exposed to muddy terrain and wet weather.
Original Tall Wellington Boots, $82.99 – $153.75 at Zappos and Nordstrom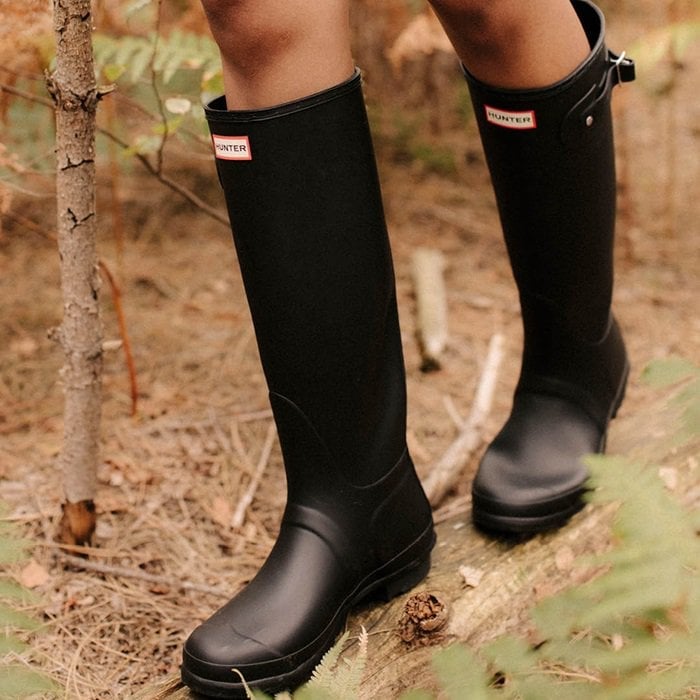 However, that all changed when supermodel Kate Moss was spotted wearing Hunter rain boots during the Glastonbury Music Festival in 2005. The "Kate Moss effect" happened, kicking off the Hunter boots and wellies trend.
Jenna Louise Coleman at the 2014 Glastonbury Festival on June 27, 2014
Since then, Hunter boots have become the choice of footwear for music festivals. In addition to being trendy, rubber boots protect your feet and legs from mud and rain puddles.
Jenna Louise Coleman shows off her Hunter boots
Buying Hunter boots from authorized retailers like Nordstrom and Zappos is arguably the simplest way to ensure that you get the real thing. Be particularly careful if you plan to buy boots on eBay.
The following five stores have the best selections of Hunter boots online:
1. Hunter Boots (Official Site)
2. Amazon
3. Shopbop
4. Nordstrom
5. Zappos
You can buy Hunter boots on clearance at Nordstrom Rack. Check out some of the famous faces who have sported the trend:
Fearne Cotton wearing Hunter boots at the 2014 Glastonbury Festival on June 27, 2014
While Hunter boots are most popular at music festivals, some celebrities have also incorporated them into their regular wardrobes.
Alessandra Ambrosio wearing Hunter boots while leaving a gym in Los Angeles on March 7, 2014
Because of the popularity of Hunter boots, they have been targeted for counterfeiting.
Kate Bosworth and boyfriend Michael Polish at the 2012 Coachella Valley Music and Arts Festival in Indio on April 13, 2012 / Pixie Lott backstage at the Isle of Wight Festival on June 12, 2009 / Hilary Duff dresses down wearing an old jumper, ripped jeans, and Hunter wellies in Los Angeles on November 21, 2013
To ensure that you are getting a genuine pair of Hunters, do a little research and inspection first. Here are five things to check before buying:
1. Check Logo Label
The first thing to check is the label. Original Hunter boots display the Hunter logo on the front of the boots. The logo should have bold, black block letters on a white rectangular label with red borders.
The print should look clear and readable, with no blurry lines and faded colors. Also, the silver-buckled straps should also have a Hunter logo etching.
2. Insoles/Outsoles
Genuine Hunter boots are made of high-quality vulcanized natural rubber. The outsoles are decorated with a zigzag pattern and deep treads for better traction on wet surfaces.
The insoles are multilayered and cushioned, with a distinctive orthopedic design for optimal comfort. So, take a few minutes to try on a pair before buying it.
Try to get a feel of how comfortable the boots are on your feet, and check if they match the description.
3. Weight and Texture
One of the best ways to tell a fake from a genuine is by feeling the product in your hands. Because they're made of vulcanized rubber, Hunter boots can feel pretty heavy.
An original pair of Hunter boots will weigh about 4 pounds, while imitations weigh a lot less because they're made of cheap rubber. Cheap rubber can also feel very rough, while high-grade natural rubber is a lot smoother.
4. Colors and Styles
Hunter's original tall boots usually have 10 classic colors, but there are seasonal styles that add more colorways to the mix.
Visit the brand's website to check and compare the styles so that you can be sure that you're getting the real deal. The color or gloss should look even (without any breaks) on all sides.
Counterfeiters often try to imitate the most popular colors but aren't able to copy the exact shade. Take note that imitations are usually two or three shades brighter or lighter than the original ones.
5. Trusted Online Stores
When buying Hunter boots online, it is always recommended to purchase from trusted online retailers. While other smaller sites may offer a cheaper price, established retailers guarantee that the products they carry are genuine.
A couple more reminders:
White powdery marks occasionally appear on used Hunter rubber footwear. This happens when insoluble particles begin to rise on the surface. While this may surprise you, it is actually a mark of high-quality natural rubber, and you should therefore not be worried. With the use of Hunter's boot buffer and boot shine, a pristine finish can easily be restored.
Genuine Hunter boots can be pretty pricey. The original tall boots are around $110, and the other special styles (i.e., shearling-lined boots) can be up to $250. The fake ones, on the other hand, can be extremely cheap.
Hunter boots are quite large (especially the tall styles). If you will not be wearing them with thick socks, it is advisable to order one size smaller for a proper fit.
Questions Regarding Hunter
Are real Hunter boots made in China?
Originally established as North British Rubber Company in 1856, the company is still headquartered in Edinburgh, Scotland. The company was founded by American entrepreneurs Spencer Thomas Parmelee and Henry Lee Norris. They arrived in Scotland with a patent from American self-taught chemist Charles Goodyear to make rubberized outer shoes and boots.
After going bankrupt in 2006 due to high manufacturing and fuel costs, two years later the restructured company closed down its factory in Dumfries, a market town and former royal burgh within the Dumfries and Galloway council area of Scotland.
A statement from the company said: "Hunter is extremely proud of its Scottish heritage and the brand will continue to be designed in Scotland where it is proposed that the new head office will house a specialist product development team.
"While this move heralds an exciting time for the brand, the long-term strategy means that manufacturing is unlikely to continue in Scotland.
Hunter Red Original Ribbed Leg Boots, $130 – $225
"Hunter management has looked at every possible option to maintain a production facility in Scotland, however, it is not economically viable to continue with the existing manufacturing function in Dumfries.
"Staff in Dumfries are to be offered the opportunity to relocate with the business to Edinburgh, some in alternative roles, and the management hope that as many as possible will be able to fill the jobs created there.
"Dumfries has been at the heart of the brand for many, many years and the many people who have worked across all aspects of the business during Hunter's long association with the town have been extremely valued.
"It is with great sadness that this decision has been made but, under this new proposal, the brand's Scottish heritage will continue to be honored and celebrated as Hunter prepares to enter a new phase returning to its original home in Edinburgh."
Following the closure of its plant in Scotland, the company outsourced production to Asia in 2008. Its famous rain boots are now made by supplier factories located in China, India, Indonesia, Italy, Thailand, Turkey, the UK, and Vietnam.
Can I wear Hunter boots in the snow?
While primarily known for wellies and rainwear that are not designed for extremely cold temperatures, Hunter also offers a range of insulated snow boots and winter boots for tackling the coldest winter climates.
Hunter's insulated and water-resistance snow boots are engineered to withstand extreme temperatures
Are Hunter boots guaranteed for life?
No, they are not guaranteed for life. However, authentic Hunter boots are covered by a twenty-four (24) month warranty. You need to provide proof of purchase (receipt) from an authorized stockist.
Do Hunter boots run big or small?
It's usually recommended to go a half size down, but reading the Hunter boot fit guide to ensure you order the right size is well worth your time.
Are Hunter boots vegan?
Since their wellies are made using natural rubber, most of the brand's iconic and best-selling boots are vegan. The company even offers a Vegan Edit of eco-friendly wellington boots that are made without using any animal materials or animal by-products during the manufacturing process.
Credit: WENN / Hunter / Lia Toby