Boots are a year-round wardrobe staple. Whether it's April rain showers or a December snowstorm, you always need to have a pair of boots on hand.
Boots come in every shape and size, meaning that there is a perfect pair of boots for everyone. The one factor that has an impact on the kind of boots that you can wear is the size and shape of your calves.
You might find that one style is too big for you while another pair makes your legs look shorter.
We've rounded up the best boots for those with skinny legs, with style and brand recommendations, to help you find your new go-to pair of shoes.
What To Consider When Buying Boots
Before you start looking for a pair of boots, there are a few things that you need to consider. Just like any style of shoes, the sizing can differ, and certain things will impact how the shoe fits.
When it comes to buying boots, you need to be mindful of the ankle width. You want your shoes to be comfortable enough to wear thicker shoes for winter without the ankle width being too big.
If you have narrow legs, you'll want to look for a smaller ankle width as otherwise, the material can shift against your leg, especially with ankle boots.
Real Housewives of Orange County star Alexis Bellino, Love Island contestant Amy Hart, and English actress Amanda Holden flaunt their skinny legs in boots in December 2020
If you are looking for boots that you can wear to more formal events at your workplace, then keep an eye for boots with a heel. You'll want to choose a heel height that you're comfortable with walking in.
Boots are the perfect shoe for hiding a platform, especially in riding and knee-high boots. A platform heel is ideal for anyone who wants to swap out their usual flats for a heel. The higher that the boot sits on your calf, the higher the heel you can choose.
You might not think about it – or even look at it – but the sole of your boots is one thing you need to consider. Most of the boots that you'll find online are made with either plastic or rubber soles.
The plastic variant is the sort that makes the 'click-clacking' sound, but they are also easier to slip in if you happen to come across a marble floor or black ice.
Rubber soles have a better grip, making them a must-have if you live in a colder climate or have yearly snowstorms. If you're always on-the-go then a pair of boots with rubber soles are essential for your closet.
Boots come in every height – from ankle boots to over-the-knee boots. Ankle boots are by far the most versatile style, as you can wear them with everything from jeans to a pencil skirt.
English television presenter Siân Welby, English model Kelly Brook, and American actress Sarah Jessica Parker wearing ankle boots
When it comes to taller boots, it depends on the material. For leather knee-high boots, these tend to look best when styled with tights and a skirt. You'll want to consider what style works best with your existing wardrobe to keep your cost per wear low.
Black is the most popular color for boots, giving you both functionality and understated elegance.
Now that you know what to keep in mind, here are a few styles that are ideal for those with skinny legs.
Style 1 – Riding Boots
For fans of the preppy New England aesthetic, riding boots are a closet staple. Traditional riding boots are often made in leather with a metal buckle and a low heel.
Think of the shoes that you would expect to see in a Jane Austen film, and that will give you an idea of the origins of this style.
The beauty of riding boots is that they're one of the most versatile styles that you can invest in. When you slimmer legs, you can easily wear them over a pair of skinny jeans or with a pencil skirt.
The boots should come up to just below your knee, giving you both functionality and comfort. Riding boots came into mainstream fashion during the 1970s and have been considered a classic ever since.
Equestrian style boots typically have a wide block heel and come in black or tan leather. This sole is as comfortable as wearing flats while giving you the bonus of a height boost.
The Splurge Option
Tommy Hilfiger, the iconic brand known for bringing to life the classic American cool spirit, offers a range of options for riding boots that you can buy on Amazon.
If you are someone who can never be without a heel, then their modern riding boots take the key design elements of the traditional design and adds a silver-tone buckle around the ankle.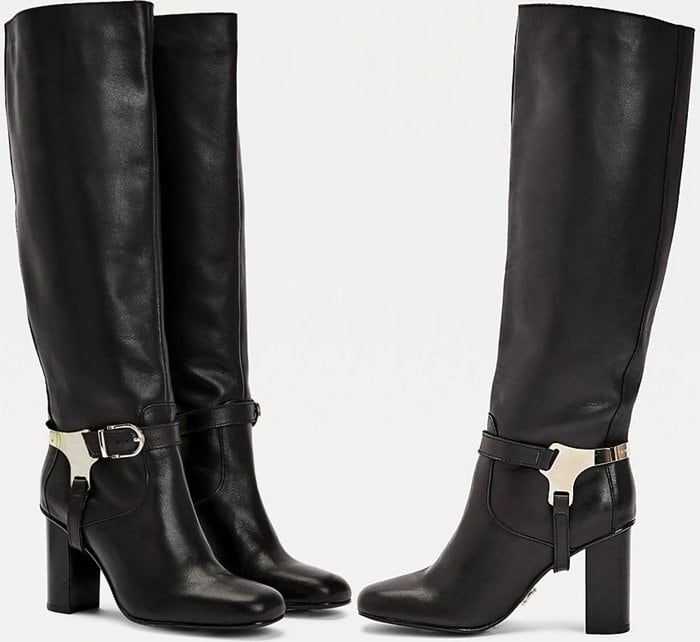 The silver-tone hardware and buckle design around the ankles give these long leather boots an equestrian chic aesthetic
For those who have a minimalistic aesthetic, the brand's monogram plaque high heel boots are ideal for slim legs as they have a zip closure on the sides and are complete with the TH monogram logo and faux snake-skin detailing.
Elevate your ensemble with these high heeled boots, featuring decorative elasticated side panels and a Tommy Hilfiger monogram plaque
As a brand with an equestrian origin story, it's no surprise that riding boots are one of the most popular styles offered by Coach.
Their Fynn boot has a flat rubber sole and an embossed horse and carriage. Available at Coach, these riding boots are perfect for anyone looking for a simplistic pair of boots for everyday wear.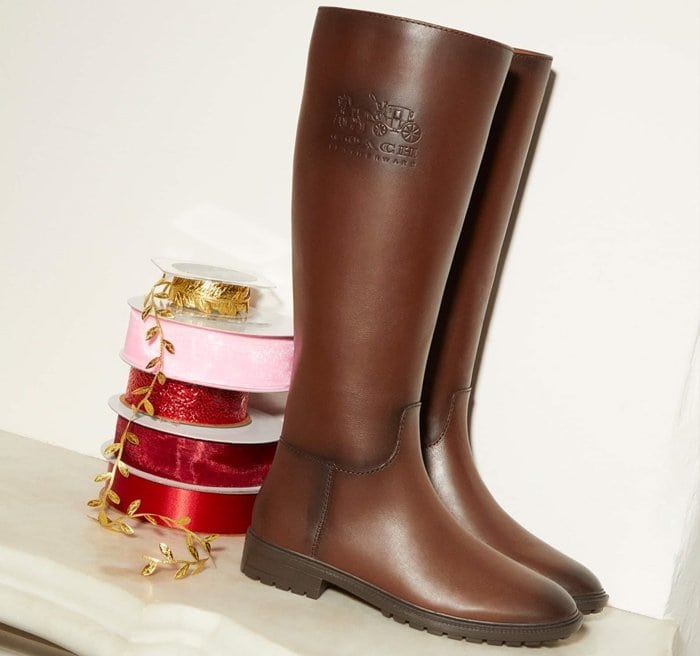 Embossed with the iconic Horse and Carriage motif for Coach heritage style, the equestrian-inspired Fynn riding boot is a wardrobe staple
The Affordable Option
Nordstrom offers an extensive selection of narrow calf boots, with options from brands like Nine West, Cole Haan, and Tory Burch.
If you are looking for a pair of riding boots for under $100, then the Kamdyn from Sarto by Franco Sarto boots give you the equestrian look with a sleek belt wrapping around the ankle. You can find them at Nordstrom.
Style 2 – Over-the-Knee Boots
If you are blessed with long skinny legs, then you are one of the lucky few who can pull off a pair of over-the-knee boots.
As the name would suggest, over-the-knee boots sit a few inches above your knee, elongating the appearance of your legs.
It gives just a flash of skin while still keeping your legs warm. Suede is one of the most common material choices for this style as it gives you more movability than a leather alternative.
Over-the-knee boots are a go-to style for influencers and celebrities, particularly supermodels like Gigi Hadid who use them as a way to a touch of instant chic to any outfit.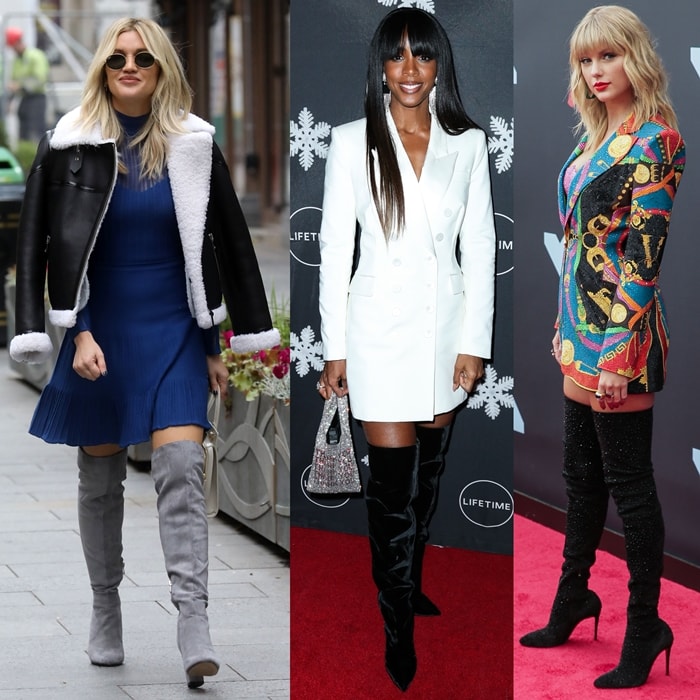 Ashley Roberts, Kelly Rowland, and Taylor Swift flaunt their skinny calves in over-the-knee boots
You can wear them with everything from a t-shirt and shorts to a little black dress. These boots are ideal for a classic monochrome look for an elevated look.
You can never go wrong with a pair of black boots, especially if you want to invest in just one pair. If you're a shoe connoisseur, then the world of over-the-knee boots is your oyster.
You can find them in everything from midnight blue through to tan leathers and every color in between.
As over-the-knee boots typically come in suede or leather, they're a great way to add texture to an outfit and create contrast between materials.
You'll want to wear your over-the-knee boots with a mini dress or short skirt to show off your narrow legs and elongate your appearance. If you're on the shorter end of the height spectrum, invest in a pair with a block heel to give you an added boost.
The Splurge Option
When it comes to purchasing a pair of boots to keep in your closet for years, Stuart Weitzman is always at the top of our recommendations list.
The brand offers several styles of over-the-knee boots that come in stretchy leather and suede, making them easy to get on and off.
The classic Lowland boot is available in both materials and an understated grey and black on Amazon. With an almond toe and flat block heel, these over-the-knee boots are ideal for wearing all day long.
Stuart Weitzman is famous for its iconic stretch boot collection
If you're on the hunt for a pair of statement shoes, check out the 5050 lift boots, which are available in a burgundy nappa leather on Zappos.
The Affordable Option
If you're on a budget, then Zara can offer you a similar style at a fraction of the price. Their low-heeled stretch tall boots have a thick sole that is perfect for winter snowstorms.
You can slip these over-the-knee boots on with ease, and they are some of the easiest boots to store. The slim calf boots give added definition to your legs and show off your figure, especially when you add a thin heel.
The high shaft heeled patented finish boots are a must-have for any city girl who wants to channel her inner Carrie Bradshaw.
Style 3 – Chelsea Boots
When you have narrow legs, you might think that only tall boots work for your shape. Chelsea boots are an ideal choice for anyone with skinny calves.
As you have slimmer legs, you have more styling options for Chelsea boots than someone who is plumper. When you style Chelsea boots with a skirt, you can run the risk of making your legs appear stumper.
If you're gifted with skinny calves, then you don't have to worry about this! You can style Chelsea boots with jeans during the winter and a midi-skirt during spring and autumn.
This style of boots is typically more casual, but there are more elaborate options available that incorporate oversized buckles and rock stud detailing. If you want a pair that is versatile and easy to style, then keep an eye out for leather Chelsea boots.
As we've touched on before, you'll want to look for a pair of Chelsea boots that have a smaller ankle width that matches your calves.
If there is too much space around your ankles, this can quickly become uncomfortable, and the excess material might chafe against your skin.
Even with a pair of regular fit Chelsea boots, you can usually tackle this with tights or thick socks.
The Splurge Option
Mytheresa is the perfect place to start your search for a pair of Chelsea boots. The luxury retail store offers everything from glossy Hunter boots to Valentino Rockstud boots if you want to invest in a luxury version.
Chelsea boots are a classic choice for autumn rainstorms, and the Hunter refined Chelsea boots are a must-have to keep your feet dry.
If you want a unique pair with a feminine twist, then the Roger Vivier Viv Rangers boots feature a crystal buckle that would bring a spark of joy to anyone's day.
Roger Vivier reinvents the classic Chelsea boot silhouette by rendering it in glossy patent leather
The Affordable Option
When it comes to shopping for affordable Chelsea boots, Aldo is a go-to store. Most of their boots sit around the $120 mark, and they regularly offer discount codes.
Their Brilasen ankle boots at Aldo Shoes are a waterproof option in sleek patent leather that makes them wearable for every day.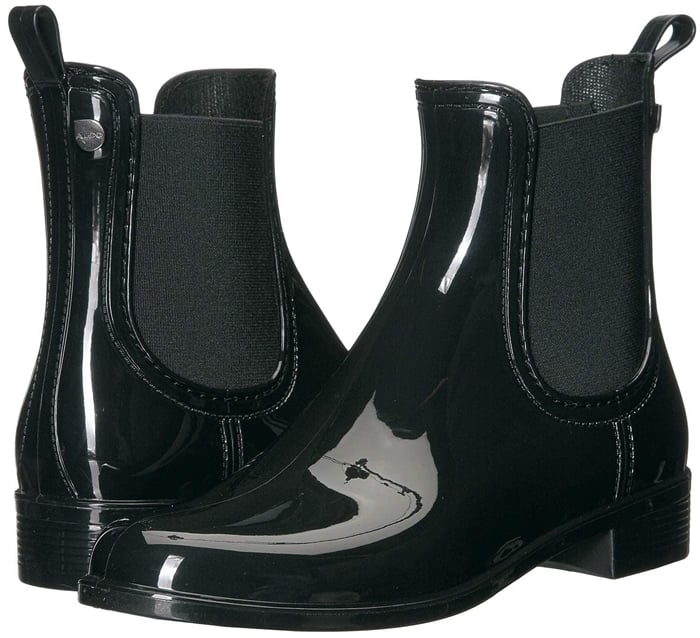 These black rain boots with a breathable textile lining and lightly cushioned, stationed insole have you covered
If you are looking for a more classic option, their Wicoeni boots have an almond toe and a rubber sole, with a smooth leather finish.
Style 4 – Military Boots
Our wildcard choice is military boots. This shoe style comes in every shape and size and is characterized by its similarity to the combat boots included in military uniforms.
They'll often have a lace-up detailing at the front, a platform sole and are most popular in black and earth-tone colors.
Their lace-up design makes them an ideal choice for anyone with skinny calves as you can easily adjust them to fit comfortably around your ankles.
While you'll most frequently see these boots styled with casual outfits, you can wear them with a jumpsuit, a little black dress, or with tights and a mini-skirt.
Military boots are an inventive way to add a masculine touch to even the most feminine of outfits.
The Splurge Option
The brand that made military boots a mainstream fashion staple was Dr. Martens.
Available at Shopbop, their Jadon smooth leather platform boots are a unisex shoe that gives you the comfort of a platform and the functionality of the brand's signature smooth leather.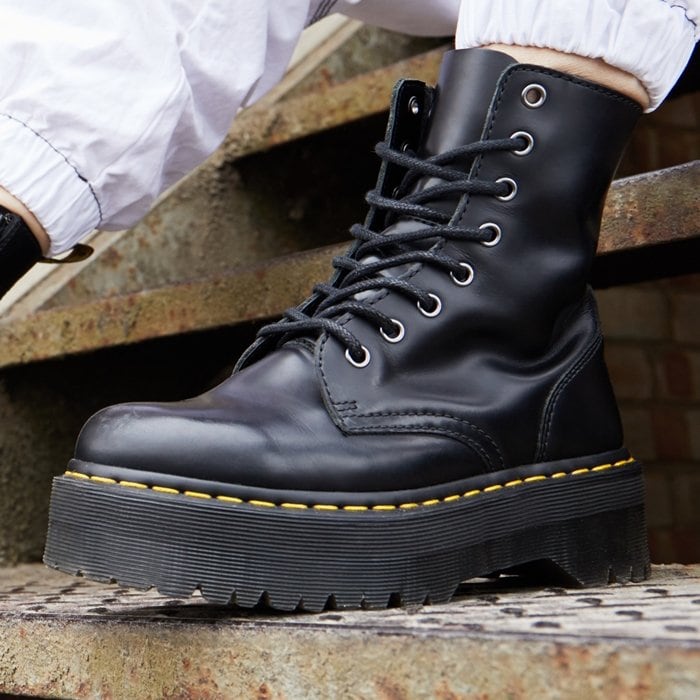 Tower above your peers in the vertigo-inducing style of the Jadon 8-Eye Boot by Dr. Martens
A pair of Dr. Martens will last you a lifetime, with their high-quality leather and a cushioned sole.
Want to add a little sparkle to your day? The 1460 Pascal snake metallic suede boots are a best-seller at Zappos and give the look of military boots with a modern and playful twist.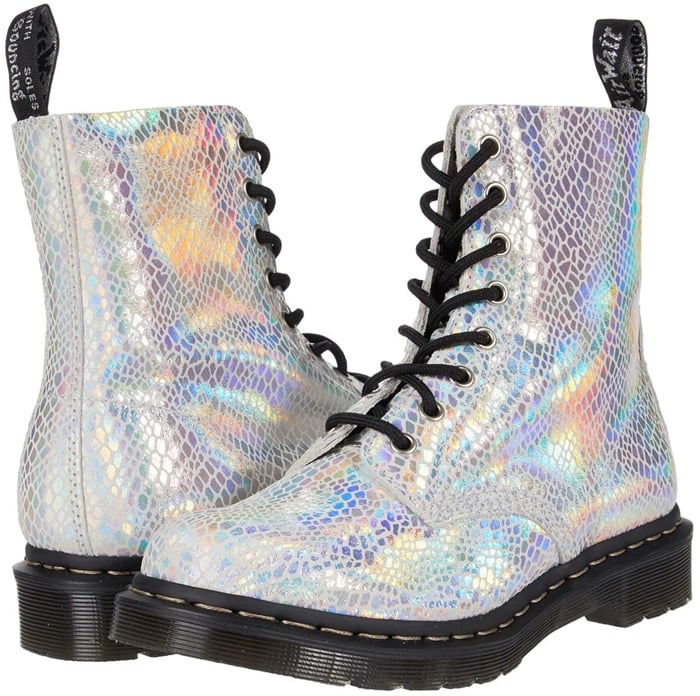 These festival-ready boots have been crafted from suede foiled with a metallic snake pattern and kitted out with brushed silver trims as well as a scripted heel-loop and sock liner
The Affordable Option
If you are looking to buy a pair of combat boots for under $100, then Steve Madden has several options for you at Zappos and Steve Madden.
Their Troopa black leather boots are a statement shoe with lace-up detailing across the entire shaft of the boot, making them a perfect choice for anyone who wants a traditional pair of combat boots.
You'll be the leader of your pack with the Steve Madden Troopa combat boot featuring a leather upper with a classic stitch detail throughout
If you want the look of military boots but want to add a heel, then the suitably named 'Comfort' boots have all the hallmark features of combat boots with the addition of a block heel and fur lining.
We hope that these tips and styling recommendations help you find the perfect pair of boots. Remember, if you have skinny calves, you'll want to look for slim calf boots that easily mold to the shape of your leg.
You can take advantage of a full spectrum of options, from over-the-knee boots through to classic Chelsea boots.
Credit: Avalon / WENN / Phil Lewis / Instar