During summer, it's easy to fall into the habit of living in sneakers or flip-flops. Casual dresses are the perfect solution when the weather gets hot and jeans become uncomfortable.
The right casual dress and shoe combination can take you from a day at the office to brunch with the girls or drinks at a beer garden. If you want versatility in your summer wardrobe, casual dresses are a must-have.
Depending on the occasion, they are easy to mix and match with every style, from espadrilles to high heels. This guide comprehensively overviews the must-have casual summer dresses and the best summer shoes for each style.
Why Dresses Are a Summer Essential
A girl can never have too many dresses. Although some pieces stay on rotation in our wardrobe all year round, summertime calls for a few essentials.
Knitted sweaters and Wellington boots go to the back of your closet in favor of mini-skirts, sandals, and tank tops.
Dresses are the easiest garment to wear during summer, as they can keep you feeling cool and looking stylish as the humidity increases and temperatures skyrocket.
Summer can be a sweaty, overheated time, but it's also the perfect time to show off your fresh tan and summer-ready body.
Floral, denim, white, and midi—these are just some of the most popular dress styles for summer
Whether you're jetting off to the Maldives or staying at home this summer, you want a curated collection of summer dresses to see you through the season.
We will cover the most popular styles and which shoes work best to help you build your seasonal wardrobe.
Summer dresses are one of the most versatile pieces to style. The right shoes can elevate even the most casual dress to evening-appropriate status. We all know shoes can make or break an outfit, and they can also determine how comfortable you'll feel during the warmer months.
If you plan on spending the summer months in dresses, investing in a pair of anti-chafing shorts is a great idea to keep you comfortable all day long. You can also find creams and roll-on balms that will help prevent chafing.
You'll also want to ensure you never leave the house without a healthy layer of SPF on your skin, especially anywhere left exposed to the sun by the silhouette of your dress.
1. The Maxi Dress
The summer is when maxi dresses have their moment to shine. If you're not a fan of flashing some skin and if you'd prefer to cover up, a maxi dress is the ultimate casual summer dress.
As the silhouette will cover most of your body, it's a chance to get adventurous with your footwear.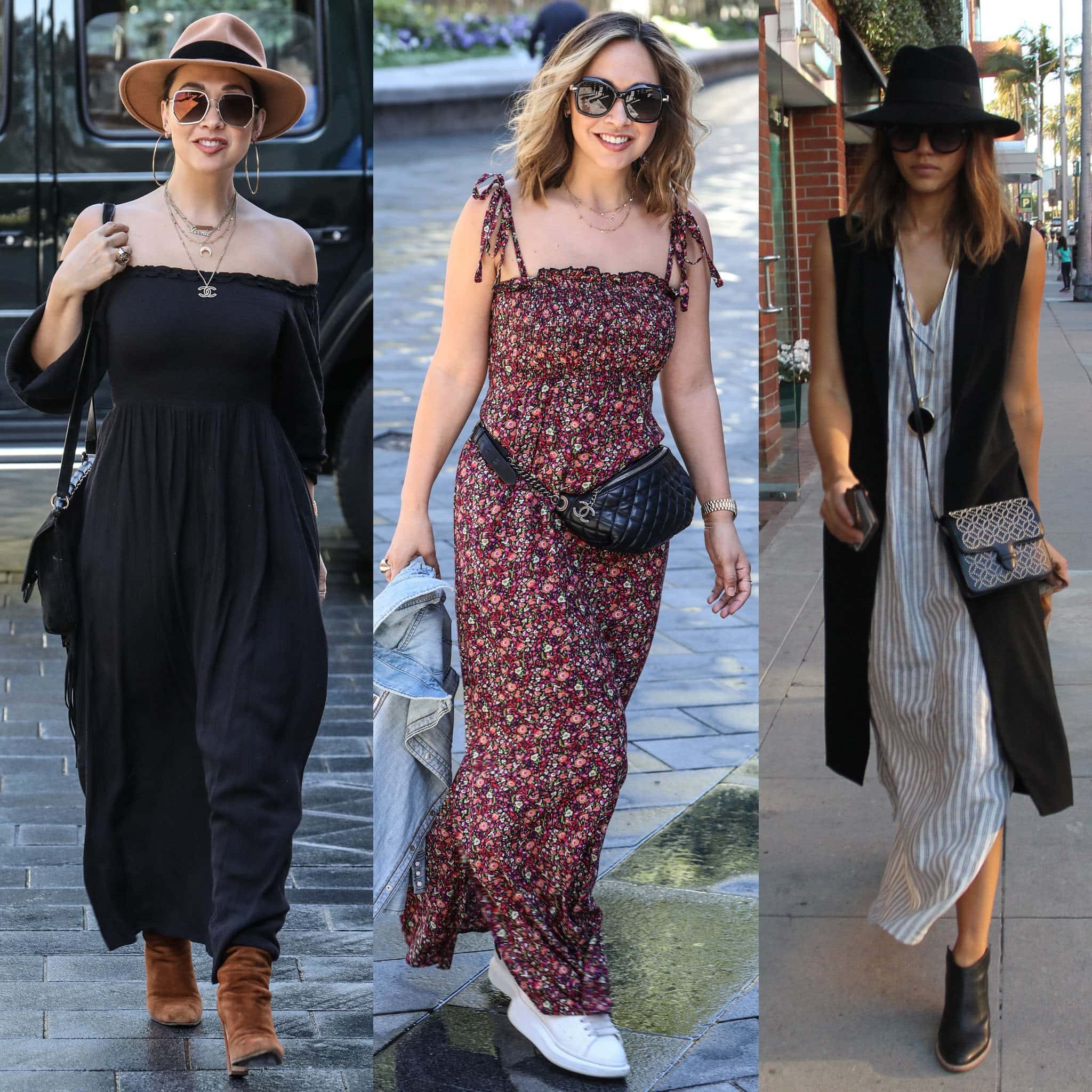 Myleene Klass and Jessica Alba wear maxi dresses with boots and sneakers (Credit: WENN)
Your footwear choice will usually be determined by whether your maxi dress ends just above your ankle or if it skims the floor. The former option allows you to have a little more fun, while floor-length maxi dresses like you prioritize comfort.
If you live in a country where the summer has milder weather and lower humidity, a pair of ankle boots is the perfect combo with a maxi dress.
Enjoy day-to-evening comfort with the country-style Vagabond Shoemakers Chelsea boot
Ankle boots can take a maxi dress and make it evening-appropriate when the temperature starts to drop. You can choose a flat Chelsea boot or a block-heel for extra height.
Add extra height to your feminine maxi dress look with Steve Madden's Lynden boot
Maxi dresses are the perfect go-to outfit for when you don't know what the day has in store. They're comfortable, stylish, and can be dressed up or down.
If you plan on hitting the tourist sites or running errands around the city, add a pair of white sneakers to complete your summer look. Add a pair of short socks to flash a little ankle, especially if your maxi dress has a side slit.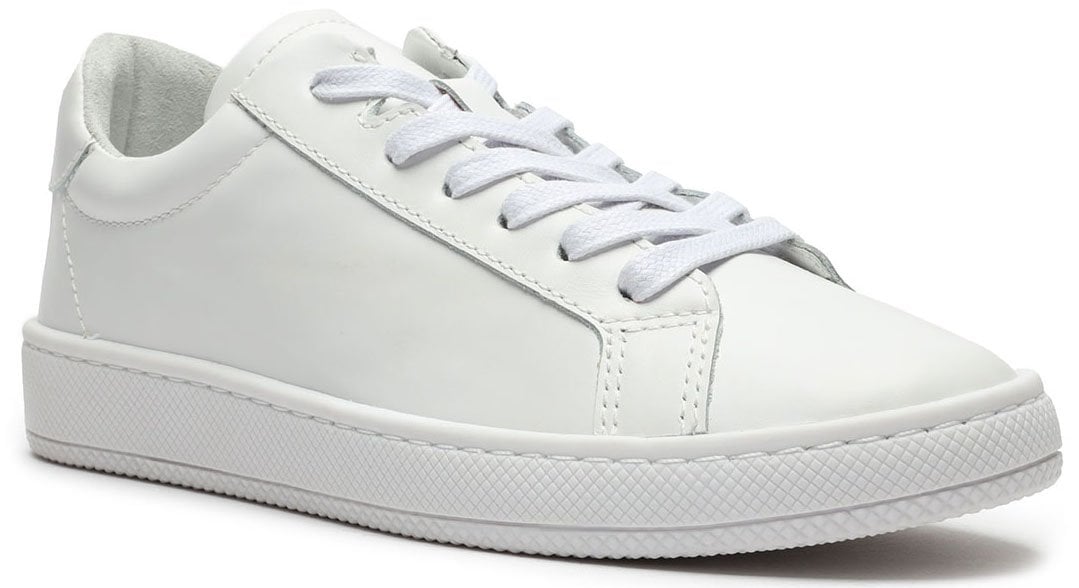 Explore tourists spots or run errands in a maxi dress with Schutz Verony sneakers for a chic but comfy all-day look
2. The Little White Dress
While the little black dress (known as the LBD) is a girl's best friend, the little white dress has its moment in the sun during summer.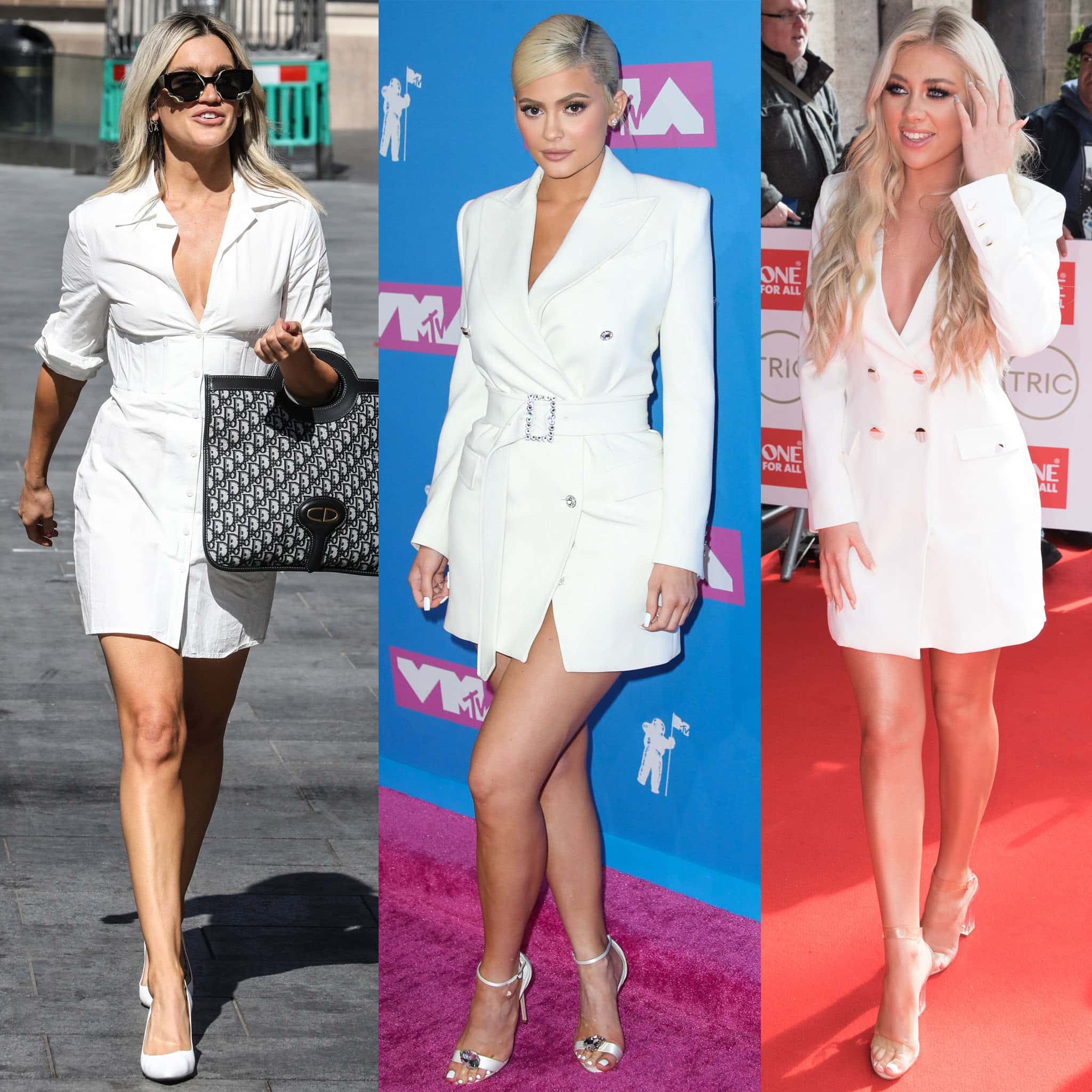 Ashley Roberts, Kylie Jenner, and Paige Turley show what shoes to wear with little white dresses (Credit: WENN)
Summer is the one season when it's appropriate to wear a white dress outside of your wedding day, and it can help make your tan pop. A white dress gives you the perfect base for creativity with footwear and accessories.
You can make a statement with a hot pink bag or a straw hat with a classic black trim.
Nude heels are a must-wear with a little black dress, as they'll elongate your legs and give you a classic look. If nude shoes aren't your thing, consider trying a baby-pink style. You want to keep your outfit fresh with light colors to fit the season.
Wear blush, nude or white heels for a leg-lengthening chic summer look
If you're taking your casual white summer dress to a backyard BBQ or pool party, you can add a touch of glamour with a pair of metallic silver loafers. Your white dress will give your shoes the perfect backdrop to shine like a diamond!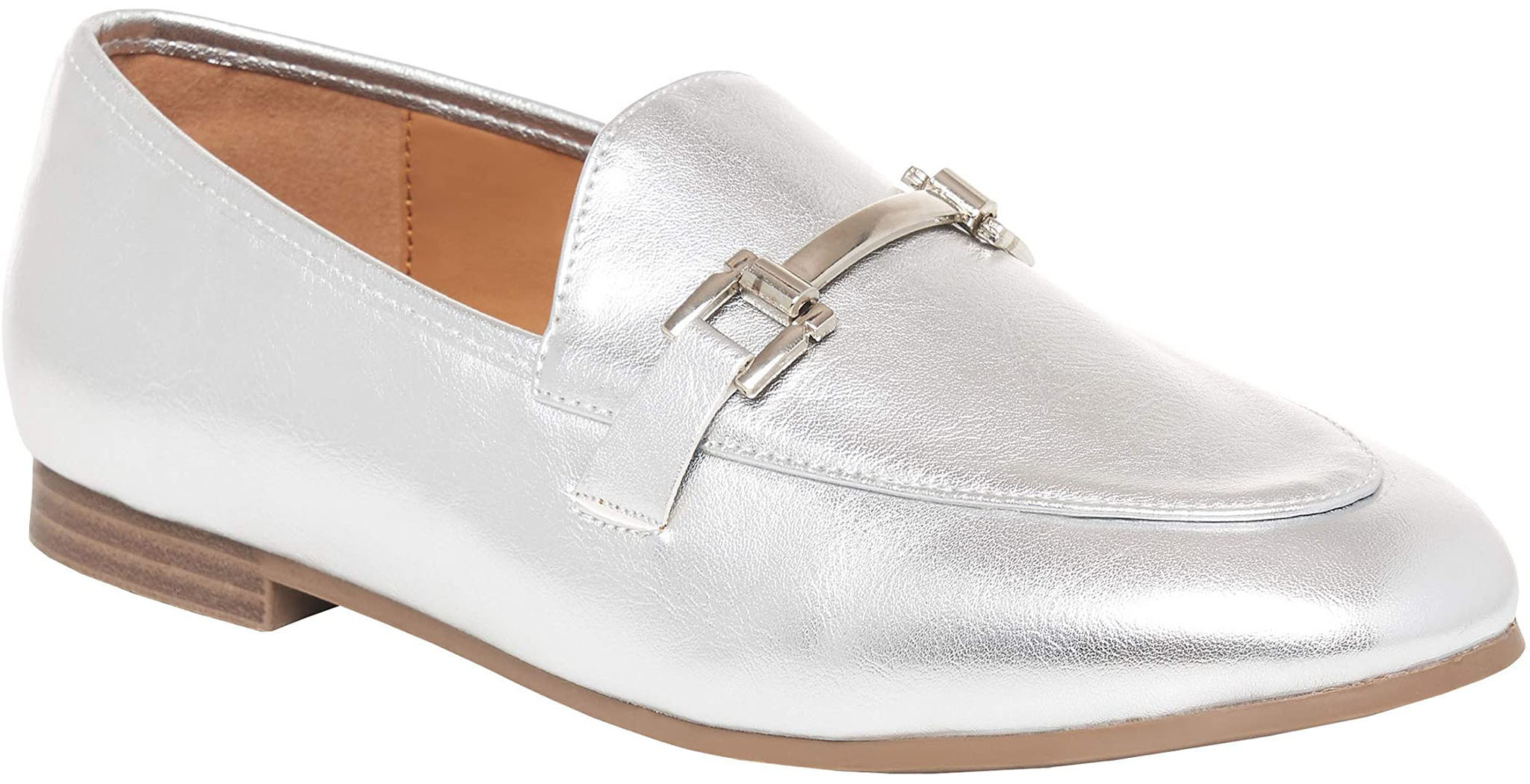 Add instant glamour to your little white dress with the Rohb by Joyce Azria Shira synthetic leather loafers
3. The Floral Dress
What is summer with a floral dress? The stores are full of dozens of casual floral dresses as soon as the warmer months come around.
Every year there's an 'it' dress from brands like Zara that you feel like you see everyone and their mother wearing.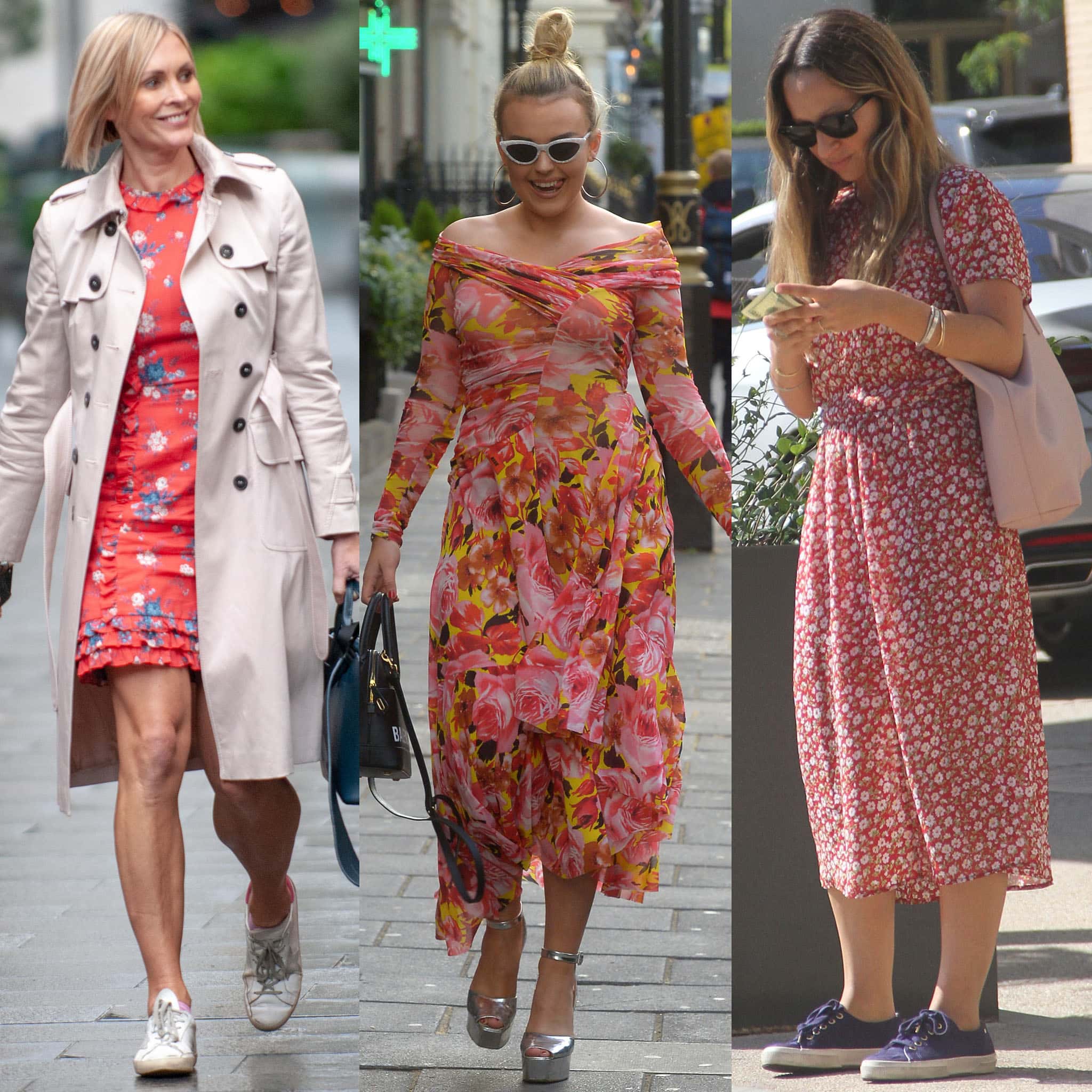 Jenni Falconer, Tallia Storm, and Jennifer Meyer pair their floral dresses with sneakers and peep-toe sandals (Credit: WENN)
You can give this outfit a tomboy twist and keep it casual by wearing your go-to sneakers. Search for a comfortable platform style if you want sneakers with a slightly more feminine look.
Superga offers several platform espadrille sneakers in their permanent collection, a summer must-have.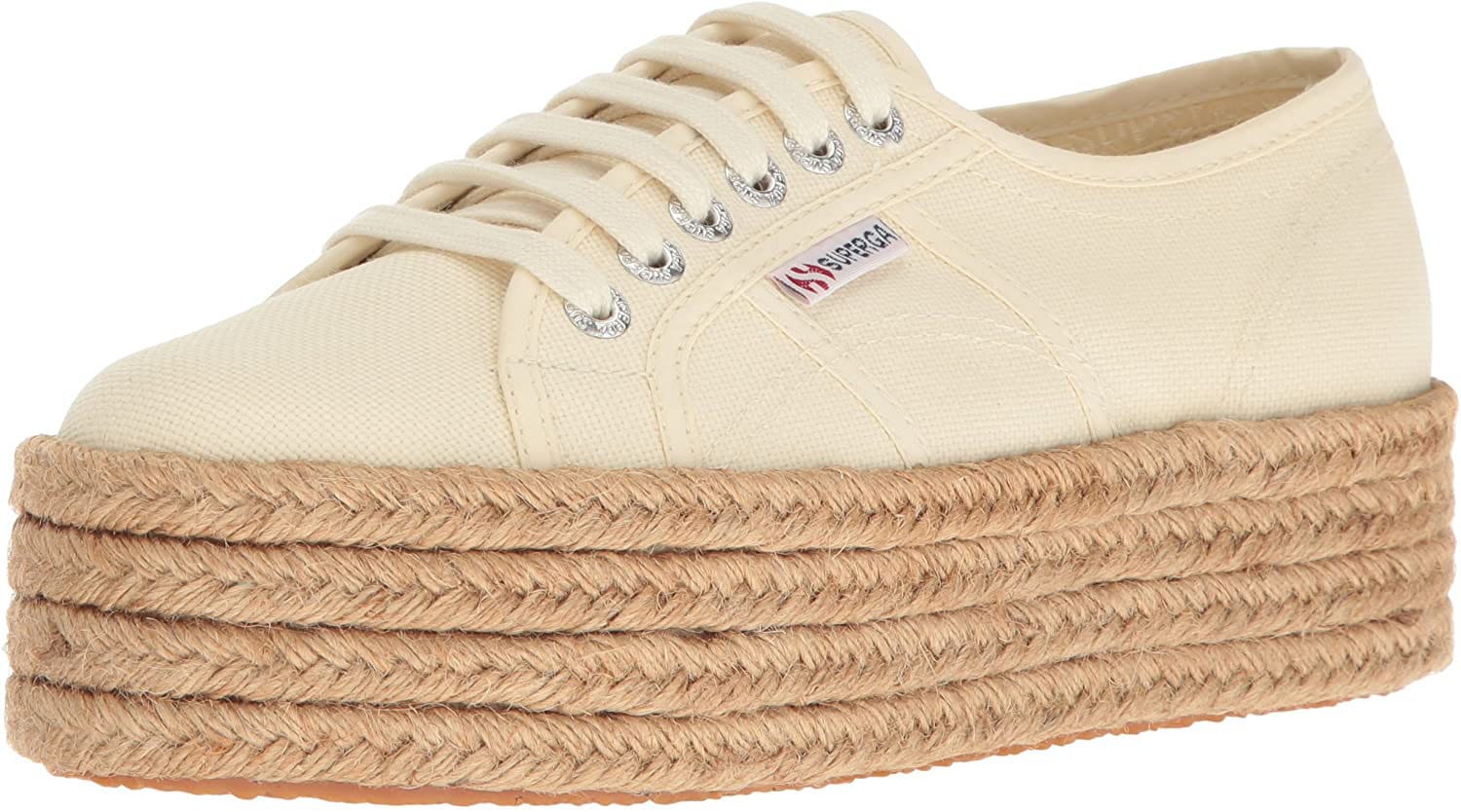 Give your floral dress a boyish twist with these elevated Superga espadrille sneakers
A floral dress will perfectly complement a pair of mules, whether you prefer a flat style or ones with a heel. Black open-toe mules will work with any floral print dress, whether a mini-dress or a maxi.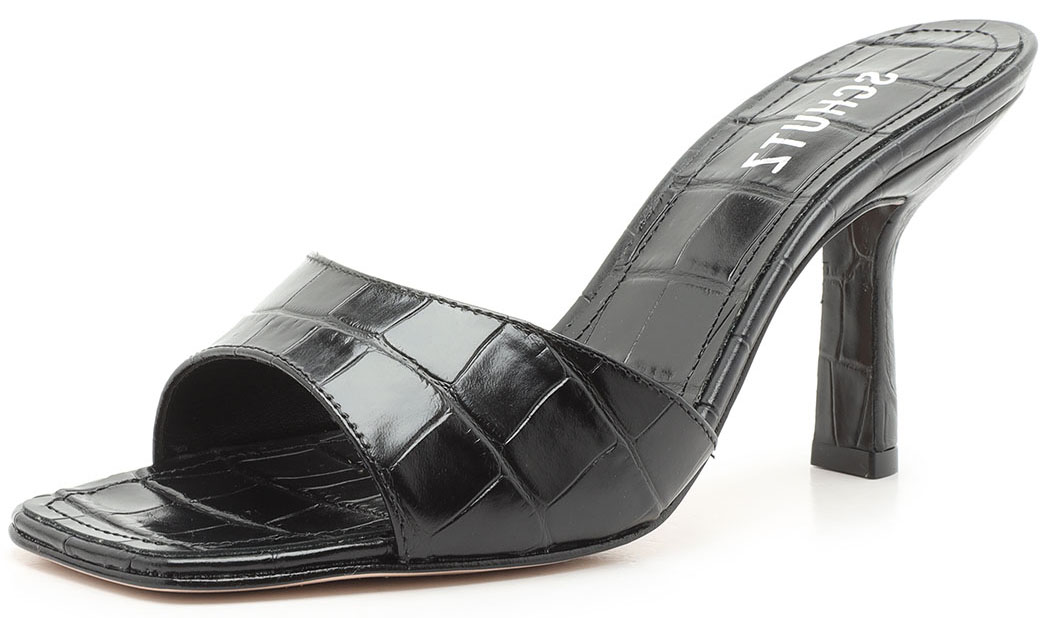 The Schutz Posseni heeled mules will complement any floral dress
4. The Midi Dress
The 'it' dress of recent years has been the midi, with its universally flattering silhouette, which works for every body type. A midi dress can take you from shopping in Beverly Hills to sipping cocktails by the beach.
Sarah Hyland, Kate Middleton, and Selma Blair wear summer midi dresses with wedge sandals (Credit: WENN)
You can take a styling tip from the Duchess of Cambridge and wear your casual midi dress with a pair of wedge sandals. You'll get the aesthetic of summer sandals with the versatility of a heel.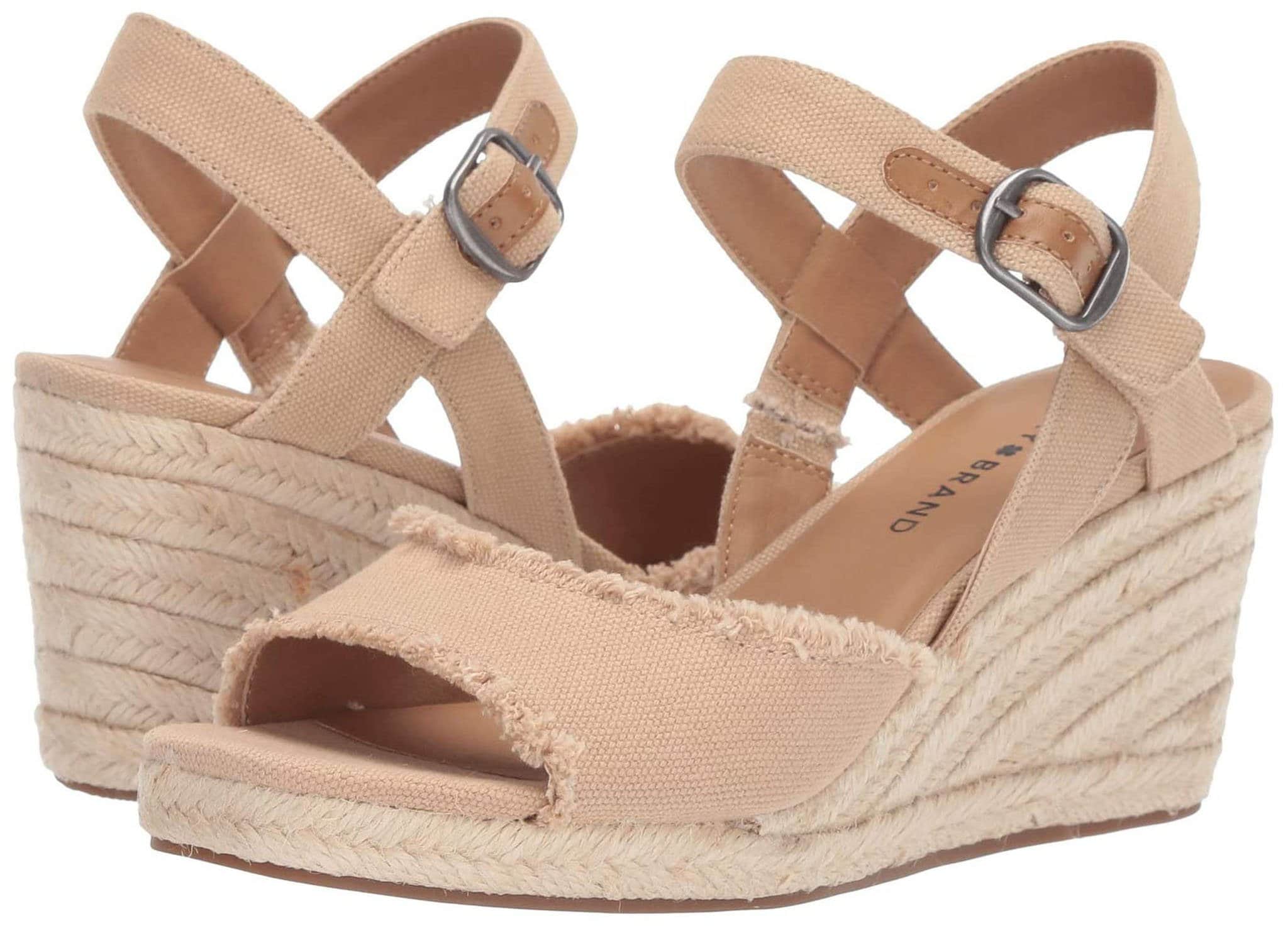 Espadrille wedge sandals work well with midi dresses for a casual yet flirty and feminine look
Depending on your aesthetic, there are a few styles you can choose between. You can embrace your inner bohemian princess with lace-up detailing.
Channel the Bohemian vibe by pairing your midi dresses with lace-up wedge sandals
A thicker lace-up fabric can make you feel like a ballerina, and they work perfectly with a casual midi dress. Add a pair of wedge sandals in a neutral color like nude, navy, or white to get the most versatility.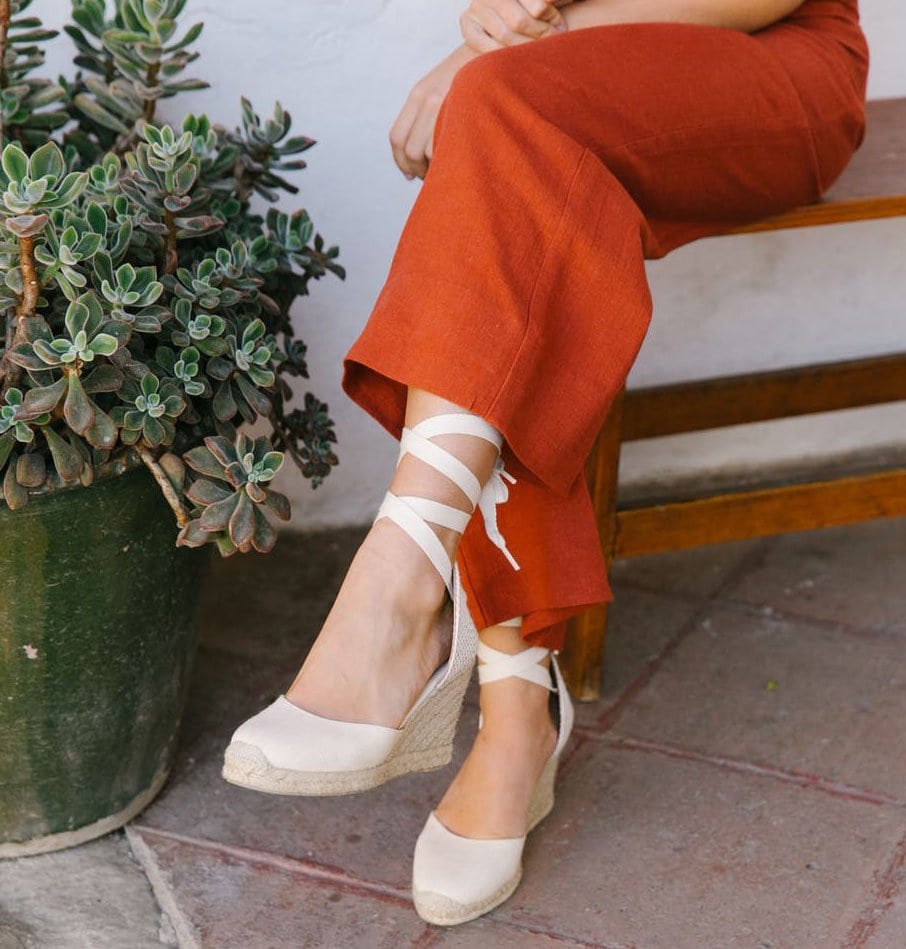 Take inspiration from the Duchess of Cambridge, Kate Middleton, and wear the Soludos wedge sandals with your midi dress
5. The Smock Dress
When we picture a summer smock dress, the first thing that comes to mind is island hopping around the Greek islands. This casual summer style differentiates from the year-round version by having a looser oversized fit and a brighter color palette.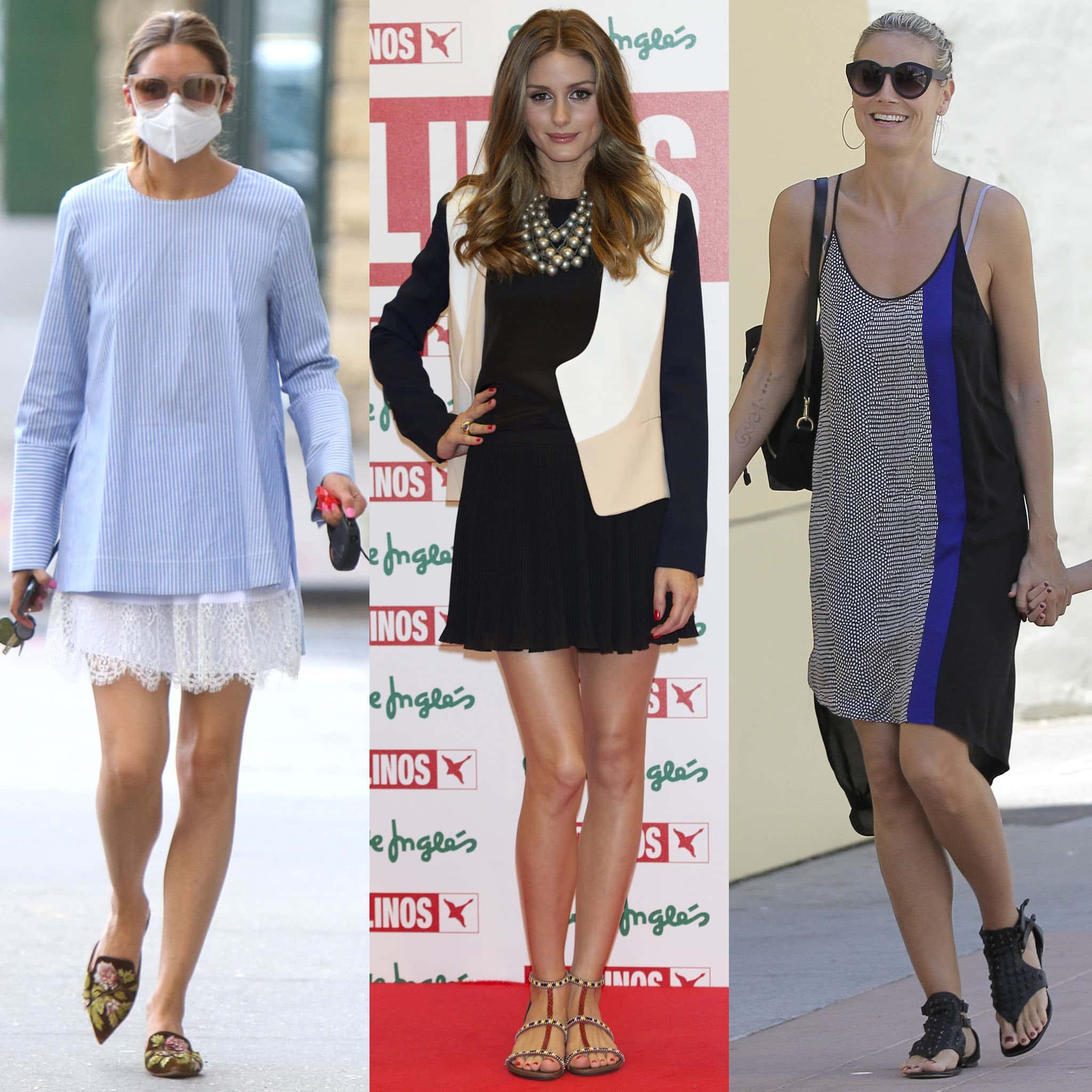 Olivia Palermo and Heidi Klum show different ways to style smock dresses (Credit: WENN)
Embrace some Grecian chic with a pair of leather sandals. Depending on your look, choose a strappy sandal with bead detailing, or keep it more minimalistic with a plain strap.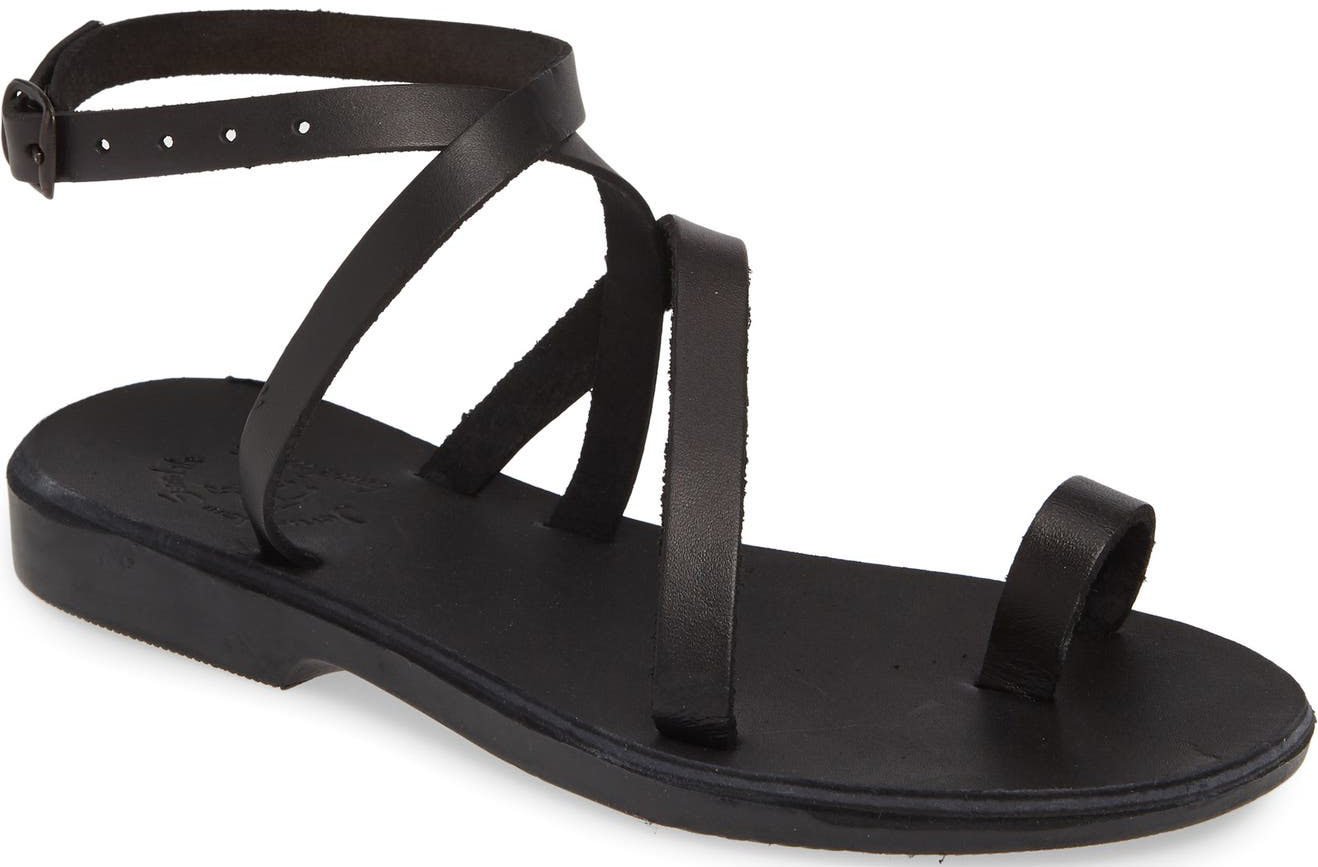 Work a classic Grecian look and team your smock dress with black gladiator-inspired flat sandals
You can add a vintage touch to your look by choosing a pair of leather sandals in darker leather that appears aged, or you make it feel more contemporary with a pair of rose gold leather sandals.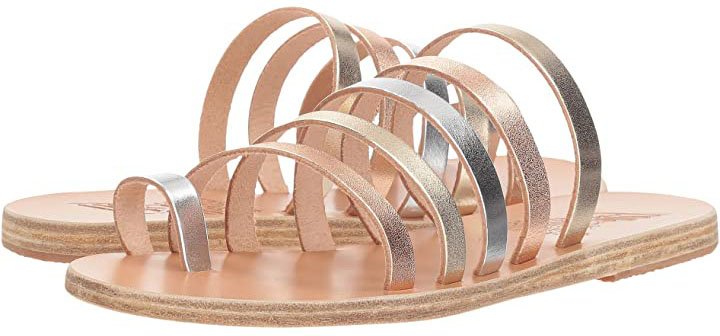 Add a hint of contemporary style to your smock dress look with strappy Ancient Greek Sandals metallic flats
If you want to invest in a pair of leather sandals for summer, the Oran sandal from Hermes is a timeless choice that will work with any casual dress.
Invest in these timeless Hermes Oran sandals, which can go well with just about any dress
6. The Citrus Dress
There are specific colors that we shy away from during the colder months. When the heat hits, citrus colors like lemon become all the rage. The trick to pulling off a citrus dress is to let it do all the talking.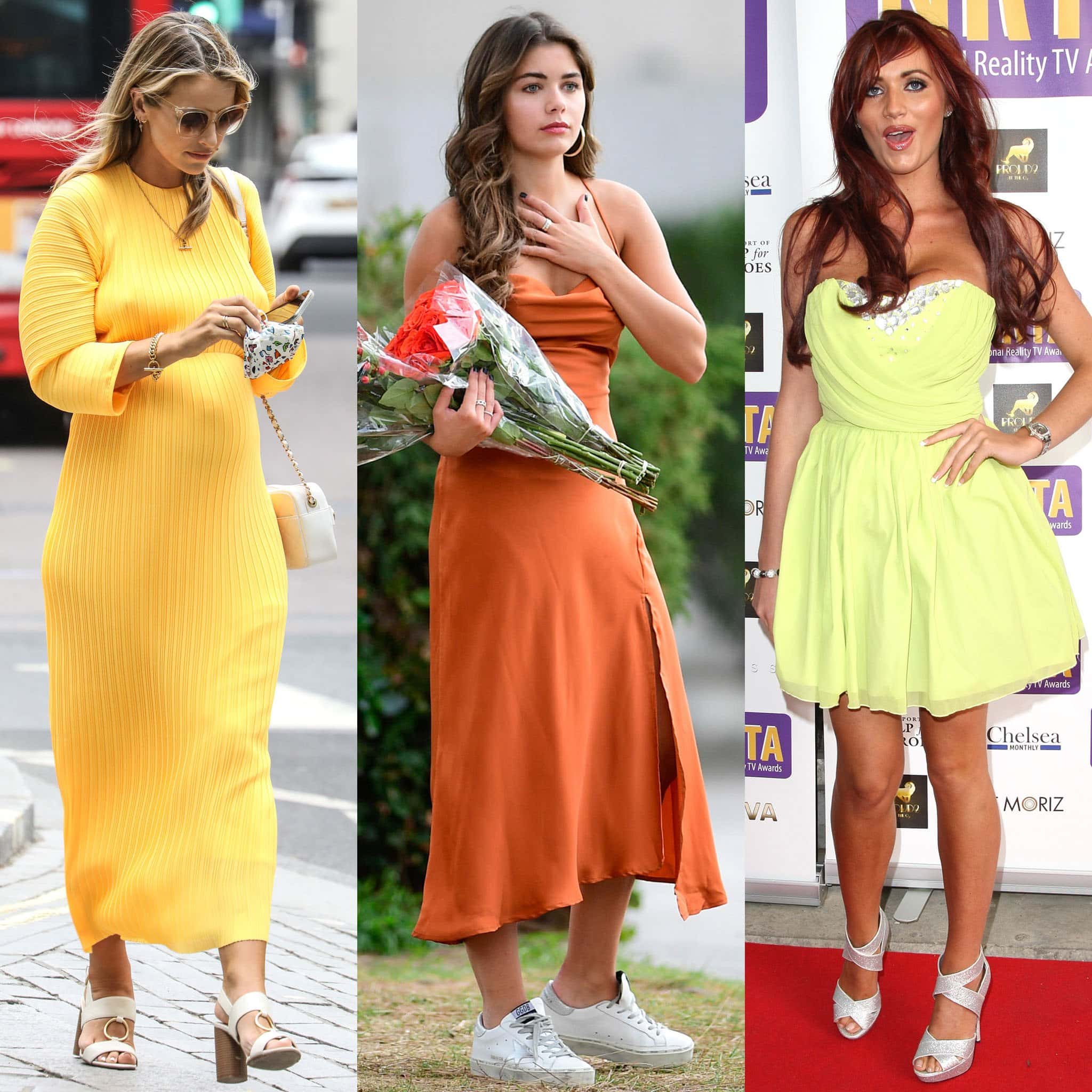 Vogue Williams, Hannah Ann Sluss, and Amy Childs pair their citrus dresses with light-colored shoes (Credit: WENN)
If you're stepping out in a bright yellow shade or a lemon-printed dress, you want to balance your outfit with a minimalistic choice of footwear.
Avoid wearing black shoes as they can create too much contrast and overpower your citrus color. It can also invite the inevitable bumble bee comparison.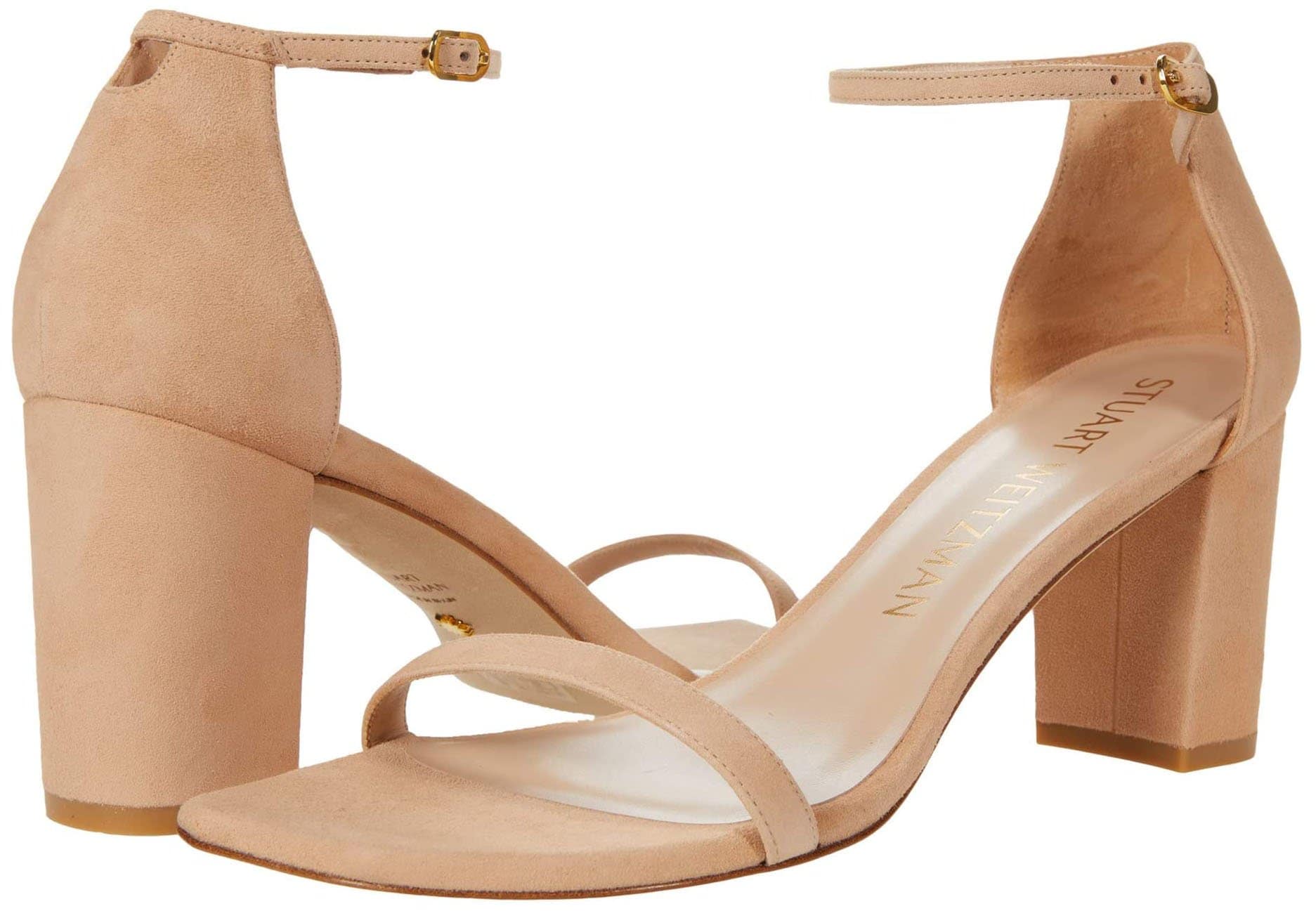 Let your citrus dress do the talking by pairing it with the classic but chic Stuart Weitzman Amelina heels
Choose a pair of white espadrilles or brown leather open-toe sandals with a block heel. If in doubt, throw on a pair of comfortable white sneakers with your lemon-yellow dress.
Nothing's better than a pair of classic white sneakers like the Adidas Superstar
7. Denim Dress
For some people, denim is their go-to all year-round. While wearing bootcut jeans can be uncomfortable in the heat, it doesn't mean you have to remove denim from your summer wardrobe.
Fashion it-girl Alexa Chung calls the denim dress her "ultimate chill out" look. You can find denim dresses in every silhouette, from off-the-shoulder to shirt dresses.
Sian Welby, Giovanna Fletcher, and Vanessa Kirby prove that denim dresses can work with any shoe styles (Credit: WENN)
Bring some juxtaposition to your outfit by adding a pair of classic pumps to your masculine denim dress. You can keep it simple with a pair of black court shoes or add a pop of color to your look with a red or pink pair.
Give your masculine dress a touch of feminine glam with Schutz Analira scalloped pumps
A denim dress is a great go-to look for the music festival season. Camping in a field or trekking between gigs can take a toll on your feet.
Add a pair of black combat boots or cowboy boots to help support your feet and keep you standing for the whole festival.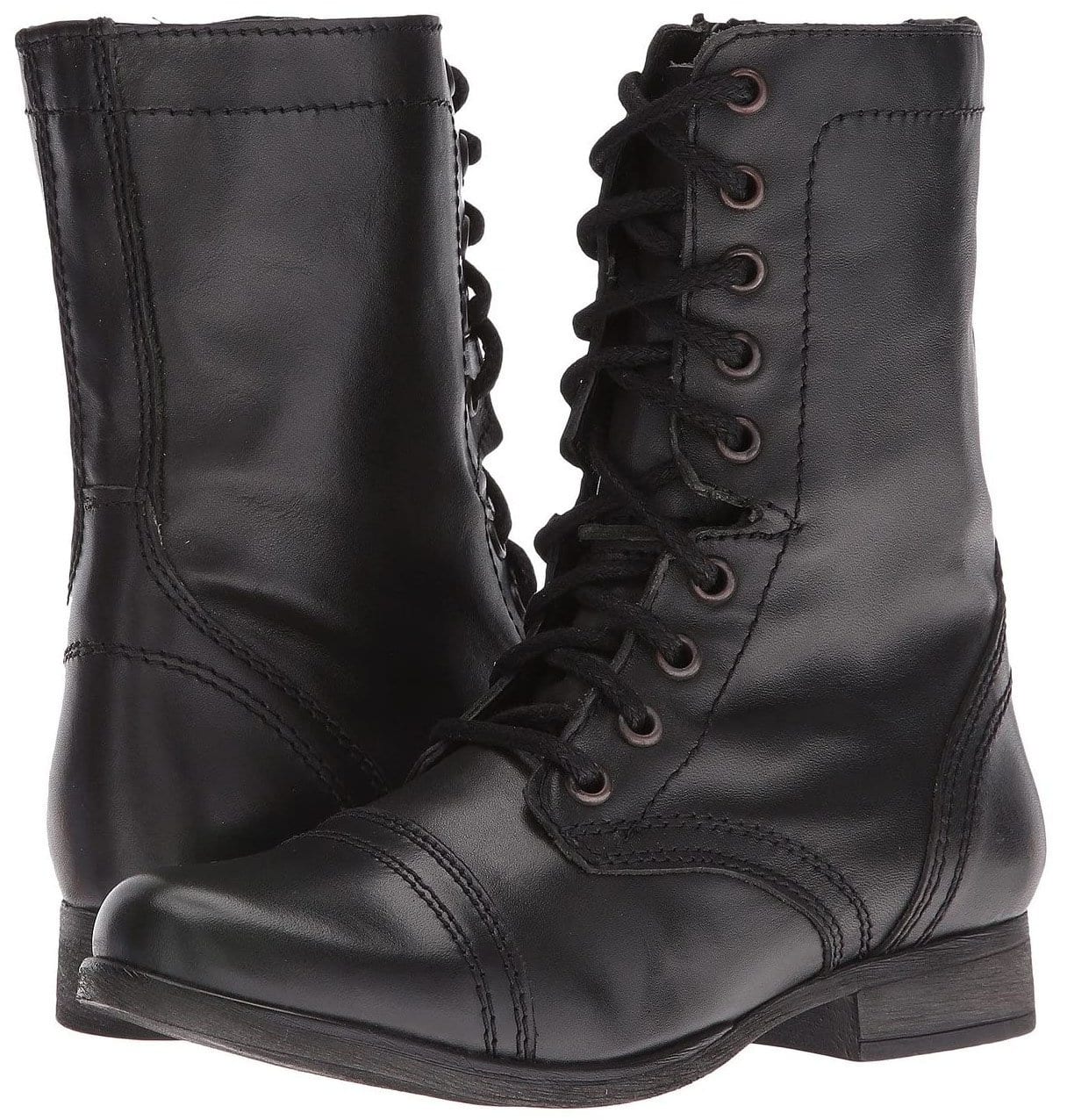 Get festival-ready and wear your denim dresses with Steve Madden combat boots
8. The Shirt Dress
Sometimes, you only want to wear your boyfriend's shirt and call it a day. A shirt dress can double as a beach cover-up and disguise a bikini or swimsuit if you're thinking of cooling off at the pool.
This casual dress is one of the most versatile additions to your summer wardrobe. A belt can help cinch your waist and give your shirt dress a little structure.
Olivia Wilde, Amanda Holden, and Katie Price show the versatility of shirtdresses with heels and boots (Credit: WENN)
Add a pair of ballet flats if you want to bring a Parisian touch to your outfit. You can walk for miles in them, and they add a feminine twist to your look.
Please keep them in your tote bag to swap out for your heels, or wear them on your way to the beach.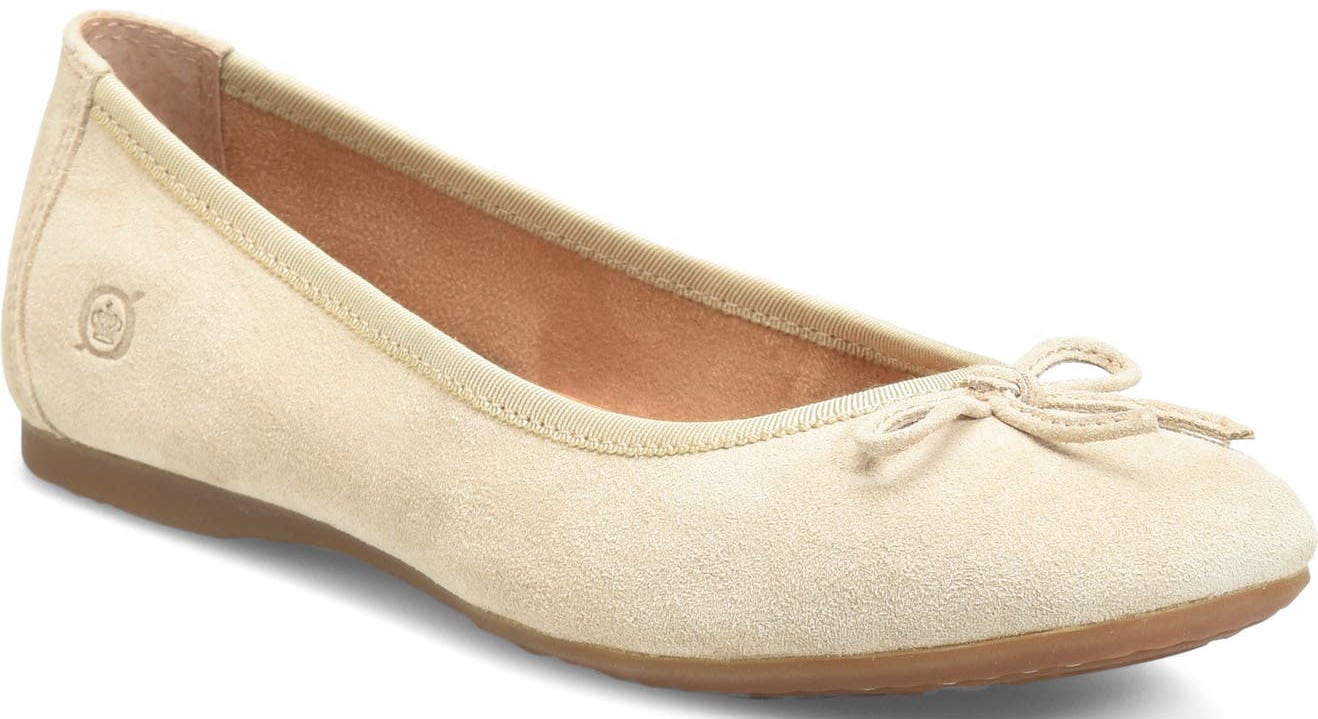 Go Parisian-chic with a shirtdress and Born ballet flats
A shirt dress is an understated but sexy look, especially if you choose a shorter length. You can elongate your legs with nude heels to wear your shirt dress to a bar or date night.
Wear your short shirt dress with nude heels to highlight and elongate your legs
If you feel like wearing boots, a shirt dress is perfect for experimenting with over-the-knee boots. Add a black patent style to your white shirt dress for a classic look, or keep your color palette light with a neutral nude shade.
Suede over-the-knee boots are a summer go-to for celebrities like Kylie Jenner, Bella Hadid, and Taylor Swift.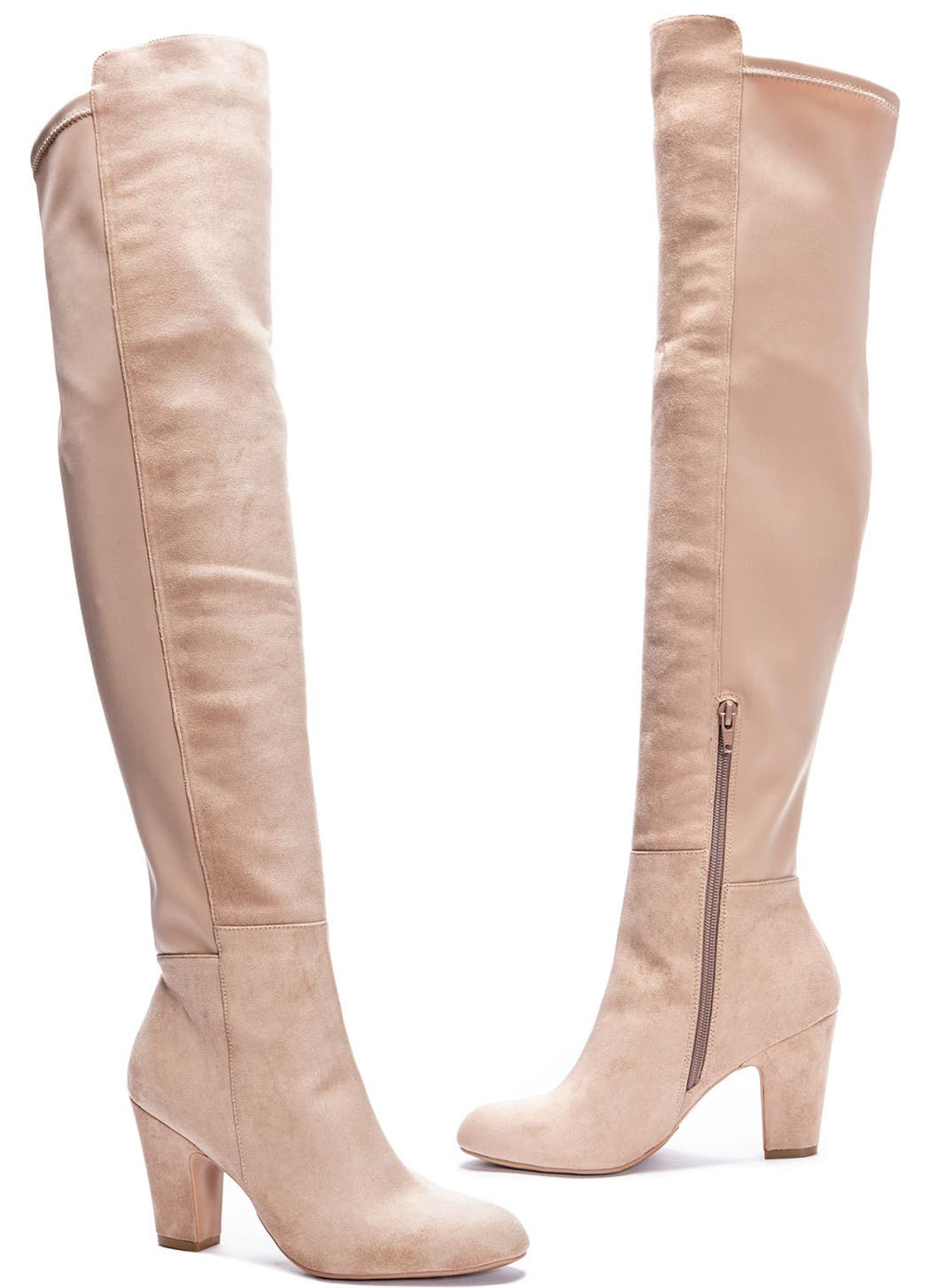 Mini shirt dresses look great with over-the-knee boots like Chinese Laundry's Canyons boots