Cozy shoes have a special place in our hearts. We all have a pair that we reach for on days when we want comfort, functionality, and a little style.
Enter moccasins. These leather shoes were first created by Native Americans and have evolved with fashion trends to remain a closet staple.
Gigi Hadid, Kiernan Shipka, Teresa Palmer, and Katie Holmes show how to wear moccasins (Credit: Dara Kushner / Jennifer Graylock / INFphoto)
Moccasins, often known as loafers or driving shoes, will take you effortlessly from one season to the next. These shoes are simple and chic, befitting almost any occasion.
What are moccasin shoes? What brand makes the best moccasins? Can you wear moccasins outside? We're answering all these questions and more in the guide below.
What are Moccasins?
Moccasins are traditionally made using soft leather with a sole and sides made of one continuous piece of leather. You can usually spot moccasins from their u-shape toe box.
Moccasins are usually made of one piece of soft leather, stitched together at the top, creating a gathered seam (Credit: paffy / Shutterstock)
Europeans refer to moccasins as 'loafers' while you'll often find them called driving or boating shoes. The original moccasins served as inspiration for the popular UGG boots.
While most moccasins are made with leather, you'll find some styles with a suede finish or a shearling lining.
The Origins of Moccasins
These shoes were designed as one of the first outdoor shoes and worn by indigenous tribes and European settlers. They protected the feet while offering extra support for a full day of being outside.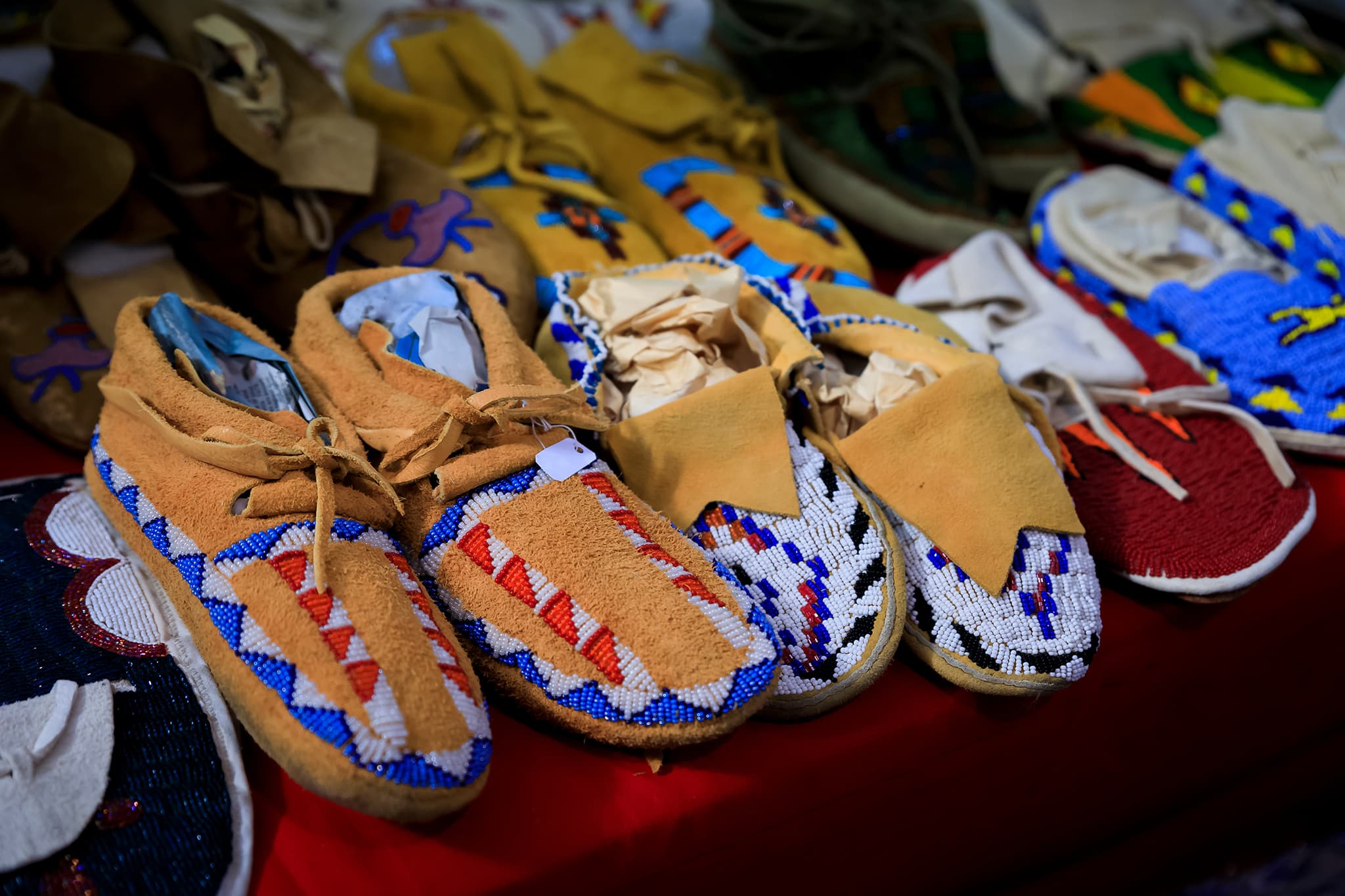 Moccasins were originally worn by native tribes, such as Native Americans (Credit: SvetlanaSF / Shutterstock)
Soft sole moccasins were designed to protect the feet while allowing the wearer to feel the ground beneath them. The original moccasin shoes were made of buffalo, deer, or moose skins.
Can You Wear Moccasins Outside?
Moccasins are simple, comfortable leather shoes designed to be worn outside. While the original moccasins were designed to be worn outdoors, most of today's moccasins are not suitable for rough terrains.
Moccasins can be worn outdoors as long as the climate is dry and the surface is smooth (Credit: Cozy Home / Shutterstock)
Moccasins are now largely considered spring and summer shoes unless you live in a warm climate. You should only wear moccasins when it's dry outside and you're walking on a smooth surface or grass.
What Are Driving Moccasins?
You'll often see moccasins referred to as driving shoes. These driving moccasins are practical shoes for driving long distances.
What makes moccasins ideal for driving is their tabs on the sole that help to improve friction and grip.
Driving Moccasins have pebbled nubs along the bottom for extra grip
Driving moccasins are also ideal for situations where you want a casual and comfortable shoe that offers extra support.
They're often known as 'boat shoes' for this reason. Moccasins are a 'preppy' fashion essential that's easy to style with chinos or jeans and a button-up shirt.
The 8 Most Popular Moccasins
Are you looking to add a pair of moccasins to your shoe collection? We're rounding up the most popular moccasin styles with a mixture of classic silhouettes and contemporary trends.
1. Bimba y Lola – Leather Moccasin Loafers, $280 at Farfetch
Do you like the look of moccasins but want extra versatility? These moccasin loafers by Bimba y Lola have a low block heel and a more resilient sole. They're minimalistic workwear meets streetwear chic.
Made from high-quality pale yellow leather, these Bimba y Lola moccasins feature contrast stitching and low block heels
These loafers are a great alternative if you live in a changing climate or want moccasins that you can wear all year round.
2. The House of Bruar – Ladies Sheepskin Moccasins, $108.95
If you want a classic moccasin, look no further than House of Bruar. This brand focuses on comfortable sheepskin moccasins that you wear indoors. They're made using 100% natural sheepskin and have a thermos-regulating design.

Comfy and warm, The House of Bruar moccasins are made from 100% natural sheepskin and are designed to be lightweight, breathable, and thermo-regulating
You can wear these at home or outside in dry climates. They're the perfect shoes for your next family BBQ.
3. Tod's – City Gommino Driving Shoes, $510 to $545 at Farfetch
One of the most popular brands for moccasins and driving shoes is Tod's.
The style is part of their permanent line-up and comes in a rainbow of colors. The "City Gommino" is a classic penny shoe with stamped Tod's monogram.
Tod's City Gommino Driving Mocs combine modern aesthetic with high-quality construction and all-day comfort
The rubber outsole is synonymous with Tod's and features embossed pebbles for extra support. These elegant moccasins are an ideal choice for your first designer shoes or to add to your capsule closet.
4. Ugg – Eevon Loafers, $76.99 (from $110) at UGG
UGG is a brand known for its love of moccasin shoes. The iconic UGG boots are an evolution of traditional moccasins.
The "Eevon" loafers are a transitional style that incorporates the brand's innovative imprint insole, offering all-day support.

A transitional shoe from workday to weekend, the Eevon flat features three layers of soft cushioned foam for all-day support
These loafers also incorporate a subtle UGG logo charm and will take you from a day at the office to your next summer vacation.
5. Tod's – Penny Driving Moccasins, $545 at Nordstrom
Another one of Tod's most popular moccasin designs is its penny-driving shoes. These penny loafers have a moc-toe stitching and pebbled sole for extra support.
This style is a more laidback alternative to the brand's "City Gommino" driving shoes.
A more laid-back version of the City Grommino, the Tod's Penny Driving Mocs are handmade with moc-toe stitching and a trademark pebbled sole for traction
6. L.L.Bean – Wicked Good Genuine Shearling Moccasin Slippers, $89 at Nordstrom
Moccasins are a popular style for indoor slippers, so it's no surprise that most shoes are designed for indoor wear.
L.L. Bean's shearling moccasin slippers have a durable sole and genuine shearling lining. These are the slippers you'll reach for every season.
L.L. Bean's Wicked Good moccasins are a pair of supple slippers with a naturally warm genuine shearling lining and a durable sole with traction
7. Michael Michael Kors – Sutton Moccasins, $115 at Zappos
Moccasins are a style you'll find in the permanent collections of most designers. Michael Michael Kors gave the style its classic monogram twist with its "Sutton" style.

Michael Kors' Sutton Mocs boast the classic monogram design with slender lacing that wraps the heel and ties in a metal-tipped bow at the front
These shoes feature lacing wraps and a metal-tipped bow for a feminine look. The slightly squared toe gives the shoes an updated silhouette.
8. Lauren Ralph Lauren – Barnsbury Suede Loafers, $123 at Farfetch
Moccasins fall truly within the 'preppy' fashion scene. It's no surprise that Ralph Lauren has several styles in their permanent collection. The "Barnsbury" Suede Loafer features the brand's 'LRL' metal logo on the vamp.

The Barnsbury features Lauren's signature logo lettering, finished with an exclusive rubber nub outsole
These moccasins sit at an attainable price point and are an elevated, transitional shoe you'll wear every year.
Why You Need Moccasins
Everyone needs a fuss-free footwear option that will take them anywhere. Moccasins, like their loafer counterparts, will take you from brunch with your girlfriends to your next travel day. These shoes deserve a spot in your capsule closet.
Moccasins are a style that has something to offer everyone. They're a laidback but chic style that is an elevated alternative to sneakers.
These shoes will see you through almost anything, whether you're jetting off on vacation or sightseeing around the city!