As much as we love the chicness of strappy shoes, nothing beats the convenience of slip-ons. The fuss-free design is fast, comfortable, and easy to wear.
It's no surprise that women have been turning to slip-on shoes for centuries. There's a slip-on style for practically every occasion, from formal days at the office to relaxing days at the beach.
Find out which styles you need in your collection in our guide to slip-on shoes for women below!
Discover the Versatility of Slip-On Shoes for Women
1. Slip-On Sneakers: A Casual Classic
This casual style likely comes to mind when you think of slip-ons. They have all the comfort of lace-up sneakers with even more ease.
The design was made popular by skateboarding apparel giant Vans and its iconic checkerboard style. Now, almost every brand—from Givenchy to Skechers—has made its own version!

Three stylish slip-on sneakers from Vans, Givenchy, and Skechers
Thanks to their durable rubber sole and breathable upper, slip-on sneakers are probably the most practical style on the list. They're perfect for walking long distances, traveling, or any other activity that will keep you on your feet all day.
2. Slides: Minimalistic Comfort
Minimal and ultra-comfortable, the slide sandal has become an athleisure staple. The simple design features a thick sole with a matching strap or two and is perfect for anyone that wants breezy, hassle-free footwear for warm weather.
The slide sandal is a minimal and highly comfortable athleisure footwear choice
Slides have become increasingly popular in recent years thanks to trendsetters such as Hailey Bieber and Gigi Hadid, but the open-ended sandals can actually be traced back to Ancient Rome!
They came back into style during the 1960s and '70s, thanks to the release of the Birkenstock Arizona and Adidas Adilettes slides. Both styles are still highly coveted to this day.
3. Ballet Flats: Elegance Meets Comfort
Chic ballet flats are many women's go-to shoes when they want to look elegant and feel comfortable.
The feminine design was originally created for ballerinas in the 16th century, but their popularity spread to the general public for obvious reasons.
Chic ballet flats are a popular choice for women seeking both elegance and comfort
This versatile slip-on shoe looks just as good with jeans and a t-shirt as a formal dress, so ballet flats are a must-have for many women.
4. Loafers: The Regal Choice
This sophisticated design is characterized by its rigid sole, low heel, and mid-cut upper with a distinctive seam. Loafers add an instant air of regality to any outfit.
They have aristocratic origins that date back to the 1800s and were historically worn by royals, nobles, and academics as indoor shoes.

Loafers are a stylish shoe design known for their rigid sole, low heel, and mid-cut upper with a distinctive seam
Nowadays, anyone can wear loafers, but they're typically favored as dress shoes that work for smart casual dress codes.
5. Mules: Backless Chic
Consider them close-toed, backless sandals. This elegant shoe has been around for a long time – some historians believe it originated in Ancient Rome!
Modern versions are incredibly diverse and can have almost any toe shape or heel height. Flat buckle mules are perfect for elevating casual looks, while heeled mules add a chic finish to evening outfits.
Mules are a type of footwear that combines the features of closed-toe shoes with backless sandals
Mules have seen a resurgence in popularity in recent years. Many major footwear brands have released their own version, from Gucci's luxurious fur-lined Princetown Horsebit mules to Birkenstock's hippie-chic Boston mules.
6. Clogs: Playful and Distinctive
This playful design is similar to a mule with its closed toes and open back but is distinguished by its wooden sole.
Clogs have become synonymous with their country of origin, the Netherlands, where they have been worn since the 13th century!
Clogs have been around for centuries, and they have recently made a resurgence in popularity thanks to their comfort, versatility, and style
Traditional clogs were made entirely out of wood, but modern designers have refined the design to make them comfortable and more visually interesting.
Nowadays, clogs can be flat or heeled and are typically made with leather or suede uppers. The wooden sole creates a warm, retro-inspired aesthetic that looks fantastic with flared jeans or a floral dress.
7. Moccasins: Soft and Beloved
The traditional footwear of the indigenous people of North America has become beloved around the globe.
Soft and comfortable, the sole and sides of moccasins are made from the same material (usually a soft leather or suede) and often have a soft lining.

Moccasins are a popular choice for slip-on shoes because they are comfortable, versatile, durable, stylish, and easy to care for
The cozy slip-on is instantly recognizable because of the distinctive stitching around the upper.
The style has been recreated with thicker soles by other cultures, but there are still plenty of indigenous brands that keep the tradition of authentic moccasin craftsmanship alive in Canada and the USA.
8. Espadrilles: Summer's Go-To Slip-On
With their light canvas uppers and earthy jute soles, espadrilles have become the slip-on shoes for the summer. Conventional espadrilles resemble slip-on sneakers, though many designers have created lace-up sandal versions.
Espadrilles are a popular choice for slip-on shoes because they are comfortable, easy to wear, versatile, stylish, and breathable
This beachy style comes from the warm shores of Spain and France. The name derives from the Catalan word espardenya, as esparto grass was traditionally used to bind the upper to the outsole.
This humble shoe has come a long way over the centuries. Once the footwear of peasants, espadrilles are now a staple part of luxury designer resort collections.
Tips and Tricks for Keeping Your Slip-Ons Secure
Slip-ons are extremely easy to put on, but their biggest downfall is that they can easily slip off. Here's what to do to ensure your slip-ons become stay-ons.
1. Make sure you're wearing the right size.
It may sound obvious, but many of us don't consider the width of our feet when buying shoes. You may have slip-ons that are the correct length, but if they're too wide they'll likely slip off.
2. Invest in double-sided shoe tape or heel grips.
You can always add security by placing an adhesive to the inner sole of your shoe, like double-sided shoe tape or heel grips. Dozens of options are available on Amazon.
Ballotte Heel Grips, $29.99; Moleskin Roll Multi-Purpose Anti-Slip Tape, $9.77; Dr. Foot Heel Grips, $19.99
3. Add socks.
This won't work for all styles of slip-on shoes, but socks are excellent for holding shoes in place.
Especially ones with built-in sole grips. Invisible socks can easily be worn with slip-on sneakers, loafers, moccasins, ballet flats, or espadrilles.
You can even try socks with slides – celebs like Kaia Gerber and Hailey Bieber have proved that it can be chic!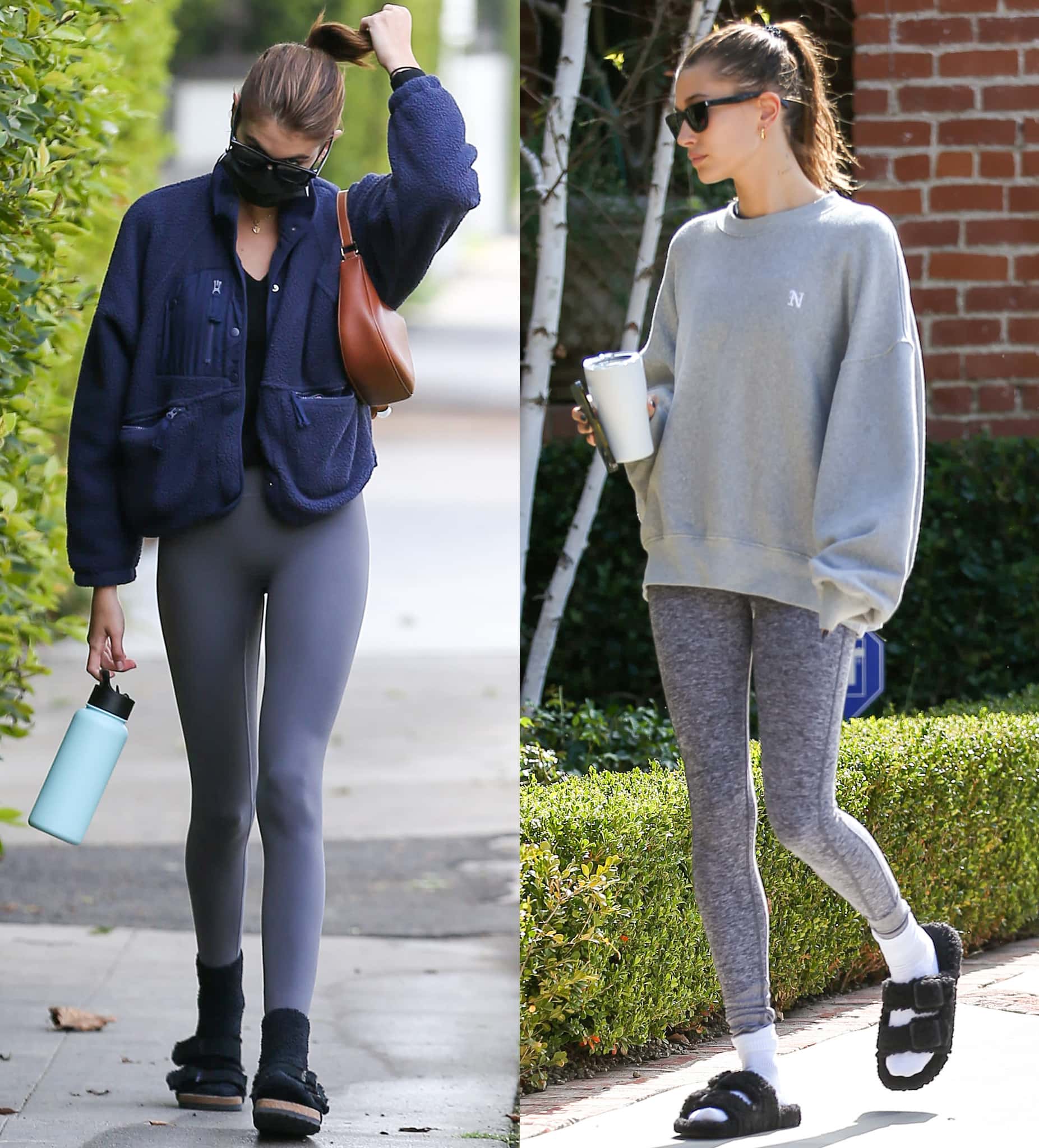 Kaia Gerber and Hailey Bieber show how to wear socks with slip-on slides (Credit: BauerGriffin / INSTARimages)