Whether you love them or hate them, it's hard to argue with the popularity of UGG boots. The boots — which account for almost 90 percent of the $1.5 billion sales revenue for its parent company Deckers Brands — have an almost cult-like fan base.
Customizable Bailey Bow Short Boots, $210 at Nordstrom and Zappos
Even though the shoes have been nicknamed "ugg-ly" footwear, with wearers denied access to airline lounges and hounded by animal abuse accusations, the brand's popularity continues to be so strong that many entrepreneurial individuals want to cash in. Unfortunately, this includes sellers who don't have the best intentions and are only out to scam people with fake UGGs.
While California-based brand UGG — previously known as "UGG Australia" — is cracking down on these counterfeiters, the easiest way to ensure that you get the real deal is to buy UGG boots from authorized retailers.
Where to Buy Authentic Ugg Boots
If you're planning to buy from a store that you're not familiar with, please read our guide before clicking the buy button. The following websites have the latest styles and the best prices if you want to buy your Ugg boots online.
1. Zappos
2. 6pm (Discounted styles)
3. Nordstrom
4. Shoes
5. Amazon
If you're planning to get a pair of UGGs as a gift to yourself or someone else, beware of fakes. Protect your hard-earned money and arm yourself with the knowledge on how to spot fake UGGs. Also, make sure you know how to take care of your sheepskin boots.
Here is a checklist of 10 things that you should do before committing to buying:
1. Check the security features.
The unending battle against counterfeits has prompted UGG to install security features on UGG and I Heart UGG products. These special labels and stickers are the quickest and most reliable way to guarantee the authenticity of your purchase.
Since fall 2010, UGG has been using security features on its labels and packaging, starting with the holographic sun logo that changes from black to white when rotated 90 degrees.
If the left shoe of your pair of UGG shoes has a sewn-in size/materials label, this security feature should be on the foil strip on the label right behind it. If there is no sew-in-label, a security sticker should be on the sole of the left shoe. The shoebox should also have this same security sticker. UGG is still using this security feature up to now.
In fall 2013, UGG Australia added a QR code to the sewn-in security label on the left shoe. Just scan with any smartphone and you will be taken to UGG's official website where you'll be able to verify the product's authenticity.
If you flip this label over and look at its back side, you should see another security feature that has the UGG logo "rolling" over the sun logos with a 3D effect.
Some fall 2014 products do not have the holographic sun logo on the sewn-in labels. If you encounter merchandise without this security feature, you can just use the QR code.
2. Are UGG boots made in Vietnam and China?
Believe it or not, UGG boots that are labeled "Made in China" and "Made in Vietnam" are the real deal. For years now, authentic UGG products have been manufactured by Deckers Outdoor Corporation, which has factories in China, Vietnam, Cambodia, The Philippines, The Dominican Republic, and the U.S. If the label says the shoes are made in New Zealand or Australia, that is flashing warning sign of a fake.
In summary, real UGG boots are made in China, Vietnam, Cambodia, The Philippines, The Dominican Republic, and the U.S.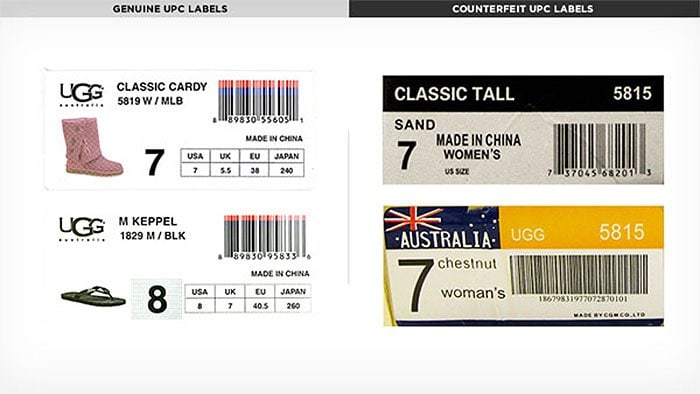 As for the UGG label on the back of the heel, you should compare it to an authentic UGG label like in the picture below. The fake ones often feature bigger fonts, poor-quality stitching, and off-shade colors.
Since the company is no longer called UGG Australia but simply UGG, authentic labels no longer say "UGG Australia".
3. Check the packaging
Real UGG boots come in a sturdy box made of strong cardboard material. Some people say that the real box is a one-piece box with a flip-top lid, but some also report having purchased real UGGs that came in two-piece boxes with removable lids.
That piece of information is highly contested, but another part of the packaging that you can check is the plastic wrapper. The plastic that the boots are wrapped in should be made of thick, crinkly material with "UGG" printed on it. The fake ones use low-grade thin plastic and almost always do not have anything printed on them.
Also check the care booklet, the authenticity card, and other literature that the UGG or I Heart UGG merchandise is packaged with. They should be printed clearly on thick, high-quality paper using quality ink — they should not be fuzzy, blurry, or appear scanned. In June 2007, UGG Australia stopped using white paper for these and switched to printing the UGG boots care booklet and other cards on cream-colored paper.
Real UGG boots have shoe inserts inside to prevent them from becoming misshapen when stocked or shipped. Fake ones do not get the same careful handling and often do not come with shoe inserts.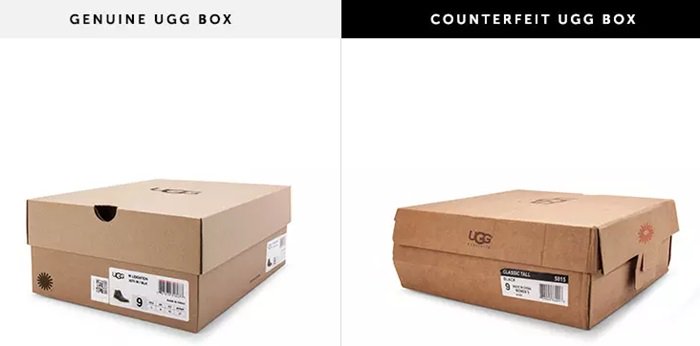 Authentic UGG products will never be shipped in an UGG-printed bag. You will only get a UGG shopping bag if you shop at one of the company's official stores.
The following things do not come packaged with UGG boots:
A brown dust bag with "Snow Boots" printed on them — real UGGs are never called snow boots.
Any sort of label that is pinned on or attached to the boots themselves. Real UGG boots from Deckers do not have any tags attached to them.
An Australian flag printed anywhere on the packaging materials.
All of these are clear signs that the UGGs are fakes.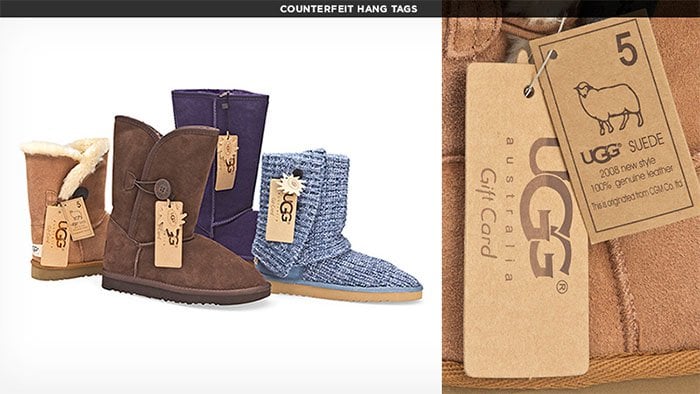 4. Check the fur
The fur lining in real UGG boots has a rich creamy color and feels thick, fluffy and soft. Counterfeit boots are a grayish whitish color and feel thin, scraggly and like plastic.
If you have a hard time telling the difference between real and synthetic fur, one way to tell is by rubbing it. If bits and pieces come off, then that means that the fur is fake. On real UGGs, the fur should not come off easily at all.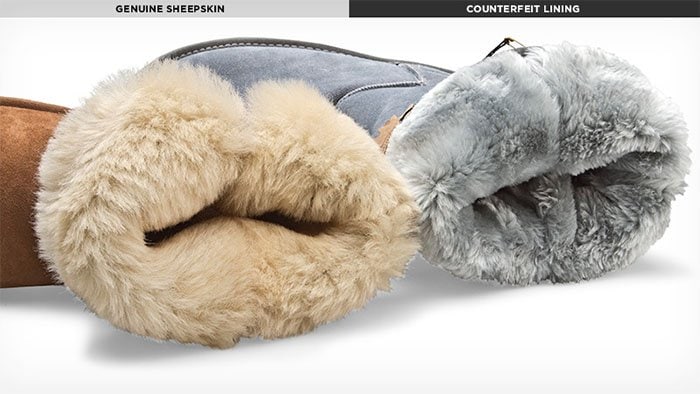 Genuine sheepskin has the fur side naturally adhered to the suede side (the fur is not just lining), so they should never pull apart. If you can separate the outside material from the fur inside the boots like in the picture below, that is an obvious sign that the boots are not made of real sheepskin and are fake.
5. Check the soles
In real UGG boots, the soles are flexible and have a lot of give in them so it feels like you're walking on clouds. In fake ones, they are rigid and are very hard to bend.
Real UGG boots also have half-inch thick soles. Fake UGG boots have thinner soles, having only quarter-inch thick soles at the most.
Genuine UGGs have the registered R in a circle next to the "UGG" on the bottom of the soles. This used to be a clear way of telling apart the real and the fake UGGs, however, counterfeiters have wised up to this and have started adding this detail to fake UGGs.
UGG Australia also changed the tread pattern on the soles of their boots from zigzag to the sun logo. Although not the most surefire way of guaranteeing authenticity, genuine UGG boots should have the sun and the "UGG Australia" at the center of the sole of the boot in the correct typeface.
As you can see from the following video, it's not always easy to see whether or not your UGG boots are real or not. The only way to be 100 percent sure is to scan the QR code to verify that your boots are genuine.
6. Check the size
Those who have ever bought or owned UGG boots for themselves know that they run large. It is common knowledge that if you're buying a pair of UGGs, the best thing to do is to get a size smaller.
Real UGG boots will stretch and mold to the wearer's feet over time. If a pair of UGGs in your real shoe size feels snug, then chances are they are fake.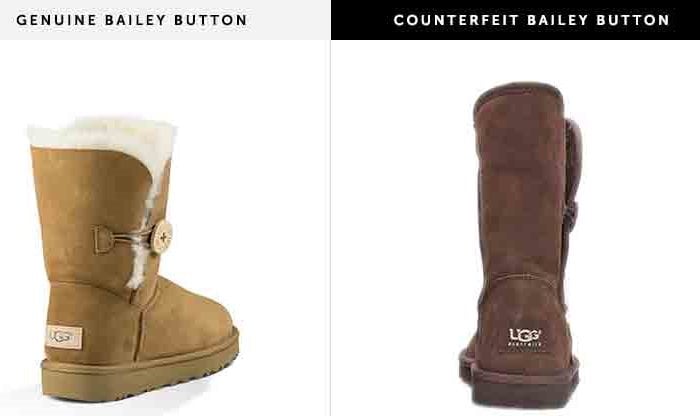 Also, check the top or the opening of the boot. It should be large and roomy enough so that you can fold them down or tuck-in your jeans. The fake ones have a narrower opening and they do not roll down as easily as the real UGGs.
Some fake UGGs are shorter or taller than real UGGs. Find out the correct height for an ultra-short, tall and ultra-tall UGG boot first and compare before purchasing.
7. Check the smell
To lure you in with unbelievably low prices, counterfeiters resort to using cheap glue, faux sheepskin and other low-quality materials in making knockoff UGG boots. This gives the fakes a weird chemical, plasticky and synthetic scent. The smell of the dye or paint used on the fake sheepskin alone is already a dead giveaway of a counterfeit.
Real UGG and I Heart UGG products should not smell of anything at all.
8. Check the overall quality
When you're purchasing footwear that costs $200, you'd want to set aside ample shopping time so that you can inspect them thoroughly. Here are the things to check for in scrutinizing the overall quality of UGG boots:
Check the width of the boots. Fake ugg boots are often narrower than real ones.
Inspect the stitching. Make sure that it is even and no threads are unraveling.
Inspect the suede and/or leather. They should be smooth, made of quality material, and not have any unnecessary markings on them.
Note the heel of the boot. They should gently taper towards the rest of the shoe and should not be in any way crooked.
Note the tip of the boot. A real boot gradually slopes downward while a fake one has a pointier toe.
9. Check the price
Real UGG and I Heart UGG products are made of quality materials and quality comes with a price. If a pair of UGG boots is selling for an absurdly too-good-to-be-true price, then that alone should serve as a warning sign that they are fake.
The extremely popular classic UGG boots have been manufactured since 1978. Some of the most popular colors seldom go on sale.
UGG Classic Short Boot, $91.26 – $356.40 at Amazon and Zappos
Some discounted UGG bags and shoes can be found at Amazon's discount website 6pm. However, normally UGG will not allow its most popular products to be discounted.
10. Check the seller
Lastly, UGG only sells boots through its flagship stores, its official website, and authorized retailers. If you are located in the U.S., you may prefer to buy from Amazon and Nordstrom. For other locations, use the UGG store locator to find an authorized retailer nearest you.
Remember, authorized retailers are not allowed to sell UGG products on eBay. A significant percentage of UGGs sold on eBay are fake. Even Deckers Outdoors Corporation is not allowed to sell products straight from the shoe factory.
If a seller claims the UGG boots are cheap because they are "straight from the factory," odds are that the boots are counterfeit. Please see our eBay shopping guide for details.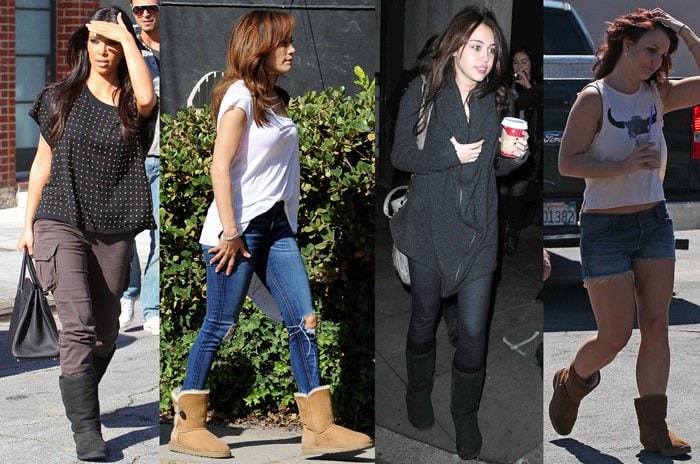 Kim Kardashian is seen wearing Ugg boots and a Hermes Birkin bag as she heads to a studio in Culver City on December 28, 2010 / Jennifer Lopez spotted filming reshoots in Los Angeles for her upcoming movie "The Boy Next Door" on June 23, 2014 / Miley Cyrus leaving her hotel via the back door and heading for the M.E.N Arena. in Manchester on December 28, 2009 / Britney Spears shopping at Planet Blue's flagship store in Malibu on March 10, 2014
Also stay away from scam websites that are only out to deceive buyers with their fake UGG products. These websites often use phrases like "cheap UGGs" and misspellings like "ugh boots."
Does Zappos sell fake Uggs?
No, Zappos is a legitimate website owned by Amazon. It is an authorized retailer of UGG products and does not sell fake products of any kind.
Does Amazon sell real Uggs?
Yes, Amazon is an authorized reseller of UGG products. However, make sure that the boots you buy are sold and shipped by Amazon, not by another company operating a storefront on Amazon.
Does Nordstrom sell authentic Ugg snow boots?
Yes! In addition to being the best online shoe store, you can buy UGG boots on clearance at Nordstrom Rack.
What is Koolaburra by Ugg?
Koolaburra was an importer of authentic sheepskin footwear founded in 1991. Based in Santa Barbara, California, they lost a lawsuit with Deckers Outdoor Corporation in 2005 about the use of the term "ugg" and "ug" in reference to Australian sheepskin boots.
Ten years later, in 2015, Deckers Brands acquired the Koolaburra brand and now owns it. Deckers' portfolio of brands also includes: UGG, Teva, Sanuk, HOKA ONE ONE, and Ahnu. In other words, Koolaburra and UGG are owned by the same company.
Is Ugg Australia the same as Ugg?
Deckers bought UGG Australia in 1995, but dropped "Australia" in 2016. The Deckers-owned brand is now simply called UGG.
For a more detailed guide spotting scam websites, read how to tell if a shopping website is fake at first glance.
Credit: WENN / UGG Australia / Cousart / JFXimages / revolutionpix