Here's what we've covered so far in this Caring for Your Ugg boots series:
In this post, we're going to delve into the proper way of taking care of your Uggs.
*****************
One of the good things about Ugg boots is although its fashion is always questioned, it never really goes out of style.
The shapeless almost unflattering silhouette is what keeps the Ugg boot always on top of trends, its "stylelessness" rallying against the fads that come with every season.
Uggs through the seasons: Renee Zellweger stays warm with coffee and her Ugg boots in snowy weather in Berlin, Germany on February 10, 2010, Tara Reid dances in her Ugg boots at the 2011 Coachella Valley Music and Arts Festival on April 15, 2011; Sarah Jessica Parker keeps comfy in her sheepskin boots as she takes her son to his school in New York on January 17, 2013
So far, the Ugg boot has proven that it's more than just a passing phase. It has become something of a wardrobe staple for many people.
So if you're one of those people, then it's a good idea to keep your Ugg boots in tiptop shape if you are to wear them in the years to come.
The following are 10 tips on how to take care of your Uggs so you get the most wear out of them:
1. Treat Uggs With a Water and Stain Repellent
From the moment you take your Ugg boots out of their box, treat them with a water and stain repellent immediately.
Doing so even before wearing your Uggs will prevent any initial staining and will keep dirt from seeping into the boot's material.
UGG Sheepskin Water and Stain Repellent, $10.45 at Amazon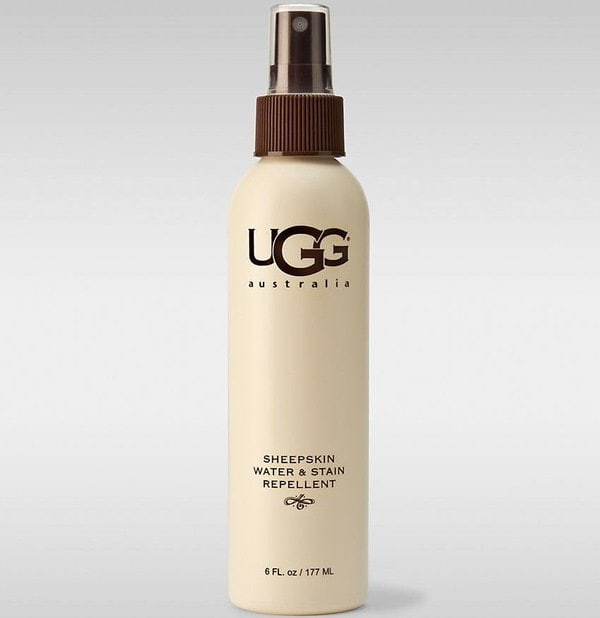 2. Never Let Ugg Boots Soak in Water
Letting your Uggs soak in water or in melted snow could not only leave water stains but could also wrench your boots out of shape and weaken the boots' adhesives.
Remove snow from your UGGs as soon as possible
3. Never Place Uggs Under a Direct Heat Source
A radiator, an electric heater, and especially the sun will fade the color and could make the suede/leather/sheepskin materials dry and brittle.
Walking under the sun is fine… just don't store your Uggs under direct sunlight
4. Never Apply Cleaning Products Directly
When cleaning your Ugg boots, put the cleaning solution onto a sponge or a cloth first. If you do otherwise, you run the risk of leaving splotches or stains on your Ugg boots.
Scroll down below for a video on how to properly mix and apply cleaning products on your Ugg boots.
5. Use a Soft-Bristled Brush
A stiff, coarse, or wire brush will get rid of the dirt but could also leave permanent scratches on the boots.
A special brush that's part of the UGG sheepskin care kit, $24.00 at Amazon
6. Let Boots Dry Before Storing
When drying wet Ugg boots, let the boots dry fully before storing.
If you hasten the drying process and put them away in a closet still slightly damp, molds could form on the boots and damage them.
7. Don't Scratch, Scuff, or Dirty Your Sheepskin Boots
As tempting as it sounds and as often as it's done, Ugg boots — particularly the classic styles — aren't really meant to be worn in the rain, in the snow, or on a hiking trip.
Avoid wearing your Ugg boots to places or on activities that could scratch, scuff, or dirty them unnecessarily.
Unless you're like Sarah Jessica Parker who probably gets Uggs for free for every movie, then feel free to use the Uggs you didn't have to pay for in the rain, like a clothespin holder or any way you want to
8. Should Your Wear Socks With Uggs?
Yes, wearing socks with your Ugg boots is a good way to keep odors from developing.
If you just love the feel of sheepskin fur on your little piggies, then at least make it a habit to religiously treat them with odor absorbers.
A homemade powder mix of baking soda, cornflour, and a few drops of essential oil will work effectively.
9. Stuff Your Boots With Plain Paper or a Rolled Towel
This will help the boots retain their shape when stored. You could also use boot shapers like these:
Boot Shapers 300, $25.95 at Amazon
Booty Shapers Shape It! JY2110 inflatable boot supports, $32.95 at Amazon
10. Use a Cobbler or Cleaning Service
When in doubt about how to remove a certain stain or how to clean your Ugg boots, bring your boots to a professional cleaner. The added stress from failed home remedy attempts is hardly ever worth it.
Here's an in-depth video on how to further take care of Uggs courtesy of WhatSheBuys:
Credit: Winning / WENN / TNYF / C.Smith / FayesVision